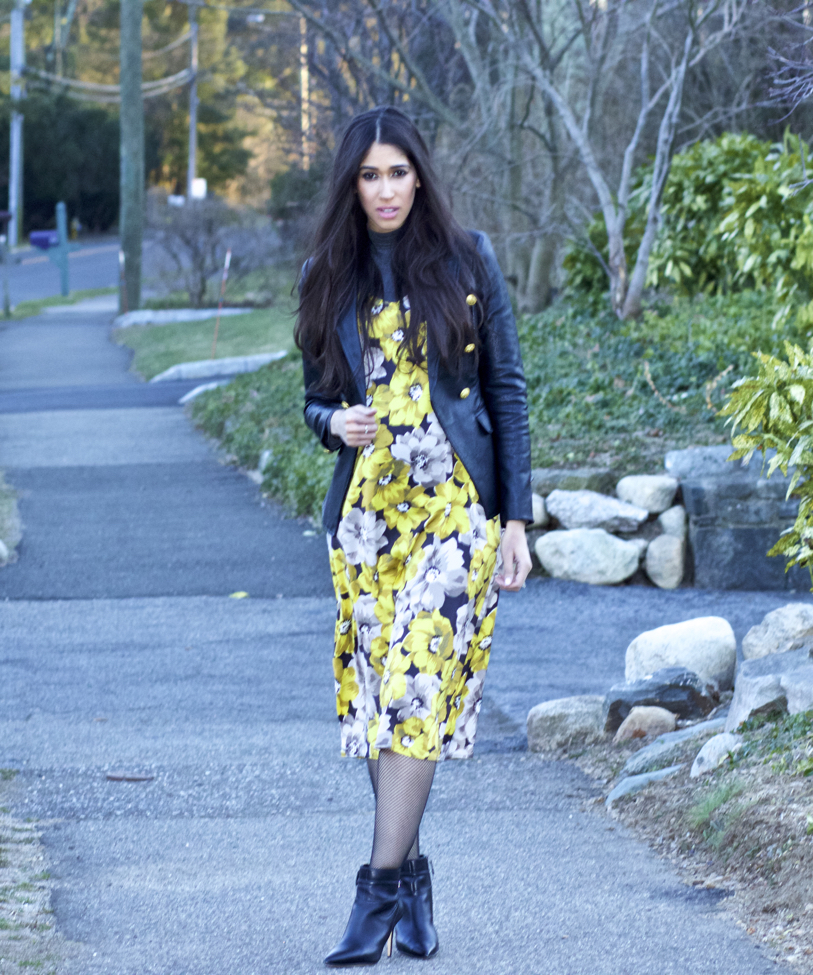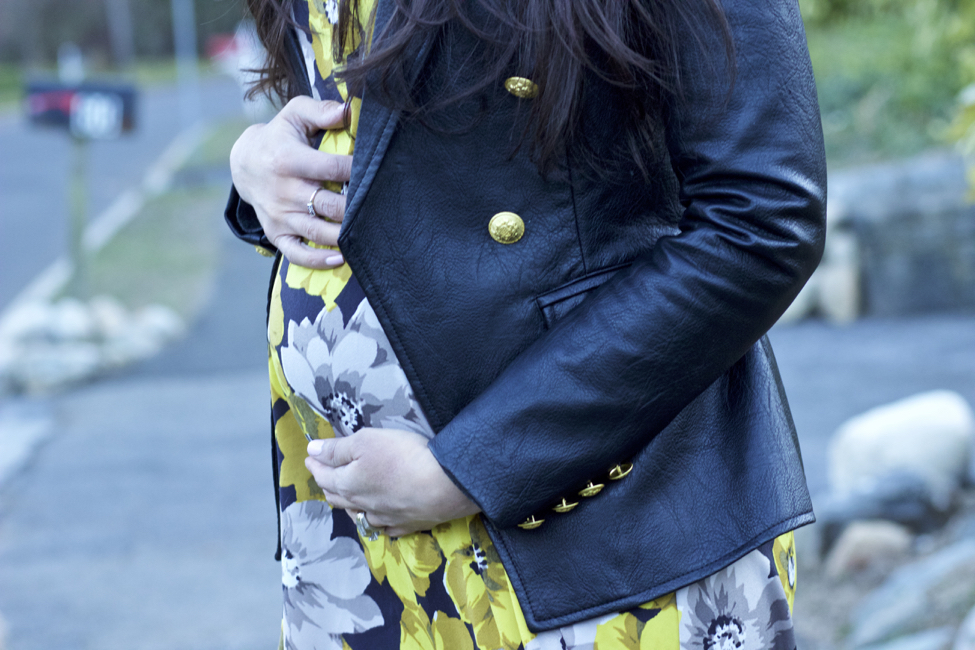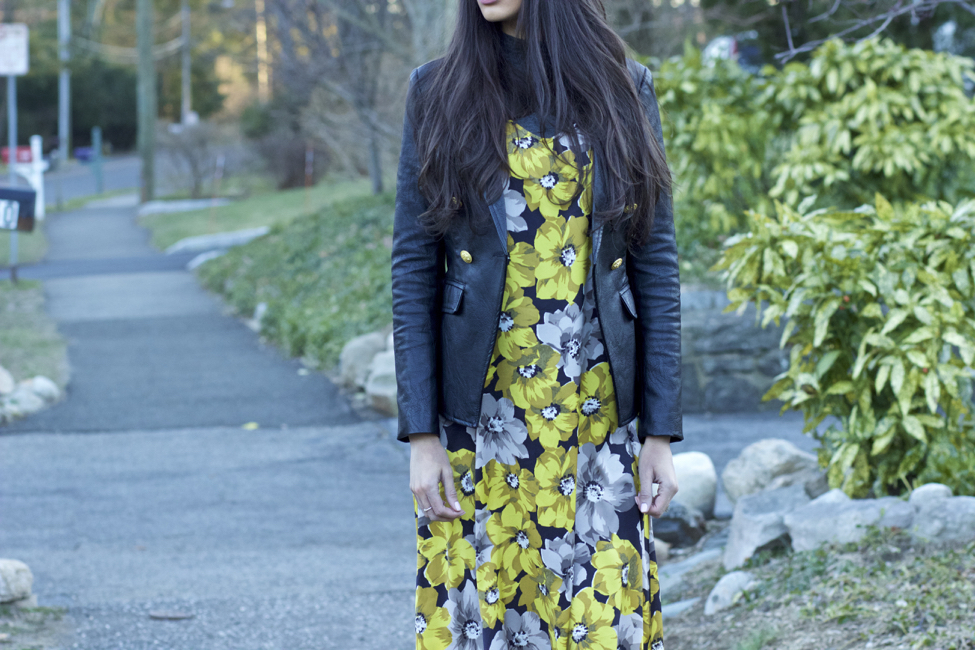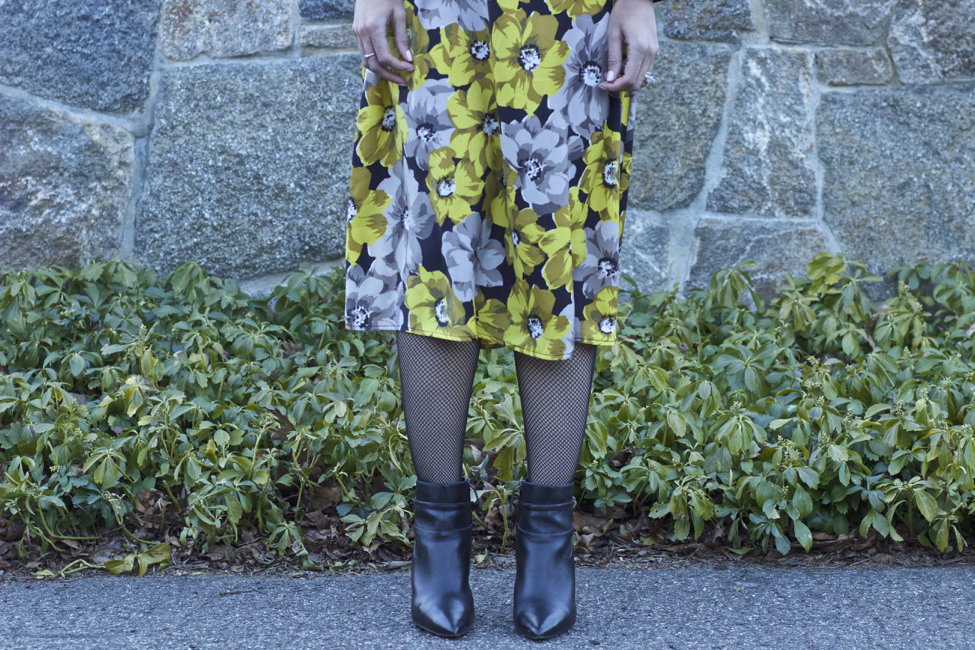 Dress | Blazer | Tights | Boots (similar)
Happy Monday my gorgeous friends!
I hope you all had a wonderful weekend and are off to a great start to your Monday so far! This past weekend, I did a little shopping at Target. In last week's post, I asked if you knew of any maternity jean brands that are affordable and comfy to let me know; I got some really great suggestions, one of which was Target. To be honest, I've never really shopped at Target for clothing before. It's not that I've never liked anything, it's that anything I've ever liked was nearly always sold out of my size and there was never one that was conveniently near my house, so I wouldn't go often. This time, I tried a different location to see if I'd find more options and well, it was a partial success.
I think I'm in that awkward stage of maternity where actual maternity clothing is too big and regular clothing (mainly jeans) are starting to feel a bit snug around the midsection. So, I decided to purchase the belly bands instead, which was also suggested by some of you, thank you! I purchased two, one black, one nude; I'll get more into that in Wednesday's post though.
So, while I was there shopping around, I decided to take a peek at the Who What Wear collection. I found some really cute pieces. I snagged a burgundy turtleneck (I've been loving fitted turtlenecks lately) on clearance, this pretty eyelet top I'll wear after pregnancy, and the dress I've styled today, which I'm no longer really feeling to be honest.
When I tried the dress on in the fitting room, I loved it. But when I got home and tried it on again, I wasn't so sure anymore. My idea was to layer it as I've done here during the colder months and wear it on its own come summer. It's still my pre-pregnancy size, so I thought I could not only wear it during the start of summer in my last few weeks of pregnancy, since it's still very roomy, but afterwards too. Well, I now feel like it looks like a moo moo. I wore it on Saturday night for dinner with Eddie and the first thing he said when he saw me in the dress was, "aw, honey, you look so cute in your pregnancy dress!" NOT the vibe I was going for! I know he meant well, but this is not a "pregnancy dress" LOL! I asked him his thoughts and he said it looks grandma-ish and well, I sort of agree.
I tried to make it work with the leather blazer and fishnet tights, but I just think the print is way too large for the style of the dress, don't you think? It's a loose fitting, long dress, and with the large floral print, I think it makes it look grandma-ish, not flattering at all. It's funny because on Friday, I talked about pattern placement and here I find myself trying to make something work that I don't think has much hope for.
So, to be honest, I don't suggest this dress at all. I think if you're slim, it can look like you're being swallowed by a ton of fabric and print and if you're curvy, it'll cling (it's very clingy) and may not be the most flattering piece in your wardrobe. But, there is an option to belt it, which perhaps will make it a bit more flattering. These are just my personal thoughts :)
Overall, I'm happy with the 2/3 pieces I got from their collection, which I don't think is too bad.
I hope you found this post helpful my dear friends. Tell me, have YOU ever purchased something in store that you really liked, only to go home and have second thoughts? Thanks so much for stopping by and I hope you have the most amazing start to your week!

XO,