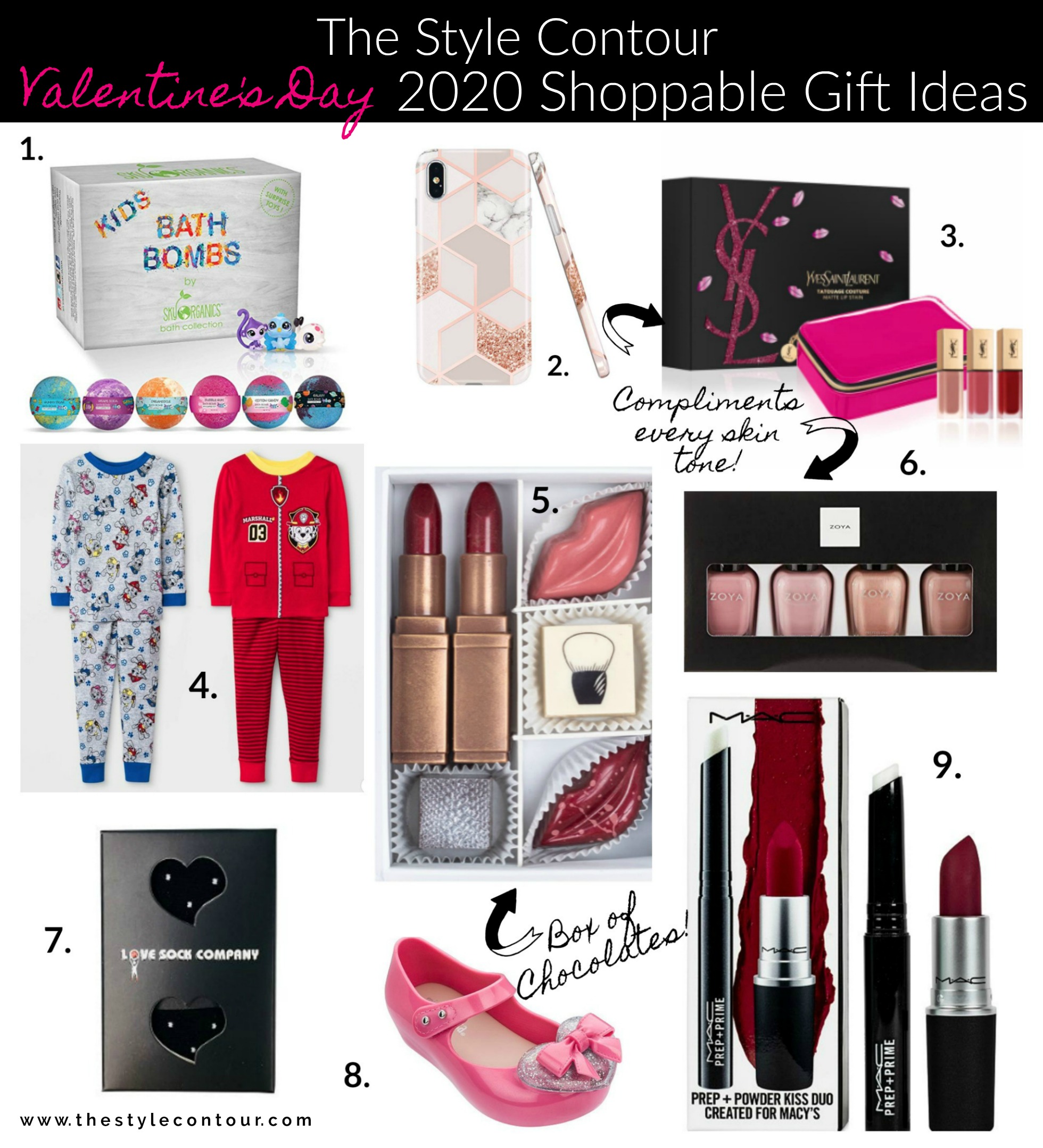 SHOP THE SET
1 | 2 | 3 | 4 | 5 | 6 | 7 | 8 | 9
---

---
Happy Monday my sweet friends!
I hope you all had a great weekend! I pretty much spent mine cleaning. It doesn't sound like much fun (it wasn't) but it had to get done, #adulting. Last week, I was so busy with the girls. Now that Ariah is getting big (she'll be 8 months two weeks!) I've been taking them out to do fun things nearly every day. It helps with the sibling rivalry and to get them out and social with other kids and babies.
So, with Valentine's Day being this Friday, I thought it was a good time to give you all some last minute gift ideas. We've just come out of the holiday season, so I personally don't believe you need to get everyone a ton of expensive things. But, it's nice to give a little something to those you love to celebrate the day of love. In my house, Eddie and I have decided that Valentine's Day will be celebrated amongst all of us and not just between him and I. When I was a little girl, my mom always got me something and really cute things at that. I want to carry that tradition on to my girls and so right now we have plans on baking cupcakes and I'll get a little something for them. This is why I've included some ideas for everyone.
Though I'm a girl mom, Eddie has nearly all boys and men in his family (all of his 4 sisters have at least one son). So, I know that Paw Patrol is a thing amongst the toddler boys, which is why I think this pajama set would be perfect.
When it comes to little girls', I absolutely love Mini Melissa shoes. They are SO adorable and the quality is so good. I'm always getting asked about Aviah's shoes, which are nearly all from the brand. These little heart pair would be perfect and the little miss you gift them to can of course where them all year round and with a plethora of outfits.
For both boys and girls, I think this bath bomb set would be perfect! I mean, what kid doesn't like to see their bath water change colors and have the chance to find a toy!? What I love about this brand is that they're all natural and fused with essential oils. If you're like me and are a stickler when it comes to the ingredients you bring into your home, especially your kids, this seems like a great brand to check out.
As for your mom and/or bestie, how cute is this YSL lip set? I know I mentioned earlier that you don't need to spend a ton, but I think if it's for mom, it's justifiable ;) As for your bestie, these cute chocolates would be perfect, as well as this pink nail polish set from Zoya. I love this nail brand because they're free of all the harsh chemicals found in many other brands. I have several of their polishes and the quality and longevity of the color is so good. The shades in the set would look great on all skin tones, too. Speaking of, this red lip set by MAC would also be a great gift idea because it's the perfect shade of red that would compliment all skin tones as well.
Lastly, when it comes to that special man in your life, I think that these cool socks would be a great option. I mean, what man doesn't need socks? Plus, now men are starting to show more interest in wearing more fashionable socks and ties to match. Even if the man in your life doesn't wear a suit and tie, this brand's designs would look great with jeans or anything for that matter. They're the perfect statement and not to mention the perfect packaging for the occasion!
I hope this post gave you some gift ideas for those you intend on gifting this Valentine's Day! I'd love to know what are some things you typically gift those you love on Valentine's Day as well as any traditions you may have!
Thanks for stopping by and I look forward to seeing you all in Wednesday's post!