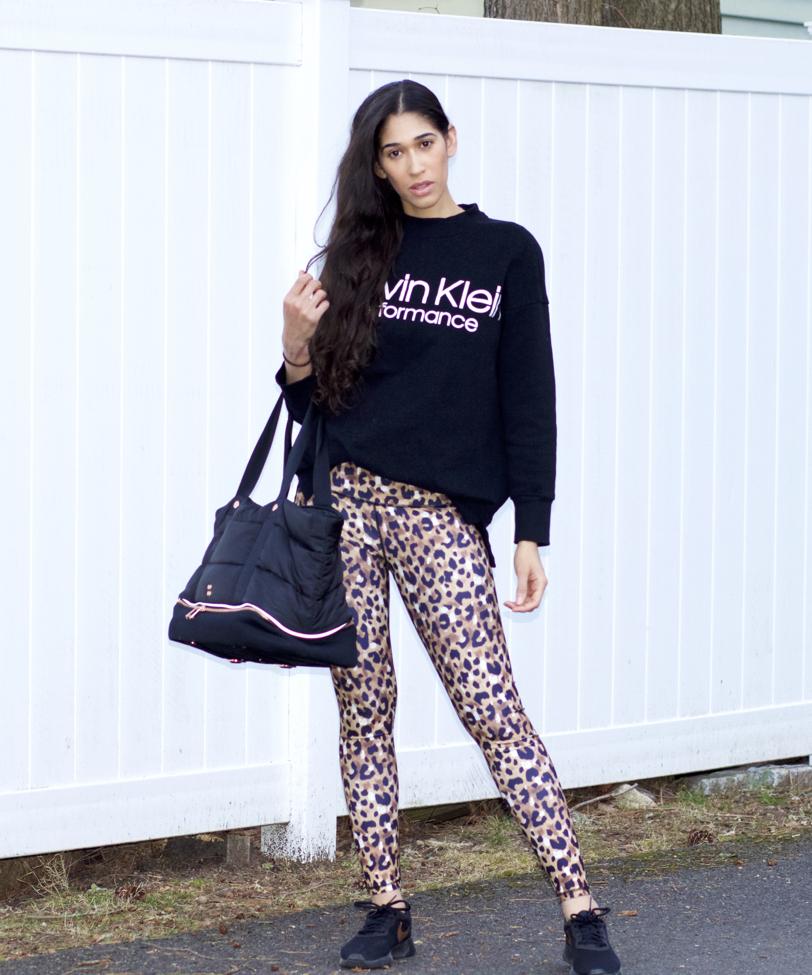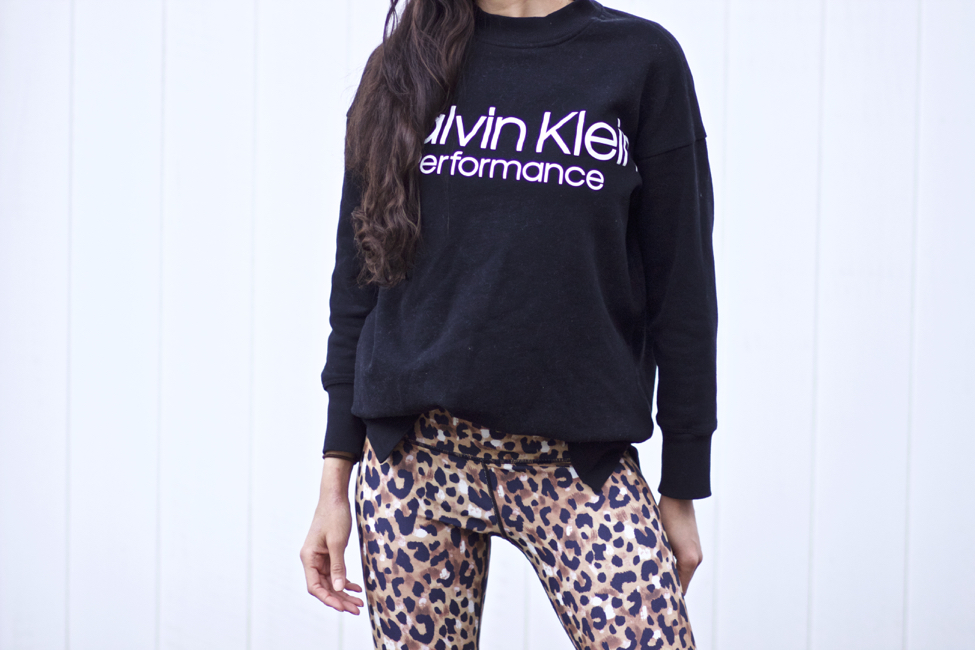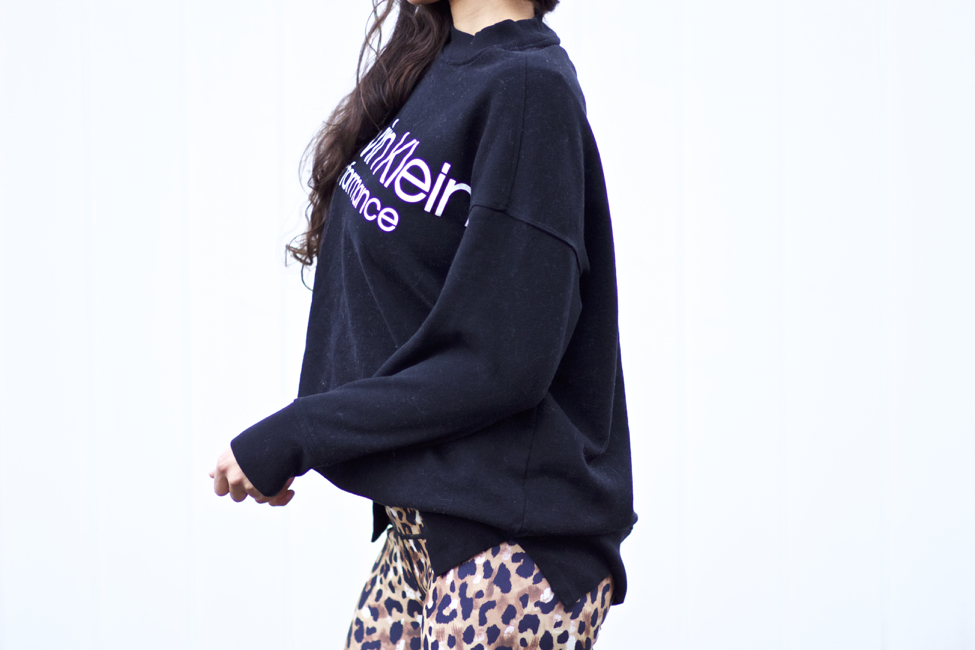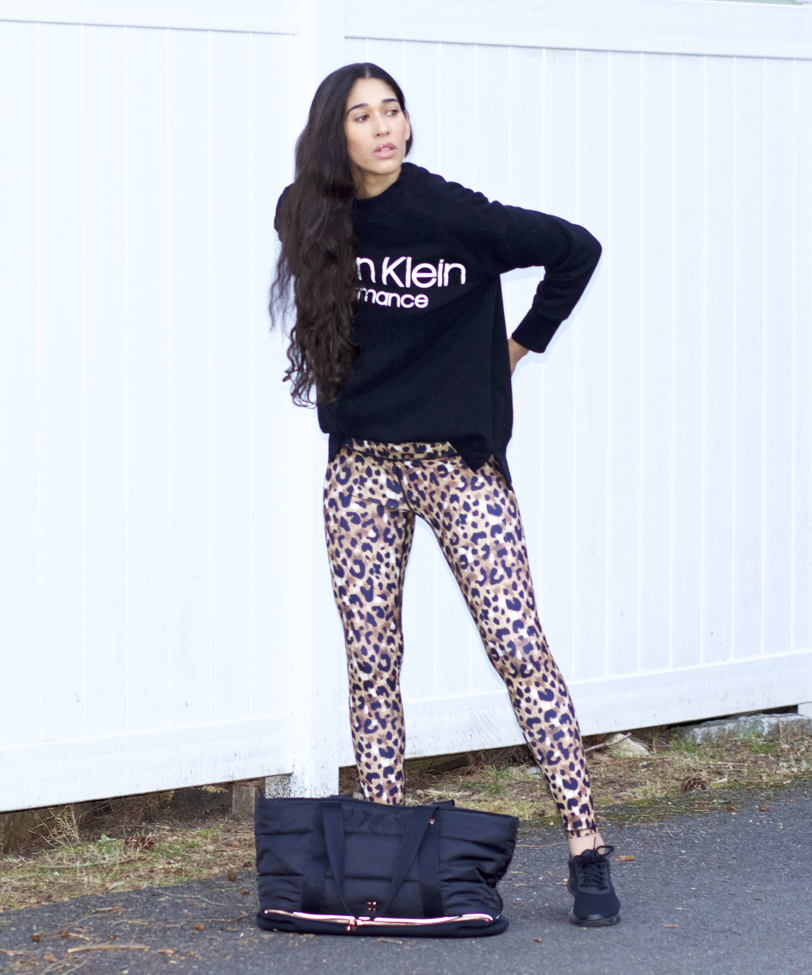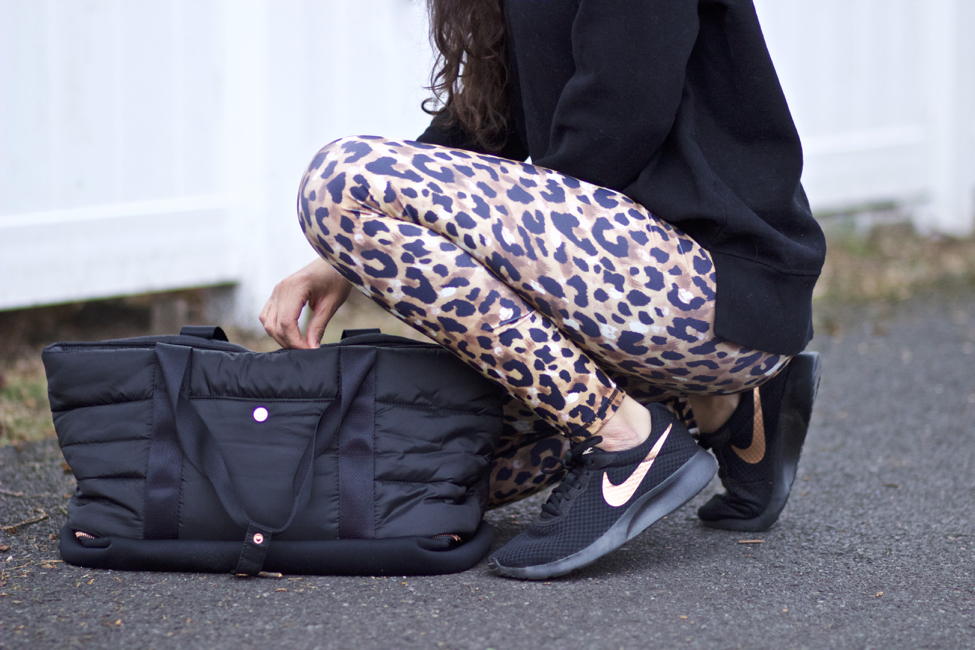 SWEATSHIRT: Similar | LEGGINGS | SNEAKERS | BAG
---

---
Happy Wednesday my friends!
As we all know, losing weight or getting in better shape is one of the most popular new year's resolutions. It's pretty much always been and I'm sure having the holidays ending at the same time has a lot to do with it. I mean, many of us over indulge because the festivities are only once a year and as a result, we put on a few extra un wanted pounds. I started my fitness journey back in 2006 right around this time. I lost and have kept off (obviously with the exception of my two pregnancies) 25 pounds since then. What's helped me keep the weight off is that I've made healthy living a lifestyle. As some of you may or may not know, I have eczema. What keeps it at bay and nearly all gone is not having too much red meat and dairy (mainly milk products—I'm fine with eggs) on a regular basis. So, we pretty much eat a plant based diet during the work weeks and have meat and dairy on the weekends (red meat maybe twice a month)
I'm not going to go into details on my entire fitness and health journey in this post (though if you'd like me to write on it, do let me know in the comments!). I mention all of that to say it really helps when we make a lifestyle change and not focus on a short term goal in losing x amount of pounds. Nearly every month there's a holiday to celebrate and indulge; Valentine's Day is in two days, next is St. Patrick's, then Easter, then Mother's Day, it goes on and on. When we adopt a new mindset and translate that into our actions, we'll see and maintain longterm results.
After having been working out for some time now, I've tried a number of athletic brands that I love or hate, as well as have learnt what looks good and in turn makes me feel good while working out. My personal style has evolved and will continue to as I get older of course, and it's also reflected in my activewear, which I feel is so important. I believe it's important to feel like yourself when working out. Many times, I've seen women in oversized, baggy clothing and I know for sure that it cannot be comfortable and easy to move around in. I also feel as though many don't actually dress like this outside of the gym.
So you may be thinking that one way to cover up any insecurities is to wear large, oversized clothing. No! It makes us look larger and plus, you're not able to move around and do longer reps or run that extra mile if you have all of this extra material in your way. My advice is to wear something that fits comfortably and opt for patterns. I've found that patterns are great for concealing cellulite on the legs. A loser tank with a cute sports bra peeking from the side is a great way to conceal a larger midsection and arms in addition to high waisted leggings.
When it comes to the perfect gym bag, as with an everyday bag, your needs may be different to mine. I personally love one that has different compartments and this one from Sweaty Betty is amazing! I has two large side pockets, a compartment for your water bottle, a small pocket on the back of the bag where you can store anything you need for quick access and the bottom has a zipper for an extra compartment, which is perfect for putting soiled or dirty clothes or even pampers and wipes if you're bringing the babies along. The bottom also has two straps to hold a yoga mat, if you do yoga. I mean, it's the perfect bag if you ask me and worth every penny. Plus, how cute is it with the rose gold accents?!
Now, here's a list of the brands I love and swear by:
2. Alo (I LOVE these leggings in particular)
3. X by Gottex
4. Zella
5. Nike
6. Adidas
7. Sweaty Betty
I hope you found this post helpful and inspirational for selecting great quality brands and pieces to work out in. I do believe that it's worth it to invest in great quality activewear, keeping in mind that you can often find all of the above brands on sale. Do you have any favorite athletic brands? I'd love to know!