Happy Tuesday, friends!
Every area of our lives, as it applies to fashion, has trends. I mean, we do want to look good while working, hanging, working out and of course, on the beach, right?! Sometimes, those styles are influenced by what's trending. Today, I will be sharing with you one one of the "it" styles in swimwear, the one piece, and what I suggest you look for that will work best for your body shape, so you can experiment with the trend with ease, 'cus you know this girl has always got your back before heading out the door or fitting room ;)
What I personally love about once pieces these days, since they've gotten a lot better in their designs, is that they can also double as a top for grabbing a bite to eat after a day at the beach or pool! Simply add a pair of your favorite shorts, jeans or a skirt and you're good to go! So let's get started with the first body shape we'll be discussing, the apple.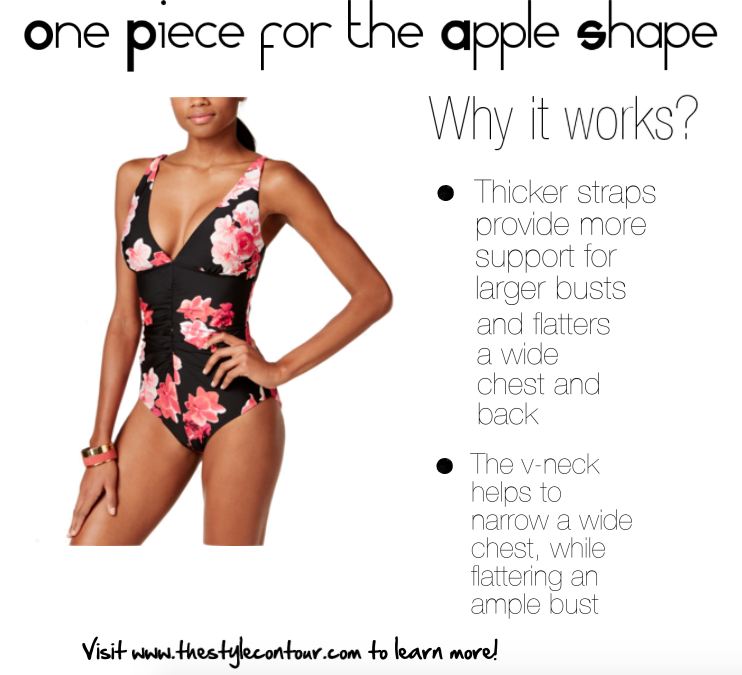 This swimsuit also has an empire waistline, which means that there's a seam directly under the bust, which diverts the eye from focusing in primarily on a fuller midsection. Please note that when I say fuller, I don't necessarily mean a large stomach, I also mean a wider stomach area in general. The apple shape has a wide upper body, which of course includes the midsection, accompanied with narrow hips, as well as beautiful sculpted legs. Back to the suit, the base color of the floral print is black and if you remember in last week's post, "What to Look for in Floral Prints to Create Your Desired (Figure Flattering) Effect", I mentioned that a black base will visually slim the entire surface, as opposed to a lighter base that will highlight the entire area. To briefly expand on the first point I made, if you have a large bust, you always want to look for a thick strap that does not tie around your neck, otherwise, you'll be putting a lot of pressure on your neck. I also wouldn't suggest a bandeau (strapless) because there isn't any support offered at all, leaving the girls bouncing and dancing all over, which can get a little annoying and can hurt, if actively engaging in beach activities. Think of it like running on the treadmill with no sports bra...exactly!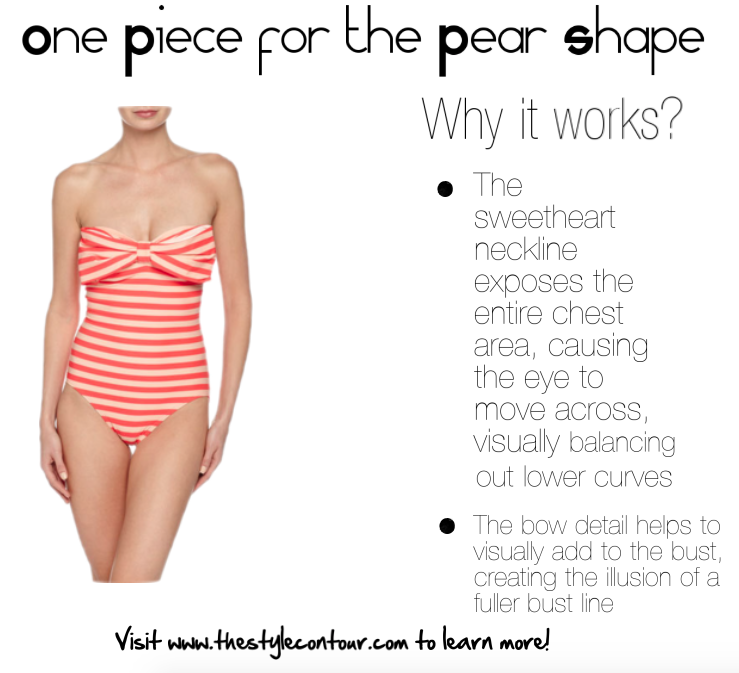 The stripes on the suit will help to enhance and work with your natural curves, while adding to it, since the print continues where the 3D bow detail is. I feel that it has somewhat of a retro 1950s feel to it, which I personally love!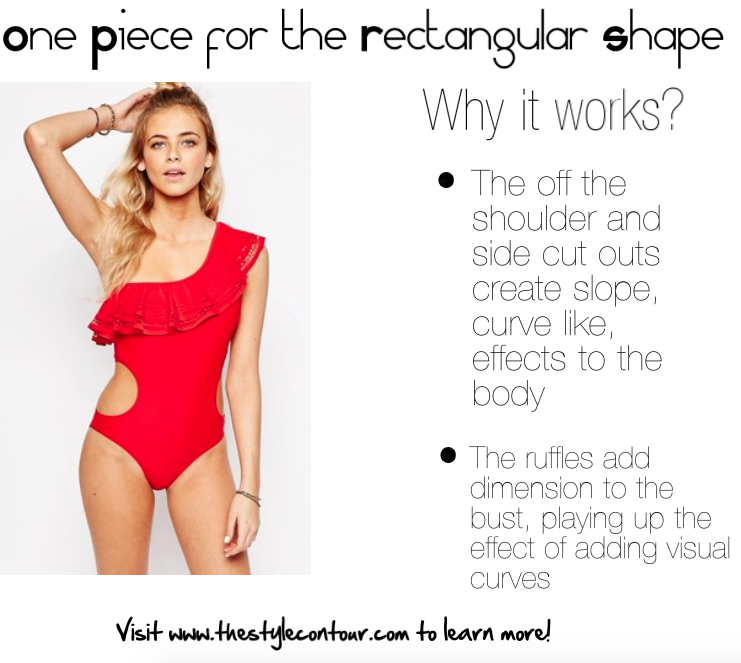 When shopping for one pieces, you can also opt for other details along the bust line that have movement, such as fringe. These details will help to fill in the bust area and instantly add dimension or the illusion of a fuller bust. I've had so many women write in to me after watching my YouTube video on swimsuits saying how confident they felt after trying out this this tip, once feeling insecure about having a smaller bust, but now have come to embrace their shape with these simple tips. So if a smaller bust is something you're insecure about, try out one of these suits, you'll feel and look amazing!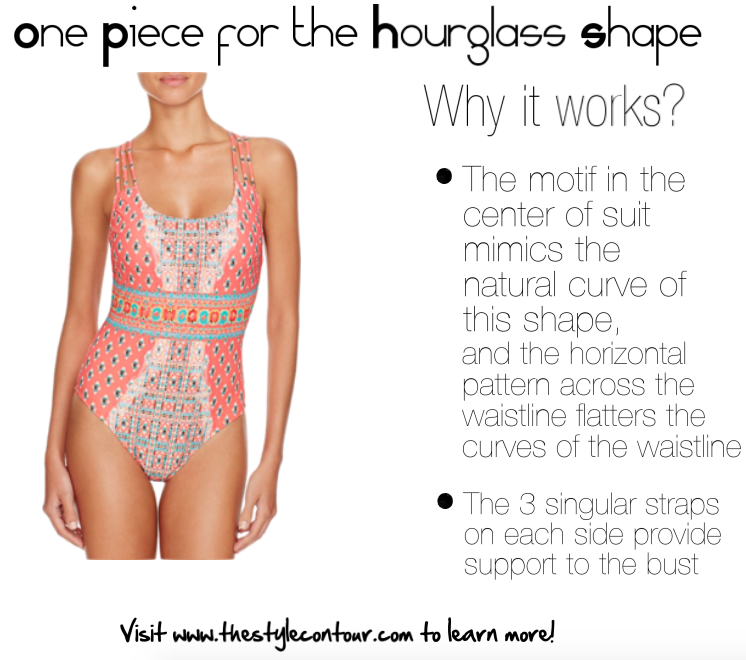 Solid or single printed suits really help to showcase your natural curves. Also, depending on your preference and comfort level, I'd generally suggest thick straps or those with support that aren't a halter style because as I mentioned with the apple shape, this style can place pressure on the neck. I'd also suggest you keep in mind, especially if you tend to be active around the water, that if you do have a full chest, bandeau styles don't offer any support, so you'll find yourself constantly lifting it up and fixing it. Of course, not all hourglass shapes have large busts, but if that is the case with you, you may want to consider a square neckline for maximum comfort and support.
SHOP THE POST!
APPLE SHAPE | PEAR SHAPE | RECTANGULAR SHAPE | HOURGLASS SHAPE
I hope you found this post helpful in selecting the best one piece style(s) for your body shape! Tell me, do you prefer a bikini, one piece or both? Have an amazing day, my dear friends, and thanks so much for stopping by! Oh, and please be sure to pass this post along to those you think would find it helpful, too!
XO,