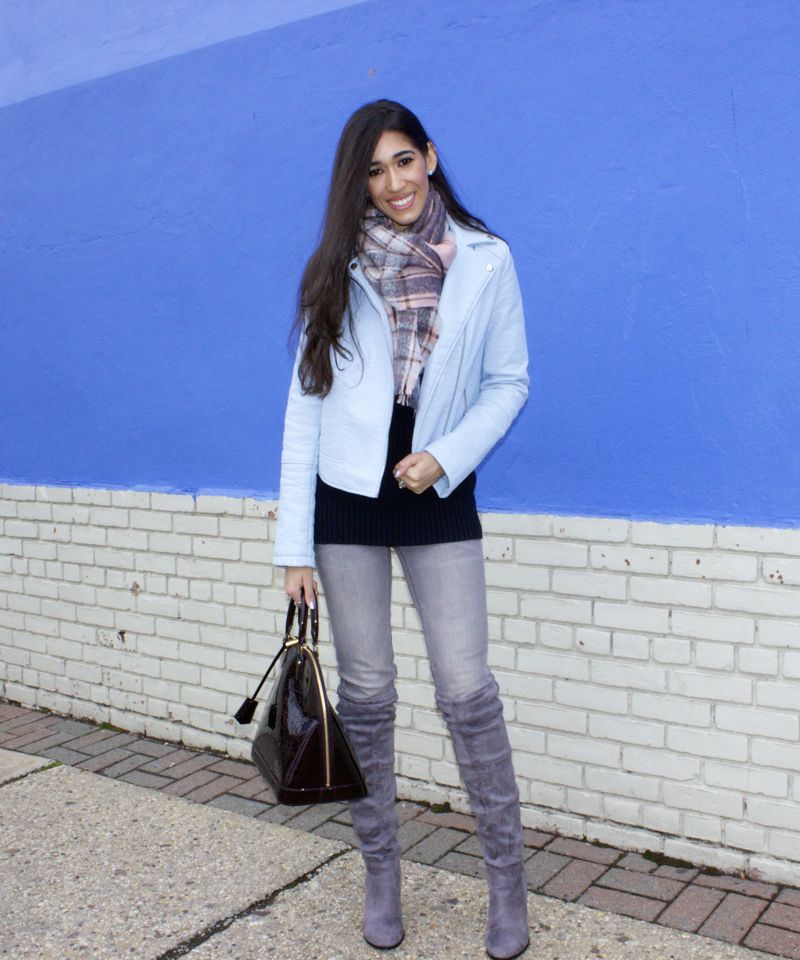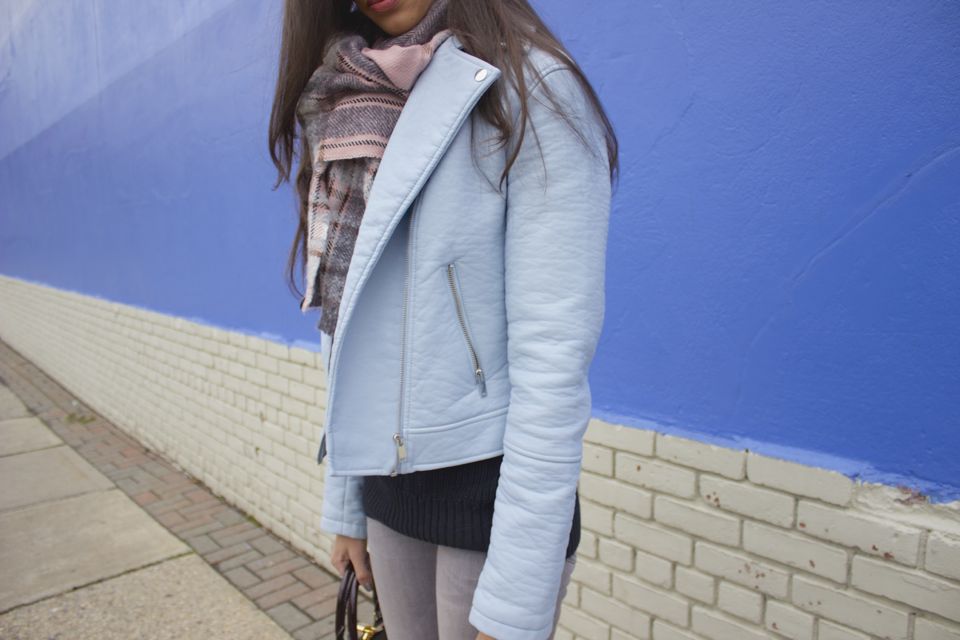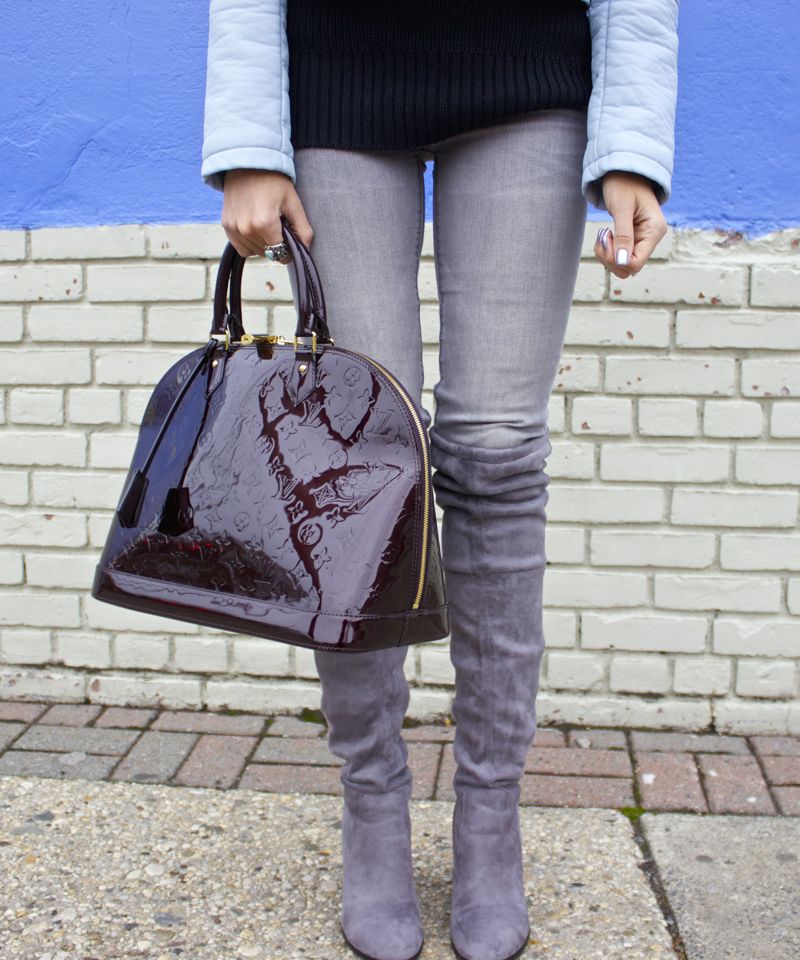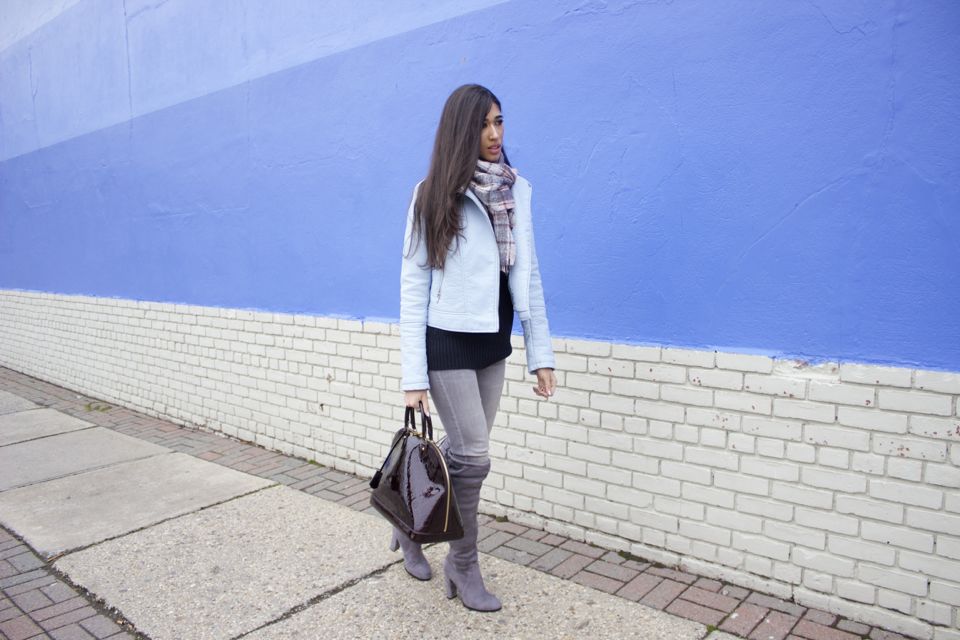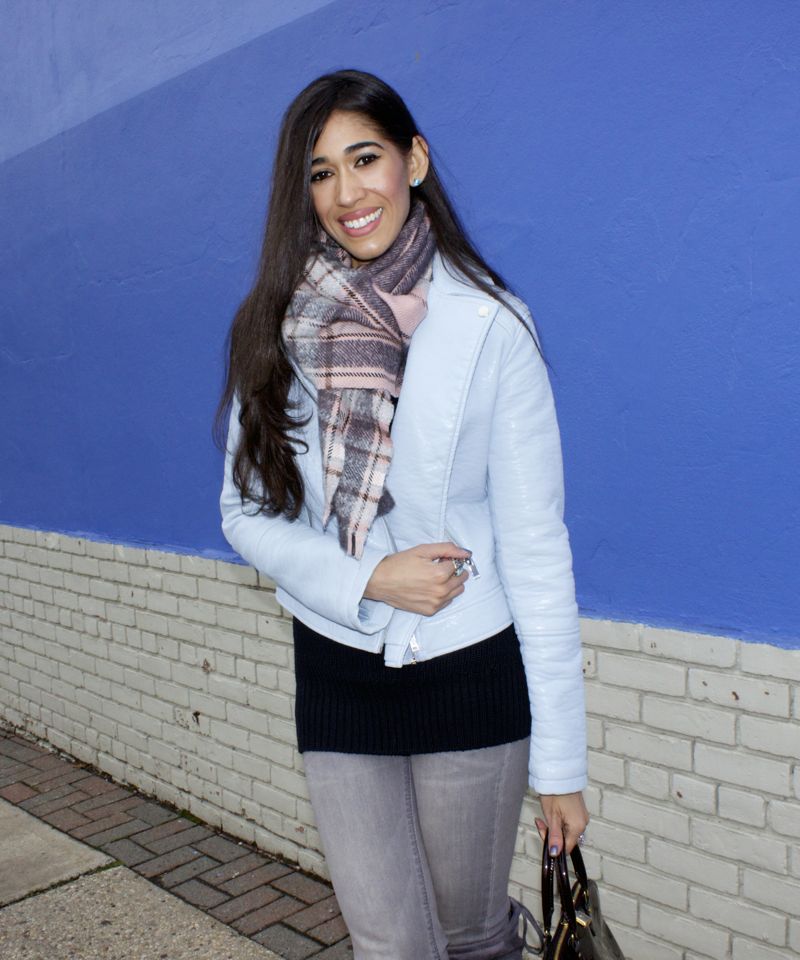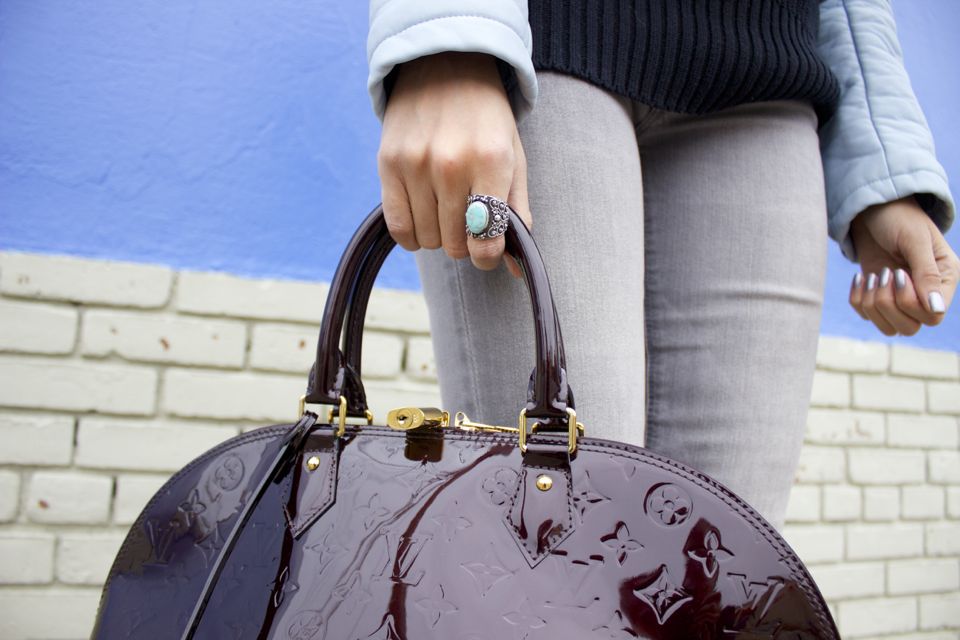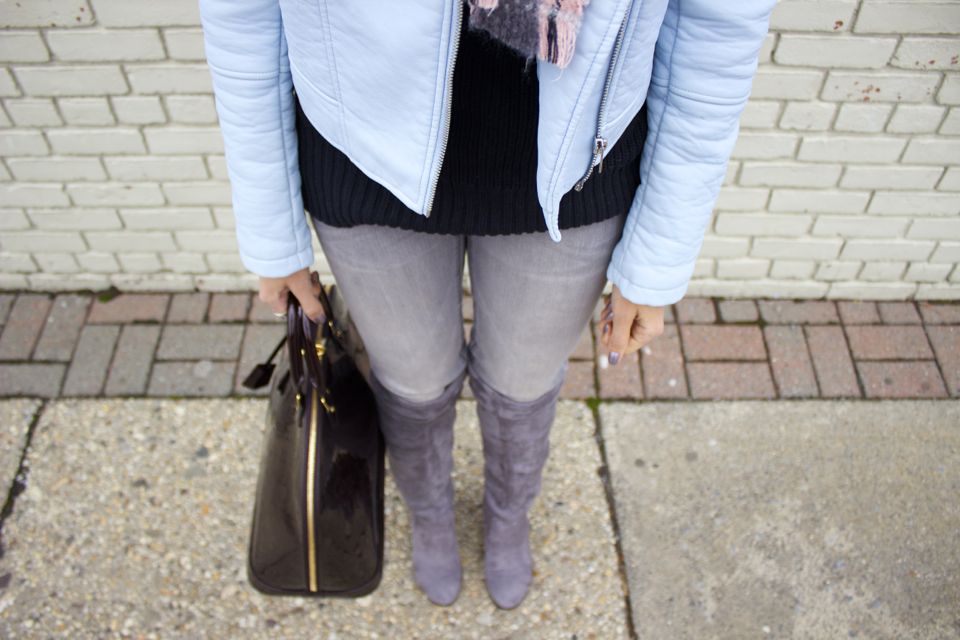 GET THE LOOK!
Faux leather jacket: Dorothy Perkins (similar styles HERE & HERE) // Scarf: Via Marshalls (similar style 25% OFF HERE) // Sweater: H&M (similar 35% OFF HERE) // Jeans: New York & Company (similar style ONLY $20 HERE) // Purse: Louis Vuitton // Earrings: Blue Topaz (HERE) // Genuine turquoise ring: via TjMaxx (similar genuine ON SALE HERE) // Boots: Choies (10% OFF HERE)

Hey beautiful friends!
It's Friday, whoohoo, happy dance! Any fun plans this weekend? I'm most likely going to be snowed in. We're expecting about a foot of snow here in New York and I have mixed feelings about it. As pretty as snow can be, it's such a nuisance to navigate in and around. Plus, who looks forward to waking up extra early to clean their cars and driveways? Nonetheless, we'll make do and perhaps play around in it!
As for this outfit, I think it's a perfect weekend look. Overall, it has a bit of a calming feel, due to the trendy baby blue mixture with grey and blush pink, synonymous to the weekend; at least that's how weekends should be, right?! If you remember in yesterday's post, I shared 12 colors that are perfect for wearing during the winter. I mentioned how all of those colors can pretty much be mixed and matched; this outfit contains 5 of the colors I shared. I really love the way burgundy and baby blue look together, I think they're such a lovely combo, one you don't see often. I feel the same with blush pink and burgundy, too. These two create more of a romantic feel, perfect for the upcoming holiday of love, Valentine's Day...any romantic plans?
Let's just briefly narrow in on these grey OTK boots that I'm wearing way too much lately, shall we?! You may remember me introducing these babies to you in last week's post. You guys, I've been wearing them non stop ever since! I simply love them. I don't know if the comfiness is due to the inserts that I mentioned I added, but they are quite heavenly, but enough of my obsession. I wanted to point out that I paired them with grey skinny jeans, which essentially creates a lengthening and slimming effect to the legs. Ladies, if you are petite, don't feel discouraged in thinking that you can't wear OTK boots, you surely can! The thing you want to consider is how you will wear them, not if you can wear them. If you get them in grey, I'd suggest pairing them with grey skinny jeans, tights or leggings, like I did here or even white pants (consider other elements in your outfit, if you're a pear shape). Combining with all of the pieces I've mentioned, will create a lengthening effect to the legs and even slim them, too (aside from the white). I wouldn't necessarily suggest you wear them with basic jeans, as they can visually cut you off at the knees, making you appear shorter. To sum it up, the rule of the thumb is to pair the boots with bottoms that are closest to the boot color to avoid a shortening effect if you're petite.
I hope you enjoyed this post and found inspiration from it! Thanks so much for stopping by and I hope you have a sweet and serene weekend :)
Xo,