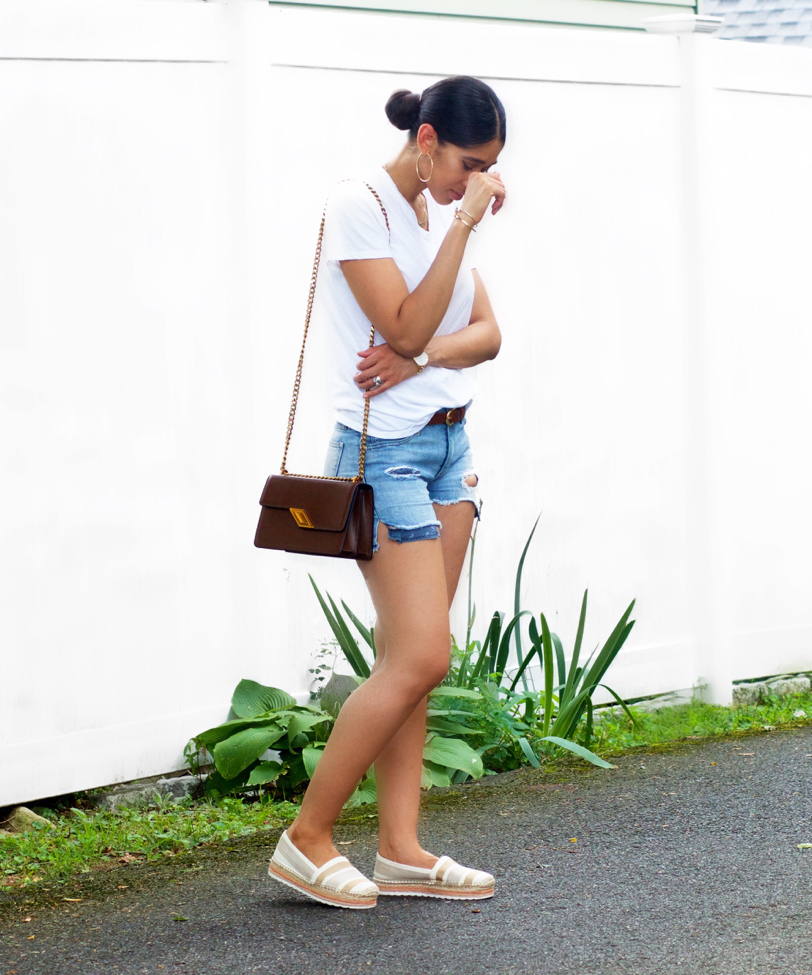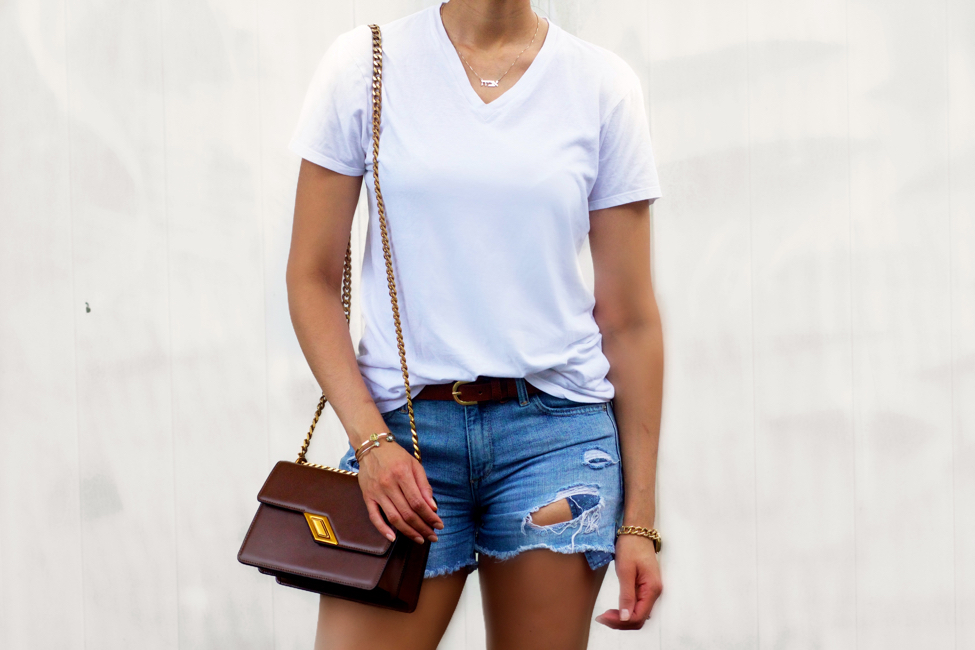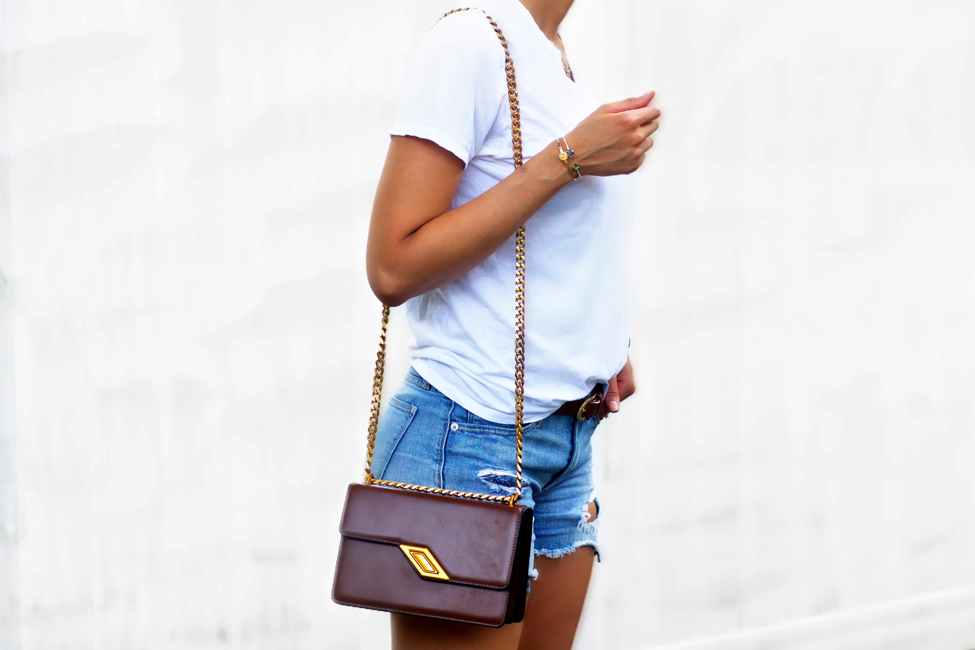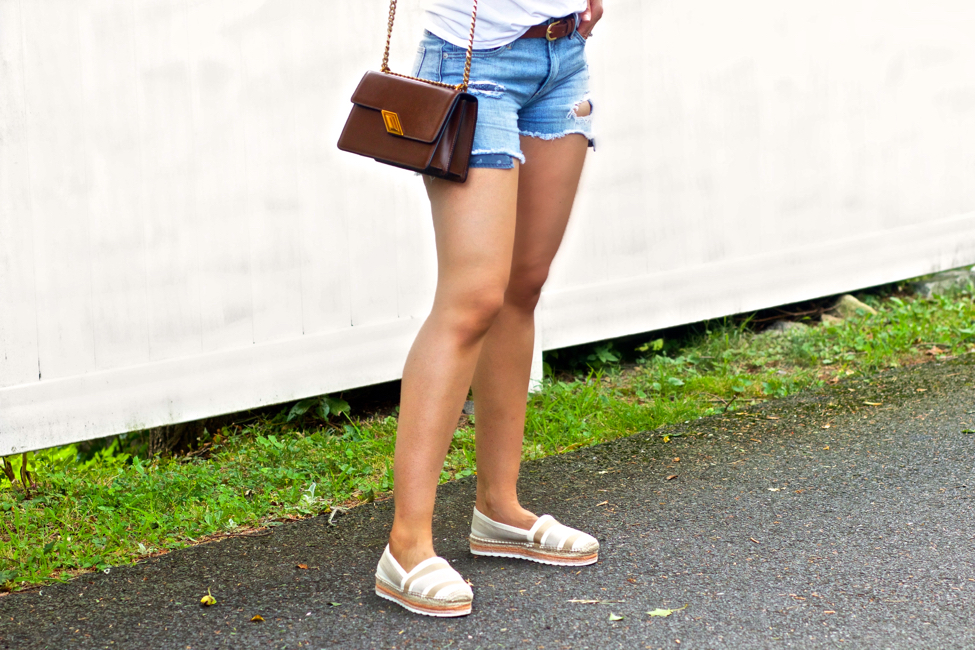 MEN'S TEE | SHORTS: Similar | BELT | ESPADRILLES | BAG: Similar
---

---
Happy Friday beautiful friends!
Since becoming a mom, I've really begun to appreciate basics and mixing and matching them to create new, fresh outfits that are stylish as they are practical. This isn't to say I don't appreciate a good statement piece, I most certainly do. If you've been a longtime reader now, you'd know how much I love my color and prints! Perhaps loving basics more these days has even made me a bit more choosy when it comes to those bold pieces.
Just a few weeks ago, I cleaned out my entire closet with the help of Aviah and my step-daughter. Though it may not necessarily sound surprising, it still amazes me how much Aviah loves clothes and putting outfits together. I know it may seem a bit silly to say this of a two year old, but I kid you not, whenever I buy her clothes, she has to immediately try them on and starts taking out pants or shorts to match it with, if it's a top for example, and let's not forget the shoes! She's a huge fan of Mini Melissa!
Anyway, she "helped" me sort through my closet, which took quite a few hours. I do a closet clean out I'd say about twice a year and each time, I find new clothes that I no longer love or wear as often as I'd thought. This time around, I found myself holding on more to my basics than my bolder pieces. I was more critical of my bold pieces than ever before. How often do I wear this? Can I really wear this multiple ways? If I saw this on the hanger in a store right now, would I buy it again? I surprisingly answered no to many pieces and had to set them aside to donate. The reality is basics pass the test of time. They should be the building blocks of our wardrobes, regardless of gender, age or personal style.
Today, I'm sporting a classic white (men's) tee, which is Eddie's actually. He was doing his own closet purge and gave me a bunch of his basic tees. Men are different in that though these are great basics for us ladies, they can be quite particular about the neckline. He now prefers v-necks, so he gave me all his crew necks and I stood there with arms wide open because let's face it, men sometimes have better basics than us. Don't get me started on their razors. Why hasn't a brand just slap a pink color on a man's razor and call it a woman's razor already?! Seriously! Anyway, let's refocus here. I paired the tee with these distressed denim shorts I've had for several years. I finished off the look with a pair of espadrille flats I recently purchased from Nine West. I grabbed my classic cognac colored bag, slicked my hair back in a bun because it's been a few days of not washing, shhh, and done.
When styling basics and you want to refine it a bit and make the outfit appear more thought out, add a belt and half tuck your shirt. You'd be surprised what this can do for your outfit. Stand in the mirror and look at yourself without doing this and then afterwards. It's amazing what a couple of detailed changes can make!
This would be a perfect weekend outfit and with that, I hope you have a great one, my friends! See you all on Monday!