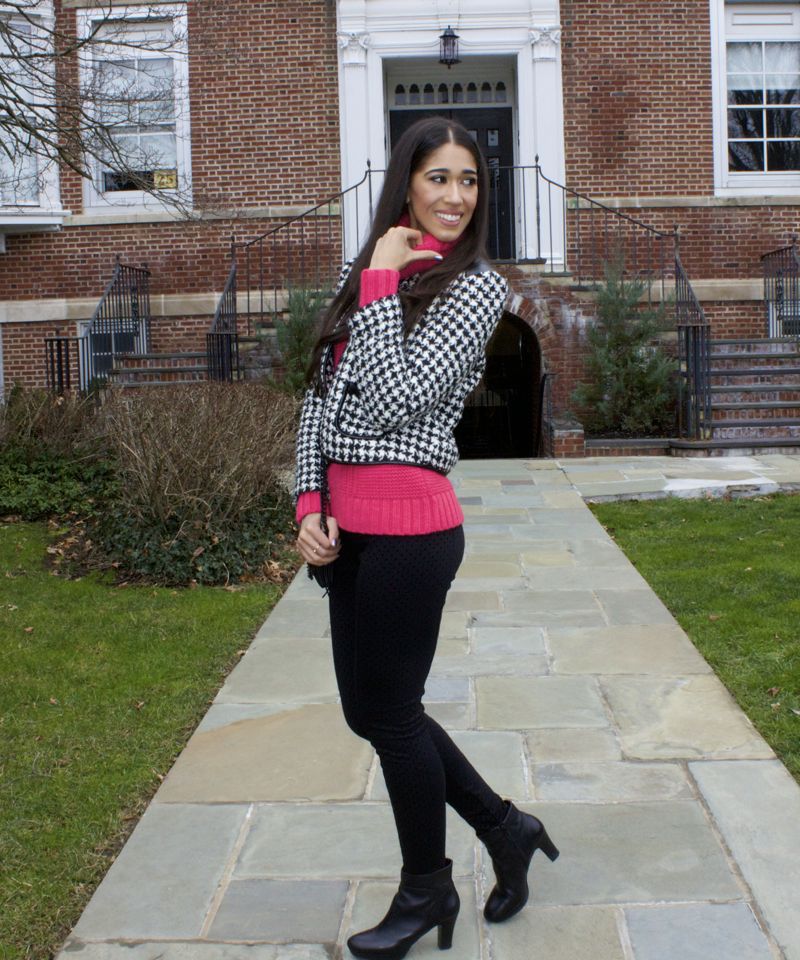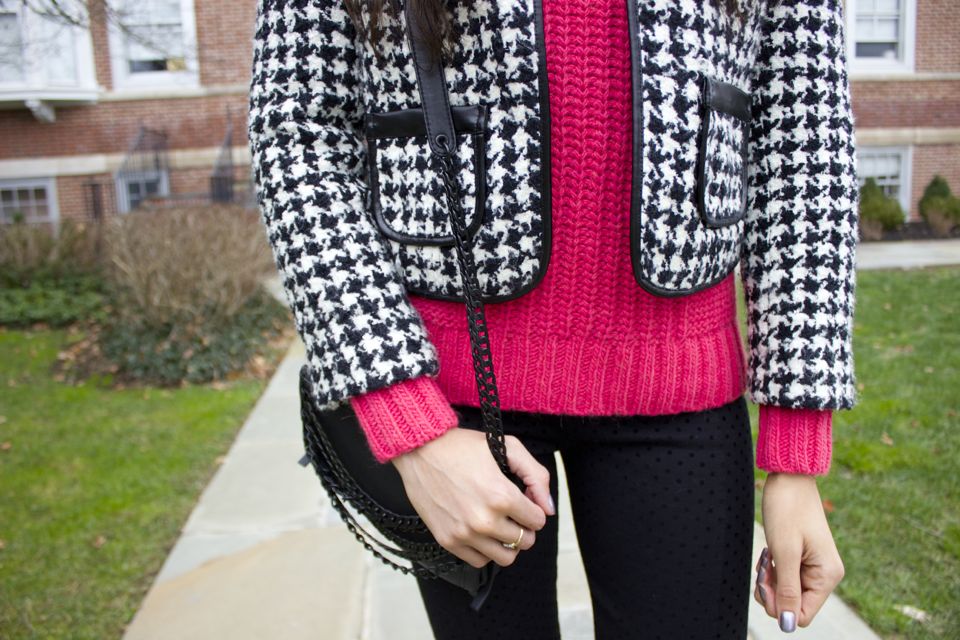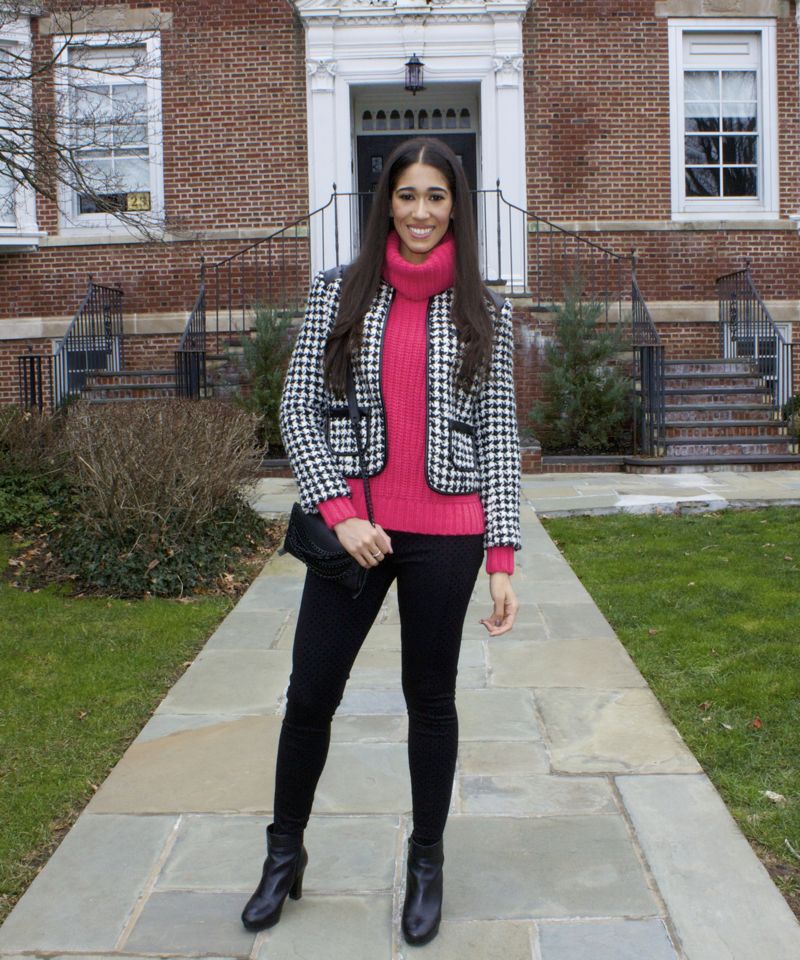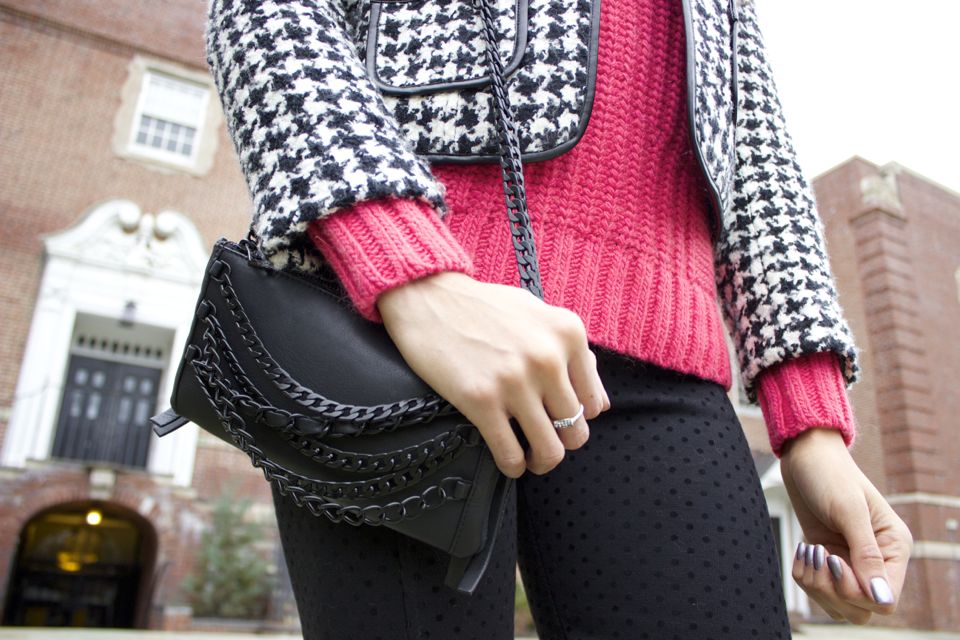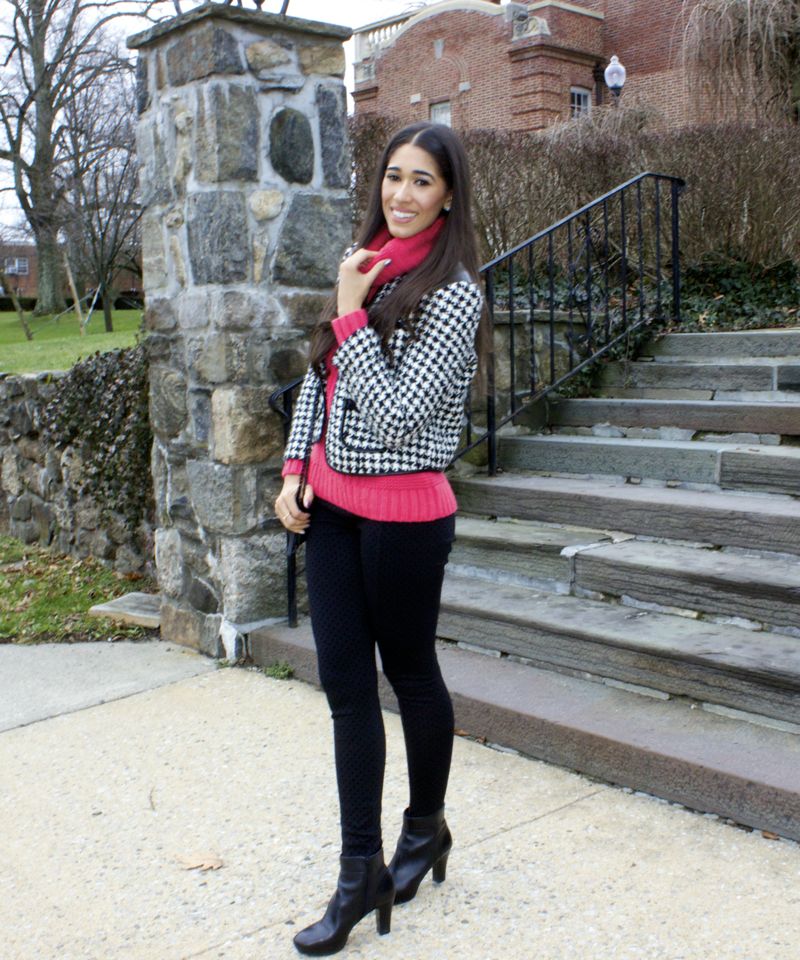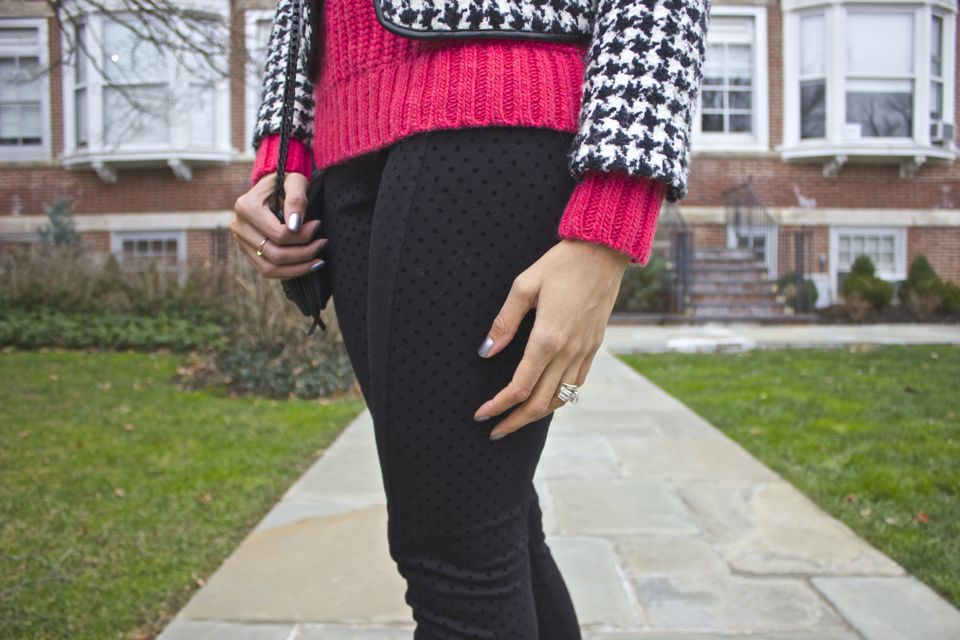 GET THE LOOK!
Jacket: via Cache (similar style ON SALE HERE) // Sweater: Banana Republic (ON SALE PLUS SAVE 40% OFF WITH CODEBR40 HERE) // Leggings: via Marshalls (similar style ON SALE HERE) // Booties: Nine West (similar style HERE) // Purse: Ash (ON SALE HERE)

Happy Hump Day, beautiful friends!
It's no secret that I'm a fan of '60s and '70s style and today's look gives a bit of nod to the '60s in particular. Classic houndstooth is one of my favorite patterns. It's fun and can work well with an array of colors because of it's black and white combo; and when paired with bold and vibrant colors, such as pink, yellow, red, green and orange, it almost always reflects the '60s era. There are a couple of details within the look that help balance out the retro vibe, however, which I feel is important to consider in preventing an outfit from appearing like a costume and instead like an inspiration. The first details are the leather patched shoulders, the second would be the chained purse and then there are the black leather booties. These modern touches help to fuse today and yesterday in a much more practical way. Now, you may have noticed that the leggings I'm wearing have a small polka dot print (more like '50s style) that's a bit understated, since there isn't a color contrast between the dots and the pant, allowing it to be easily incorporated into the outfit, without clashing against the color and print we have working up top.
Speaking of up top, you notice that much of the focus is placed there, making this a perfect outfit for all my fellow (petite) pear & rectangular shapes. It adds interest, dimension and distinguishes the top and bottom portions of the body, which is a great strategy for the rectangular shape, to help visually break up the body into sections, since this shape is straight in nature. This look also helps to visually lengthen and slim the legs, making it perfect for petites who fall into either of these two categories, as well as the hourglass shape. This isn't a pairing I'd necessarily suggest for an apple or inverted triangle shape, since the houndstooth print is rather large and the jacket is boxy, which can make the upper body appear even larger. Instead, I'd suggest a longer, smaller printed houndstooth jacket that will help to lengthen and streamline the body.
I hope you all found this post helpful! Please don't feel intimidated by experimenting with pieces or looks that are a bit retro; you can certainly pull it off, if you consider adding more modern pieces, like I mentioned, to create a balance. I think pulling inspiration from other fashion eras is a great way to diversify your outfit, creating a more chic and stylish pairing. As always, I thank you so very much for stopping by and I hope your day is as wonderful as YOU!
Xo,