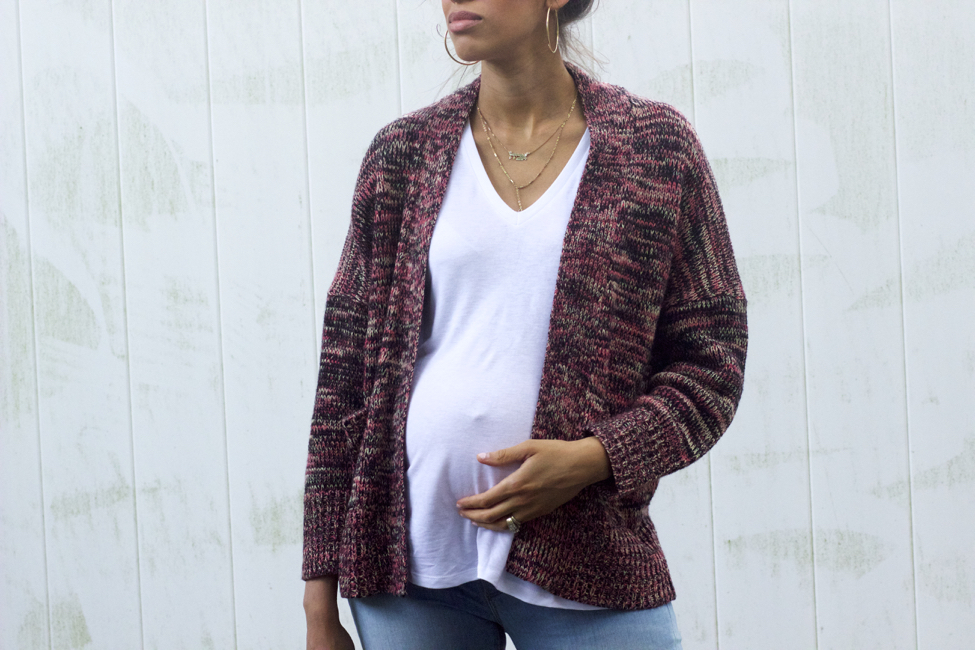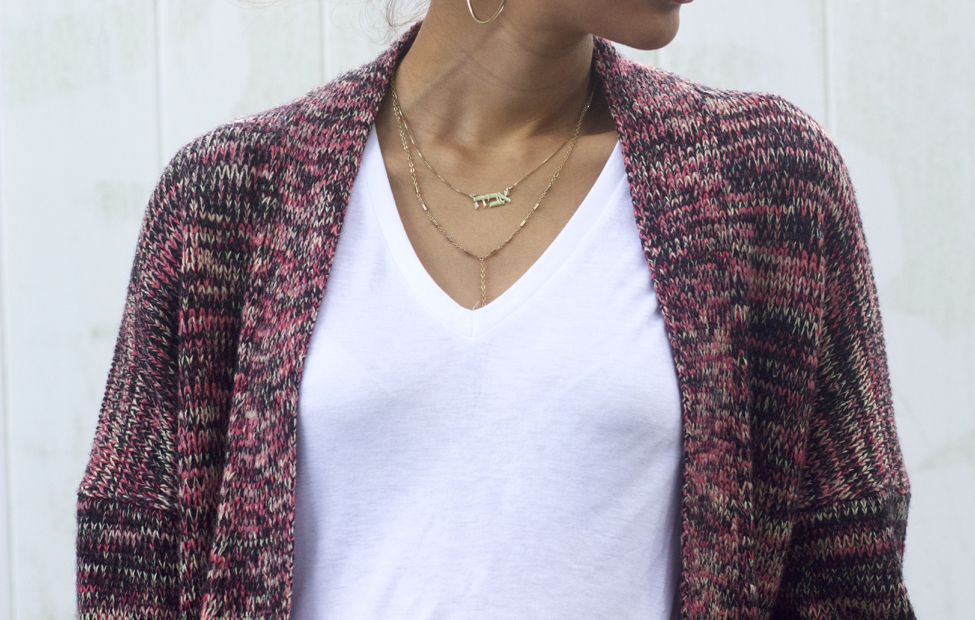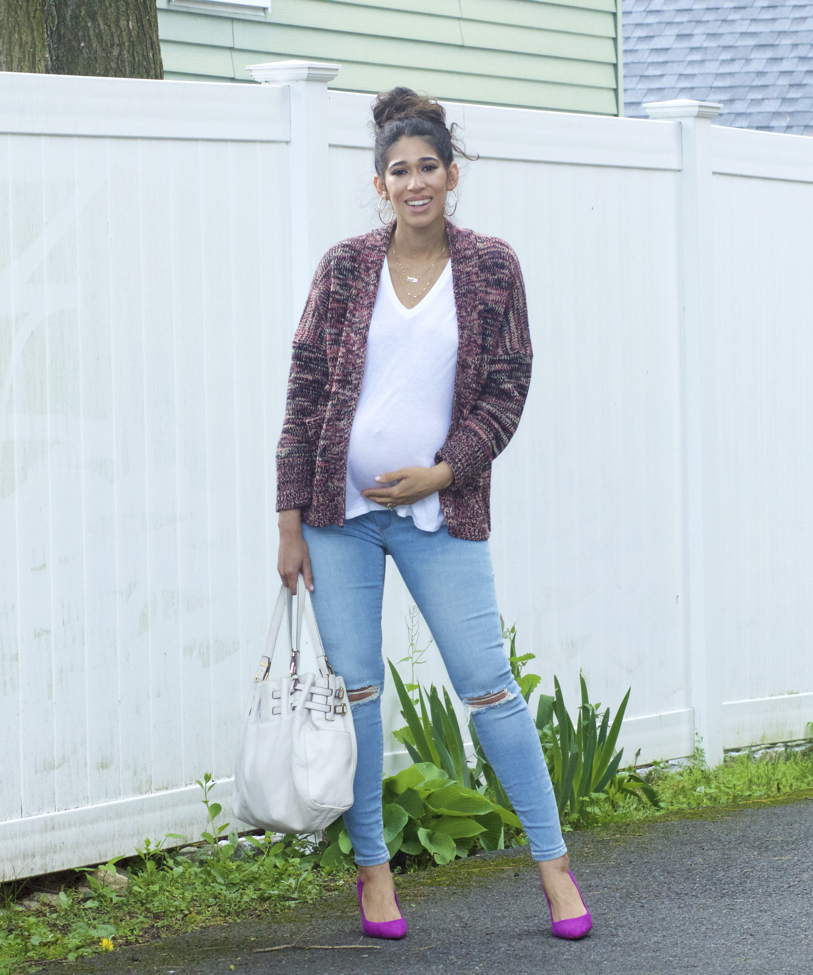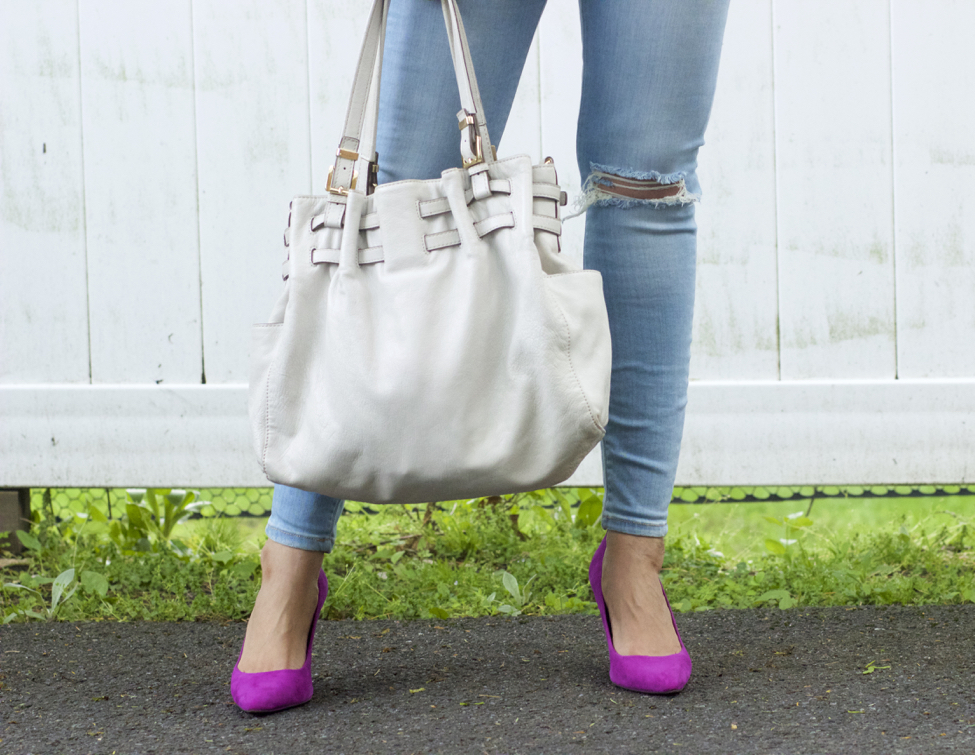 CARDIGAN: Similar | TEE | MATERNITY JEANS: Similar | SHOES: Similar | BAG: Similar
---
---
Happy Monday my beautiful friends!
I hope you all had a great weekend! We enjoyed the beautiful weather we're finally having by taking Aviah to the park both Saturday and Sunday. I'm finding it a bit more challenging to play with her at the park, so I often have to wait until Sundays, when Eddie's off to go with her because she, of course, loves to run and play around, but I just can't go on the big slides with her. She always gravitates to the big kid part of the park, lol.
I'm also starting to feel swollen, which I don't really remember feeling with Aviah. Simply put, I'm at the point in pregnancy when you're like, ok, I want my due date to just some already, lol. I have roughly 6 more weeks to go. I feel like I've been pregnant forever, especially since i haven't been able to blog as much this time around, so it feels like longer.
Anyway, I'm back with yet another white tee and denim outfit, which I mentioned in my previous post that white tee is pretty much a necessity for the summer. It creates a nice light and fresh feeling. It looks great with the most simple accessories and footwear, but serves as a really great base for pops of color, which is what I went for here. I added a marled pink cardigan over it (it's not as heavy as it looks) and pulled out some of the darker pink tones with the heels. If it were to get too hot for the cardigan, I love the fact that the outfit would be just as interesting because of the shoes. This is why you need at least one bold pair of shoes in your collection, they really help to elevate the most simple outfit effortlessly.
Do you have a go-to outfit formula for spring/summer?
Thanks for stopping by, my sweet friends, and I hope you have a great week ahead!