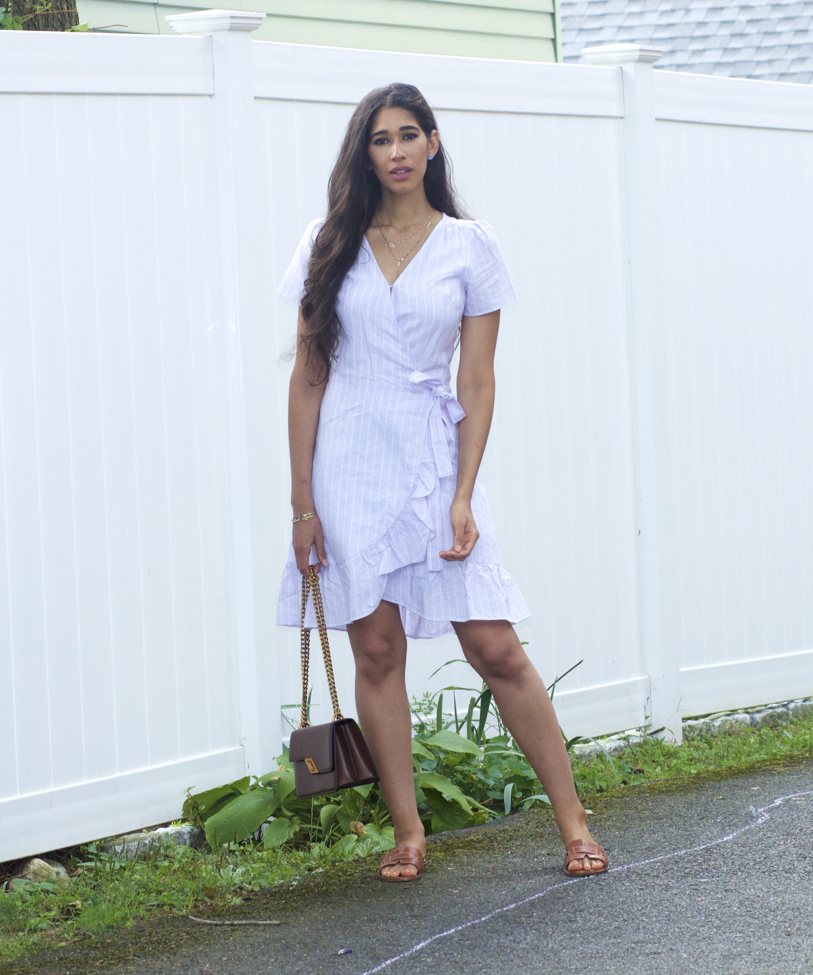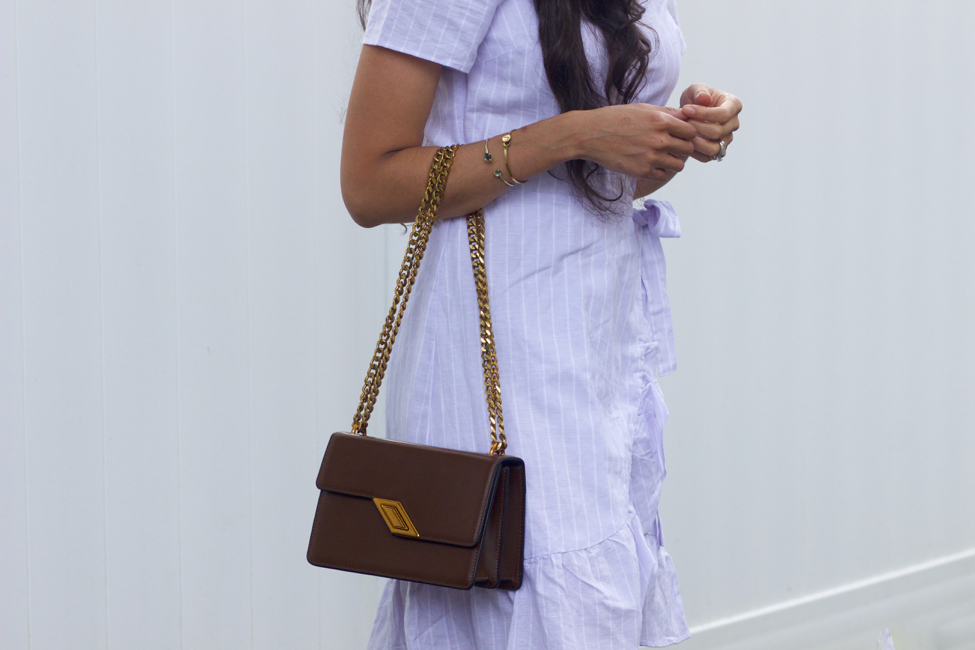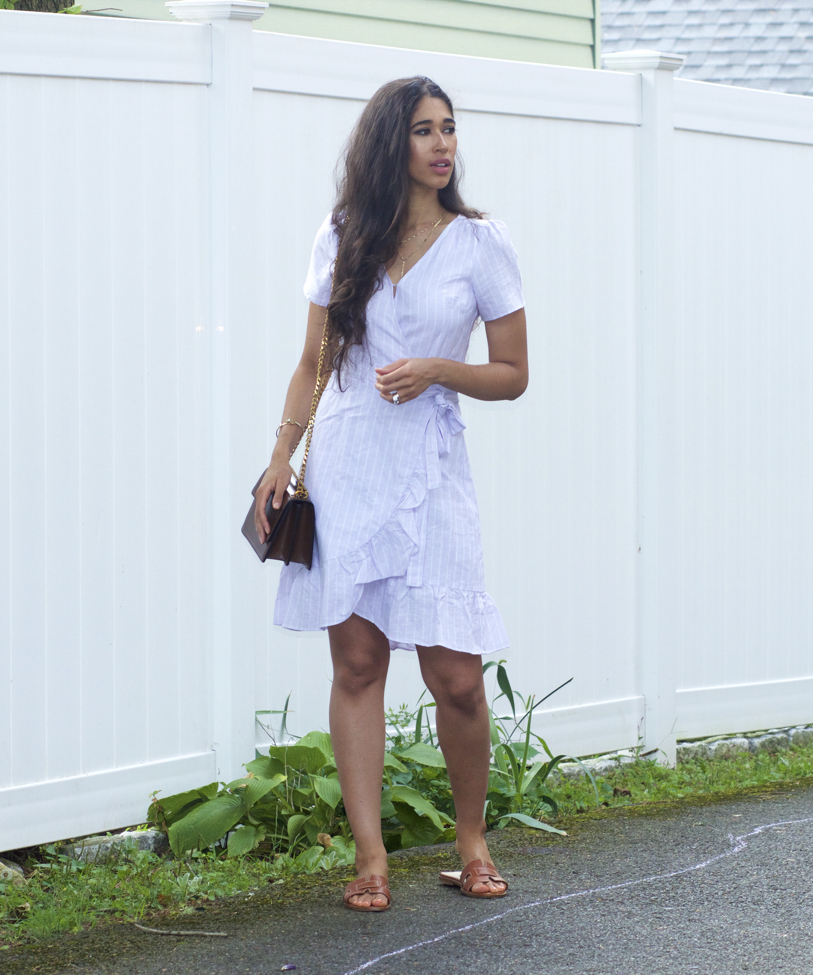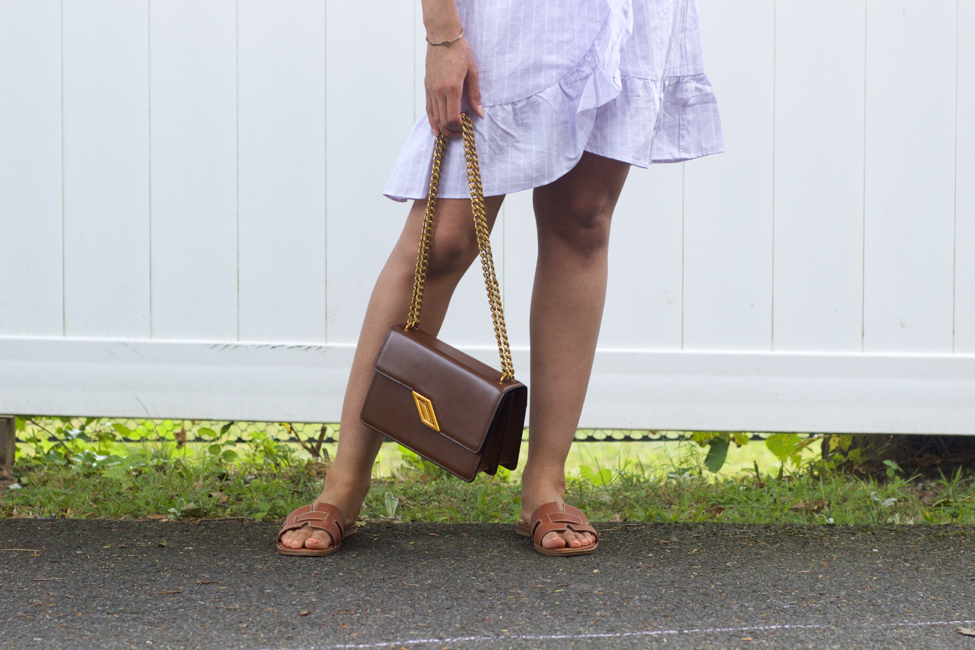 DRESS | SANDALS | EARRINGS (gifted) | BAG (similar)
---

---
Happy Labor Day!
I hope many of you are all enjoying a three day weekend! I'm sure many of you are, so to keep things short and simple today, I'm sharing a perfect end of summer outfit that is pretty much all on sale right now. This very rarely happens with clothing I share here because a lot of times, I purchase things on sale and by the time I'm able to wear them, they're either sold out or in limited sizes. The dress I'm wearing happens to still be in stock in many sizes. I've worn the white version on here last year. It was my most worn dress last summer. This summer, I've been living in Gap's linen jumpsuits. I shared this one a couple of weeks ago that's also on sale. I loved the white dress so much that I purchased this lavender pin striped one, as well as the solid navy color. The style is extremely flattering and would look great on every body shape. They're also comfy and easy to throw on and go, perfect for the end of summer when all you want to plan is what you're going to do for the day, not so much your outfit!
As for the shoes, I've shared my love for them. I've also worn them pretty much all summer long as well. I did mention in one of my previous posts that they're not ideal to do extremely long walks in, but for the most part, they're comfortable and go with everything. Also perfect for transitioning into fall and would be great for spring as well.
These earrings have been on heavy rotation. They're absolutely beautiful and make the perfect statement without being obnoxious. They're the perfect size for everyday. Plus, I love Kendra Scott jewelry, so feminine and light weight. I have so many of her pieces and highly recommend.
Do share what your plans are for the day or depending on when you're reading this, what you did!
Thanks so much for stopping by, my friends, and I hope you have a great day and start to your week!