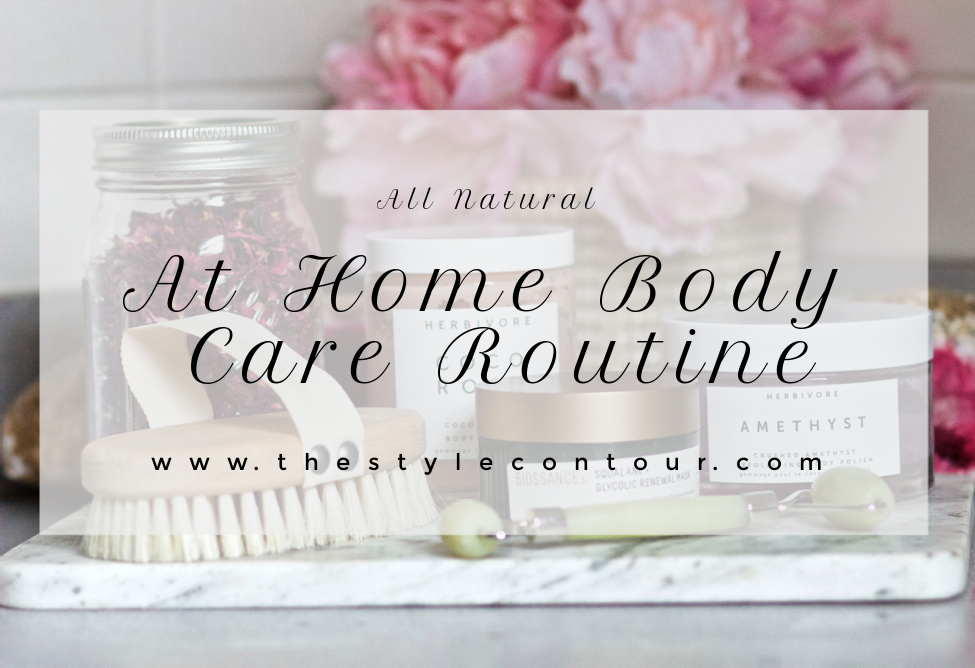 Happy Monday my beautiful friends!
Like many these days, I've been on a journey of self-love and appreciation. This is one, of what I believe to be many, hidden blessings in the midst of this Covid-19 pandemic. With more time on our hands prior to salons opening up, we were forced to get creative and take our grooming into our own hands... literally! While this isn't a post on how to master waxing or even how to cut your own hair at home (I'm not that brave) this is a post sharing some of things I've been doing these past few weeks to nourish and take better care of my skin, which I hope you find helpful!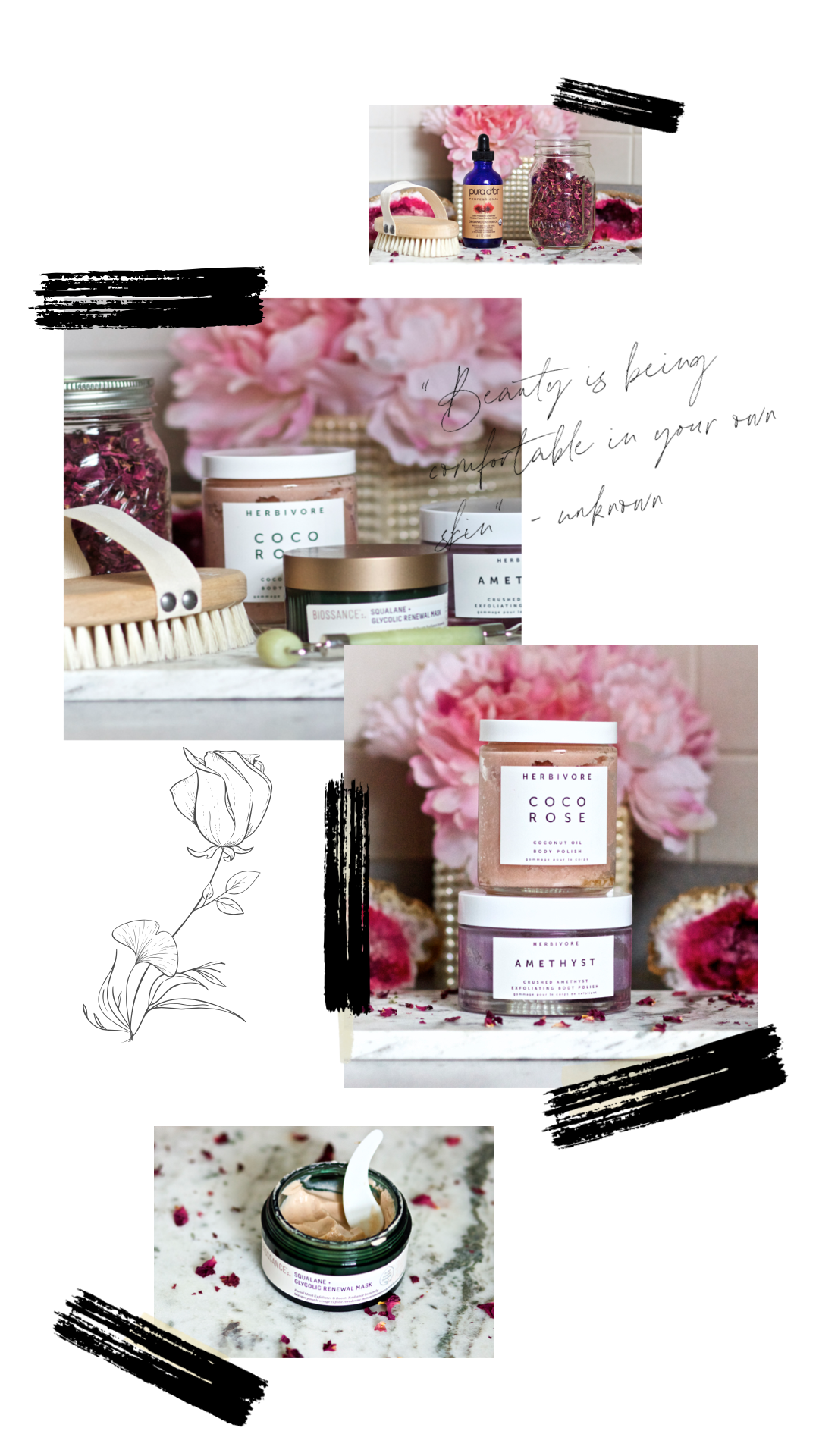 When it comes to exfoliating my face, I'm for the most part consistent. I've used quite a few products, some store bought and some I've made myself. For the past few weeks, I've been using (and loving) Biossance's Squalane + Glycolic Renewal Facial twice a week. What I love about it is that it's a face mask and exfoliator in one. It comes with a pack of reusable exfoliating cloths you can use to gently massage the skin when rinsing off, which I really love. It's said to help with discoloration and fine lines as well. Upon rinsing, my skin is left feeling soft and rejuvenated. You all know how much I love this brand for how clean the ingredients are and the performance. I just learned that they're having a friends and family sale now until Monday, August 24, in which you save 25% off your order. I'm in no way obligated nor sponsored to say this, I just want to share :)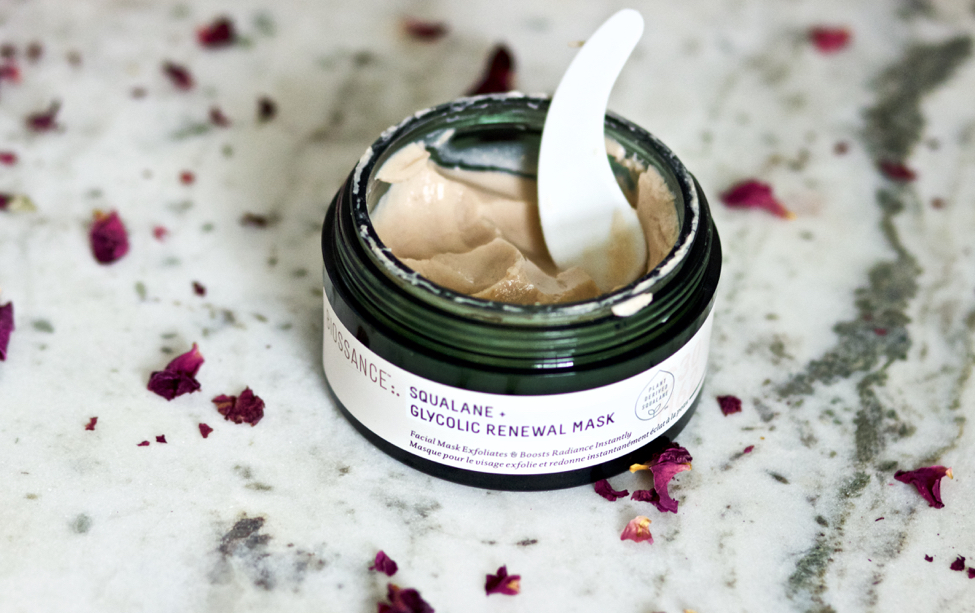 Now, when it comes to exfoliating my body, I've just now started to incorporate it into my regimen. I would exfoliate here and there, but not on a weekly basis. I have combination skin, leaning more towards oily, so I can break out rather easily and are prone to ingrown hairs, making exfoliating a must. A few years ago, I tried out Fresh's Brown Sugar Polish and liked how long lasting it was. The major downside, however, was that it contained too much oil in proportion to the actual brown sugar scrub. So when I decided to get serous and consistent with exfoliating, I decided to test out Herbivore's Coco Rose Exfoliating Body Scrub. I absolutely love it and purchased another. I decided to also try out their Crushed Amethyst Exfoliating Body Polish because it sounds ultra special, since it contains amethyst; I love geodes and stones. To compare the two, I personally love the way the Coco Rose leaves my skin feeling better. It's soft and less abrasive in comparison to the Crushed Amethyst. I'm sure this is because the amethyst one also contains epsom salt, so it's more of an intense exfoliator scrub.
While both are said to help treat dullness and uneven texture, the Coco Rose is said to help with redness. I personally can't attest to how affective it is with that because I don't experience redness anywhere other than my face. I typically exfoliate ever other day because my skin leans more towards the oily side. I also exfoliate after a day spent at the beach to really enhance my tan. With either of these exfoliators, I've noticed an overall difference in the look and feel of my skin. Though the amethyst is more abrasive, it does leave my skin feeling softer than it would typically feel not having exfoliated at all. I just prefer the Coco Rose. I've also noticed that since adding exfoliating to my skincare routine, the pores on my calves are less noticeable (I have large pores) and I don't experience ingrown hairs. I apply it all over my body, concentrating moreon my legs and stomach (I have stretch marks from my first pregnancy).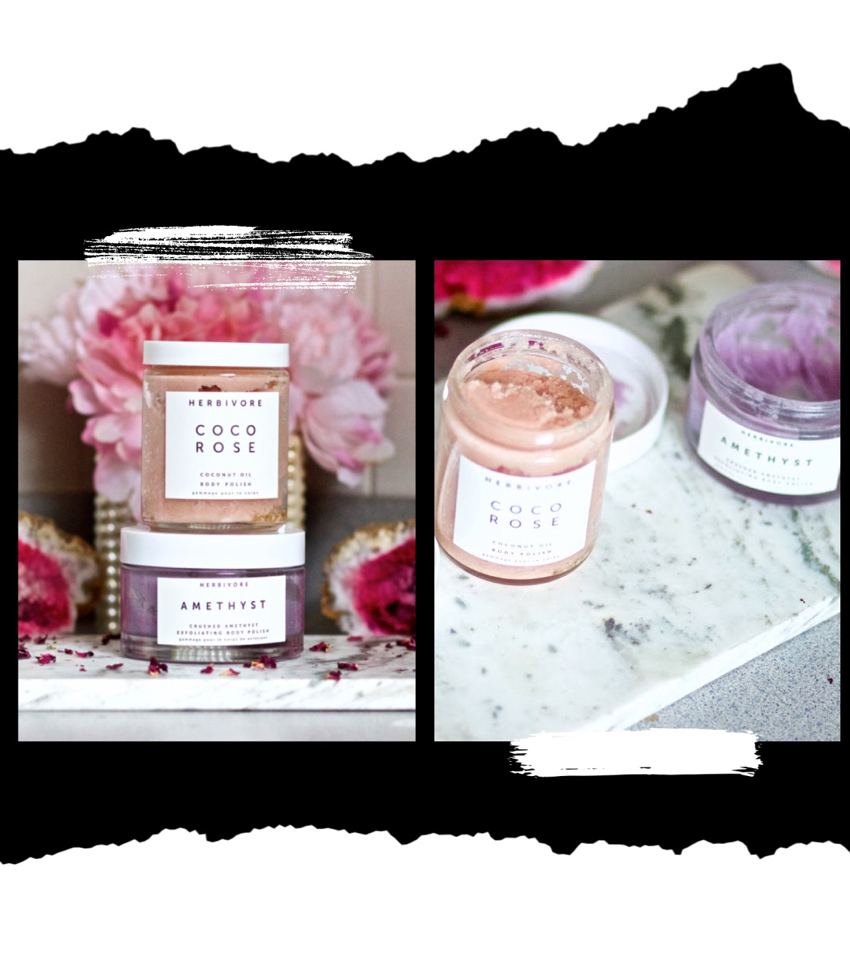 When drying off after taking my shower, I try to leave my skin a bit wet and apply Purad'or Professional's Organic Castor Oil. I discovered this product on Amazon when searching for castor oil for eyebrow growth. While it's known for increasing hair growth and thickness for eyebrow and hair, it's also said to keep skin appearing more youthful. You may be wondering if I've noticed more body hair, the answer is no! Lol! I can't deny that I was a little apprehensive in trying this out on my entire body for that reason. Thankfully it didn't result in more body hair (haha). I simply add it to my body lotion and apply it all over. It doesn't leave the skin incredibly oily, as it's a thicker oil than coconut oil. If you're familiar with how jojoba oil feels, it's much like that in its consistency.
I've also been dry brushing a few times a week. I had been doing it wrong for much of that time though (lol). I was brushing downwards and hard, which resulted in some bruising. Don't do that! You're really supposed to brush upwards, not down. You can also brush either in or out of the shower. I've only brushed out of the shower and even though I wasn't doing it correctly, I did notice a difference in the cellulite on my hips. Dry brushing is supposed to help improve circulation and break up the fatty tissue that causes the appearance of cellulite. I've been using this brush, which was designed and developed by an aesthetic doctor. I love that it has the handle to allow for your hand to be positioned comfortably while brushing, instead of having to grab the whole brush.
Lastly, when I can take a bath, I truly relish. I make it a big production because I'm not able to take one as often as I'd like. I've recently added rose petals to my bath along with a bath bomb, and absolutely loved it! It really makes for such a lavish experience and rose water is so good for the skin, either in a bath or consumed. It can help reduce inflammation and assist in healing scars and burns, due to its antioxidants. The only downside, which can be a major one for some, is that it's a pain to clean up, so I'd suggest not pouring a bunch into the tub if you're not up for cleaning afterwards. If this isn't something you're up for, you can also try adding rose water drops to your bath water for the same benefits minus the clean up.
I hope I encouraged you to create a body care regimen, if you don't have one already. If you do, I hope you still found this post helpful in discovering products you may have not already been familiar with. I'd love to know what products are your favorite and what your routine looks like!
Thanks for stopping by and I hope you have a great start to the week!
SHOP THE PRODUCTS SHOWN & DISCUSSED IN THIS POST
---

---