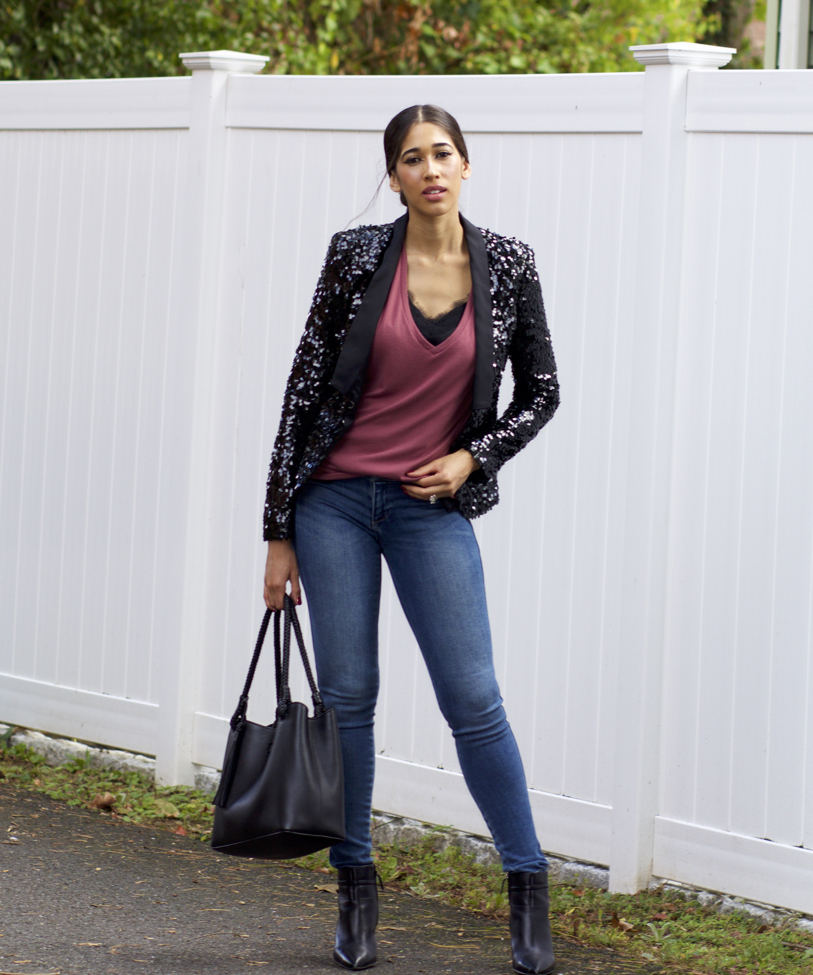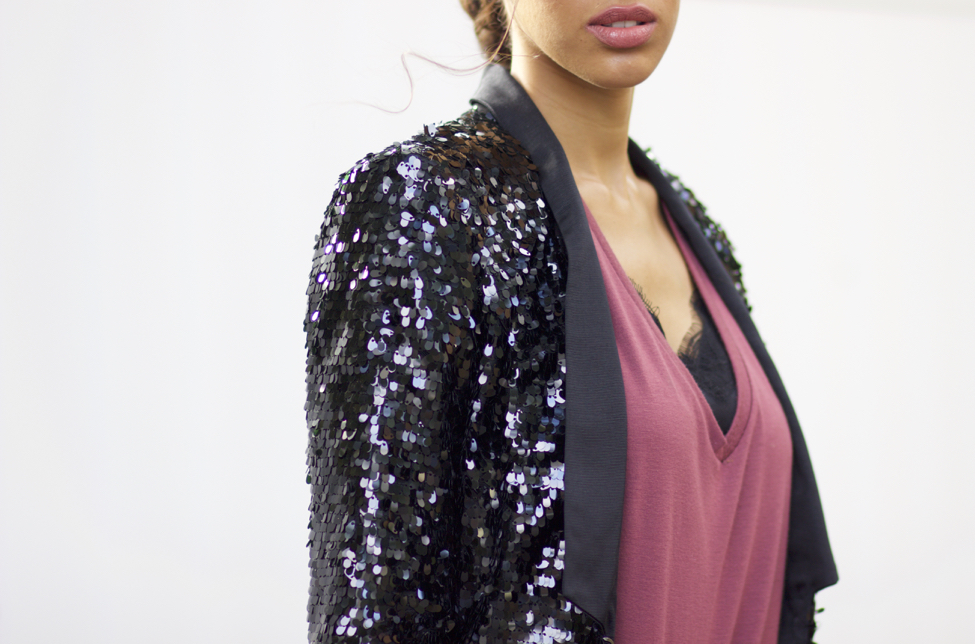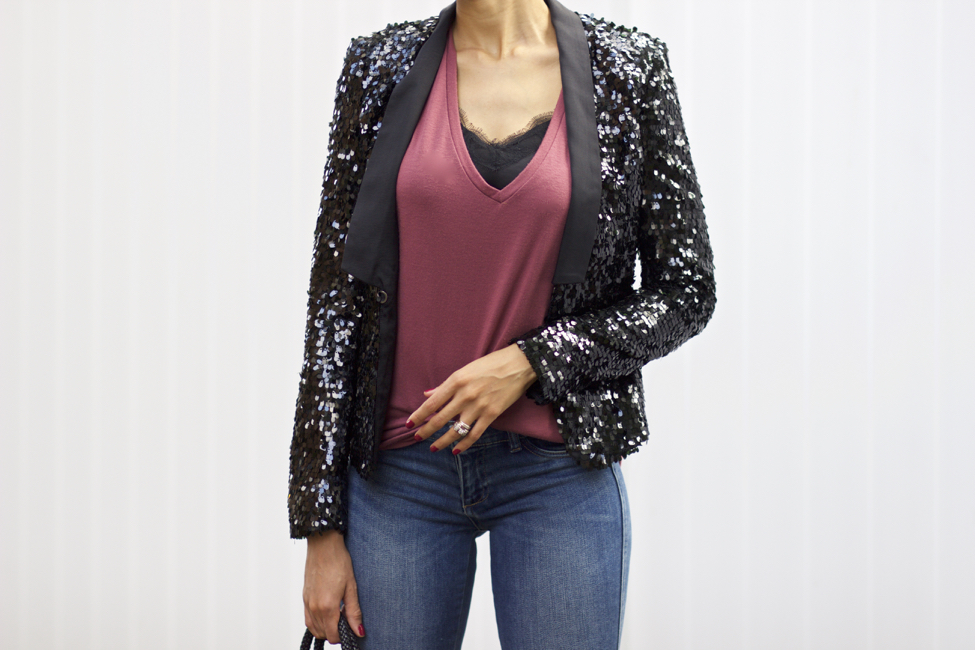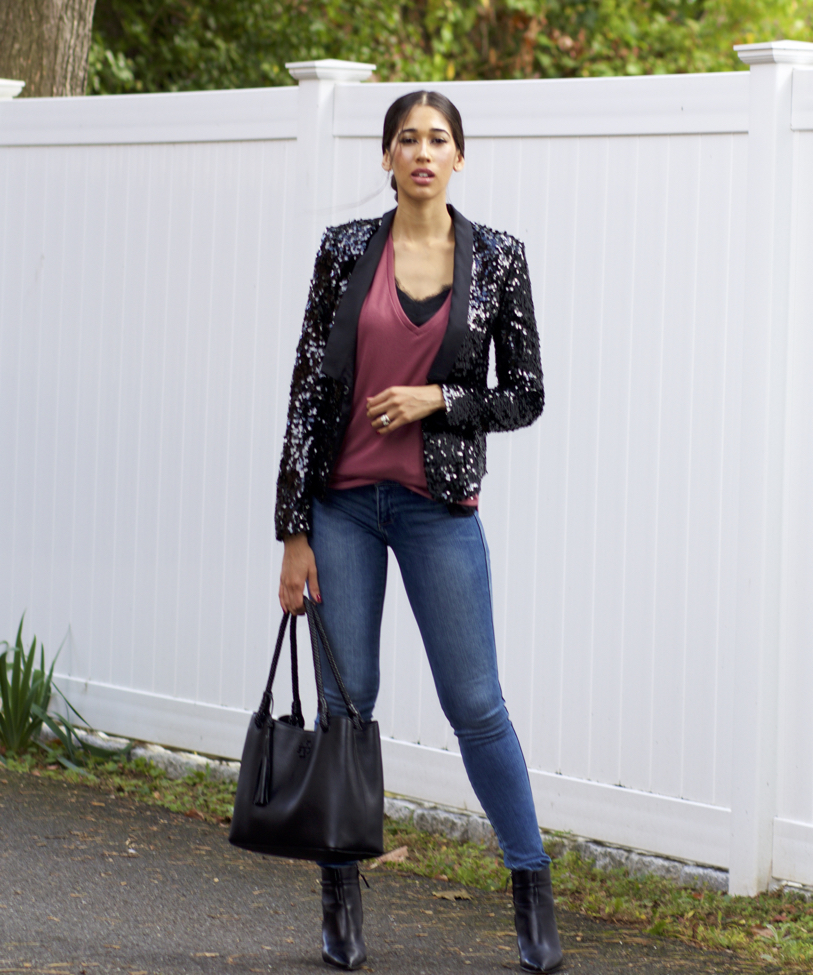 Blazer: Similar here, here, here | Cami | Tee | Jeans | Boots: Similar | Bag
---

---
Happy Wednesday my dear friends!
First off, I'm so glad you all loved seeing both Eddie and Aviah make an appearance on the blog in Monday's post! I'll definitely share more of them, especially Aviah, as she gets older because I'm having way too much fun dressing her...my real life doll, haha!
Random Fact: My dad worked at a toy store for nearly 25 years, so I had nearly every Barbie there was and more doll clothes than I knew what to do with. I played with them until I was 10 years old. These days, I don't even think most girls know anything about Barbies, unless it's in an app :(
Speaking of Monday's post, most of this outfit should look familiar because I wore the exact same tee, cami, and jeans to go apple picking. Here, I've put together a completely different outfit with some minor tweaks that bring a lot of impact, specifically the sequin blazer. With the holiday's quickly approaching, we're bound to see more sequins in the stores and in the streets. You know that I love to get as much use out of my clothing as possible, I can't fathom the idea of just wearing this sequin blazer once or twice throughout the entire year and in only a dressier outfit.
I think a sequin blazer is quiet easy to pull off during the day or any other time of year than most of us think. The key is to add it to an otherwise simple outfit, as I showed on Monday. By keeping everything else in the outfit relatively simple, you'll allow for the blazer to be the focal point of the look and when you combine it with pieces that aren't festive in color, such as red or metallics, it makes it more practical for any time of year.
When it comes to finding the perfect sequin number, especially when ordering online, I'd suggest going up a size. Based on my personal experience, I've noticed that sequin clothing run slightly smaller and are a bit pricey because of they're often hand sewn or require more labor. If it ends up being too big, I think it can still work and double as a sequin coat, so no need to panic ;)
If you're interested in more ways you can style sequins during and after the holiday season, feel free to check out one of my previous blog posts, How to Style Sequins Now & Later for some additional inspiration!
Thanks so much for stopping by, my dear friends, and I hope you're having a great week so far!
XO,