Hey beautiful friends!
Yesterday, I wore an outfit combining chambray and brown leather pants. I was so excited about taking my chambray shirt out again; it's been awhile since I've worn it and I started to think of different ways I could style it and I wanted to share those ideas with you, in hopes of giving you some inspiration on wearing your chambray shirt. You may have seen some of these combinations before, but I tried to add some unique touches to make them more engaging and inspirational.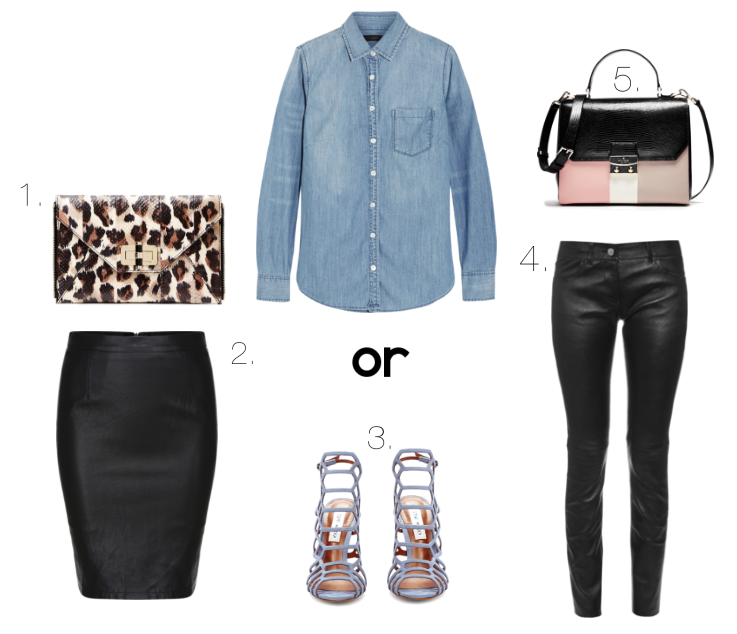 Chambray + Leather
The combination of these two structured pieces are sure to flatter any body shape and exude a touch of edginess, due to the black leather. To add a bit of a chic, feminine feel to balance out the edginess, I added a leopard clutch and baby blue sandals for the first option; I think the clutch works better with the skirt. I added a structured satchel for the second option to soften the biker chic vibe of the leather jeans. The feminine flow is further enhanced by the same baby blue sandals styled in the first look. You could add pearls or a statement necklace to add a touch of glamour to either pairings.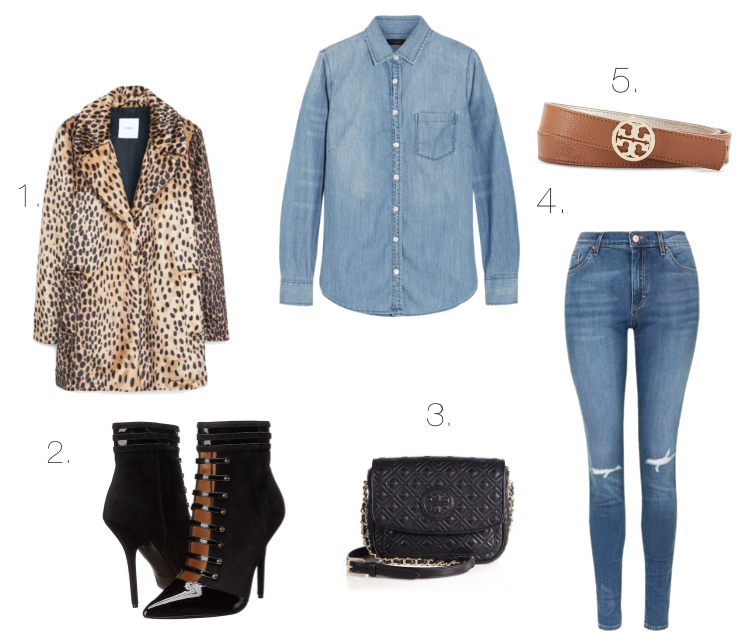 Denim on Denim aka The Canadian Tuxedo
I love the look of denim on denim, it has a monochromatic effect, so it comes with many benefits for body shapes and heights. This is a look that all body shapes could wear, as it creates a cohesive and flattering flow, when the two washes are the same or fairly close. If you decide to combine two different washes, I'd suggest you consider placement, to ensure that it'll flatter your figure in the best possible way. For instance, if you're an apple shape, I'd suggest going for a darker wash for your shirt and perhaps a lighter one on the bottom, as it can help to highlight your legs and balance out your fuller upper body. I'd suggest the opposite for my (fellow) pear shapes. For my hourglass and rectangular shapes, who aren't petite, I'd suggest wearing a belt with the shirt tucked in, to help visually breakup and distinguish your upper and lower proportions. If you are petite, I'd suggest you minus the belt, as it can create visual length, establishing a seamless flow from top to bottom. To add a different spin to the classic Canadian Tux, I added a leopard coat, but you could add a coat of any print to create the same effect.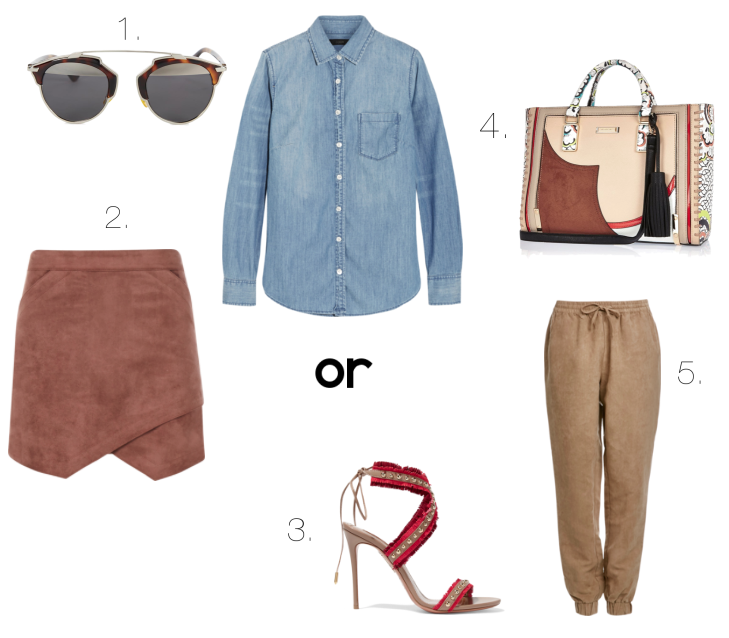 Chambray + Suede
I am really excited to wear this combo come spring, it's one that I, personally, haven't seen. I love the idea of it combined with a suede skirt or joggers; I'm actually going to do the second option first, since I don't have a suede skirt yet. I think the combination of these two create a western, boho vibe, definitely in line with the recurring '70s trend!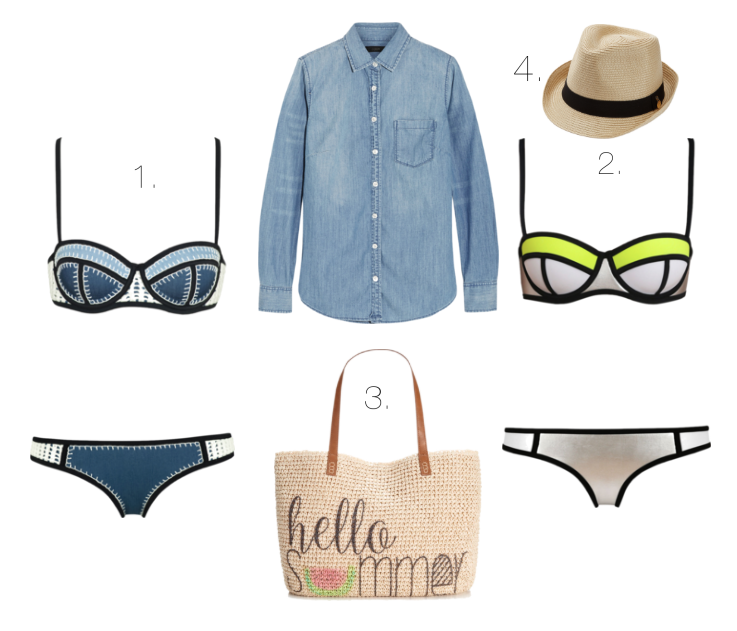 Coverup
I've never thought of using my chambray shirt as a coverup, until I recently came across a photo of a girl wearing hers. I LOVE the idea, especially when it's worn over a denim inspired swimsuit, creating a beach version of the denim on denim, which I think is pretty cool and stylish!
What are your favorite was of wearing chambray?! Thanks so much for stopping by and I hope you have an amazing day, my dear and beautiful friends!
Xo,