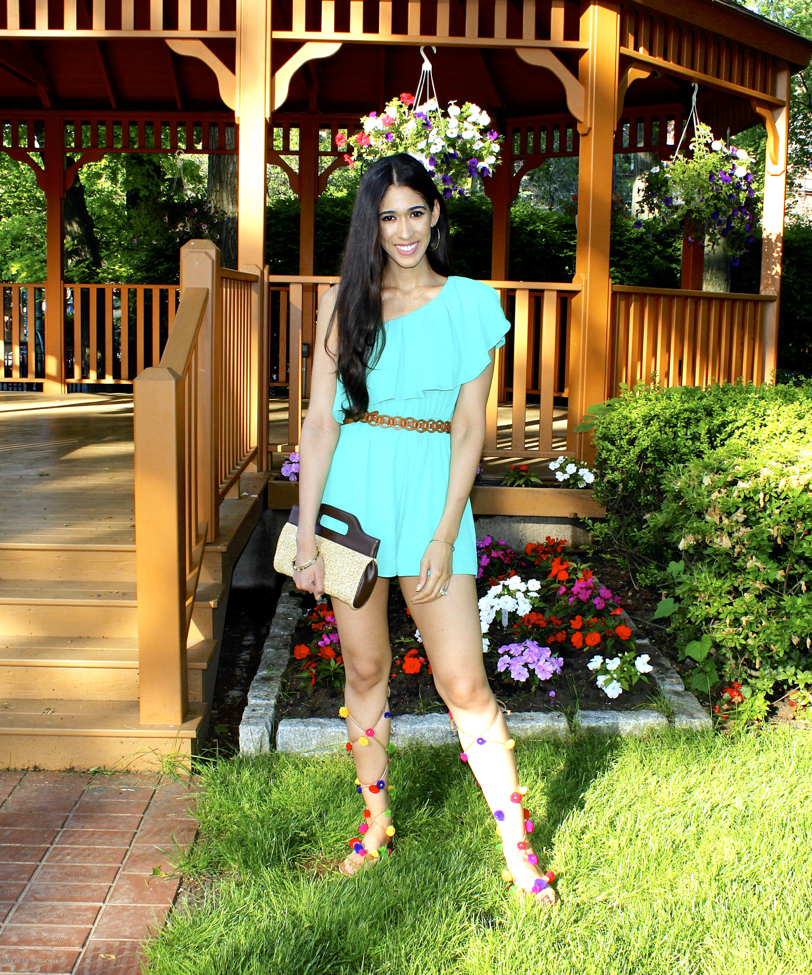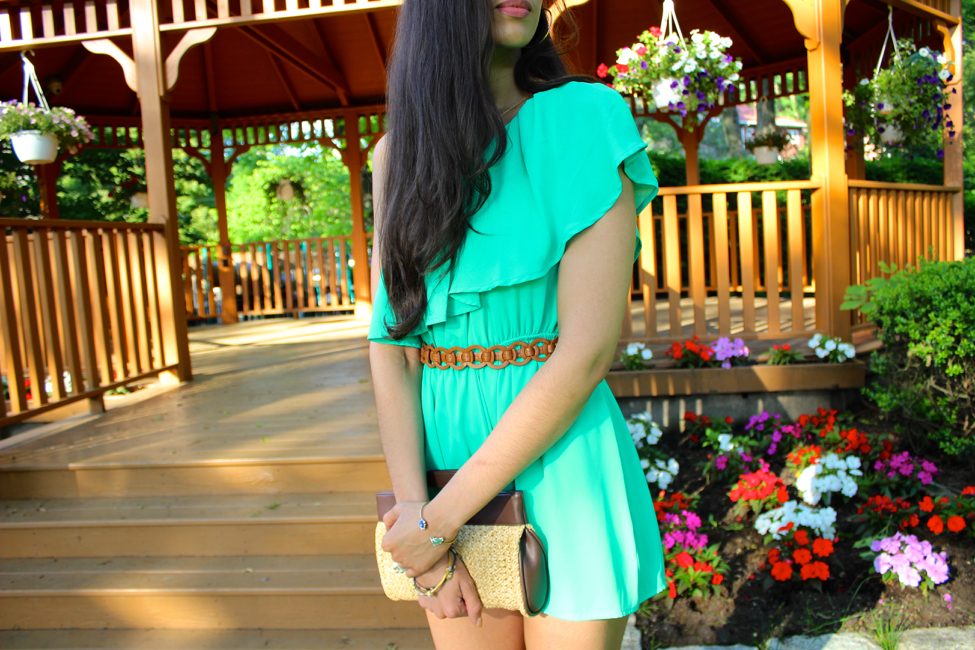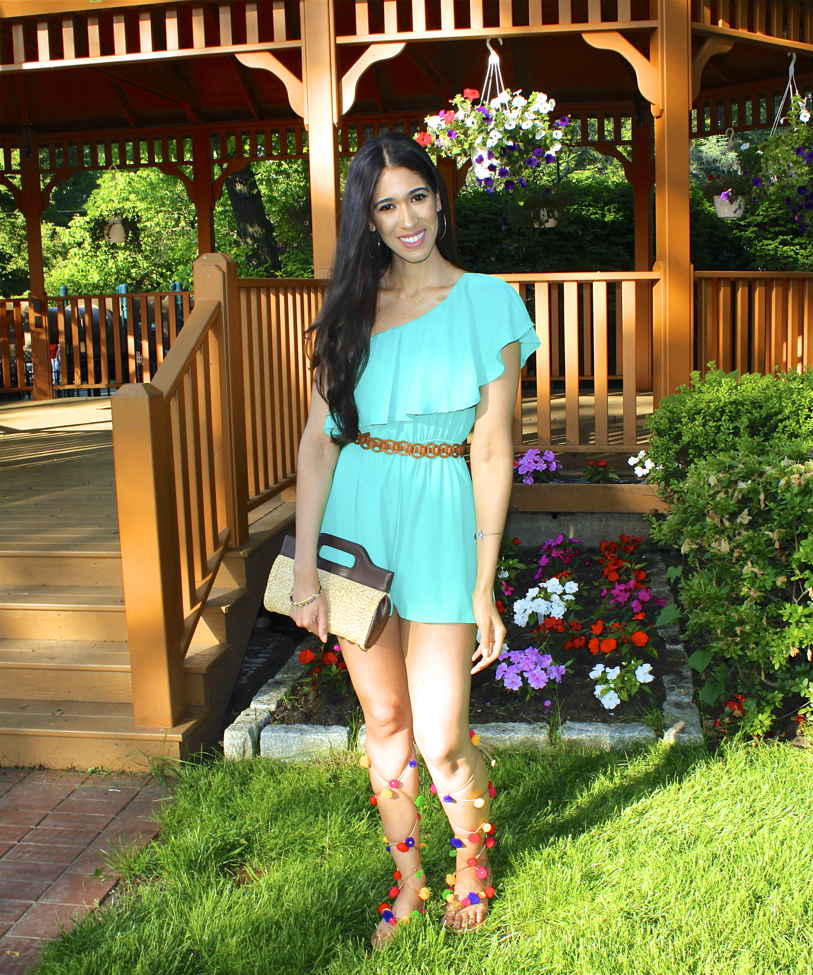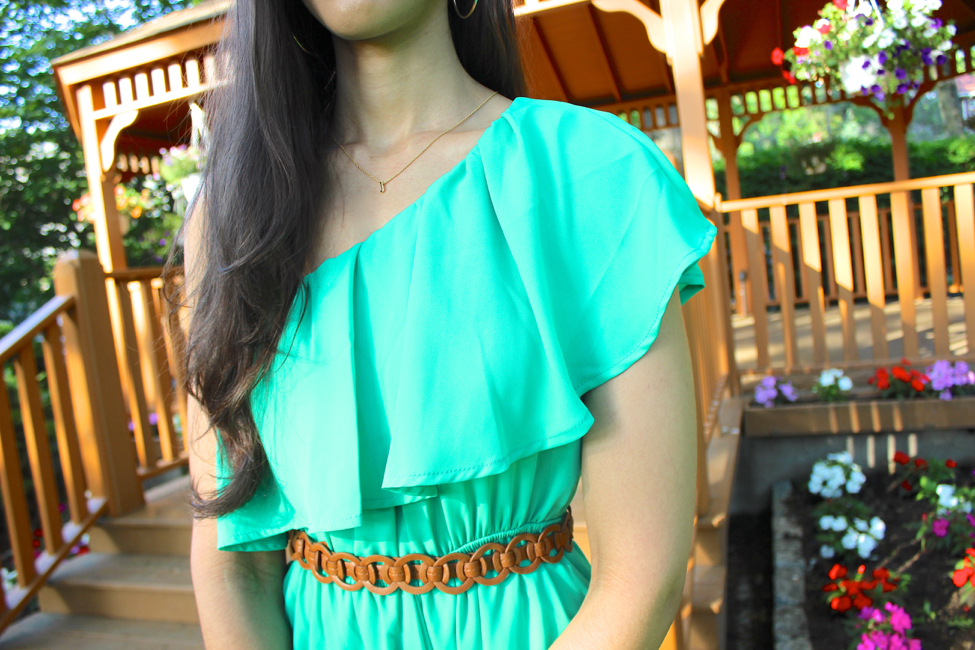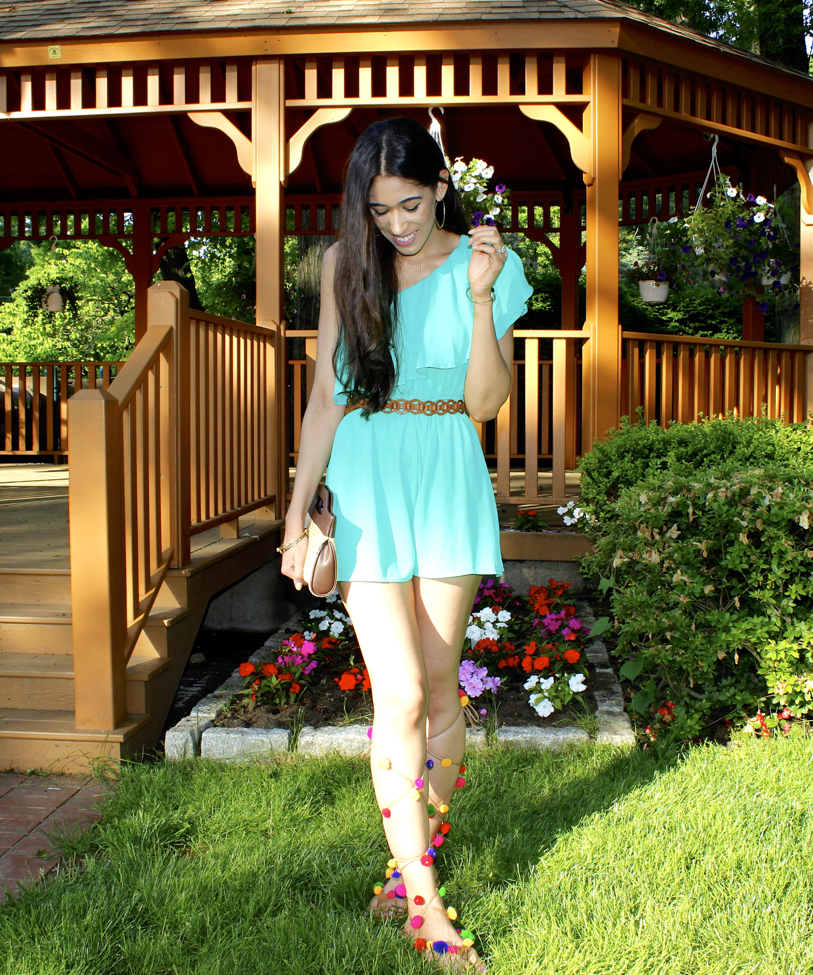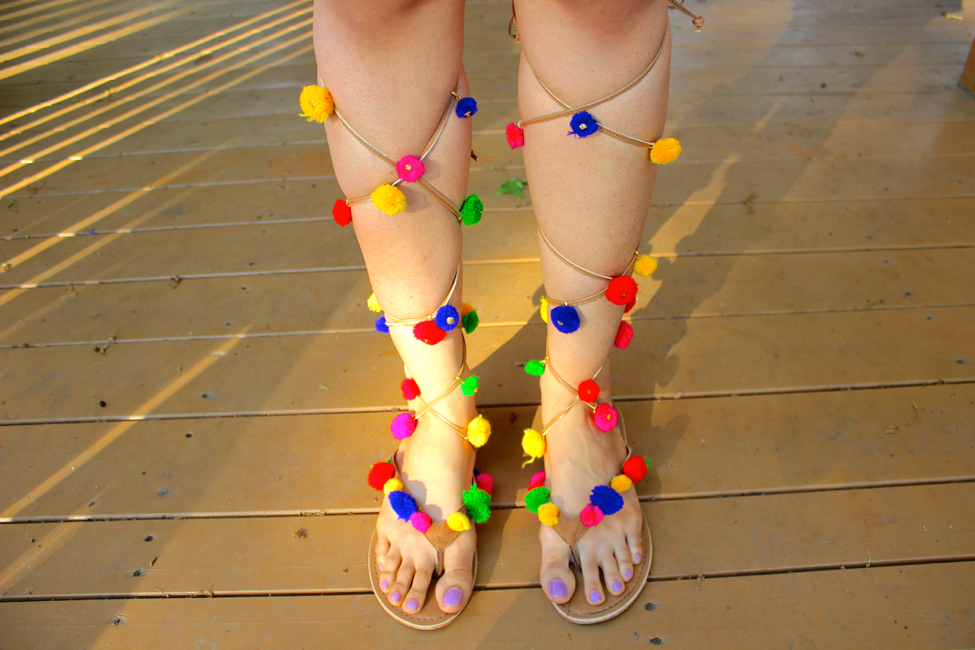 GET THE LOOK!
Romper: c/o The Mint Julep Boutique (ON SALE HERE) // Belt: off a dress (similar HERE) // Clutch: Loft (similar HERE) // Sandals: Glamorous (similar HERE)

Happy Hump Day, beauties!
I've mentioned a number of times how much I'm loving this season's trends, there honestly isn't one that I'm not willing to try! All are very practical and are easily accessible in various price ranges, some you're even able to create yourself, like a choker or pom pom sandals! Aside from that, I feel much of what's "trending" are classic seasonal pieces in my book.
Take ruffles and off the shoulders for instance. Though they're trending heavily this season, I feel that we could wear them for spring and summer seasons for years to come, especially since there are so many variations. Today's outfit features a romper that combines both the off the shoulder and ruffle trend, making it very feminine and flirty, perfect for summer. What I love about it, aside from the mint color, is the fact that it's a one shoulder piece, which I think is quite romantic. I also believe that it provides women who have larger busts an alternative to the complete off the shoulder.
Though I don't have a large bust, I know from talking with women who do, it can be a bit challenging to find a strapless bra that provides ample support. With a one shoulder, you're able to experiment with some of your favorite bras that you're already comfortable wearing by mixing up the straps, perhaps with a thicker one on the shoulder that isn't exposed.
I often like to belt one pieces because our bodies can easily get lost in them and I personally prefer re-establishing my waist and the upper and lower sections of my body, making the outfit more refined. I think with maxi dresses, we're able to get away with not wearing a belt without feeling like something's missing, as opposed to certain jumpsuits and rompers. Have you ever felt that way when wearing a one piece? Plus, for more athletic or rectangular body shapes, they help to visually break the body up into sections, creating a more figure flattering effect. In fact, all body shapes are nicely enhanced when there's sections that are visually separated with accessories, such as with a waist belt.
I'm also wearing these pom pom sandals, which I wore in my 'Happy Memorial Day 2016' post. I wish they were still in stock, but I did find a similar pair, which I've linked. Again, pom poms are trending hard this year overall, in keychains, clothing and shoes, but I think they'd be great for summer and vacations, especially in clothing, for years to come, too.
As you can see, I've combined a number of trends from this season in today's outfit, in a way that I believe doesn't scream SUPER trendy! I think the way to pull off combining trends without looking like you're trying too hard to keep up to date, is by combining a piece of clothing and accessories. When textures, such as ruffles or details such as eyelet are trending, it's easy to wear in clothing without feeling intimidated because they're subtle.
When you desire to experiment with more impactful trends, such as pom poms or bold stripes, wearing a purse or a pair of shoes with the graphic or detail is a great way to incorporate them into your look, without having to fully commit to a full on outfit. When you combine the the trends in this way, it creates a fun and interesting ensemble, that's practical enough for everyday life.
What trends are YOU loving this season? Thanks so much for stopping by, my beautiful friends, and I hope you're having a wonderful week so far!
XO,