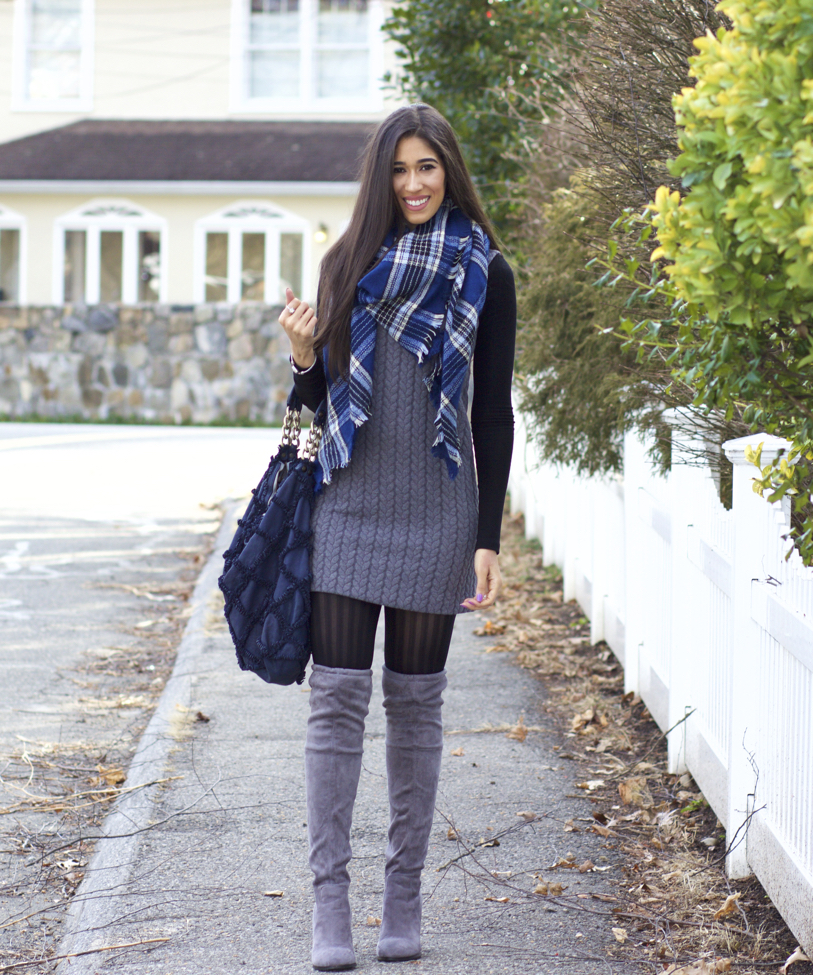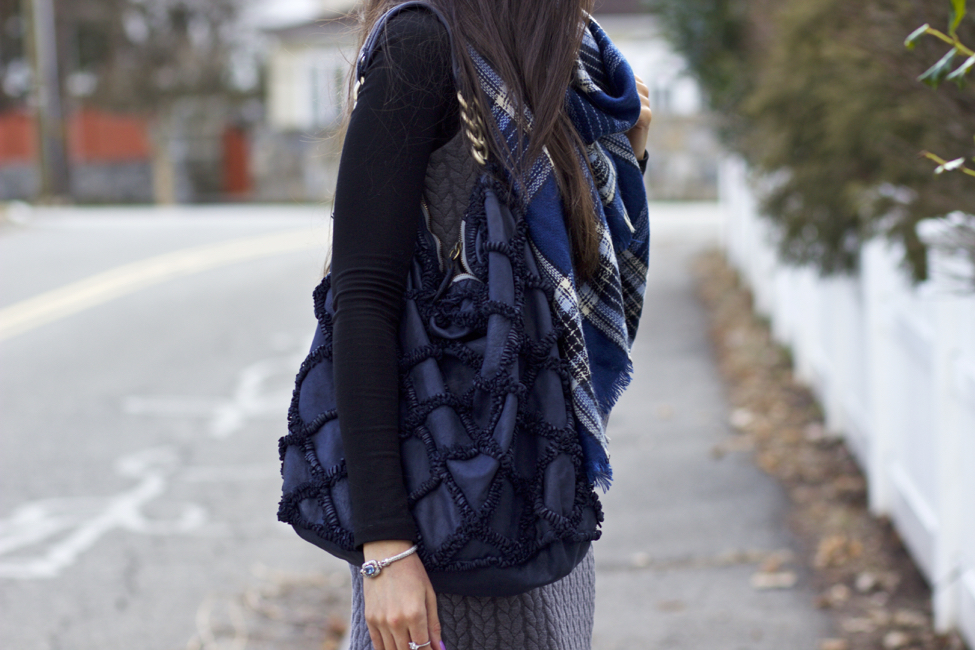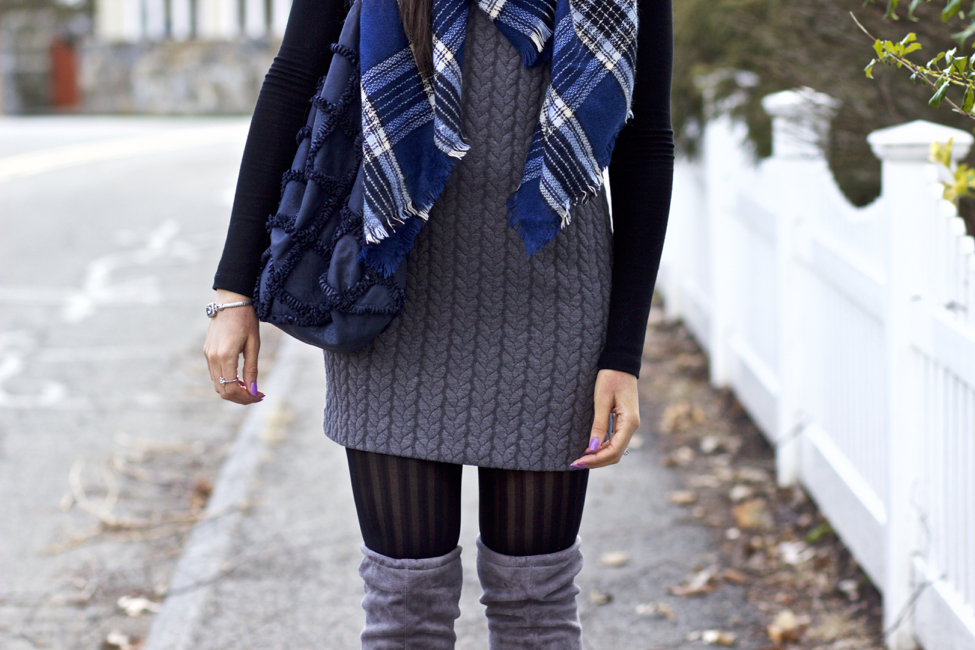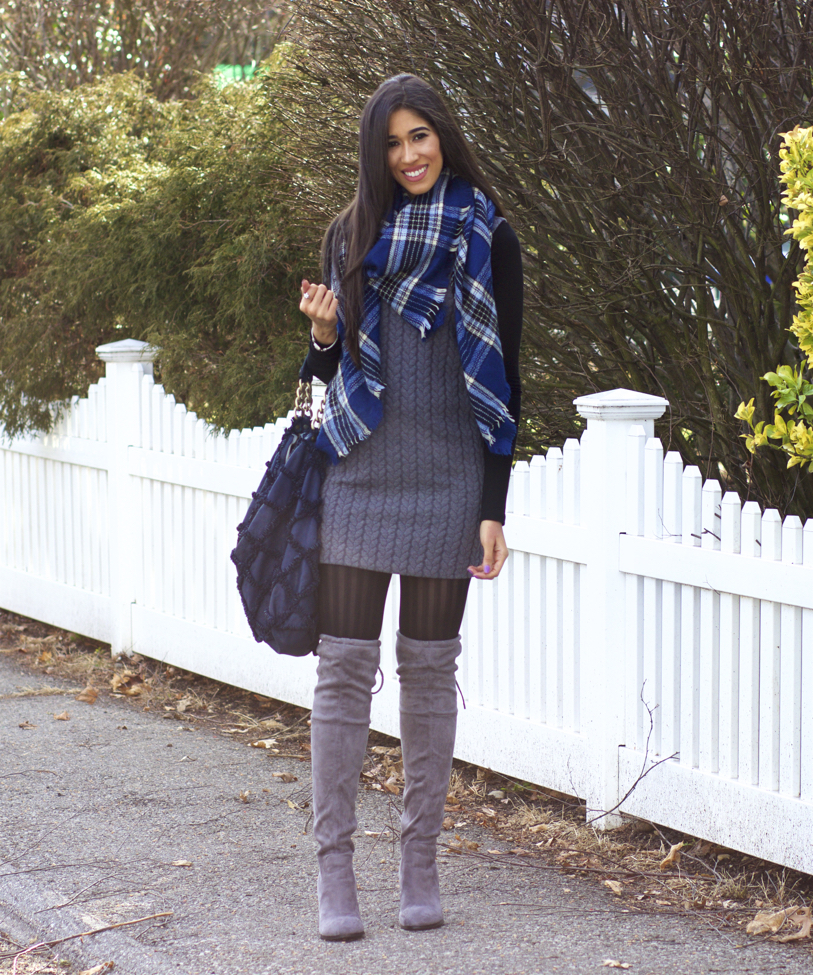 Sweater Shift Dress: Cynthia Rowley (similar here) | Scarf: BP (similar here) | Bag: Errelleventidue (similar style here) | Boots: Choies | Tights: Similar here
Happy Monday, my friends!
How was your weekend? Did you guys do anything exciting? Ours was relaxing for the most part. We attempted to go to The Chocolate Expo in Norwalk, CT, but the tickets were $20 per adult and $15 for kids....just to get in?! Um, no! Lol! So we ended up making s'mores at home, #cheaper. It would have been worth it if there were other things included. Years ago, I went to one in NYC with my mom and it was a less (from what I remember) and so much fun, hopefully we'll be able to go to that one when it's back.
Moving right along to today's outfit, which consists of two colors I typically think of and wear most during the winter and that's blue and grey. No matter the shade of the two, I just love the way they look together, creating a nice frosty vibe perfect for winter.
Plus, they have those cool tones that are harmonious and exude the vibe of the season to the fullest. I've noticed that lighter shades of both look exceptional on cooler skin tones as well as porcelain skin, so pretty. Darker shades, think charcoal grey and cobalt, also tend to really flatter medium to dark skin tones, too! Have you ever found yourself reaching for specific shades of both colors?
I've been getting some questions on I've managed to look lean for being 18 weeks now and it's a combination of a couple of things. In terms of size, the bump at this point looks as though I'm bloated, so it's not too big...yet. I've also continued to workout and be activate least 3x a week. My doctor suggested I continue working out, since I was already so active before pregnancy, as it's good for both me and baby's health, prevents unnecessary weight gain, and overall keeps me feeling confident.
When it comes to dressing, I've been reaching for pieces with linear patterns a lot, like today's dress, because they're super flattering! I don't want to hide my bump, I just don't want to appear much larger than I am because when you're pregnant, your body already goes through so many physical changes, no need to create more illusions, haha.
That said, I snagged a really cute, yet basic turtleneck that makes the bump look so cute; I plan on stocking up on these basics as I come across them! In addition to linear patterns, I think pieces that are form fitting, yet comfy, flatter and show off the bump so beautifully!
Anyway, I hope you like today's look and feel inspired to recreate it yourselves! Thanks so much for stopping by, my gorgeous friends, and I hope you have the most amazing start to your week!

XO,