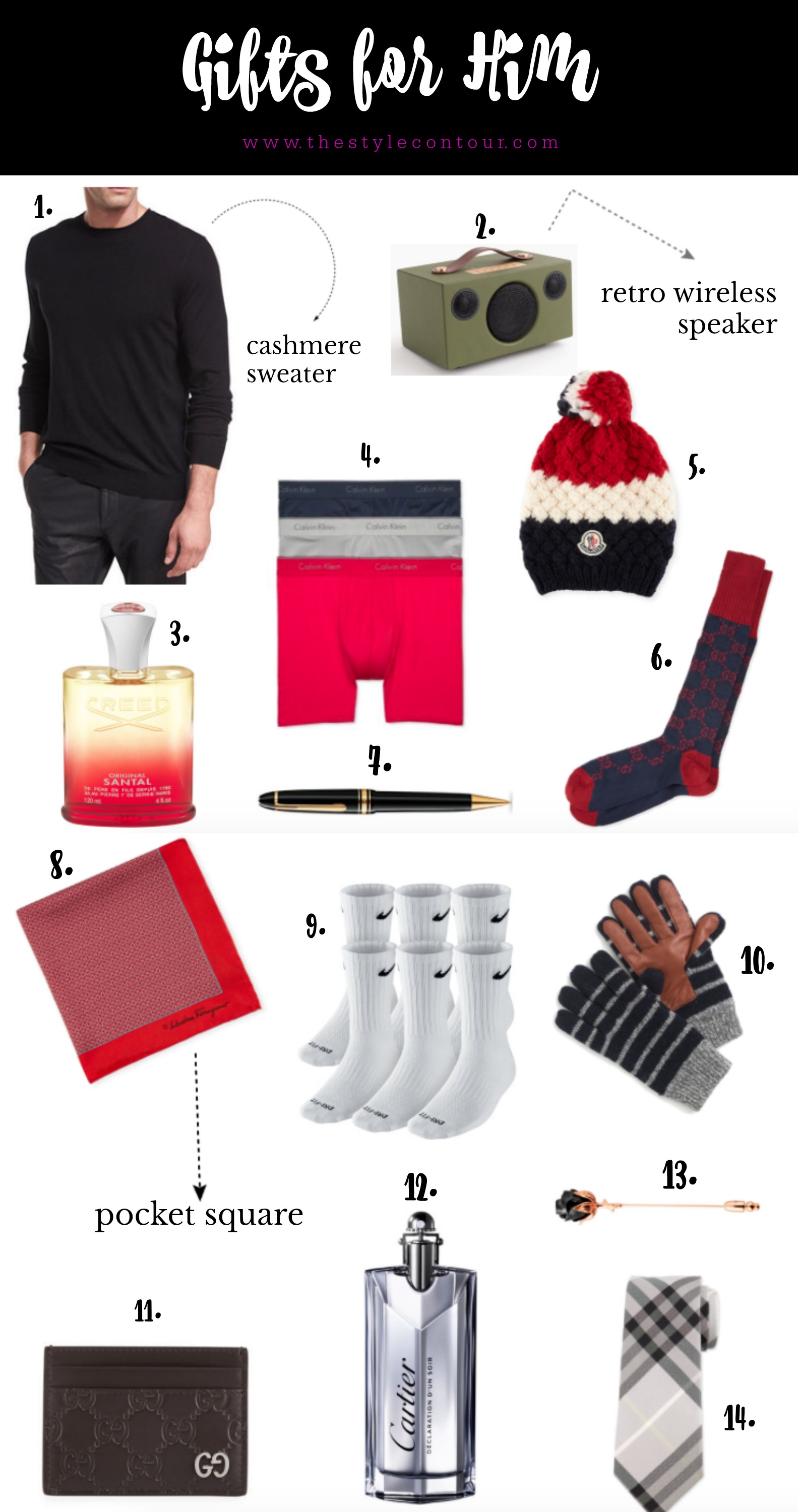 SHOP THE POST
1 | 2 | 3 | 4 | 5 | 6 | 7 | 8 | 9 | 10 | 11 | 12 | 13 | 14
Happy Wednesday my sweet friends!
I'm sure many of you would agree that shopping for the men in our lives can be so darn difficult! I think it's because they tend to be more reserved and don't talk nearly as much as we do, so we have to get into their heads. I think Eddie is much more difficult to shop for then me; he's so incredibly picky! I had him help me put this list together. He's shared with me what the guys talk about as the "must have" essentials. Of course this will vary depending on your guy's lifestyle, but I believe this is a nice mix regardless of lifestyle. For instance, every man needs socks and underwear, so you can't go wrong with that.
A little story behind those Calvin Klein microfiber boxer briefs. A few years ago, I was shopping at Marshalls and came across a bunch of them in such cool colors, I decided to get one of each for Eddie. Well, he was into boxers and only agreed to keep one because I begged him since I thought they were pretty (the were jewel toned colors) haha. Well, fast forward 5 years later and he LOVES them! He swears they're the most comfy underwear. Since that Marshalls trip, I haven't been able to find them there, only in department stores. I can share this with you because he doesn't read my blog (only looks at the pictures) that I got a bunch of them for him for Christmas. Get them for your guy, I guarantee he will love them!
Eddie is also pretty big on colognes, I've been lucky to always get scents he loves. Two of his favorites are the original Creed and this fragrance by Cartier. Both smell AMAZING! The Creed can be unisex, so depending on my mood, I'll wear it, too. Now, if there's a fragrance that smells rich, this Cartier one is it. I mean, it just has a very luxe scent, there's no other way to explain it. I think it would be perfect for special occasions or if any of the men in your life work in business.
Now, Eddie has schooled me on some "key" essentials among men. You know how us ladies are all about the bag and shoes? Men are all about watches, shoes, and apparently...pens. Yes, pens and not just any pen, Mont Blanc pens. They're quite expensive for pens, so it's more of a luxury gift, so if you can snag a deal on it, get it!
I hope you found this post helpful, my friends! Have you managed to check everyone off your list?
Thanks so much for stopping by and I'll see you all on Friday!
XO,