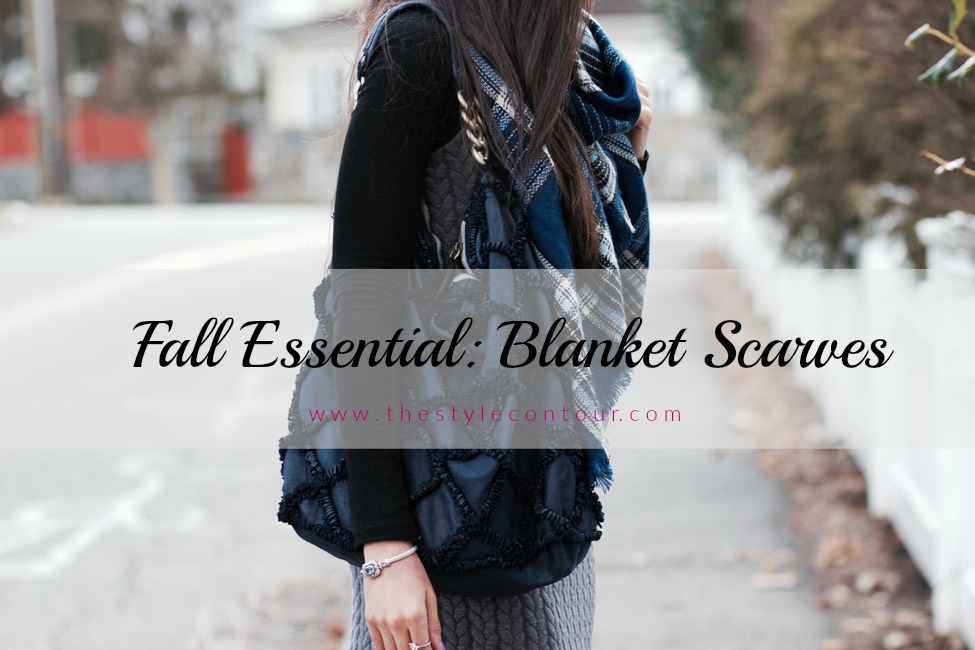 Happy Tuesday my gorgeous friends!
This week's fall essential we'll be talking about is the blanket scarf! I was a little late to jump on the blanket scarf bandwagon when Zara first rolled them out a few years ago, but I've certainly caught up, building a collection comprised of neutrals and fall/winter color combinations and prints. Let me share just why I love them so much...
:: WHY I LOVE THEM ::
What I love most about them is how cozy they are, as well as the texture and print/color they can add to an outfit. The ones I have are mostly printed, so I'll typically add them to an outfit that has more solid colors to allow it to be the focal point of the outfit or at least one of them. I also love how versatile they can be, allowing you to wear them in so many different ways, which brings me to my suggestions for wearing them.
:: MY SUGGESTIONS ::
As I've mentioned, I tend to wear them with solid colored outfits for added warmth and to add a pop of color and/or print, as well as texture. So, of course that would be one of my suggestions. At the same time, if you've been a reader of The Style Contour for some time now, you'd know that I love my colors and prints and I love mixing them all as much as I can, especially come fall! Most of the times, blanket scarves are in either a houndstooth or plaid print, so I'd suggest you refer to my Fall Print Guide and apply the tips and suggestions mentioned for pattern mixing with plaid when it comes to adding in another print to your outfit!
Another favorite way I love to wear blanket scarves is as a poncho or cape, as seen in my post, A Blanket Scarf Worn as a Poncho. It's another way to add warmth to your outfit and get the most use out of your scarf. I personally love them belted, as they really help to play-up one's shape that can otherwise get lost in the overwhelming fabric. That said, I'd suggest if you're petite and like the idea of wearing your blanket scarf as a wrap or poncho, you add a belt of some sort (corset belts are trending big time this season!) so you won't get visually lost in the fabric.
:: MY PICKS ::

Do you own any blanket scarves? Which do you prefer, solids or prints?! Share some of YOUR favorite ways you like to style them, as well as any favorite brands you've discovered and love!
Thanks so much for stopping by, my gorgeous friends; I can't wait to see you all in tomorrow's blog post!
XO,