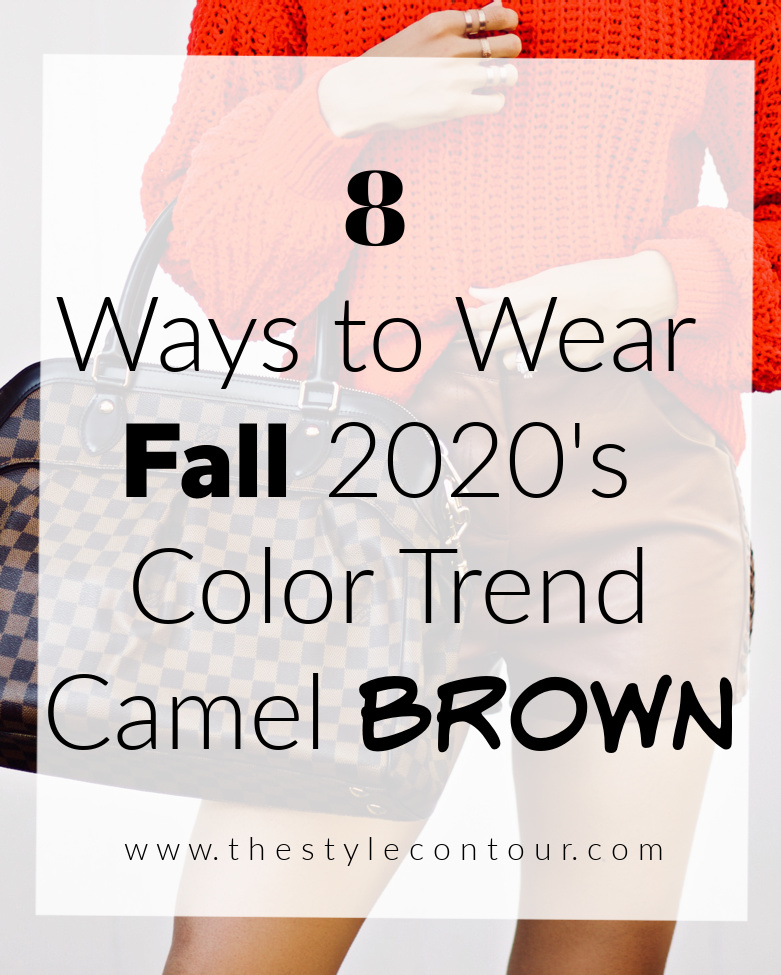 Happy Tuesday ladies!
Even though we're still very much amidst the social (and let us not forget mental!) affects of Covid-19, we should need to remain optimistic in all areas of our lives, which includes remaining excited about getting up and getting dressed. Regardless of what's going on around us, it's nice to mentally and physically escape into the realm of styling and creativity and this very much includes pulling inspiration from what's trending. Yes, trends are still happening! One of the trends for fall 2020 we'll be discussing today, is camel brown. I've definitely noticed brown becoming more and more popular on social media and I'm all for it; I love its warm, earthy, neutral aesthetic. Below are 8 ways you can wear the trending cognac/camel this season.
1. BROWN + YELLOW
We're starting off with a combination you can wear now and well into fall, brown and yellow (plus white). Yellow in its truest form (no mustard yellow) is most commonly worn in the spring and summer months, making it a great and easy option to wear during the transitional period. The white keeps things bright and cheerful, since we are still very much in summer, but we know fall is on the horizon.
2. BROWN + WHITE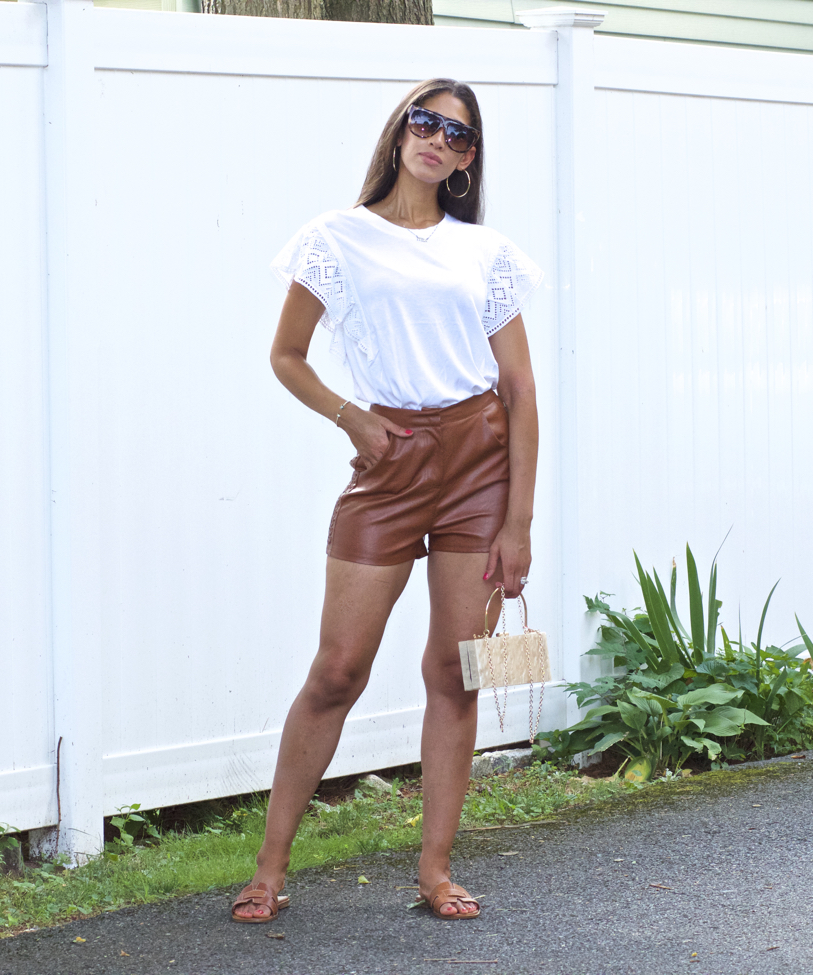 This look is a fairly recent one I've shared, serving as another example as how you can slowly transition your wardrobe without having to compromise practicality and functionality. I mean, who really wants to be sweating and uncomfortable all for the sake of being trendy, right? This is a great way to still add that fall touch when it's technically fall, but the temps say otherwise. This has happened for a number of seasons now and I'm not complaining because I do enjoy having a nice sunny day on my birthday, which only about a week after the start of the season. So when you're thinking of what would be a good August outfit idea, think white and brown. Perfection!
3. BROWN + OLIVE GREEN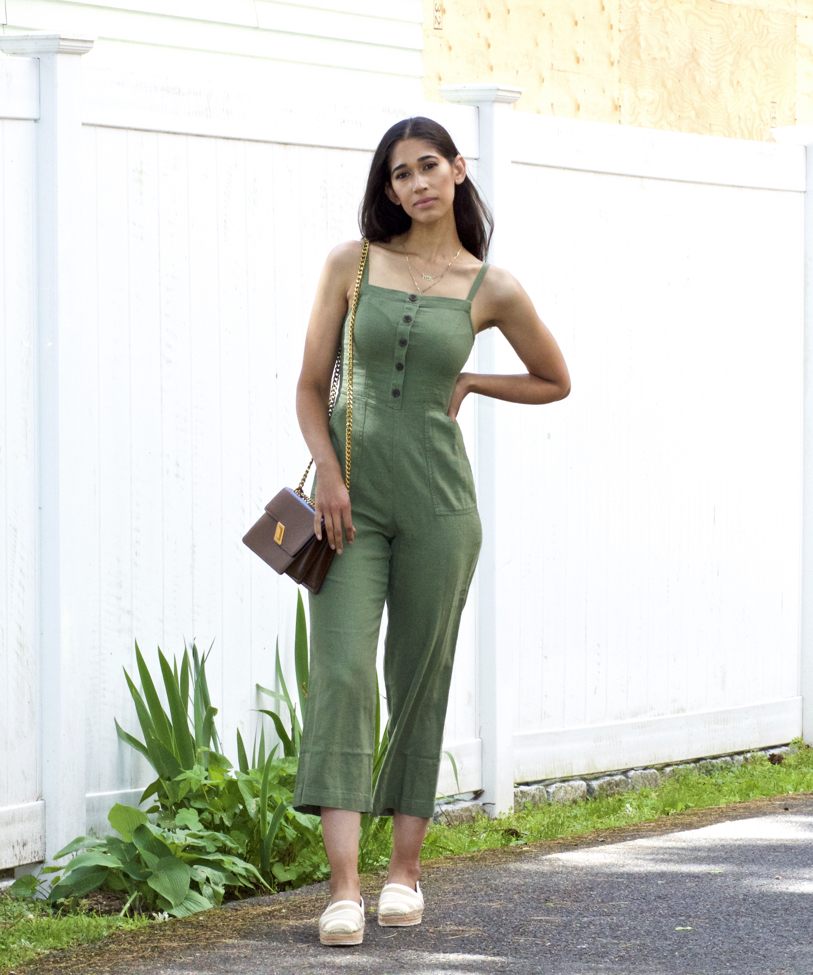 Here's yet another color combination I think is perfect for this time of year, brown and olive green. The pairing is earthy and harmonious, making it a perfect duo for fall.
4. BROWN + RED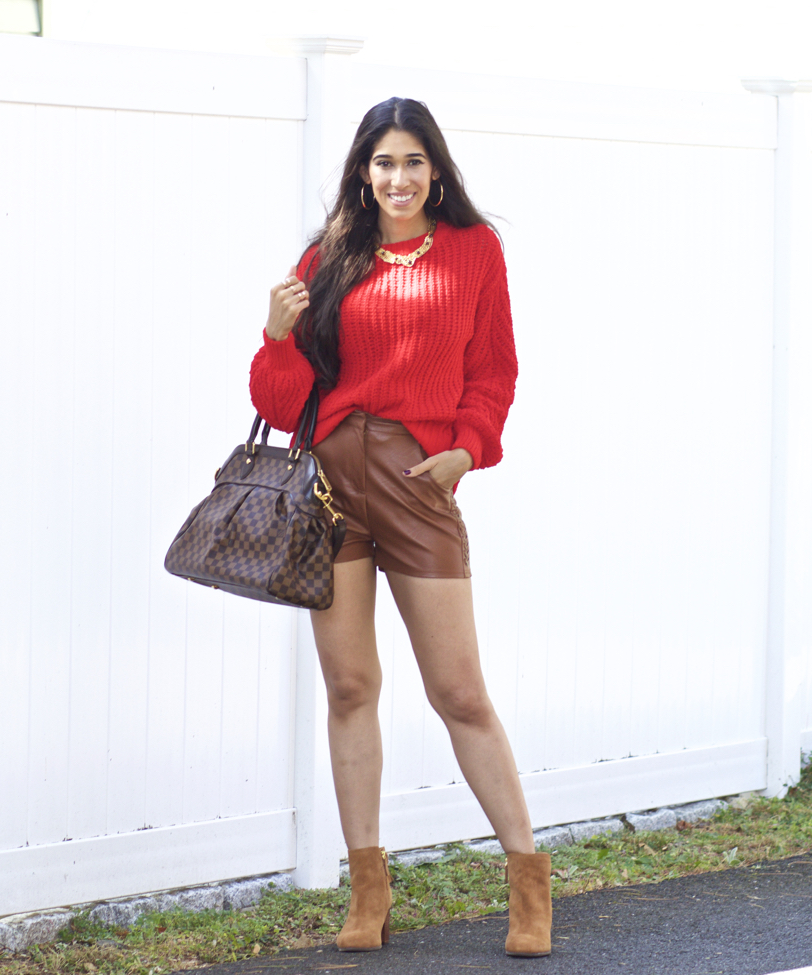 This color combination is just so good! I tend to prefer a classic red with the camel shades shown over the dark, chocolate-y shades. I think it allows for both colors to equally stand out and blend, creating a nice-bright look. I feel darker browns remain muted against the bold red, which can in fact be a good option if you wish for the red to be the main focal point of your look.
5. BROWN + BRICK RED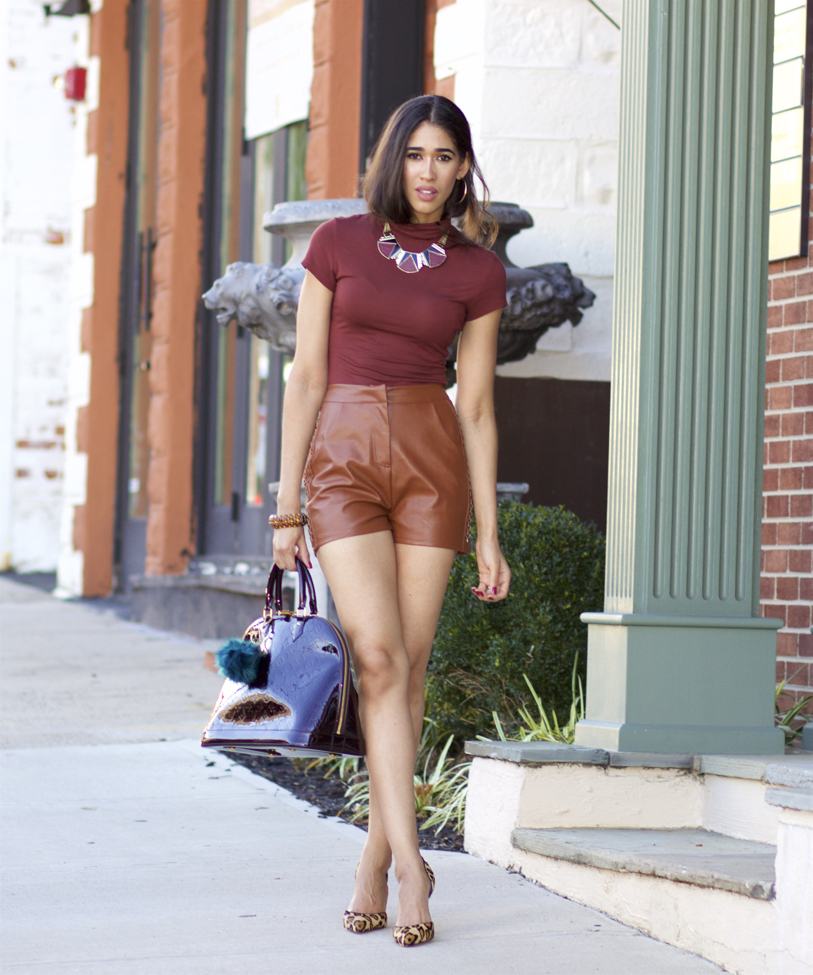 We're paddling off of the first one with a shade that's very specific, brick red. This is the color I believe you'd end up with if you were to mix the two, red and camel brown. Though it's a very specific shade, it's one we do see enough in fall clothing, making it practical to recreate. Type in 'brick red' in some of the search boxes on some of your favorite online stores and see what comes up!
6. BROWN + GREY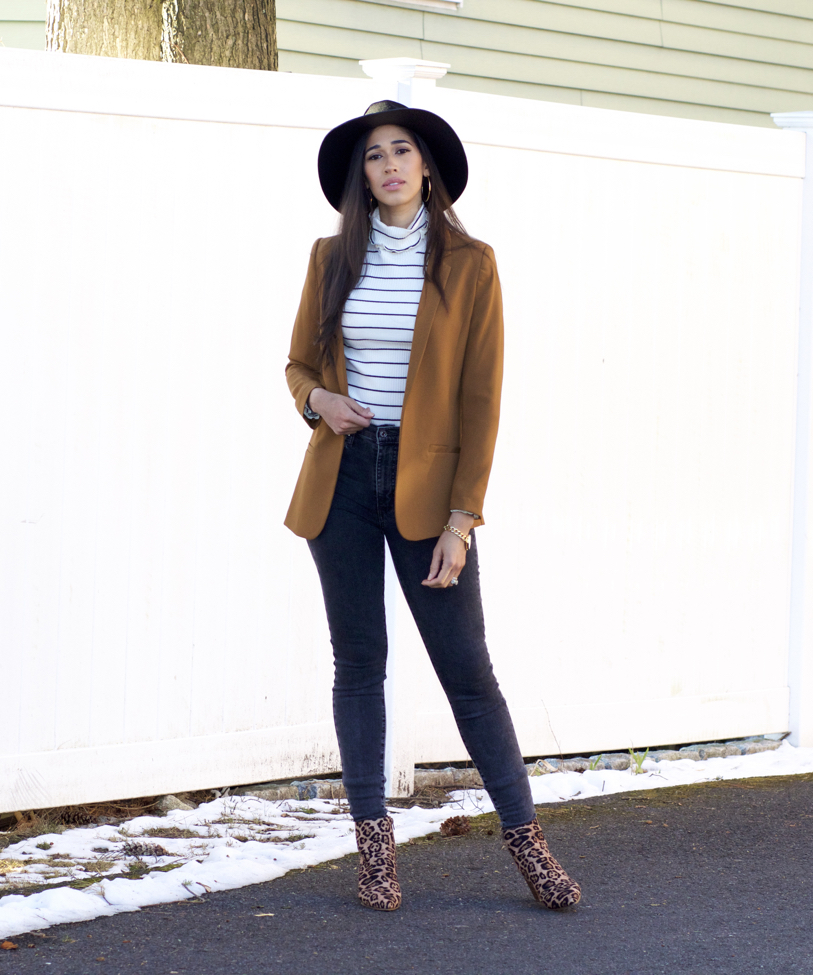 ...and leopard! Such a sharp, eye-catching trio! Though I've styled the look above with a striped top, a simple white one would look just as good. If you don't own leopard shoes, a black pair also works. Grey is also trending this fall, so you'd be extra trendy with this one!
7. BROWN + BLACK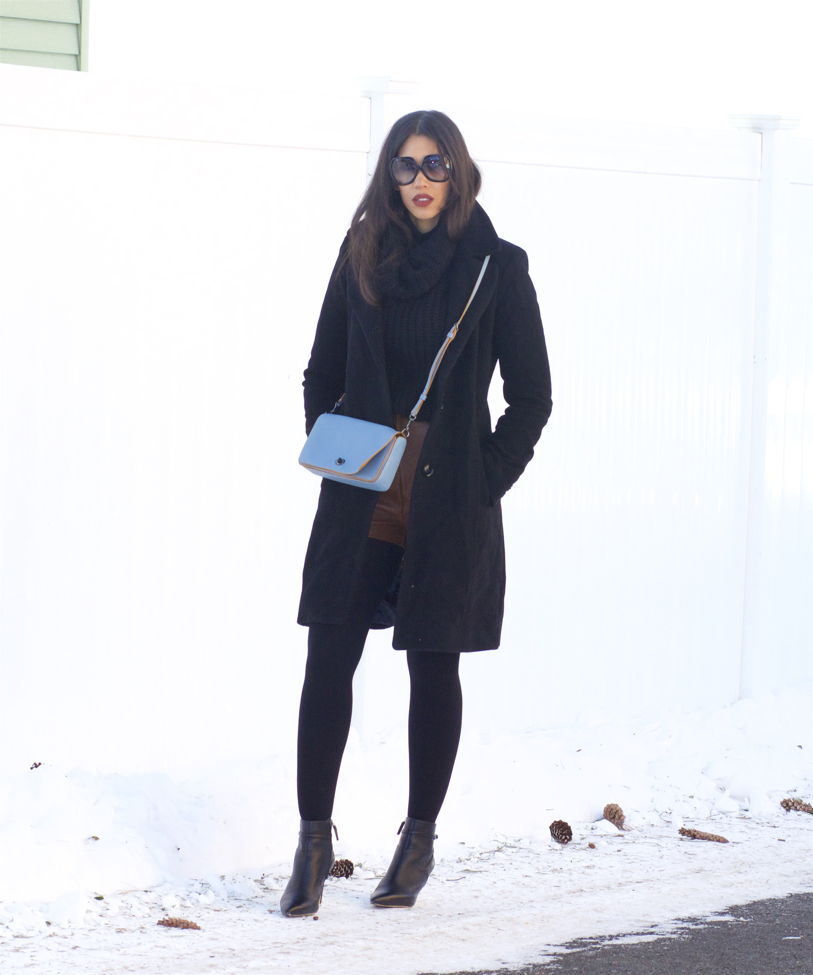 Did you know that pairing black and brown together was once considered a fashion faux pas? I don't know who came up with these "rules." Like the no white after Labor Day one. I have to believe it's the same person, lol. Black and (especially) camel/cognac brown look so good together. I think it's a rather luxe duo. In addition to the two, which look amazing on their own, it really pops and makes for something special and unique when cornflower blue is added in. It's a great color trio to transition from summer to fall, since you may have some beloved baby/powder/cornflower (nearly all the same color tbh) pieces you may be hesitant to put away.
BROWN MONOCHROME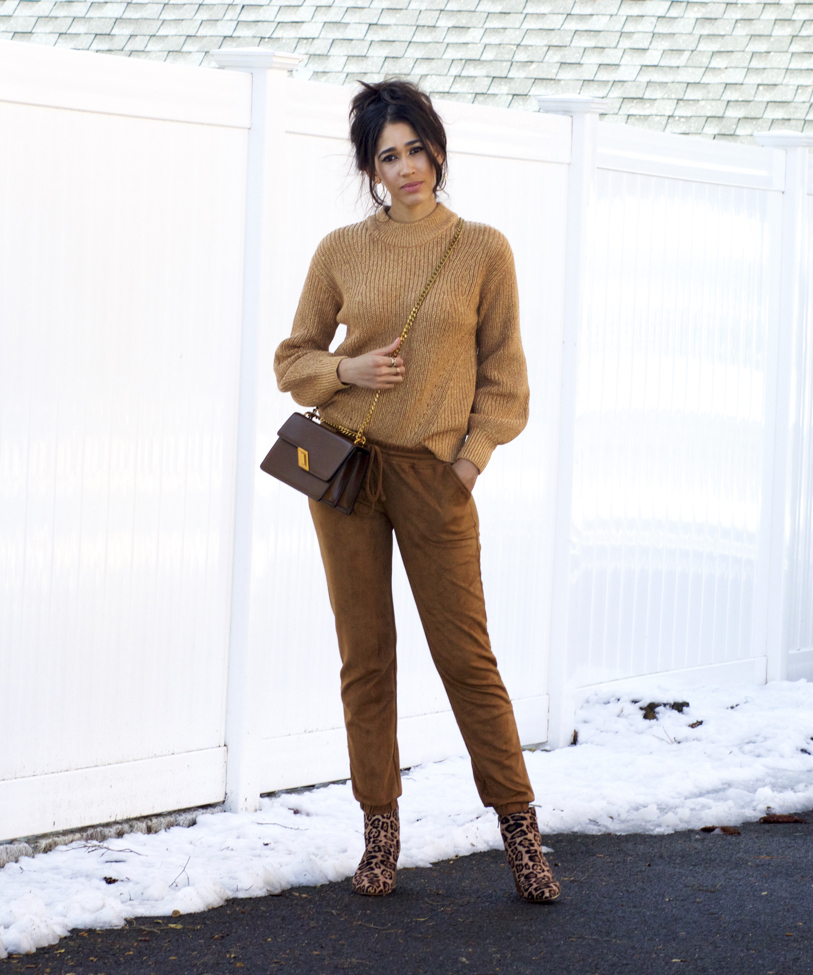 Lastly, we have an easier, no fuss option and that's monochrome. When opting for monochrome, we must remember to consider textures, various shades and perhaps a pattern (in some cases metallics) that have the said color in the background or as the base color. It prevents the outfit from appearing like a uniform or dull and flat. By incorporating textures in the same color or various shades, you are essentially brining your outfit alive. Try combining suede and a knit or suede and leather, it creates a nice contrast, all of which are perfect for fall!
*A FEW OTHER THINGS TO CONSIDER*
If you're every unsure of a color or are easing into wearing it, the safest and easiest way to experiment is with an accessory that is apart of your outfit but isn't the main focal point.
To work this particular shade of brown in a way that's flattering and works with your skin tone and hair color, opt for the colors mentioned in hues you're already familiar with and know look good on you and wear them close to the face.
I hope you found this post helpful, my friends! Let me know if this is a color trend you're willing and eager to experiment with this upcoming season.
SHOP SIMILAR PIECES SHARED IN THIS POST
---

---