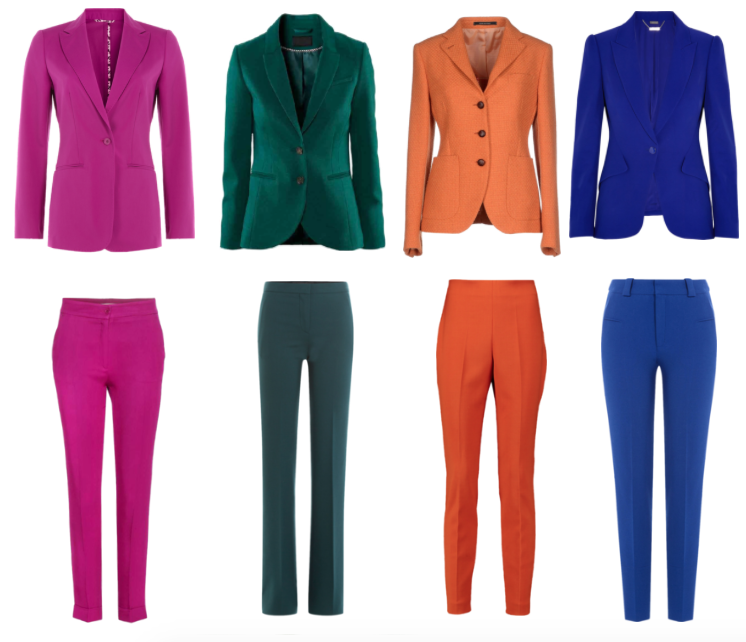 SHOP BOLD SUIT SETS!

Happy Tuesday, friends!
I hope you all had a great Labor Day weekend, hopefully you didn't do any work or at least minimal! A trend I'm loving this fall is the matching suit, be it in a pant or skirted version, I'm loving the whole cohesive, powerful look. Think of them as the more refined and polished take on the matching separates we've been seeing on repeat each passing season.
Depending on your work environment, a matching suit may not be necessary.
However, I think it's a great fashionable look to consider for any occasion you'd typically wear a dress or get a little bit more fancier for, as it can create the same bold impact and put together feel as a one piece. It can also really help to streamline the body (remember the post where I explained what exactly this technique is?) making it appear longer and leaner or even enhance or create the effect of visual curves, depending on the fit and style of the jacket and bottom you wear.
A more fitted blazer will of course bring a focus to the waistline, while defining it, which is pretty awesome! A pair of high waisted bottoms, either skinny or flared, will help to visually lengthen the legs, enhanced even further when paired with pointed toe shoes. Do keep in mind that if you are curvier on the bottom, dramatic flares can be a great wait to help visually balance out your curves, while enhancing them as well, as the eye creates the visual pattern of wide (hips) straight (leg/thigh) and wide again (flared hem) creating waves. Yes, girl!
If you don't have curvier hips, but wish to create the illusion, I'd suggest opting for a slightly longer jacket with pockets located lower, towards the hips bone. When fastened, these details can create the effect of lower curves. You can see that these styles flare out about more than those with welted pockets (flat pockets like in jackets 1 & 2 above), as shown in jackets 3 & 4.
For a more relaxed take, ditch the pants and opt for either shorts or skirt instead (shorter if it's a non business, business casual environment) to show off them legs and pair it with a plain tee in stead of a dressy blouse or shirt!
I also encourage you to test the waters; don't be afraid to be a bit more fashion forward with bold colors! If you're open to the idea, but are nervous, start off by wearing the individual suit pieces with naturals, such as the bold jacket with a black skirt and then as you get more comfortable and confident with the color, combine the original set! To keep the look polished and not overwhelming, add naturals into the mix, like a white collared shirt (or basic tee, depending on the vibe you wish to create) and nude or natural colored shoes.
So, what are YOUR thoughts on the #girboss suited look, are you feeling it or nah? Thanks so much for stopping by my dear friends and I hope your day is as fabulous as YOU!
XO,