Happy Tuesday, my dear and beautiful friends!
Denim is a fabric that will never ever retire, it's timeless, it's ageless it knows no boundaries. It's intimate and ever so much apart of us. I bet each of you have that one pair that never fail you, making it your absolute favorite and although you have 100 others, you find yourself reaching for those same ones that always make you feel and look as beautiful as you are. Am I right or am I right?
Many of you have probably experienced a death in your denim family, and yes, the memory will forever live on, but there comes a time when we have to find another that will take its place, sad but true. I had a pair of Guess jeans that I wore too much in a single week than I care to admit, they were my favorite after all! Until that moment I was taking my Intro to Psychology midterm and so foolishly placed a bottle of, what I thought was closed, white out on my lap because even though those desks were for college students, they were the size fit for a first grader and not everything could fit on it...I'm sure you can guess what happened next, uh huh.
So, today, I will be sharing with you all some details you can look for to ensure that you'll find the one, the next time you're due for a new denim piece. I have quite a few YouTube videos on denim jeans specifically, such as the best styles for your body shape, the best rises and the best pocket placement, so be sure to check those out as well because today, we'll only be focusing on the different rinses!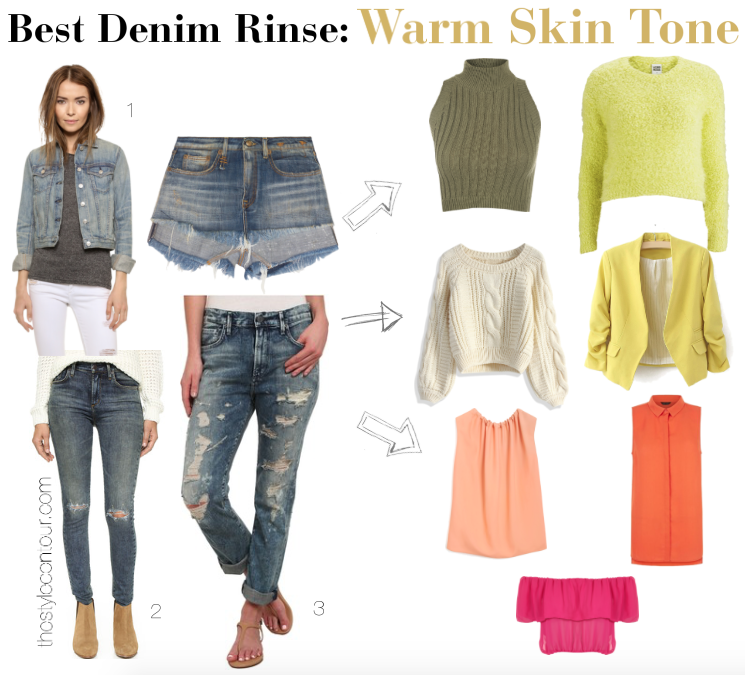 SHOP THE DENIM IN THE SET
For those of who have a warm skin tone, denim that has more of a golden, green or beige rinse look best on you, especially since they pair great with tops in such colors or hues, like the ones I've included in the set above.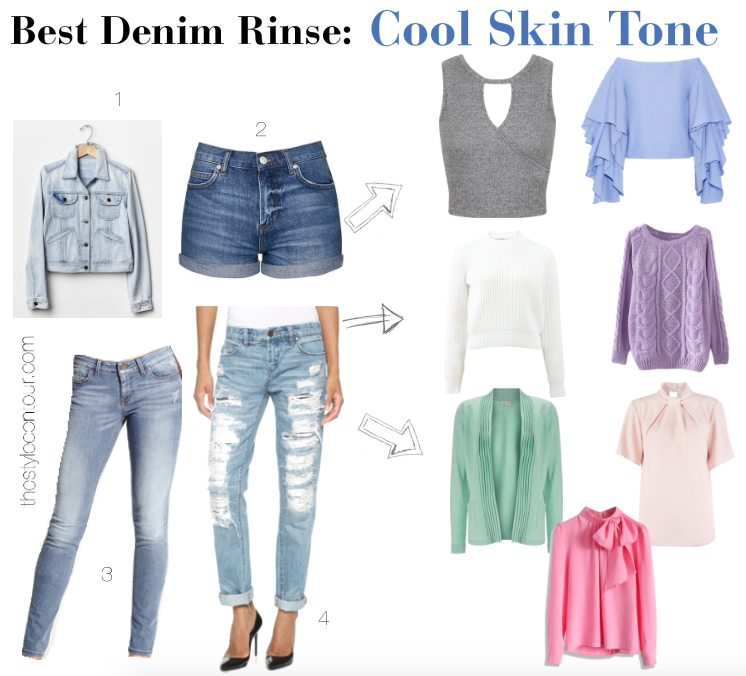 SHOP THE DENIM IN THE SET
Those who have cool skin tones, denim that has a white or gray fade will look best on you, as they will match better with colors that have the same cool tones, such as the one shown in the set above.
Aside from the styles I shared for each skin tone, dark blue, indigo, rinses look great on all skin tones and both the rinses above would look great on those of you with neutral skin tones as well. If you are uncertain if you're neutral, both your green and blue veins are equally visible and both silver and gold jewelry look good against your skin. Of course, everyone can wear whichever rinse they so choose, but this post will hopefully give you some ideas on what would look best, especially when pairing them with colors you have in your closet! As always, I thank you so much for taking the time to stop by and I hope your day is as fabulous as YOU!
XO,