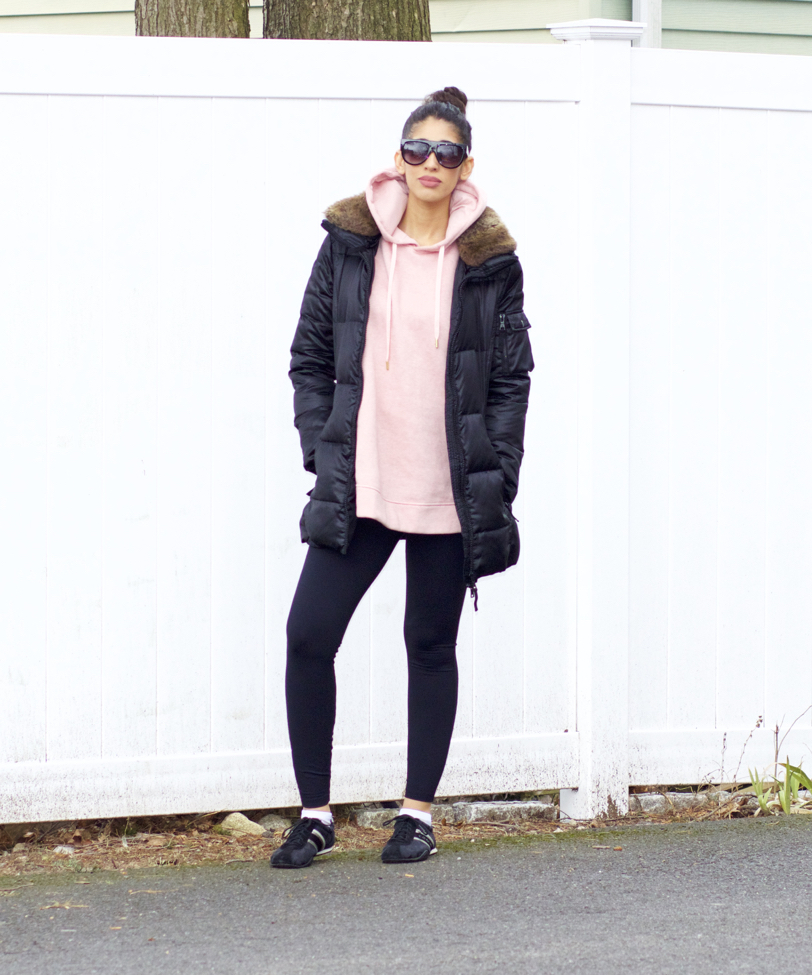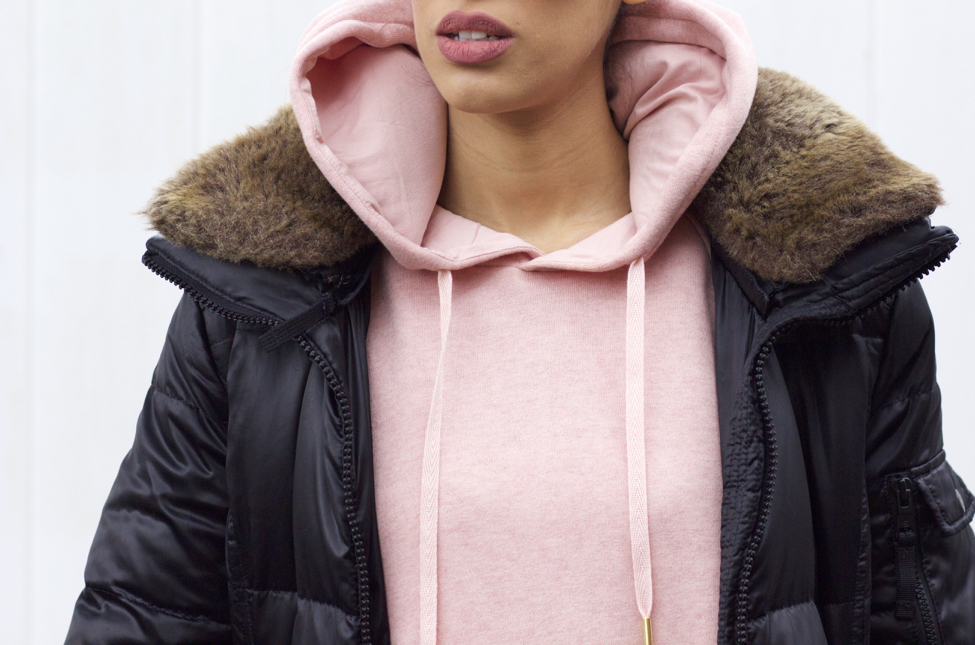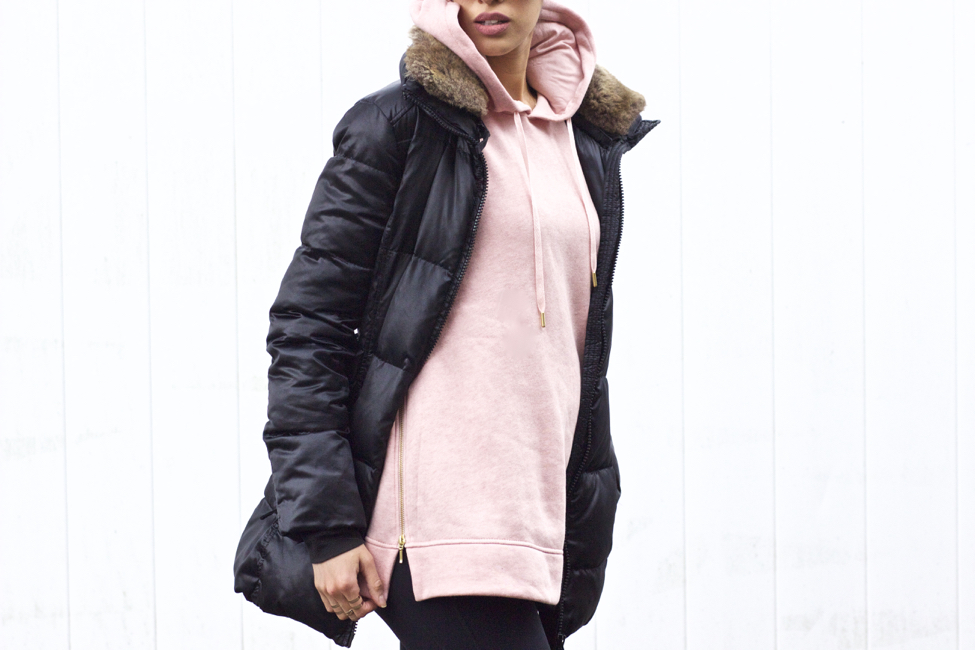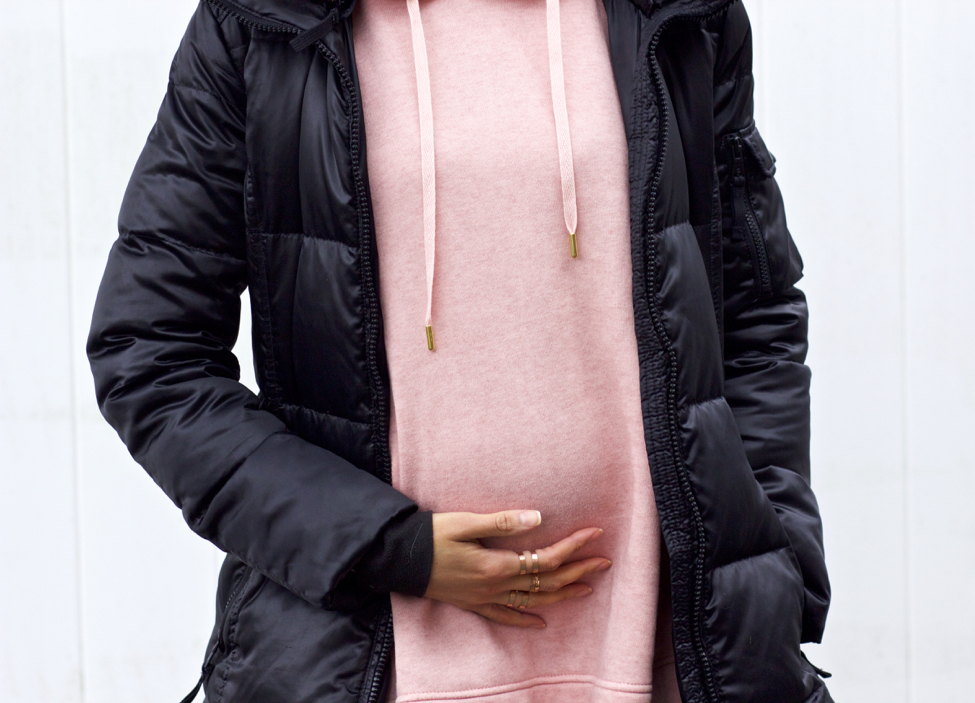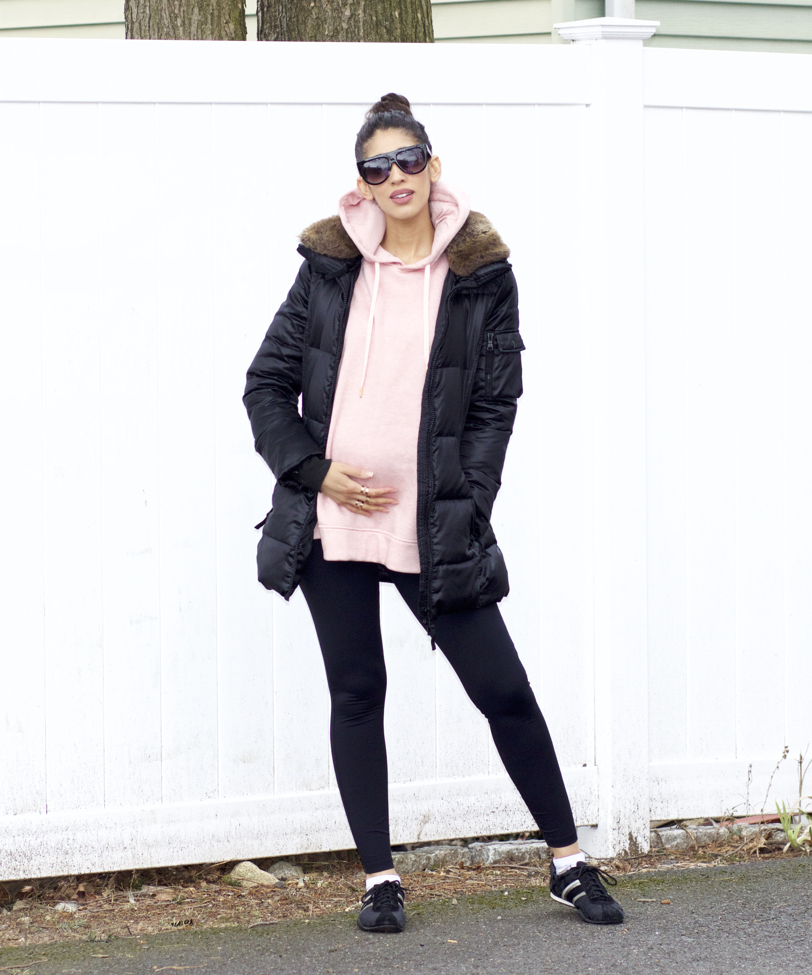 JACKET: Old style (new version) | HOODIE C/O | LEGGINGS C/O | SUNGLASSES: Similar | SNEAKERS: Old style (new version)
---

---
Happy Friday and first day of February!
Is it cold enough for you? It's been insanely cold here in CT and I'm so over it. As I'm getting older and have a little one(s), I'm really beginning to not like winter after the holidays. Eddie was quite surprised when I shared this with him the other day because for years I've boasted about how much I love the fact that New York (and CT) experiences all four seasons. Not no mo!
Anyway...
As I've mentioned in previous posts, I've been quite busy with Aviah, as she's officially a toddler. This means that she's getting into anything and everything all day long, here there and everywhere! Add the fact that I'm 18 weeks pregnant and you'll understand that most often, I'm reaching for cute, yet comfortable clothing. I often need clothing that's practical and easy (and comfy) to move around in. When I was pregnant with Aviah, I didn't purchase any new (maternity) leggings. I was able to get away with wearing my regular pairs the entire pregnancy.
This time around, I'm carrying very differently. My belly is lower and bigger than it was this time around, so I had no choice but to start shopping around for leggings. The hunt began around late November. I purchased four pairs, all of which have not worked for my bump or are see through. Two were from regular shops and the other two were from a maternity brand (the see through ones!). So, when Isabella Oliver presented me with the opportunity to test out an outfit from their new activewear collection, I was beyond excited!
I am not just saying this, these leggings are absolutely amazing! The quality is so good and the fit is incredibly flattering. And they're not see through! I've worn this outfit quite a few times before sharing it today, both at home and out running errands with Aviah. When I first wore the leggings, Eddie commented on how much he liked them because he knew the struggle I've been going through to find the perfect pair. I really love and appreciate the flattering ruche detail above the butt, which I wasn't able to show in the photos, since it was quite cold, but you can see it in detail on their site. Pregnant or not, that's a great detail to have in either leggings or bikini bottoms because it makes the booty look nice and sculpted and flatters the lower back.
As for the hoodie, I'm wearing it as I'm writing this post. I've been wearing it nearly everyday upon receiving it. It's so cozy, as it's lined with that comfy, fuzzy fabric, we all love in sweatpants and hoodies. I also love the pink shade and the gold details on the drawstrings, so cute! I also appreciate the functional zippers on the side, as they're not only another cute detail, but also great for nursing moms, too!
Speaking of, what I love and appreciate about Isabella Oliver is that many of their clothing designs are not only suitable for pregnancy, but post pregnancy, too! The fact that many of their pieces grow with you throughout your pregnancy and beyond make investing in some key pieces that much more sensible. In addition, they plant a tree on behalf of every order to give back to communities that have been affected by deforestation. How awesome is that?!
Now for some exciting news, they're offering an exclusive 20% off coupon (STYLECONTOUR20) for all of you! If you yourself aren't expecting, feel free to forward the code to someone you know who is! It's valid starting today through April 26, 2019. Please note:
Terms & Conditions
This offer is not valid in conjunction with any other Isabella Oliver offer, internet offer or delivery offer unless specifically stated. Outlet, Sale items and Gift vouchers are excluded from the offer. All orders are subject to acceptance under Isabella Oliver's promotional terms and conditions.
Thanks so much for stopping by, my beautiful friends, and I hope you have a great weekend ahead!
*This post is in collaboration with Isabella Oliver. All opinions stated are my own.*