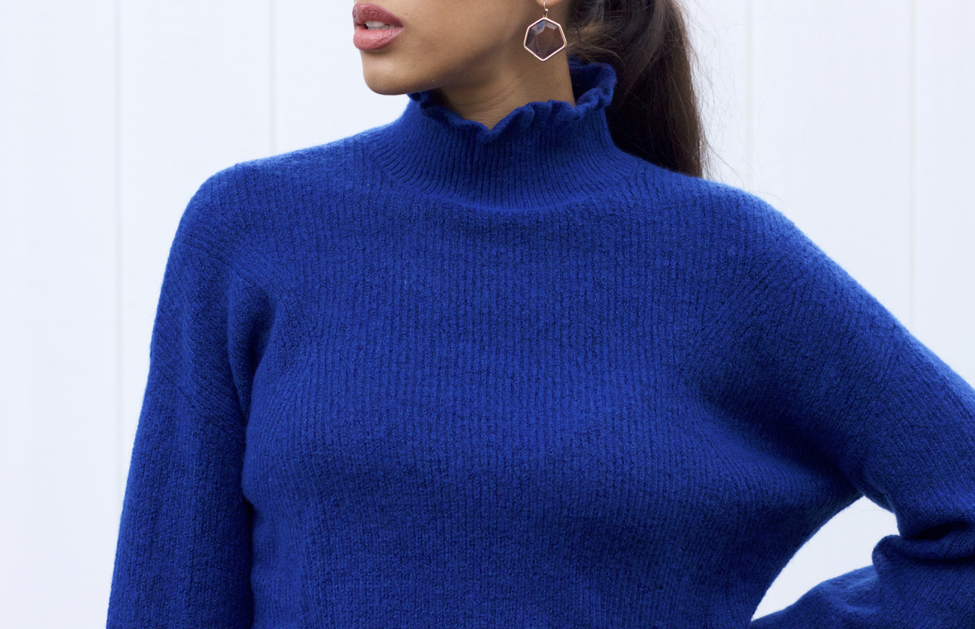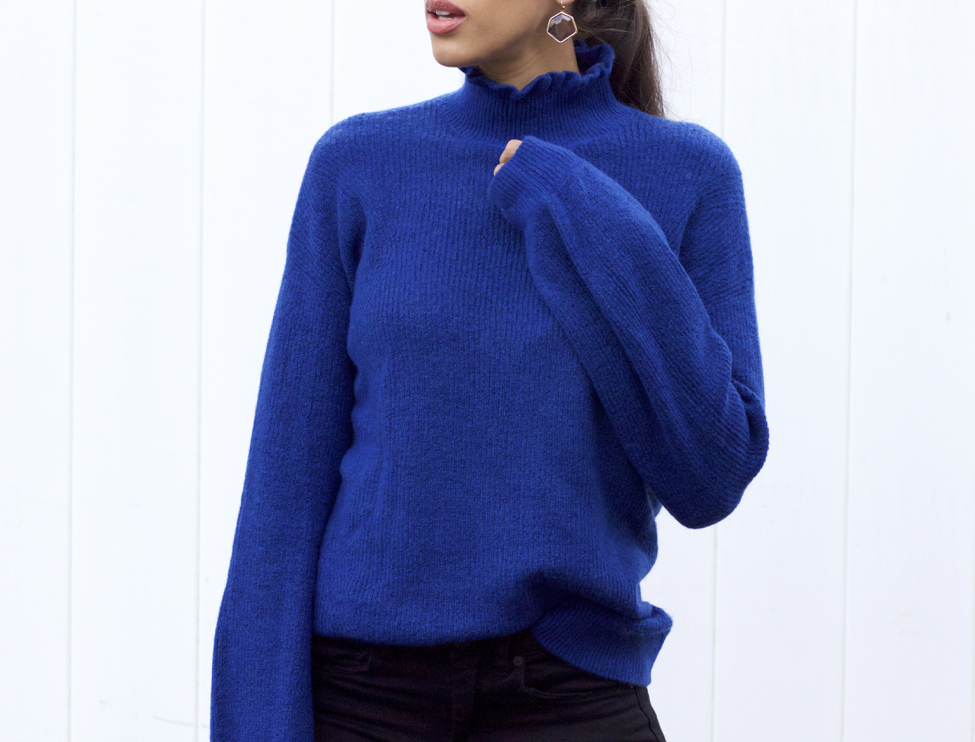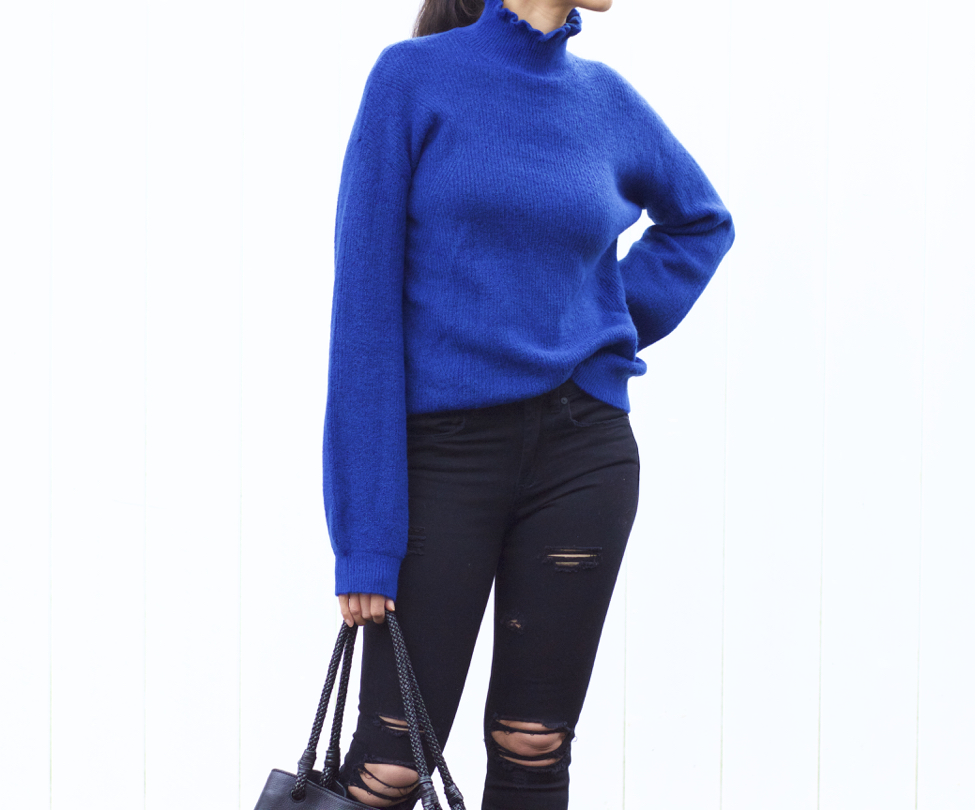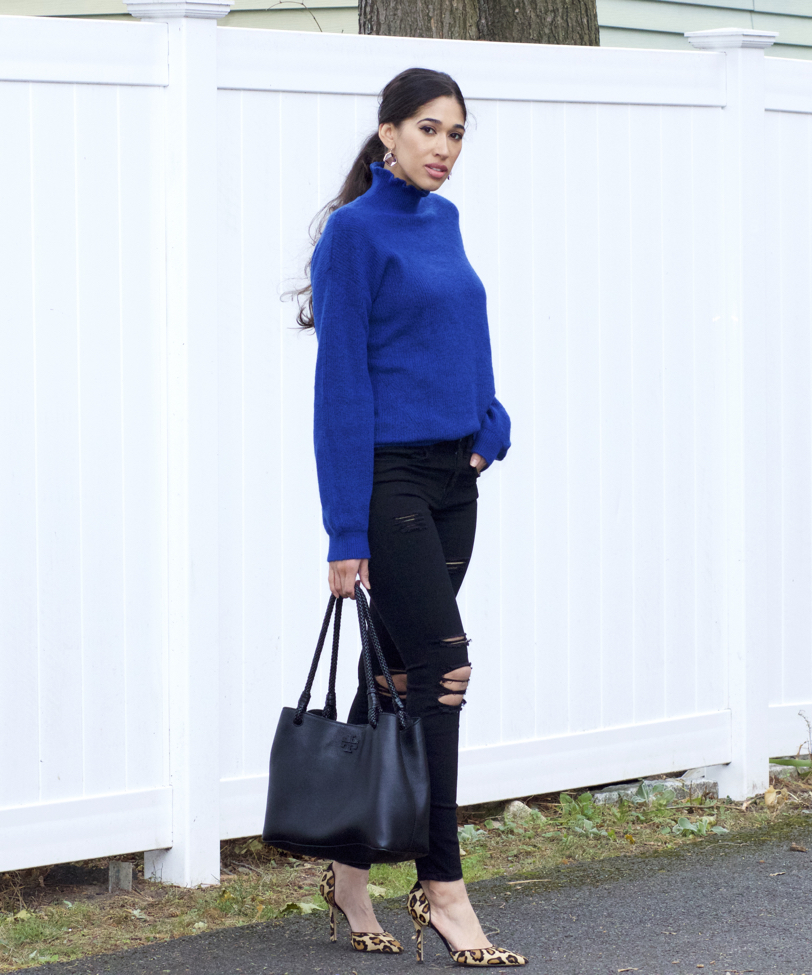 SWEATER: Similar | JEANS: Similar | EARRINGS C/O | SHOES: Similar | PURSE
---
---
Happy Monday friends!
I hope you all had a great weekend! Mine was pretty relaxed. It was too cold to go to the park, which I've still been trying to go to even though we're pretty much in winter, as far as weather is concerned. As long as it's not below 38°, I try to get Aviah out and and active. Even if we don't make it to the park, I let her play outside with some of the kids in the neighborhood. If we're home all day, she gets very hyper because she's so board. Sounds a little counterintuitive, but that's how toddlers are. If you're also a mom, you know you know this to be true, ha!
As mentioned, the weather has been very cold. I feel like for the past few years, we get about a week or two of real fall weather and it's straight to winter. One of my favorite colors to wear during the winter is cobalt blue and quite frankly, you can wear it during the fall, as it looks beautifully paired with more seasonal colors, such as burgundy, mustard yellow and browns.
Cobalt is also one of those colors that look great on everyone, as it's a jewel tone (very reminiscent of sapphire). Jewel tones are the exceptional group of colors that look great on anyone, regardless of skin color, undertones, and hair colors. They also make the skin look amazing and provide a 'glow' and who doesn't want that when in the dead of winter? I love this blue shade paired with black and a pop of print. Any print really, but today, I've worked in some leopard. I'm also wearing these Kendra Scott earrings I was gifted and unboxed over on IG Stories a few days ago. I felt the purple gem and rose gold design looked beautiful paired with the sweater. I think this red pair would be perfect for the holidays. They'd look beautiful with an all black outfit for a nice festive pop of color!
I hope you found some inspo from today's post and I look forward to seeing you all back here on Wednesday!