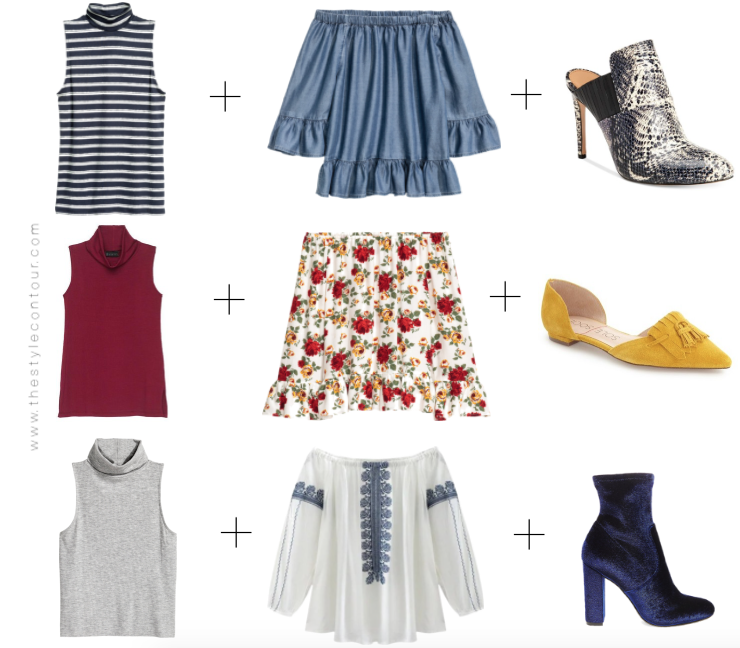 :SHOP THE SET:
---
---
Happy Tuesday my dear friends!
As we all know, the off the shoulder (OTS) was a HUGE hit this past spring and summer, so I'm sure many of you have some pieces in your wardrobe you loved and have worn on constant repeat. Now that fall is here, that doesn't mean you have to put them away just yet, even if they have more of a spring/summer color palette or pattern. By adding a simple layer, a sleeveless turtleneck, you're able to not only carry your favorite top through three seasons, but also create another take on the trend and that's the cold shoulder!
Perhaps you purchased an OTS top and absolutely hated the way it looked on you and haven't worn it since, you can now wear it in a way that's flattering for every body shape because the cold shoulder is universally flattering; it doesn't visually extend the width of your shoulders or enhance any broadness.
In the set I created above, I featured some of the most common OTS styles we saw this past season, which you most likely own: chambray, floral, and embroidered. You can create a fun, autumnal contrast by either working with a neutral top underneath, one that's in a seasonal color, or one that's in a classic print, such as stripes. I included some fall shoes that are trending this season to give you a better idea on how just adding a couple of pieces can completely transform a piece's vibe.
I want to add that this can also be applied to OTS dresses, which I feel would look great with a sleeveless or sleeved turtleneck, as well as a button down shirt.
What do YOU think of the idea, will you be giving it a try? Thanks so much for stopping by, my beautiful friends, and I hope you have the most amazing day!
Disclaimer: This post was inspired by Synde Summer's How to Wear Off the Shoulder Trend Guide
XO,