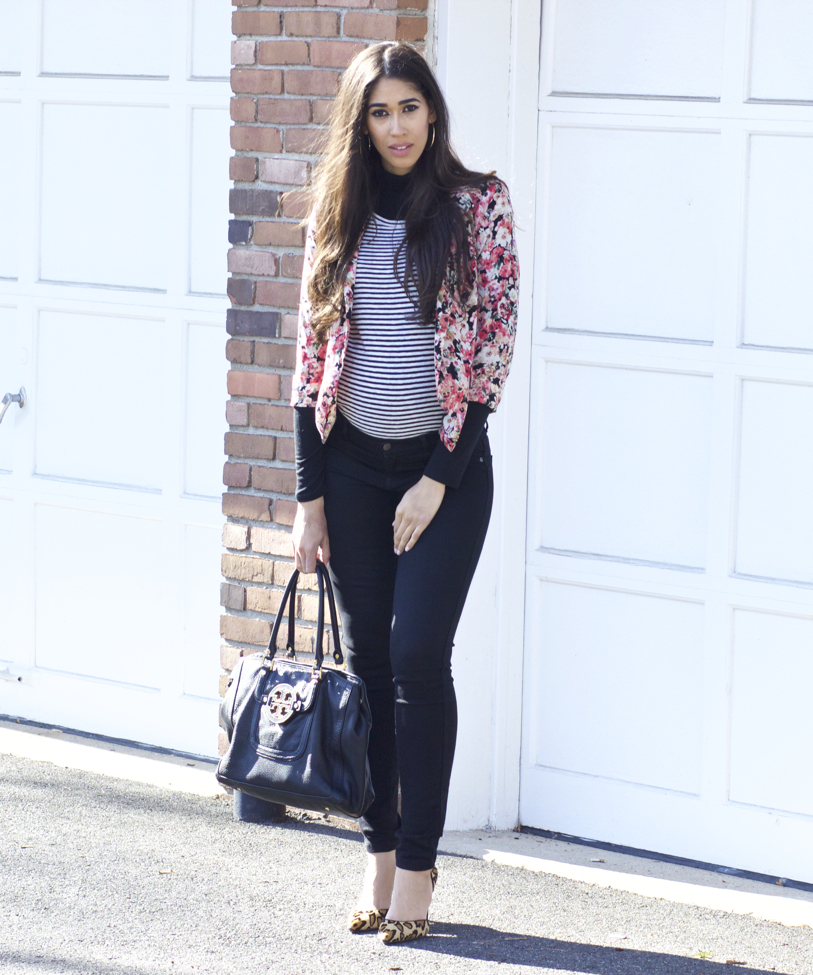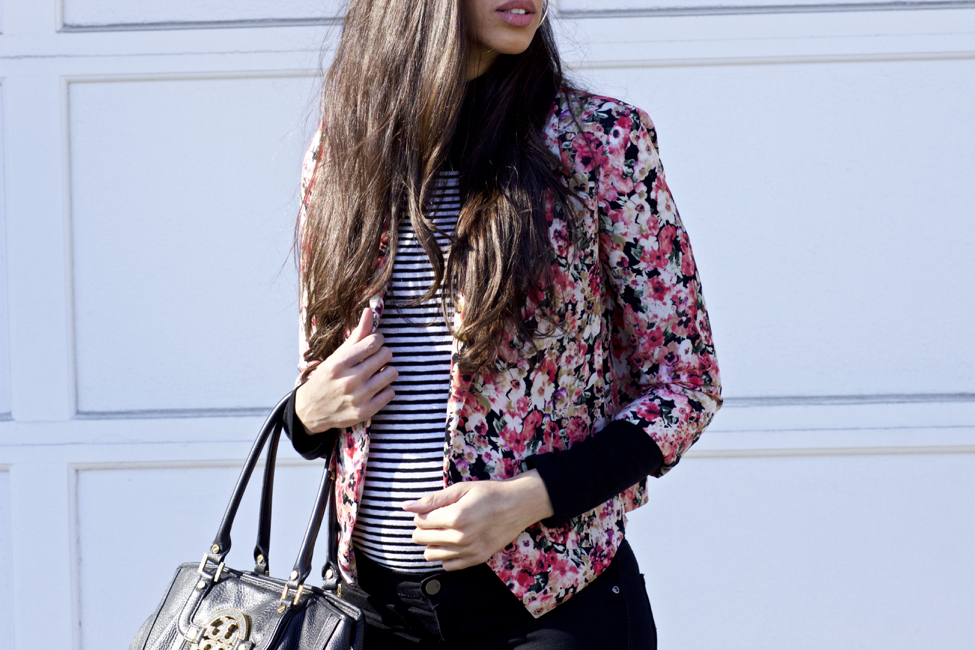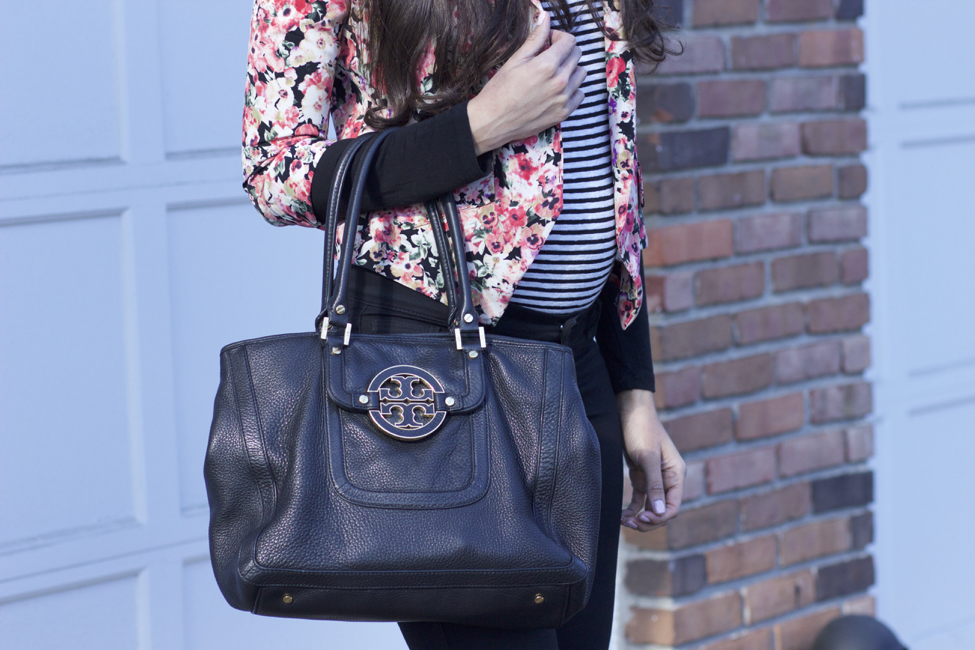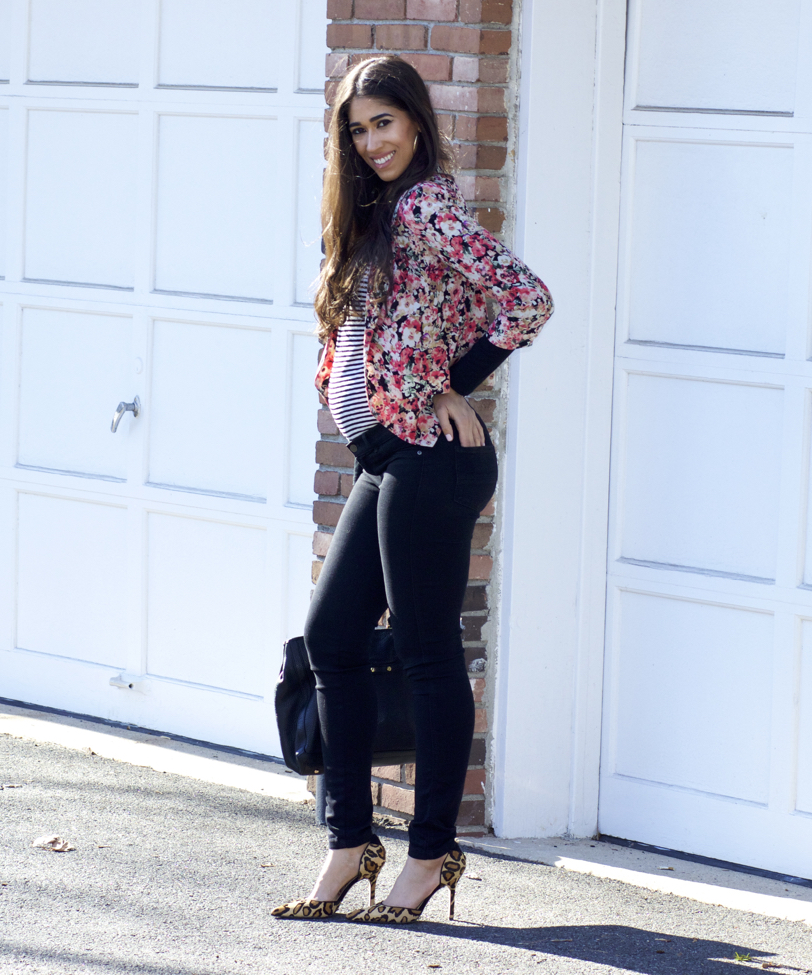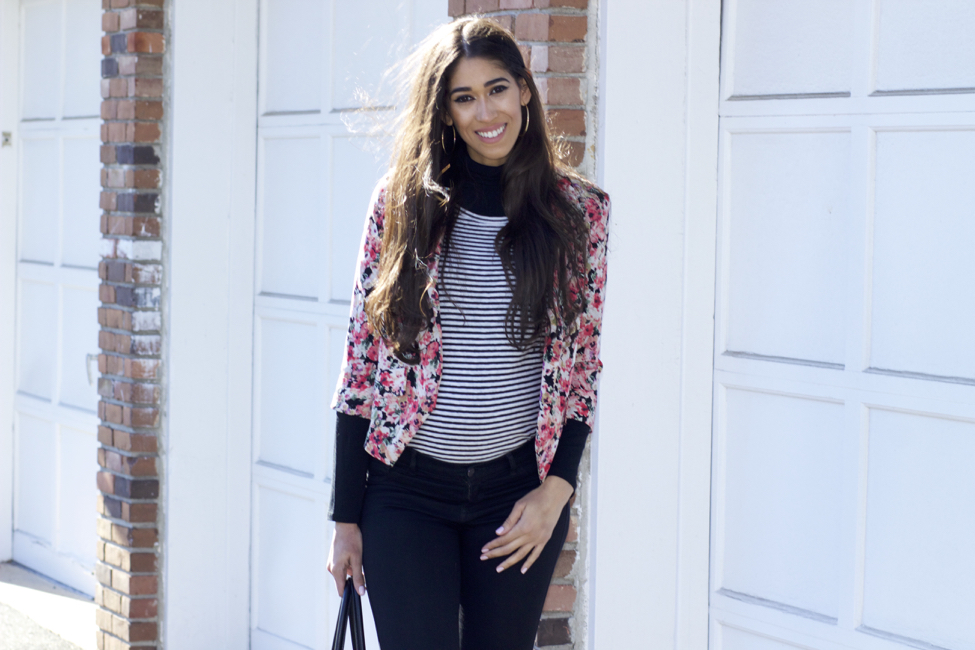 Blazer (similar here) \\ Striped shirt (similar here) \\ Turtleneck \\ Jeans \\ Bag: Tory Burch (similar here) \\ Shoes: Sam Edelman (similar here)
Happy Wednesday and happy first day of March, my gorgeous friends!
How's everyone's week going so far!? I'm so glad we're officially in March, spring is (supposed to be) a few short weeks away and I honestly couldn't be more excited. I'm so done with the cold raw weather, how about you?
Well, my anticipation for the start of spring is reflected in today's outfit for sure, haha. We've got a pattern mix, which includes some floral a print synonymous with the season. What I love about this particular blazer is that it has a darker base color (black) making it perfect for transitioning into spring, in regards to color palette. I also tend to wear it on spring and summer nights, since it's light weight, which is why I layered it with a turtleneck underneath and also to extend the length of the sleeves.
When it comes to pattern mixing, one may either feel great excitement in coming up with a look that's bold, different, and well, fun to create. Some, on the other hand, may feel overwhelmed or underwhelmed for that matter, at the thought of creating an outfit with more than one print. I get it. Knowing which patterns will work together and won't clash nor compete can be a bit tricky. This, however, will not be the case after this post, hopefully ;)
A no fuss, no fail pattern combination that will always look chic and is perfect for spring are florals and stripes; they are as classic as pattern mixing gets. Plus, they look great to wear even in the office! To create a more harmonious or cohesive flow, I'd suggest combining florals and stripes that have one (or two) color in common. In my case, that's black and white. It's that easy!
Once you begin to feel more comfortable with the idea of adding in another print into the mix, you can throw in a leopard piece. I personally love to add leopard in the form of a smaller accessory, such as shoes or a clutch, when going for a look that's bold, yet subtle, does that make sense? I hope it does, haha.
Though I encourage everyone to embrace this style tactic, at the same time, you don't want to add to many prints, or else you risk the chance of looking rather busy than adventurous. With that, it's also a great idea to add in a neutral somewhere in the look, like I've done with my black skinnies and tote to help bring the outfit together.
I hope this post has inspired you to embrace the idea of pattern mixing, at least with the ever so easy, always chic floral and stripe duo! Thanks so much for stopping by, my dear friends, and I hope you're having a wonderful day so far!

XO,