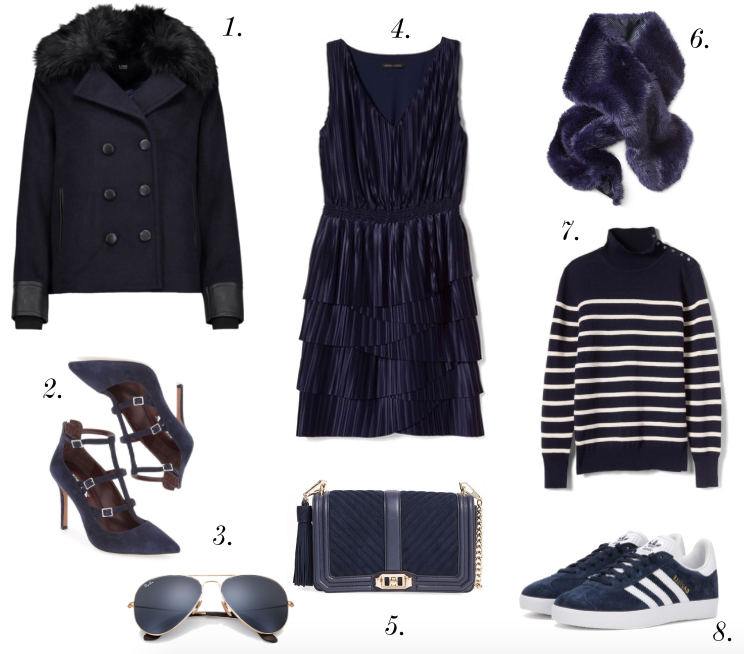 Shop the Set
Happy Thursday, my dear friends!
When it comes to neutrals and basics, the first color that will often come to mind is black and rightfully so, it goes perfectly with everything and can be worn all year long. There are other darker neutrals, however, that are starting to become more popular, an alternative to black if you will, specifically navy. Like black, navy has a sophisticated vibe, in addition to a nautical effect, that reflects class and prestige, in my opinion. It may not be as entirely versatile as black, but it can often be swapped out in many of the color combinations you would typically consider black.
What I love about it is that, unlike black, it brightens both the hair and skin tone of everyone, regardless of skin or hair color. Black on the other hand, though everyone can and should wear it, can sometimes appear harsh or too sharp, making navy a great alternative to consider. It also carries over that same brightening effect when paired with other neutrals, such as white, grey, or browns (thinks cognac or camel). Navy, though it has more a brightening effect when paired with other neutrals, it also conceals as black would, since it's dark and saturated, which is what gives black its slimming properties. In addition, it pairs well with both silver and gold metals, once again, flattering all undertones, allowing one to mix and match depending on personal preference.
What are YOUR thoughts on navy? Is it one you'd consider replacing black with in some of your outfits this winter? I personally wouldn't replace it with black entirely, however, I am now looking at navy with a much more open and accepting eye.
Thanks so much for stopping by, my beautiful friends, and I hope your day is as fabulous as YOU!
XO,