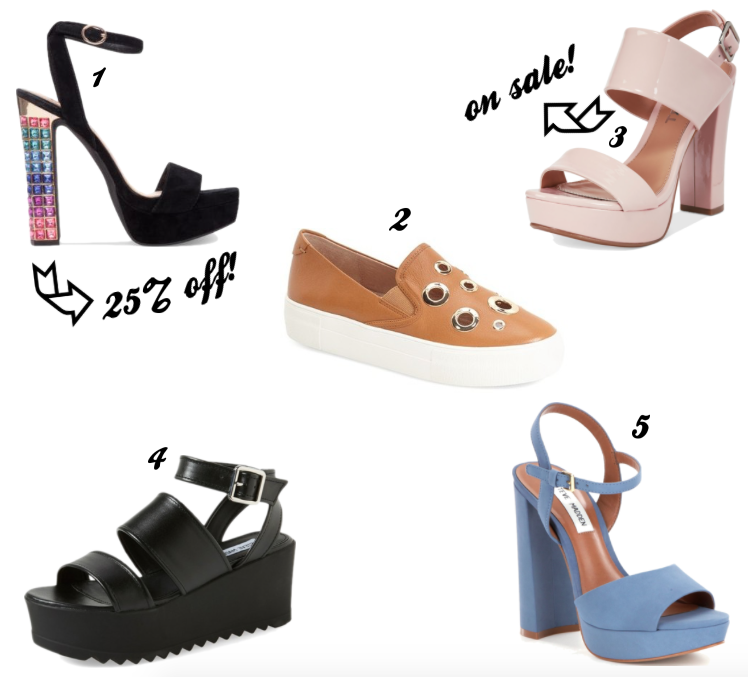 SHOP THE SET!
Happy Tuesday, dear friends!
A popular trend this season is the platform shoe, either it be in heels or sneakers, this '90s trend is popping up everywhere! If you're a '90s kid like me, these are almost synonymous with the Spice Girls and if you were a real fan, you of course had to have a pair or two! While I'm no longer a fan of the ultra sky high Baby & Ginger Spice style platform, I do love the more polished version as shown above in 1, 3 and 5. I also love the more subtle take on the trend, as shown in #2 and the somewhat grungy vibe of 4, which I think is SO cool! I love when a trend is found in various forms, allowing for anyone who likes the overall vibe to experiment with them without having to sacrifice their own personal style; there's an option for everyone!
What I also like about the trend is that it adds height, while exuding power and confidence, I love bold pieces that speak for you! It's a shoe that can either be worn with a maxi and midi skirt or dress, which is especially great if you're petite and tend to shy away from either of those styes due to the fear of appearing even shorter. I personally love the idea of pairing #s 2 and 4 with skinny jeans or shorts and because of that, I feel they're perfect options for those of you who have more of a minimalistic style; they add that subtle touch of interest and trendiness to an overall outfit.
So, what's your thoughts on this trend? Do you feel it should stay in the '90s and never return or are you a fan? Let me know in the comment's section! Thanks so much for stopping by, my beautiful friends, and I hope your day is as wonderful as YOU!
XO,