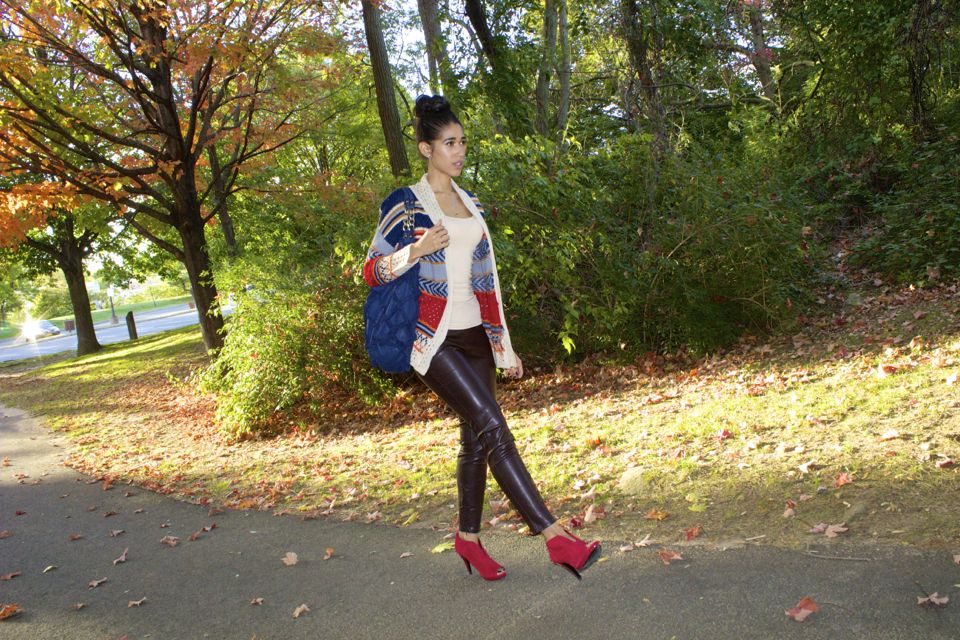 GET THE LOOK
Cardigan: From Marshalls (similar style on sale for only $24 here) // Tank: Cynthia Rowley from Marshalls (similar style here) // Pants: Zara (similar style here) // Purse: Errelleventidue from TjMaxx (I found a seller on Ebay here, please look more into the seller before purchasing!) // Booties: Nine West Outlet (similar style here)

Happy Friday, everyone!
I'm so glad it's Friday, it's been a bit of an intense week, but I can't really complain because it did kind of go by fast! For today's look, I was able to break out my brown leather pants that I purchased on clearance at Zara two summers ago. They are very warm, since they're lined inside, so I wear them when it's a bit cooler out, as it has been. This pairing is inspired by the fall season and the leaves you see around me. I think nature is the best source of inspiration there is, wouldn't you agree?! I also love this cardigan, it's a great choice for me when I want to add a nice fall touch to my outfits, as well as texture and interest. I love the pattern and the color combo is perfect! Now onto the shoes.
I purchased these booties at a Nine West outlet about 3 years ago. I generally don't experience problems with Nine West shoes, in fact, the majority of my shoes and boots are from them. However, these for some reason always hurt on the sides of my feet and would be too painful to wear after about an hour, which is why you haven't really seen me wear them as much. A few weeks ago, I was contacted by Kushyfoot, a line that supplies foot covers, socks, tights and slippers, to do a review on some of their products. Before saying yes, I of course researched the brand and took a look at some of their foot covers. Let's be honest, there are so many foot cover brands out there, so I wanted to see if there was anything different than what I've already seen and experienced before giving an answer. What peaked my interest was the diverse styles of their foot products, including these peep toe covers. This prompted me to say yes to the review. I wore them a few times before today's post, mainly with these booties to test them out fairly. I wanted to ensure that I would genuinely like them and if they'd be worth the mention to you. Well, I love them! I'm now able to wear these red booties that I haven't been able to enjoy thanks to the peep toe cover! It protects the side of my feet where it used to rub, it's not noticeable and there's a rubbery adhesive on the back of it, so it doesn't glide off with wear. I definitely suggest you check them out, they have all kinds of options to suit your personal comfort and shoe style needs! So the next time you see me wearing these booties, which you will, you know I'm wearing them!
I hope you liked the look and found it inspirational and give Kushyfoot a try! Have a fabulous weekend and I'll talk to you all again on Monday :)
Xo,