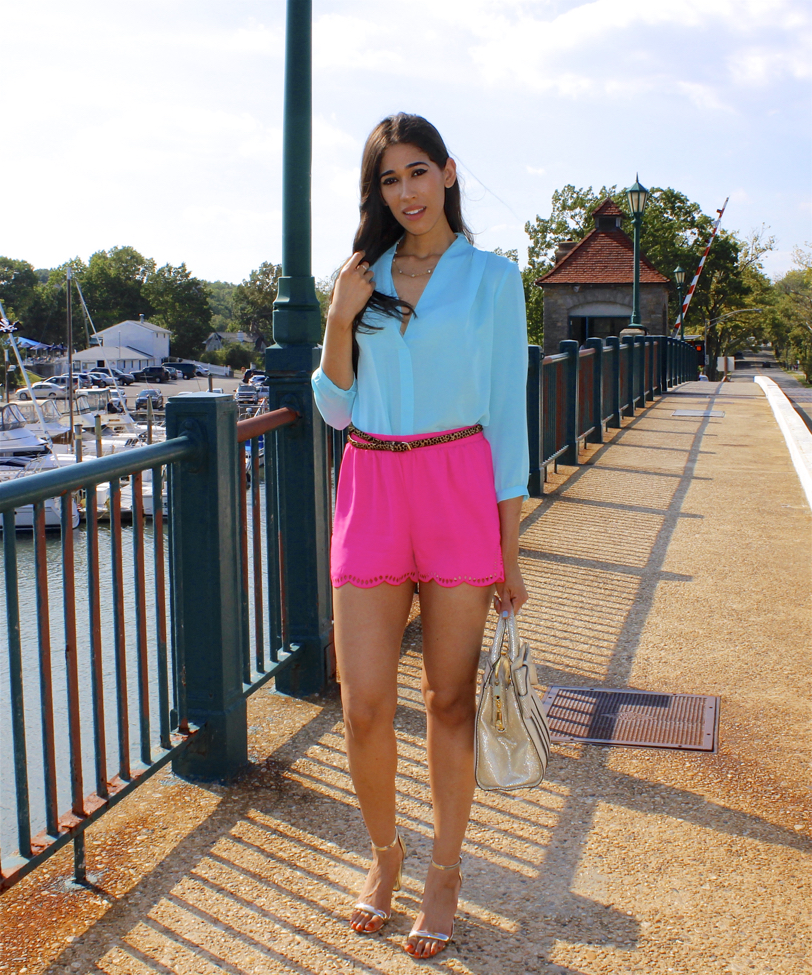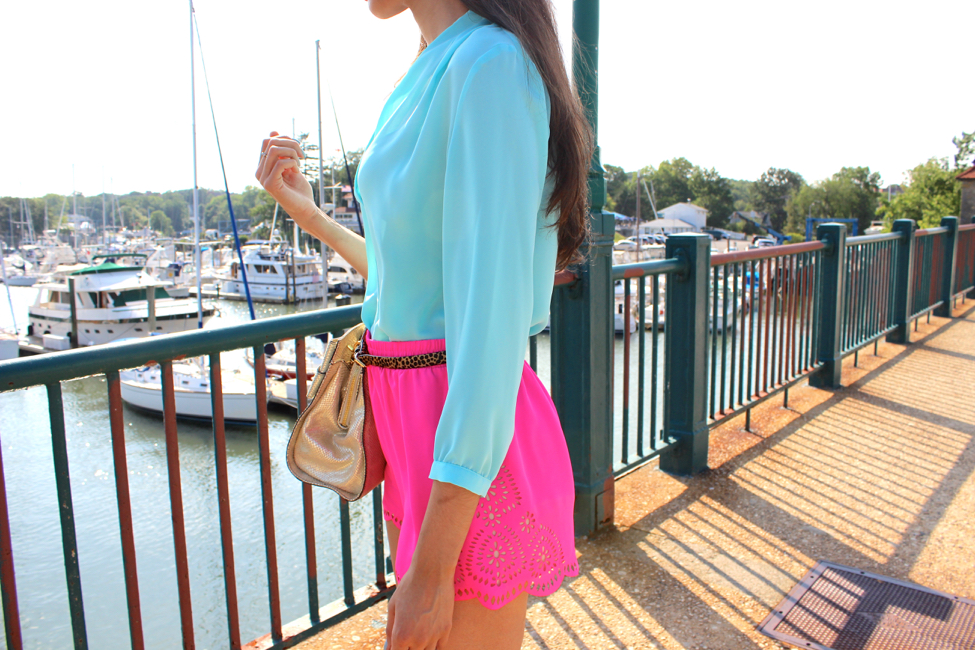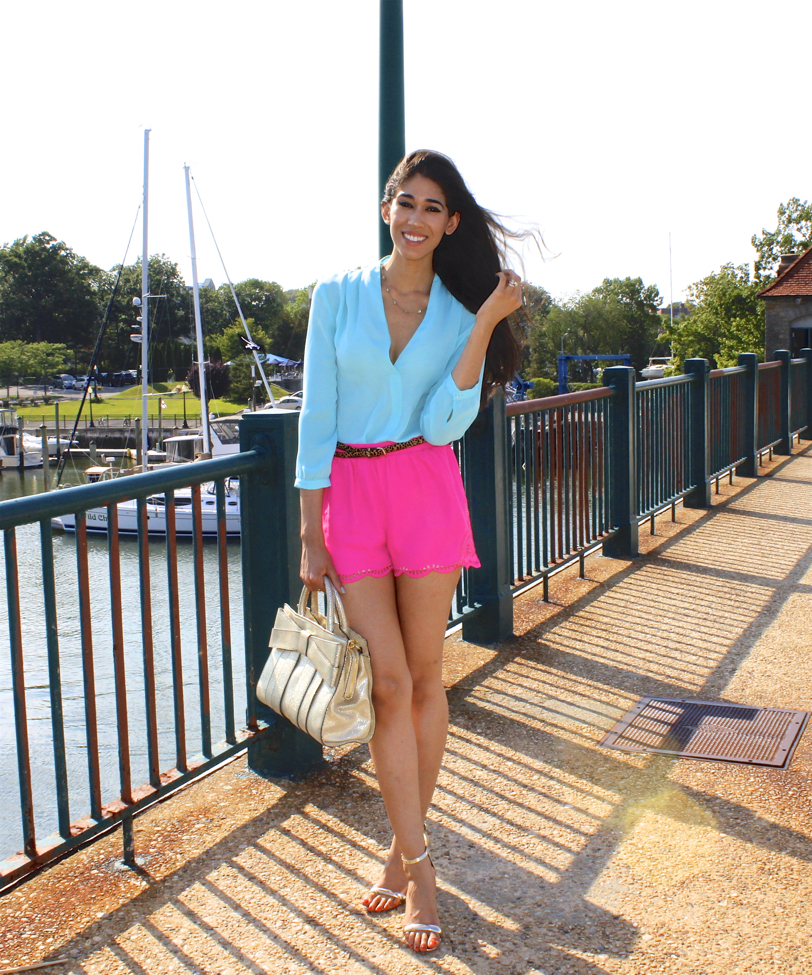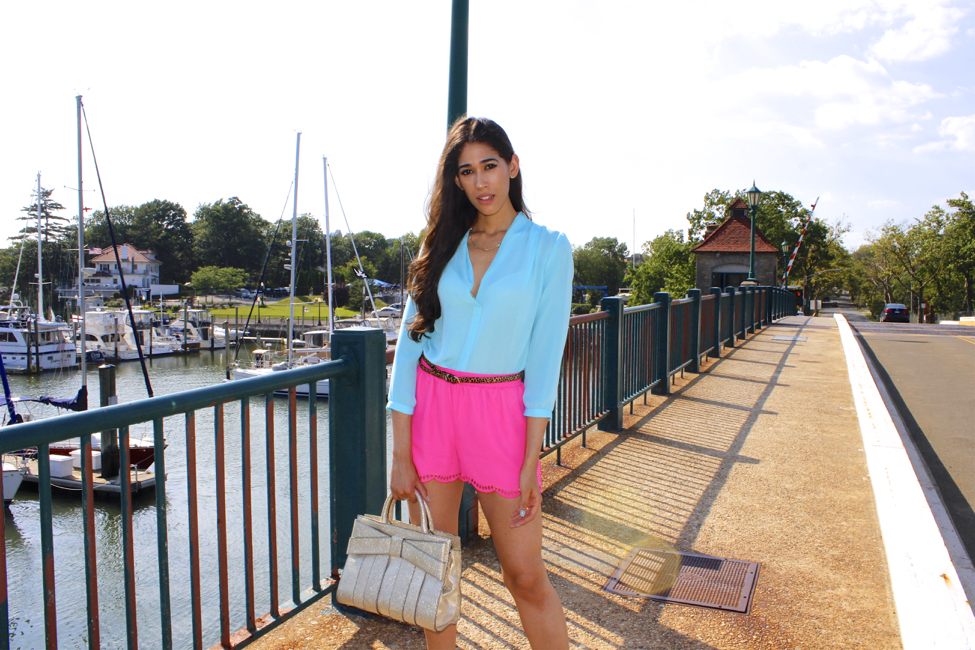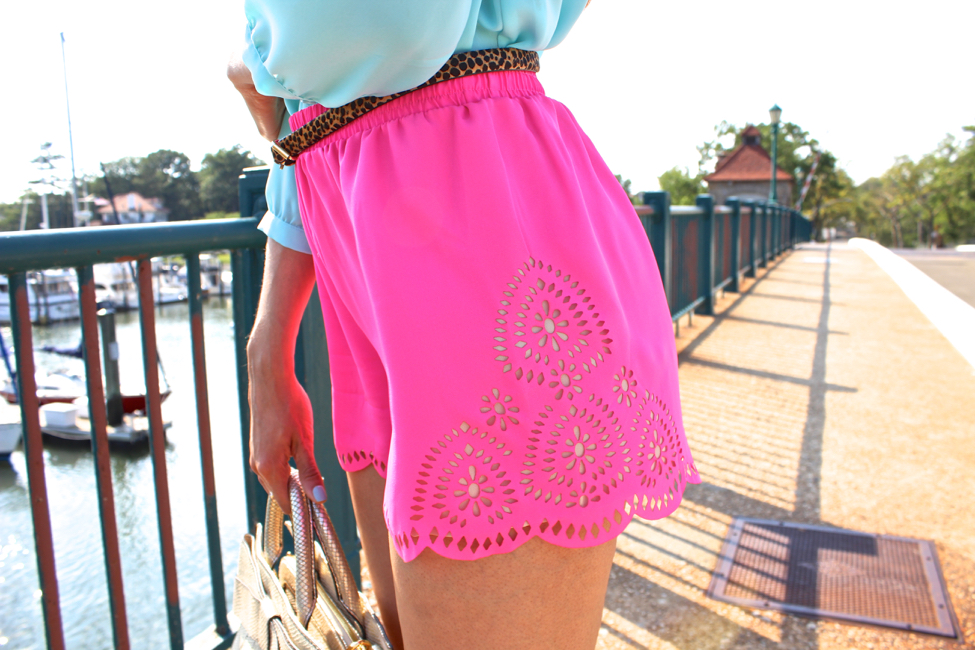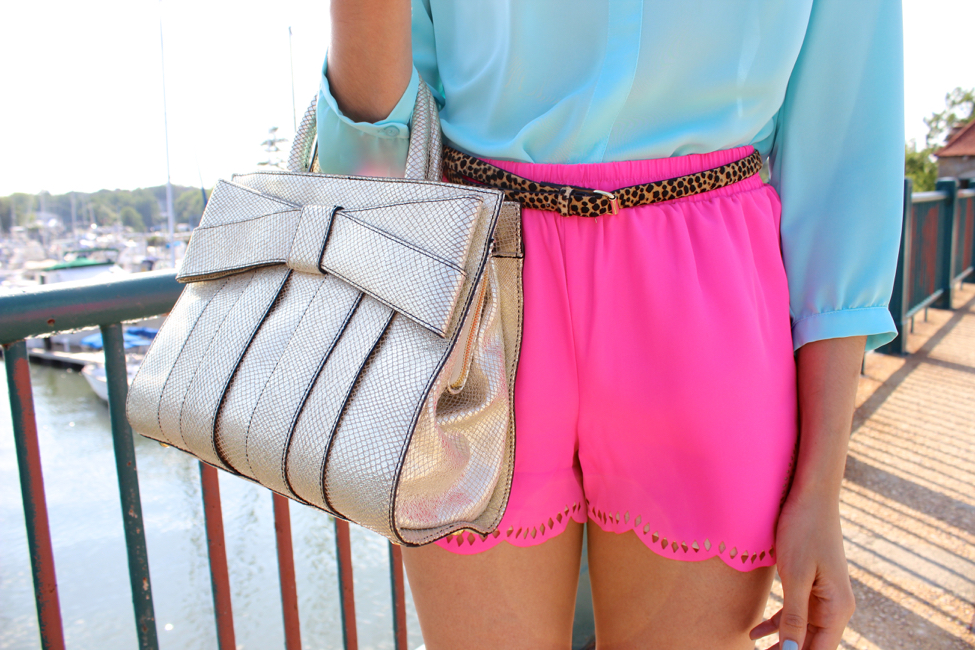 GET THE LOOK!
Blouse: Laundry by Shelli Segal (similar ON SALE HERE) // Shorts: Marshalls (similar HERE) // Necklace: c/o Athra Luxe (HERE) // Belt: Thrifted (similar HERE for $8!) // Bag: Zac Posen (similar HERE) // Sandals: Aldo (similar HERE)

Happy Hump Day, friends!
How's your week going so far? I hope it's going well and if not, don't worry, we're half way through the week, whoohoo!
While we're on the topic of being happy and enthusiastic, there's a color combination that makes me happy and leaves me feeling ultra feminine, pink and blue!
Did you all know that blue is the most liked color? I believe I mentioned this in my YouTube video on the meaning of colors, which you can watch here in case you've missed it! I think it's a really helpful post, especially when planning outfits for important meetings such as an interview or presentation and how colors can manipulate (shhh!) emotions.
With blue being one of the most liked colors, it's always great to get some inspiration as to which colors look best paired with it, am I right? This brings me back to what I mentioned at the start of this post and my love for combining blue and pink.
Now, I think it's important to consider the vibe you wish to exude when creating your outfit. Navy and fuchsia are great options, that I personally feel look great on all skin tones. It's more of a bold and authoritative look, making it a great option to wear in the office (think navy blazer, striped shirt and fuchsia pants/skirt!). The navy will make the look appear more work appropriate and less playful, which of course is highly important, depending on your position or one you're hoping to gain.
Remember, always dress for the job or position you want first. The way we dress signals a lot more than our fashion sense, especially to those in leadership positions!
If you're going for a more playful or feminine look, then I'd suggest you opt for lighter hues of both. Notice I mentioned playful. To avoid appearing like a little girl, I suggest adding in a sultry piece or two, like I did here with the cheetah printed belt. This will help to balance out the girly, cotton candy vibe. But let's be honest, who doesn't love cotton candy or at least the look of it?! Haha!
As I mentioned before, bolder versions of each, I feel, look great on all skin tones.
However, if you have fair skin or cooler undertones, depending on how light the shades are, they can have a washed out effect. I'm not suggesting you avoid them, but perhaps you can add a bolder version of one of the colors worn closest to your face, such as a navy top and a softer pink on the bottom. This can make for a more flattering option and truly bring out the luminosity of your fabulous skin tone and color!
Have YOU ever worn a pink and blue outfit? What are some colors you love to pair with blue? Thanks so much for stopping by, my dear friends; I hope your day is as amazing as YOU!
XO,