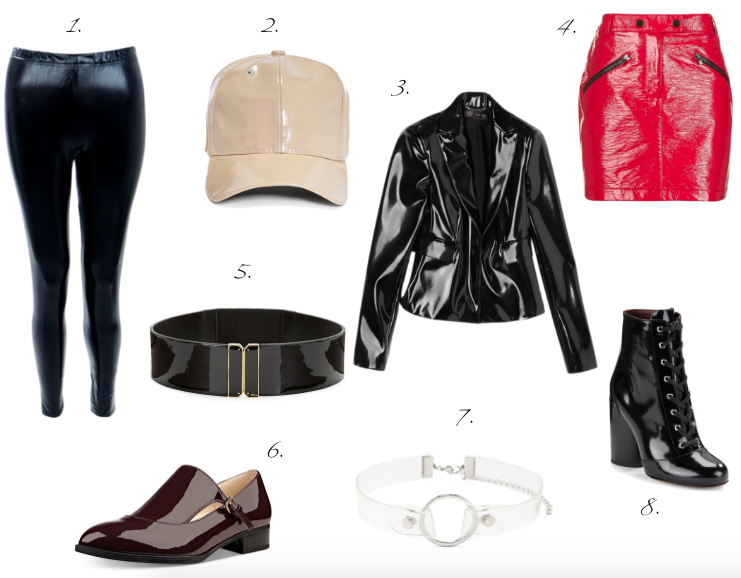 SHOP THE SET
Happy Thursday, my beautiful friends!
Today we'll be discussing another trend for the season, vinyl (aka patent leather)l! We actually began to see it hit the streets at the start of fall and it shows no signs of stopping throughout winter. It's a nice, modern, and futuristic take on traditional leather pieces, which have a smoother finish. The eye catching shine of vinyl is sure to make a statement and you can choose where you want that statement to be.
Plus, you don't have to worry about ruining your vinyl pieces in the rain or snow because it just glides right off without leaving any residue behind, which is pretty awesome!
The easiest and most subtable way to experiment with the look would be with shoes. I have a few patent shoes ranging from nude to hot pink and I always seem to receive compliments when wearing them, they really pop against a more muted or matte look.
This is a trend you want to be careful with though. I wouldn't necessarily suggest wearing a fitted patent leather dress on its own. Instead, try and incorporate other pieces, such as a duster or faux fur coat on top or else you risk the chance of looking, well, a bit S&M and that's not the look we're going for, lol!
So, how exactly would I suggest you wear it!? I think it should be approached the same way you would any other leather piece you'd work with when putting together your outfit. Again, you want make sure you're mindful of fitted pieces by balancing them out with those that are a bit oversized or mix up the textures.
You also don't have to spend a fortune on vinyl pieces. I love you patent Burberry trench, but you're way too expensive! Often times you can find cool and unique vinyl pieces at your local thrift shop, like a trench coat! If, however, you want to browse online to see what sparks your interest, I'd suggest using key words such as: faux leather, patent leather, coated, or wet for faster results. I've noticed these pieces aren't always labeled vinyl, yet have the same look and effect.
What are YOUR thoughts on the vinyl trend? Is it one you'd embrace or pass up?
Thanks so much for sharing, my gorgeous friends, and I hope you're having the most amazing day so far!
XO,