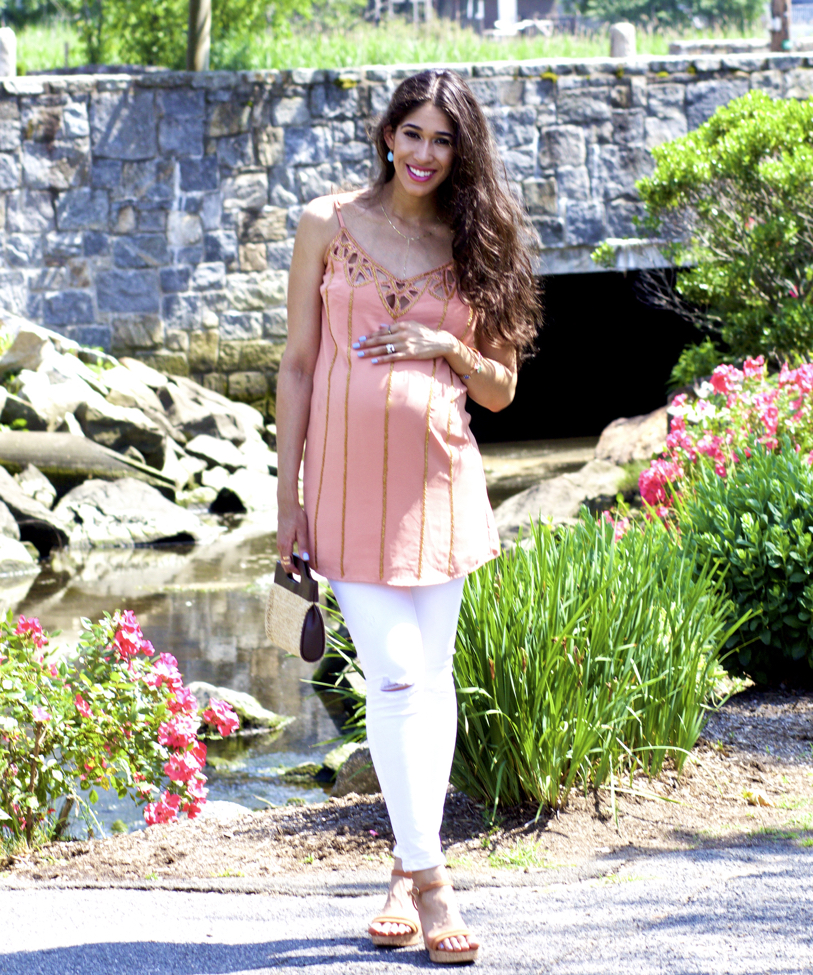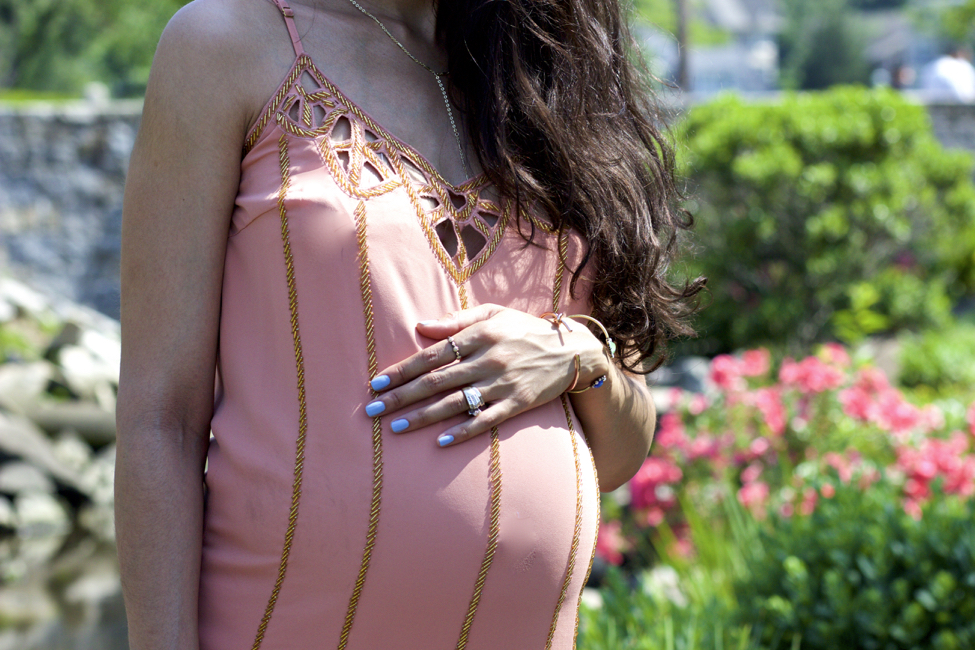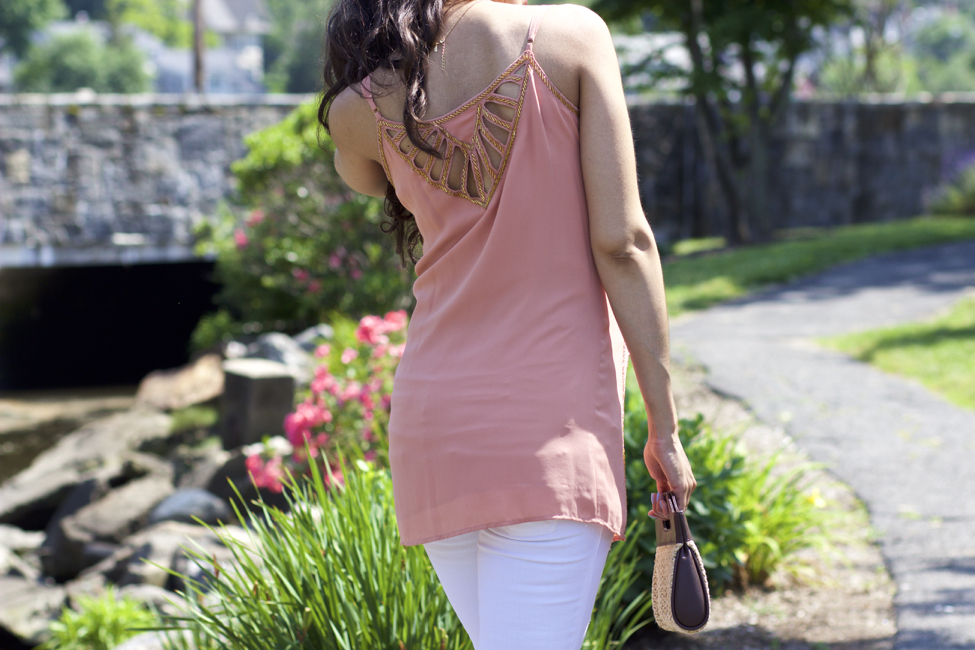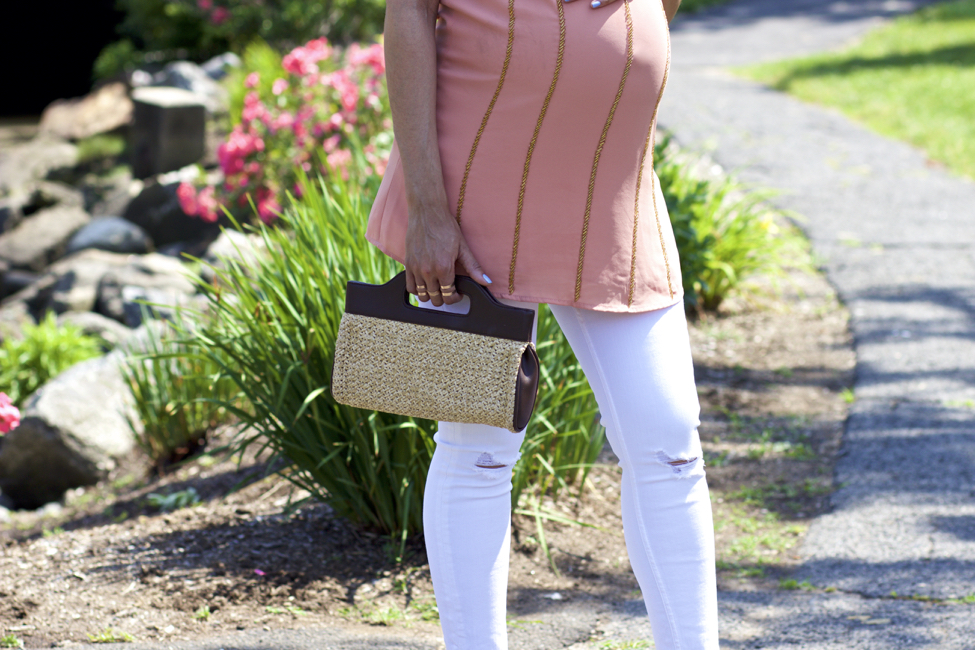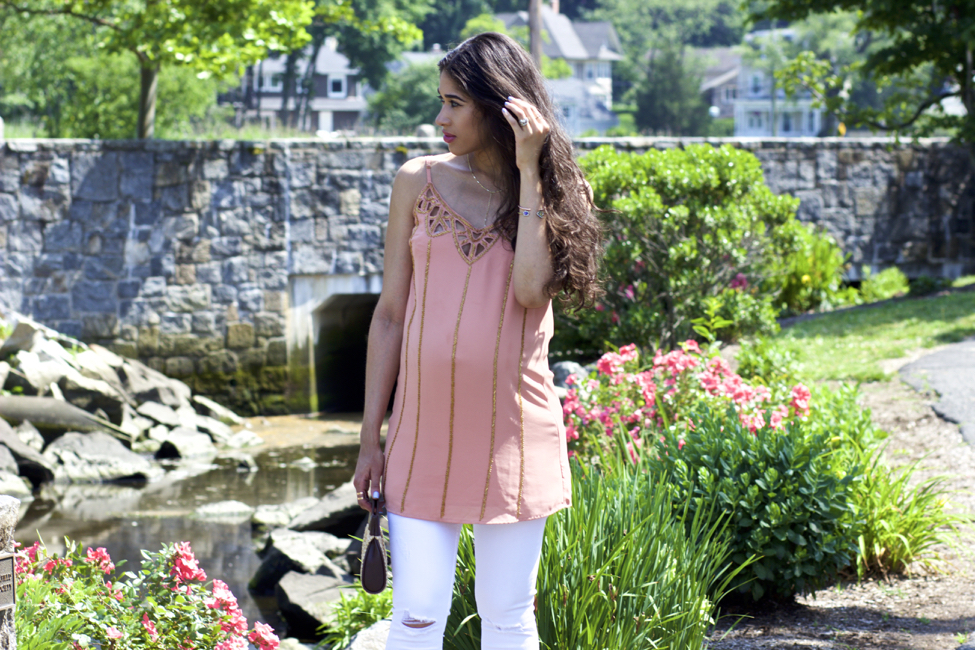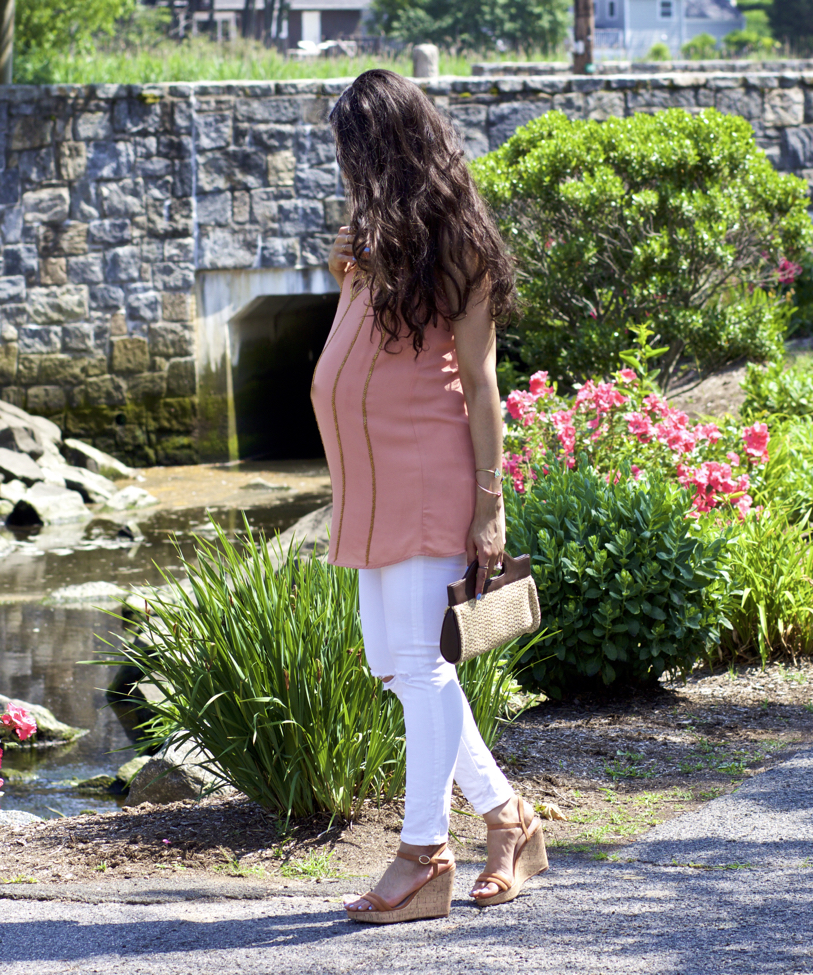 Dress: Similar | Jeans (non-maternity version) | Necklace c/o | Rings (here & here) c/o | Clutch: Similar | Wedges | Nail Color
---
---
Happy Monday my gorgeous friends!
How was your weekend?! We had a very productive day yesterday, we practiced setting up Baby A's car seat in and out of the car and attaching it to the stroller, which felt like a major project, until we finally got the hang of it on the hundredth try, haha. We also packed our hospital bags because I now only have two weeks to go, which I still can't believe to be honest with you. Part of me feels like I've been pregnant forever and part of me feels like it all just flew by, it's so weird!
So with only a couple of weeks left, there's of course very limited pieces I can still fit into; I've been forced to get even more creative than I have been throughout this pregnancy, keeping in mind that I've only purchased about 5 maxi dress and 2 maternity jeans. Other than that, I've been working with my pre-pregnancy wardrobe. I actually won this dress (yes, can you believe this is supposed to be a dress?! lol) at a blogger event I attended a couple of years in a raffle. Fun Fact: Every time I would go to a blogger even, I'd always win at least two raffle prices, don't ask me how, lol! Though this isn't technically a top and was classified as a dress, I'd call it more of a tunic.
I believe tunics and flowy tops are the best pieces to work with pre and post pregnancy because they look super chic (most tops that have a flowy, light, and airy fit, have a chic feel to it) when worn pre/post pregnancy, as they can be tucked into bottoms or worn loosely and can fit and flatter a growing bump. If you have a closet filled with pieces like this, I'm letting you know right now, you've illuminated a lot of future frustration in dressing your baby bump in the future, they're just that easy.
I've worn these maternity jeans a number of times on the blog. I initially wasn't a fan of the fit because they felt quite stiff, but it seems that after a number of uses, they've softened and have become quite comfortable, so I can now say I recommend them, though they're not nearly as comfy as the ASOS ones I love! Like many, I've had a hard time finding the perfect white denim jeans, but I've come to love these so much that I'm considering the non-maternity version.
With just two weeks left, I have to say that one of the many things I've had fun with is creating outfits. It has sometimes been quite challenging and there were times I felt quite frustrated, but it really allowed me for me to think outside of the box and experiment with different styles and pairings. Pinterest was a huge source of inspiration for me as well. So, if you're in the beginning stages of pregnancy or plan on becoming pregnant in the future, just know that it is possible to look cute and stylish throughout your entire pregnancy without having to buy a whole new wardrobe :)
Thanks so much for stopping by, my beautiful friends, and I hope you have the most amazing start to your week! I'm still catching up on comments; I swear, I move like a turtle these days, but I'm getting there, haha.
XO,