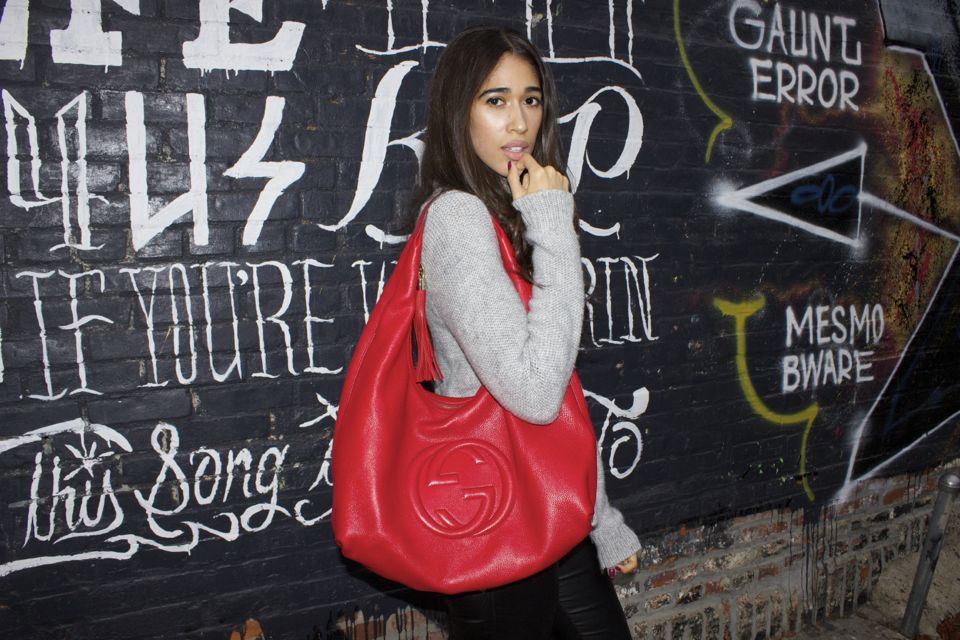 GET THE LOOK
Sweater: Cynthia Rowley from Marshalls (similar style here) // Coated Jeans: Guess (similar style on sale for 44% off here) // Purse: Gucci (similar style I'm loving on sale for 66% off here) // Slip on sneakers: Chinese Laundry from Lulu*s (similar style on sale for 50% off here)

Happy Monday, everyone!
I hope you all had a fabulous weekend and are off to a great start to your week! We hear a lot about how black and white are classic combinations that are great for practically any and every occasion. While this is certainly true, I feel that grey works as a great supplement for either of those two. Remember, not everything is black or white, there is sometimes a grey area :)
I've mentioned and actually did a video on how to style black and white for your body shape, demonstrating how the placement of these colors can effect how our shapes appear. I discussed how white reflects light, which means it serves as a highlighter causing wherever it's worn to appear larger or fuller. The opposite effect is achieved when wearing black, which contours and makes wherever it's worn appear slimmer. Grey doesn't create either of these effects, since it's a combination of the two, canceling out both effects that each create on their own. For that reason, it doesn't make a difference where or how it's worn!
One of the reasons I love grey is the different vibe it helps to create when worn with either black or white. When styled with black, it creates a bit of an edgy feel, however, when worn with white, the vibe is a bit softer. Have you ever noticed that?!
Do you prefer to wear neutrals or do you tend to reach for color more? I hope you all have a great day, my beautiful friends, and thank you so much for stopping by!
Xo,