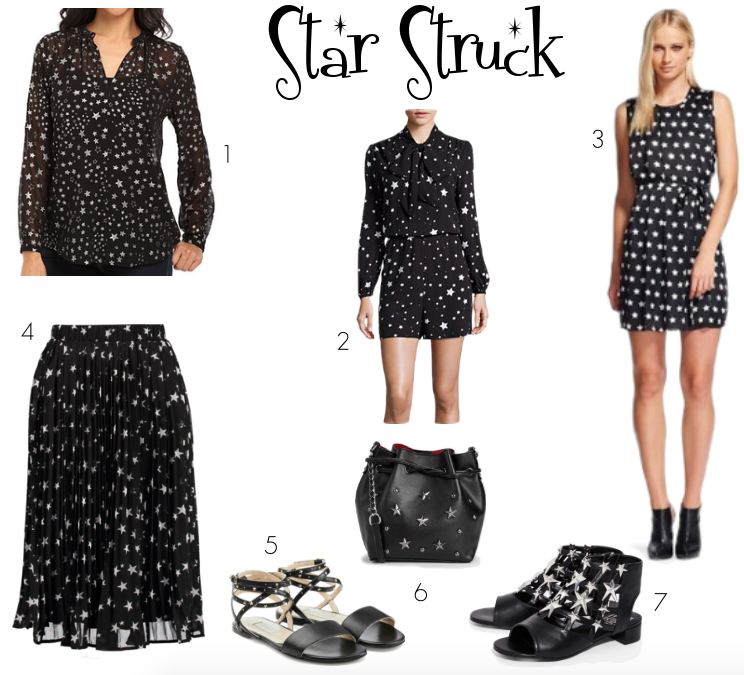 SHOP THE SET!
ONE | TWO | THREE | FOUR | FIVE | SIX | SEVEN
Happy Thursday, gorgeous girlies!
The 4th of July was well over a week ago (I can't believe it!) and I've still been noticing the emergence of a print that has been analogous with the holiday and that's floating stars.
Though, I've been noticing a more edgier, yet chic take, which includes the timeless classic color combo, black and white.
They began to emerge weeks before the 4th and have gained momentum with each passing week or so it seems on Instagram! There have been pieces that I had been eyeing that have completely sold out or have become very low in stock, which made me realize just how much of a trend it has become!
Plus, I've also been noticing how designer brands, such as YSL, Valentino, and Stella McCartney (to name a few) have been creating ready to wear collections with the print and color combo.
However, there are a couple of other variations, such as white stars printed on denim and chambray pieces, but the black and white have become my favorite and from what I've noticed, most popular. I think it's because it's a bit edgier, while also having a bit more of a dressier vibe. Pairing a printed top with a pair of jeans, loosely tucked in, will instantly dress up your denim, and a star printed romper is a great option for a date night on the town, especially worn with some lace up sandals and a pop of color with a clutch!
Another reason I love the trend is that I feel it's one that everyBODY can wear and look great in. Mainly because of the black base, which is slimming, while the white print can add some visual dimension to the area(s) in a way that's universally flattering.
So, what do you think of the trend? Is it one you would give a try? Thanks so much for stopping by, my beautiful friends, and I hope you're having the most amazing day so far!
XO,