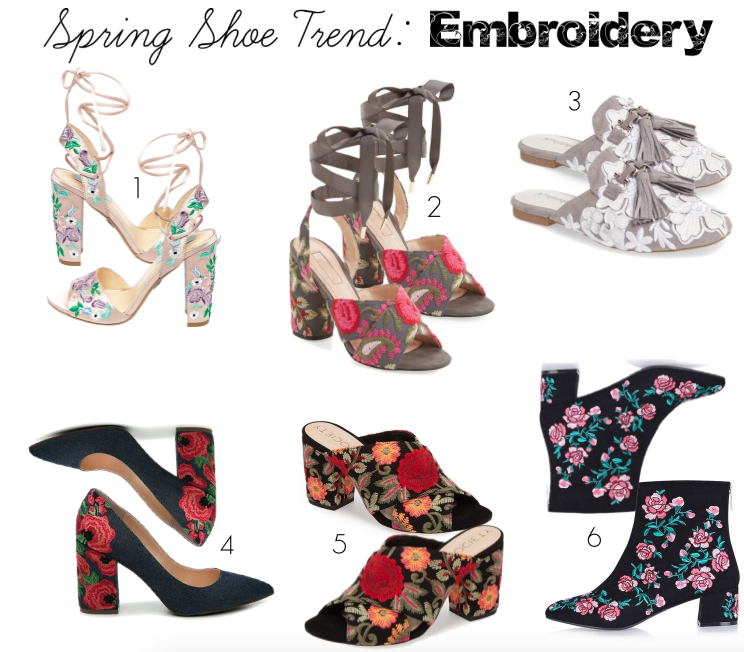 Happy Thursday my sweet friends!
Today's topic is on one of my favorite wardrobe pieces, which I'm sure Eddie will agree with, shoes! What I love about shoes is that they can really help to pull an outfit together or add a nice bold statement to an otherwise simple look, such is certainly the case with embroidered shoes. Often times when something that's trending gains huge momentum, we begin to see it translated into many forms, making it more relevant to one's personal style or allows for an easier experimentation of a trend without fully committing to a larger piece and price tag!
With embroidered shoes, I'd personally suggest keeping much of the outfit basic in color and/or in style itself. For example: a basic white tee, denim jeans (perhaps even a frayed hem, which is also trending), and a pair of embroidered ankle boots. You could also do a simple dress and a pair of embroidered pumps or mules for that boho-chic factor synonymous with spring.
If it's still a bit nippy where you are (it's far from nippy here in CT, it's cold!!!) you can top off your basic outfit with a leather jacket, either traditional or suede. Keep in mind that both can have very different vibes. Traditional leather can add more of an edgy vibe and suede can really enhance the boho feel of the embroidery; something to keep in mind depending on the effect you may want to go for, but both are great options! You could also add a denim vest or jacket for a 90s feel as well. As you can see, there are quite a few options!
I hope this post inspired those of you who love the trend and have been considering a pair of shoes, but weren't sure how to wear and style them. I personally love the trend and I'm really eyeing those grey slides (#3)! They're a MUCH more affordable option for the popular Gucci ones that have been floating around social media and I just love the grey and white combination, so chic, versatile, and perfect for spring!
Thanks so much for stopping by, my dear friends, and I hope you're having the best day so far!
XO,