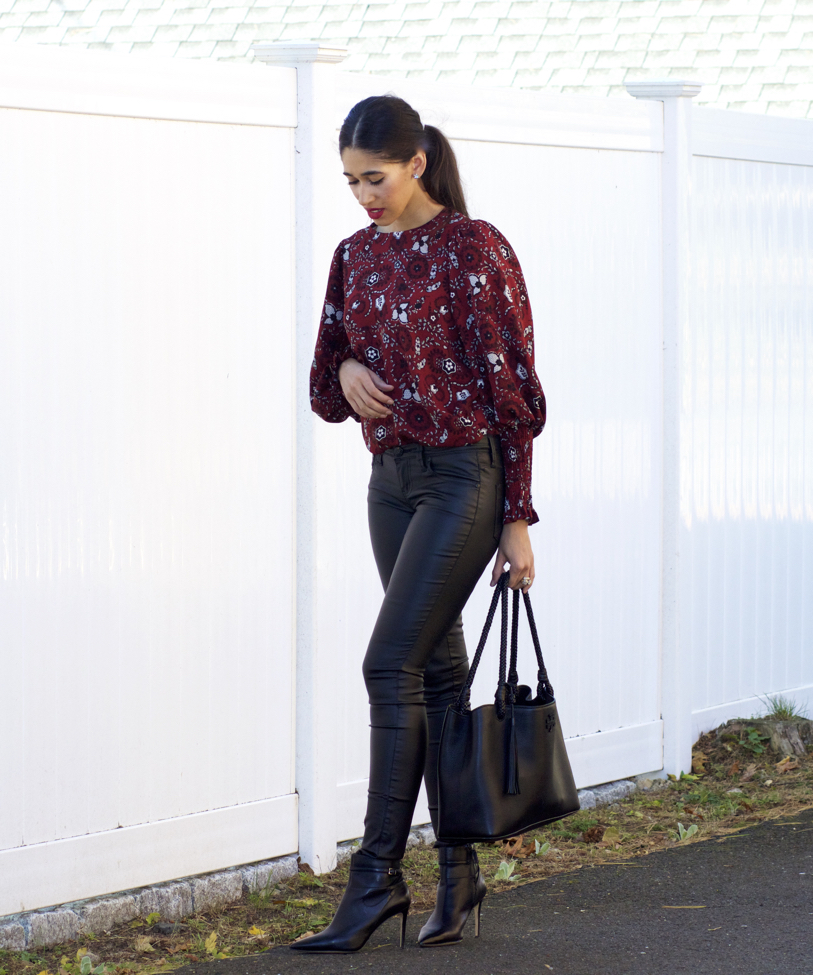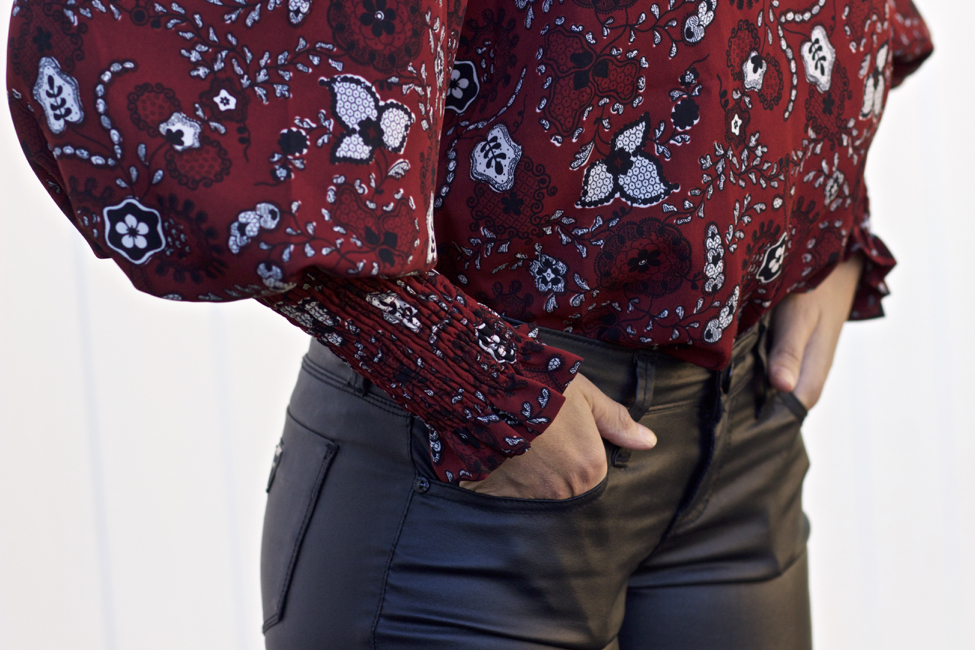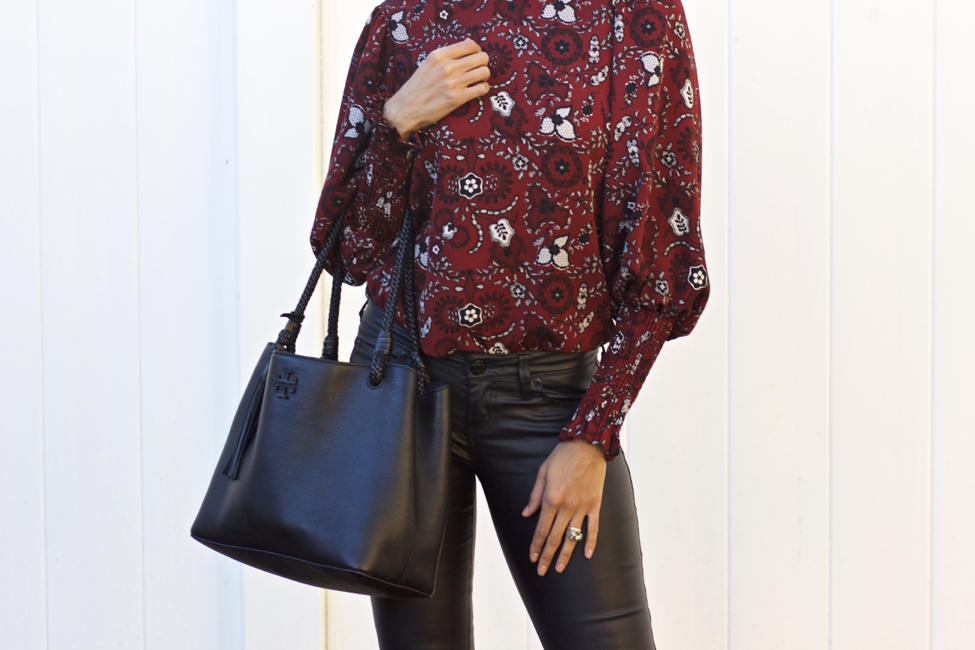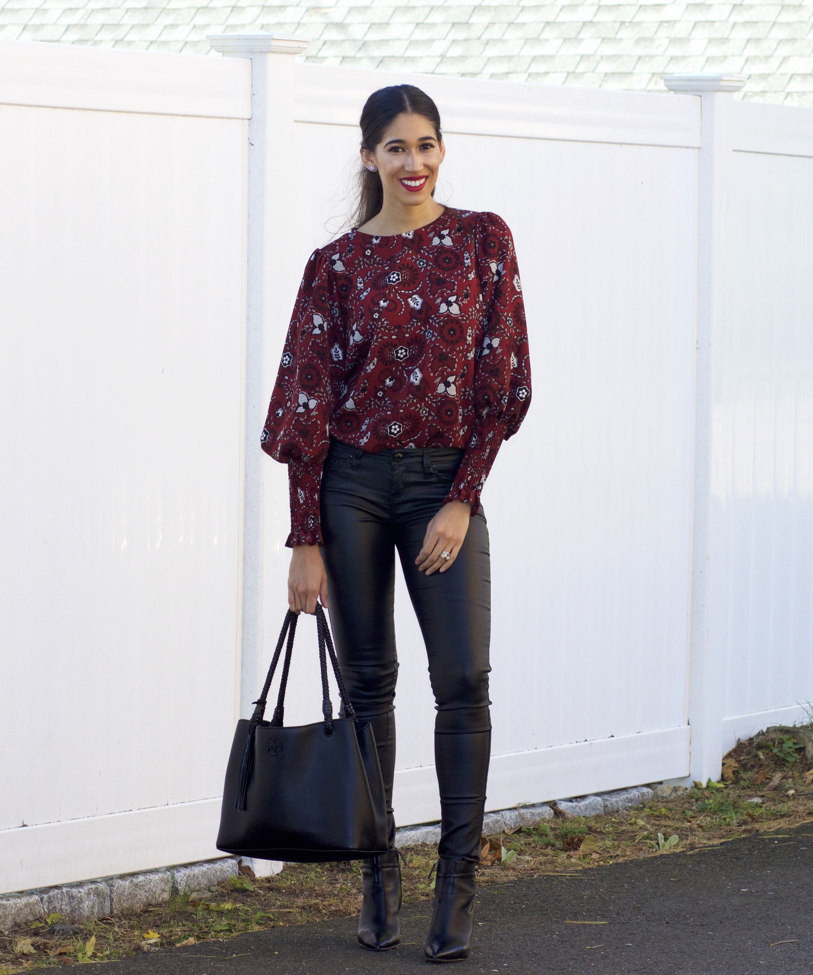 Blouse c/o | Coated Jeans | Bag | Boots (similar) | Lipstick c/o
---

---
Happy Monday my gorgeous friends!
How was everyone's weekend? Ours was so much fun! On Saturday and Sunday, we went to our town's holiday stroll. We moved here last year, so this was our second time going and it's really such a great time. Different food trucks come out, there are various activities all throughout the main shopping strip with a live nativity; it's absolutely beautiful! It was even better strolling around with Aviah; I still can't believe she just turned 5 months you guys, it's crazy how fast time has gone by. When I was pregnant, I felt like I was pregnant forever, but now I feel as though everything went by so fast.
Anyway, this blouse is from the same online boutique that the ruffle blouse I wore in this post is from. I love the somewhat retro vibe this blouse has, it reminds me of the 60s with the pattern and color combination. To modernize it, I've combined it with leather pieces. It gives it a more edgy feel. I think this is a great way to modernize any piece that's more retro in design. Pairing them with more fitted pieces can create a more timely tailored look that won't look outdated, while still embracing something unique and special.
Balloon sleeves are still going strong this season, popping up in blouses and sweaters. I think they're great to help add some volume to the upper body, helping to balance out lower curves, especially when tucked in as I've done. If you happen to be self-conscious about your arms, I would suggest avoiding balloon sleeves all together, as they can make them appear larger. Instead, opt for trumpet sleeves (sleeves with a fitted flare), which can make the arms appear visually longer and leaner ;)
Thanks so much for stopping by, my dear friends, and I hope you have the most amazing week ahead!
XO,