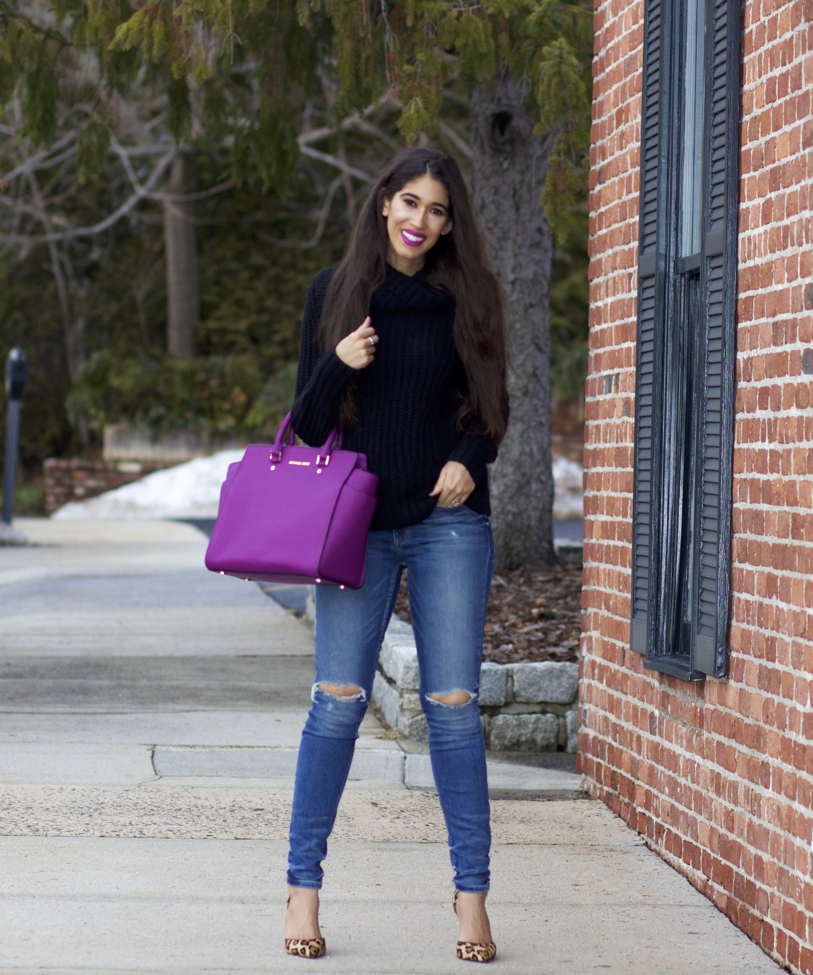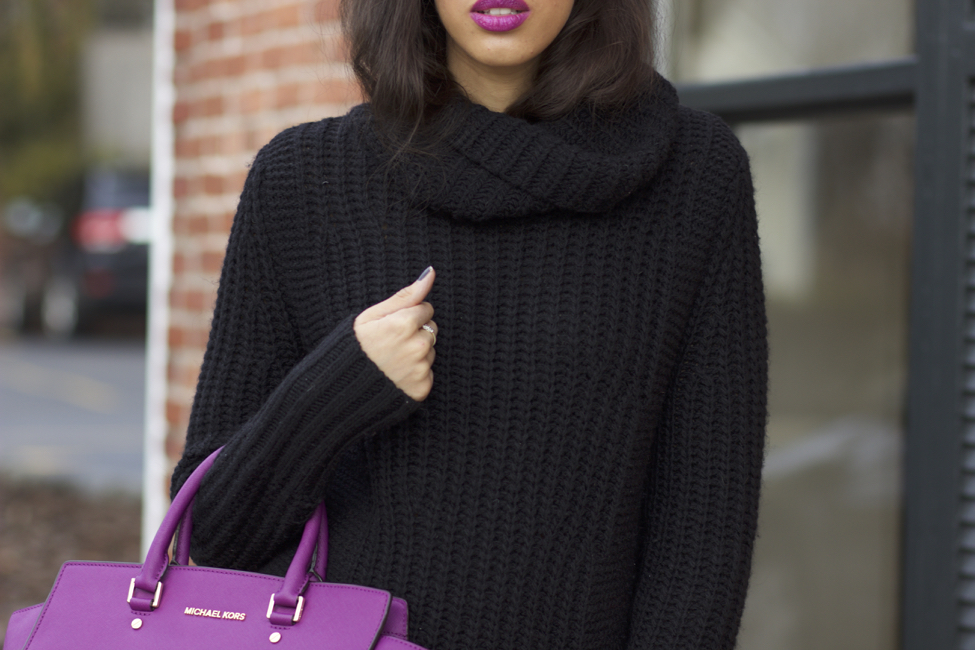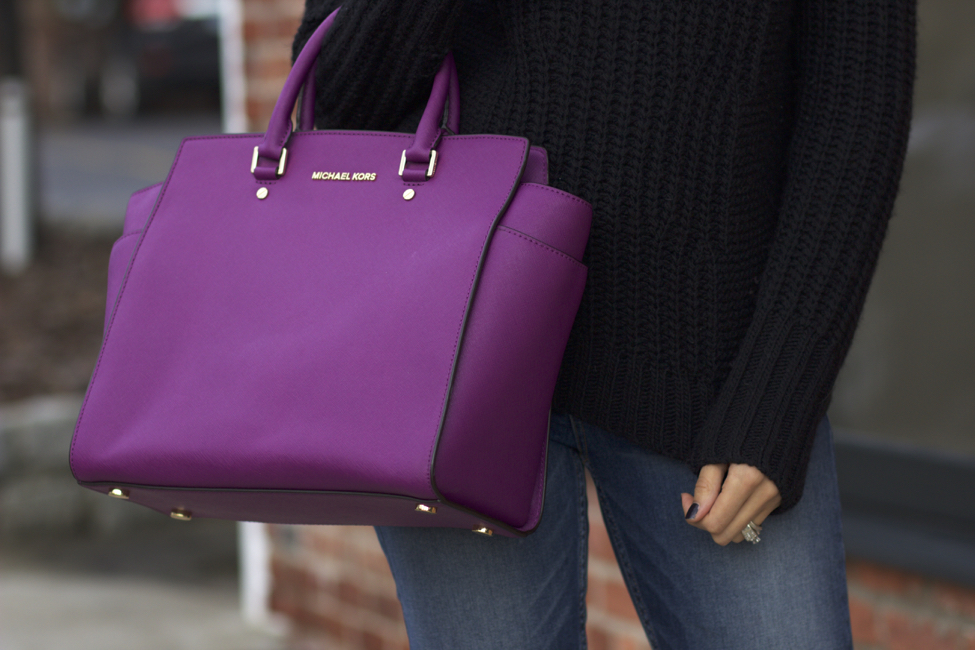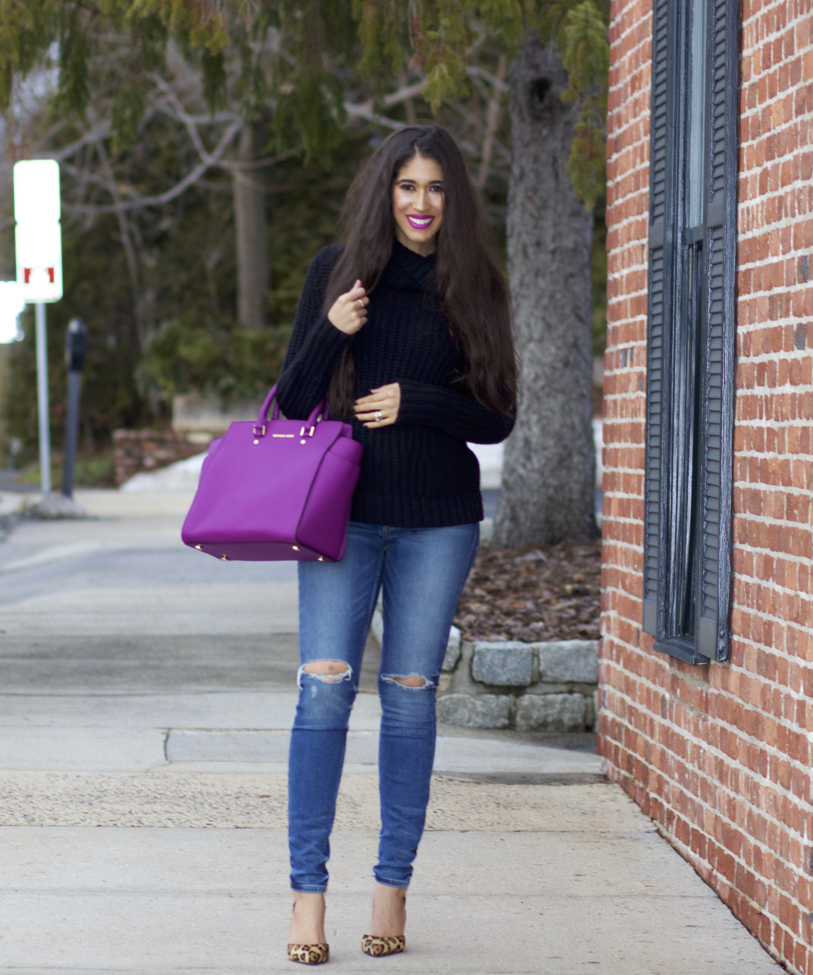 Sweater: Banana Republic (similar here) | Jeans: GUESS (similar here) | Bag: Michael Kors (similar color here) | Lip Color: Milani's Raspberry Rush | Shoes: Sam Edelman (similar here)
Happy Friday, my friends!
Yesterday, Eddie and I had our 16wk check-up, these visits are always so exciting! At our last visit, we completely forgot to ask the technician doing the ultra sound to write the gender of the baby and place it in an envelope for our gender reveal party, which is on Feb.5th. So, we had them squeeze us in to do a little check and it's sooooo hard to resist the temptation of not tearing up that envelope to find out! My mom will be stopping by this weekend to pick up the envelope and bring it to a bakery for the cake. The filling will either be blue if it's a boy or pink if it's a girl and we're having everyone wear the color that they think it is! We're both guessing it's a boy based on the form of my stomach, but sometimes it has us second guessing.
A fun fact is that I worked at a hospital conducting research on pregnant moms and how music affected their unborn child's response to the stimulation (i.e. change in heart beat, movement, etc). So, I've seen my fair shares of bumps and I'm usually really good at guessing the gender based off the look of the stomach, but of course for mine, I'm all confused, haha. Though you may not have seen enough of my bump yet, what are YOUR guesses? Boy or girl, I'm curious :)
Anyway, onto the outfit. These jeans are no longer wearable, today is the last day :( They will no longer button up, which I'm starting to notice with many of my other pairs. I guess it's time for me to start looking at maternity or those bands. If you're a mama, how do those bands feel, are they comfy and are they noticeable? I decided to wear them with one of my favorite chunky sweaters, since it's black, it doesn't make me appear larger even though it's a bit oversized, which I of course love!
I typically pair this bag with a pair of shoes I have in the same exact color (don't you love when you have the perfect match!?) but this time around, I decided to add a pop of leopard instead; I love the look of them with the purple bag and lipstick!
Well, my friends, I hope you have the best weekend ahead, let me know what exciting things you have planned! See you on Monday!

XO,