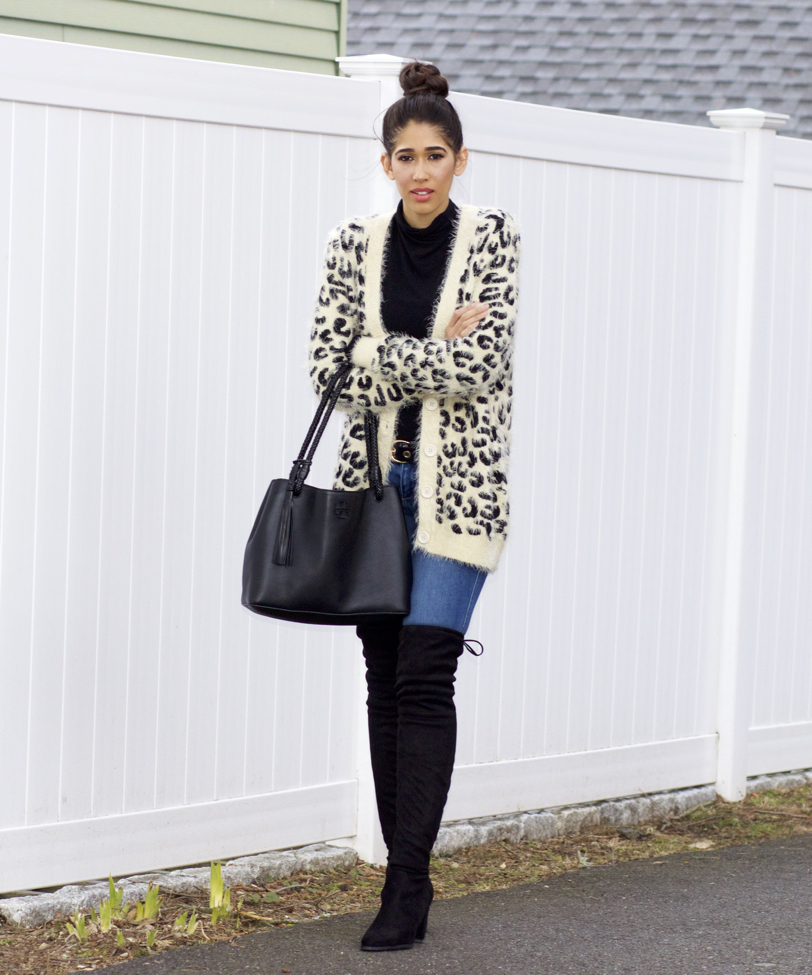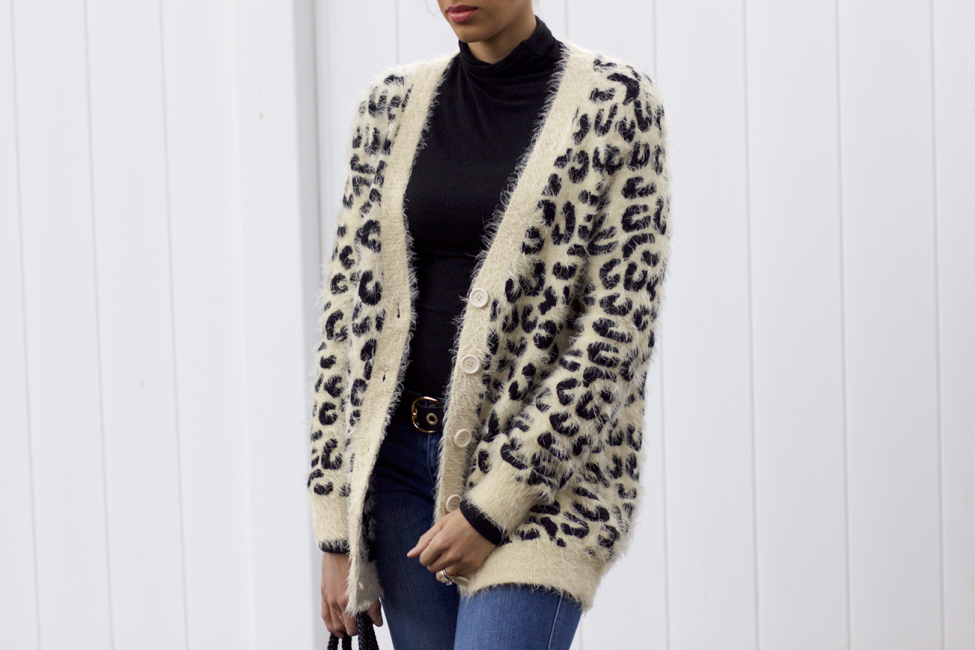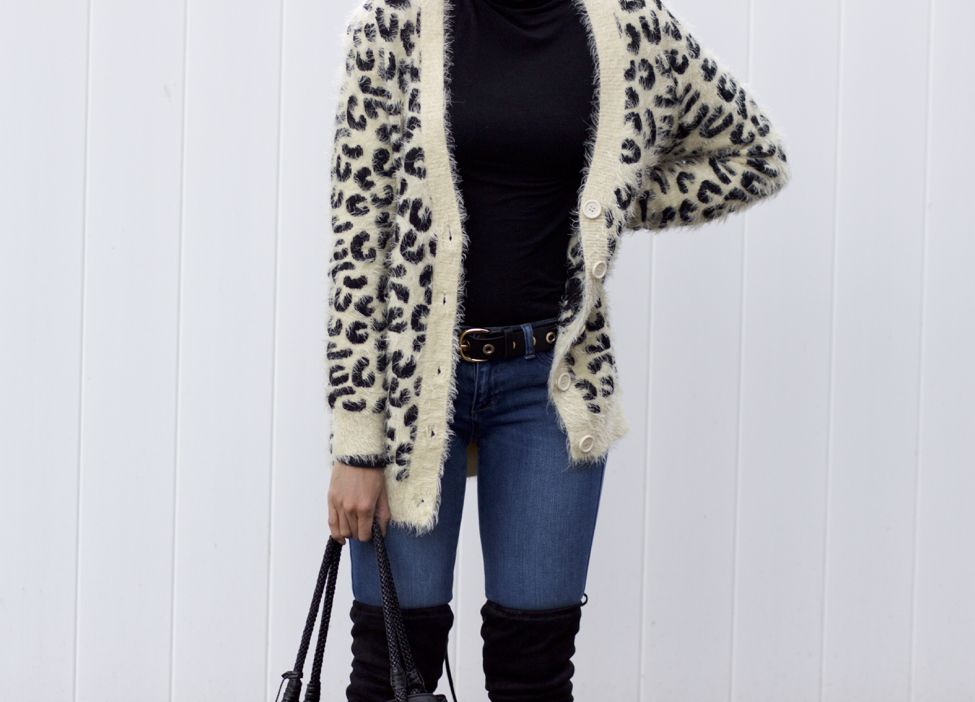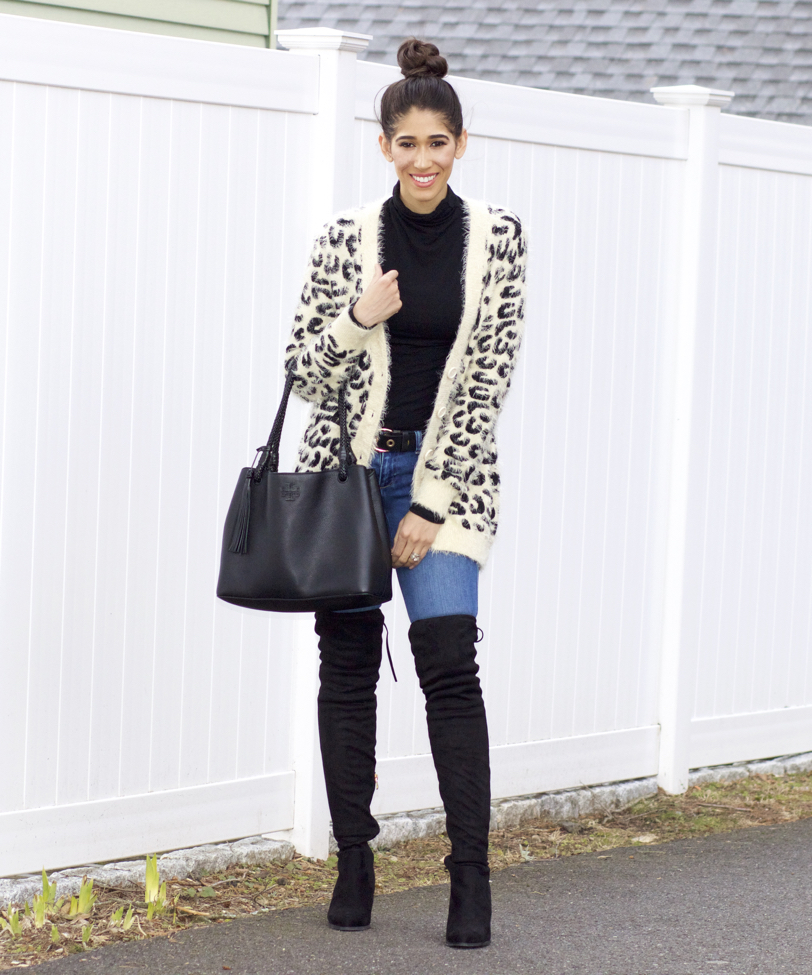 Cardigan: Similar | Turtleneck | Belt | Boots | Bag: Similar
---
---
Happy Friday friends,
Well, where do I begin.
It's been what seems like forever since my last blog post and a lot has transpired since then. If you follow me on Twitter or Facebook, then you know that we lost power for four days, starting last Wednesday as a result of storm Quinn. Those four days were intense. We ended up having to stay in a motel one night (we eventually were lent a generator that we were able to have connected to our furnace for heat), I don't even remember which day, it's all a blur right now. It was way too cold to stay home without the heat working with Aviah. We not only had to look for open hotels/motels, but one that would also allow for our cat, Judah, to come along too. We weren't about to leave him at our home that felt more like an ice box. That day, Aviah stood up for 15hrs straight and every other day since then had been a challenge to get her to nap and make her routine feel somewhat normal. I was nothing short of overwhelmed trying to tire out a robust 8mth old baby enough to nap and sleep through the night, while Eddie worked his typical 70hr work week.
Then, upon returning home, we got news that Eddie's mother has fallen really ill. We knew she hadn't been felling well for a while now, but we didn't expect it to become what it has, cancer. She has stage 4 stomach cancer and at the age of 75, doctors are suggesting we don't perform any surgery as it can do more harm than good. She's flying in from Guatemala today to spend time with all of us because that's the medicine the doctors are suggesting, time with loved ones.
It's been rough, you guys. Quite a few other incidents have taken place in the midst of all of this, one after another. I feel as though every time I get knocked down and stand up only to get knocked down harder than the time before. There have been days when I've just collapsed emotionally and had to run into the bathroom to cry so Aviah wouldn't see me because she can't see her mama like that, not this young at least. Each day, I started to lose the desire to write on the blog and thought of throwing in the towel. Each day I lost a follower on Instagram, yup, including some who I thought were friends of mine, I just wanted to give up and give in. Then, I thought about what that would mean for all of you who've I gotten to know through this space that encourage me daily and the conversations I always look forward to having. I felt saddened and thus convinced myself that turning my back on blogging right now wasn't the answer, even though I just feel so vulnerable.
My faith is what's been getting me through. Getting us through.
I'm one who can't hide their emotions; I don't have a poker face. You know how I feel just by looking at me and I'm sure you can see that in these photos regardless of the smile I have on because Eddie was making all sorts of jokes to get one out of me. He amazes me at how strong he is right now.
Thanks for stopping by and reading, my friends, and thank you to those who reached out while I was away; I really appreciate you checking in on me. I hope you all have a wonderful weekend and I look forward to seeing you back here on Monday morning.
XO,