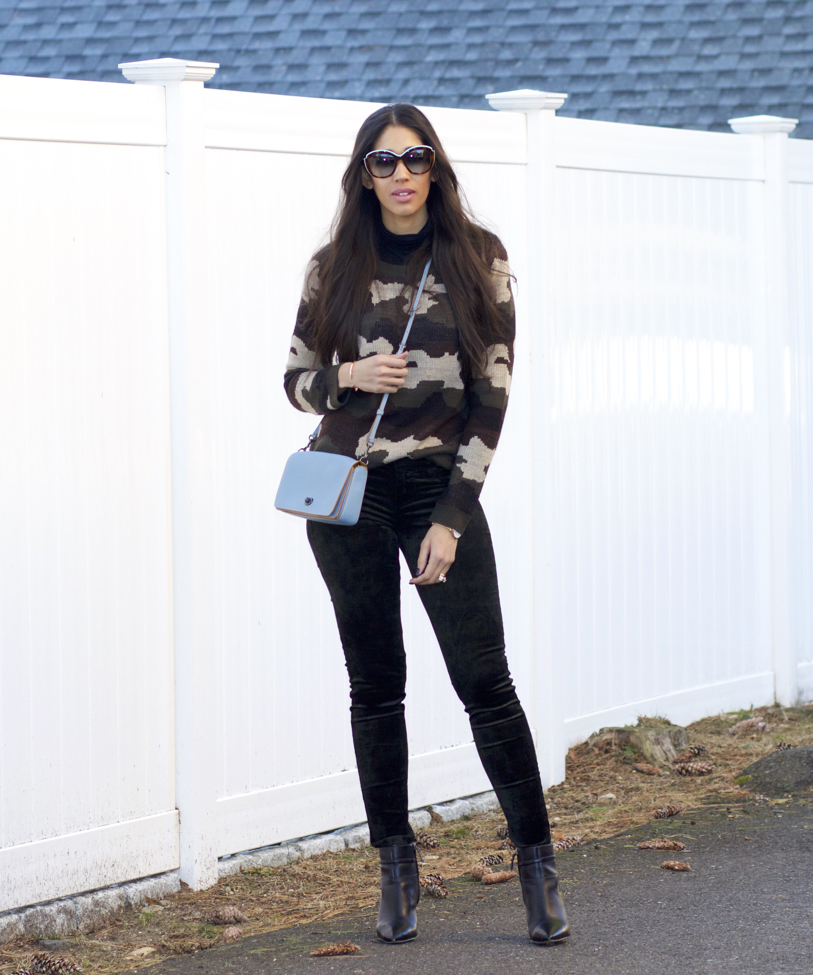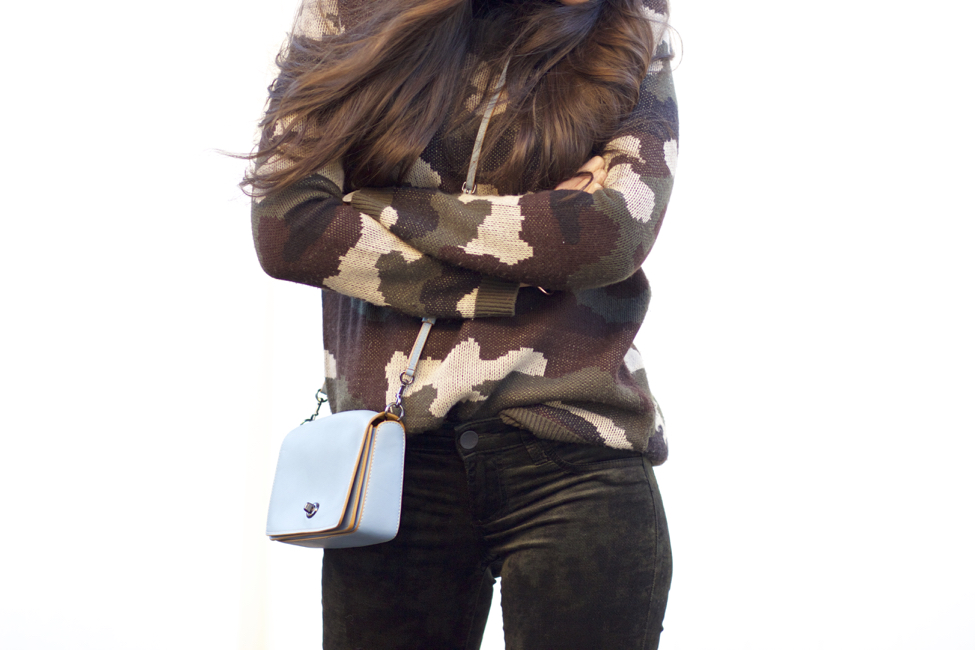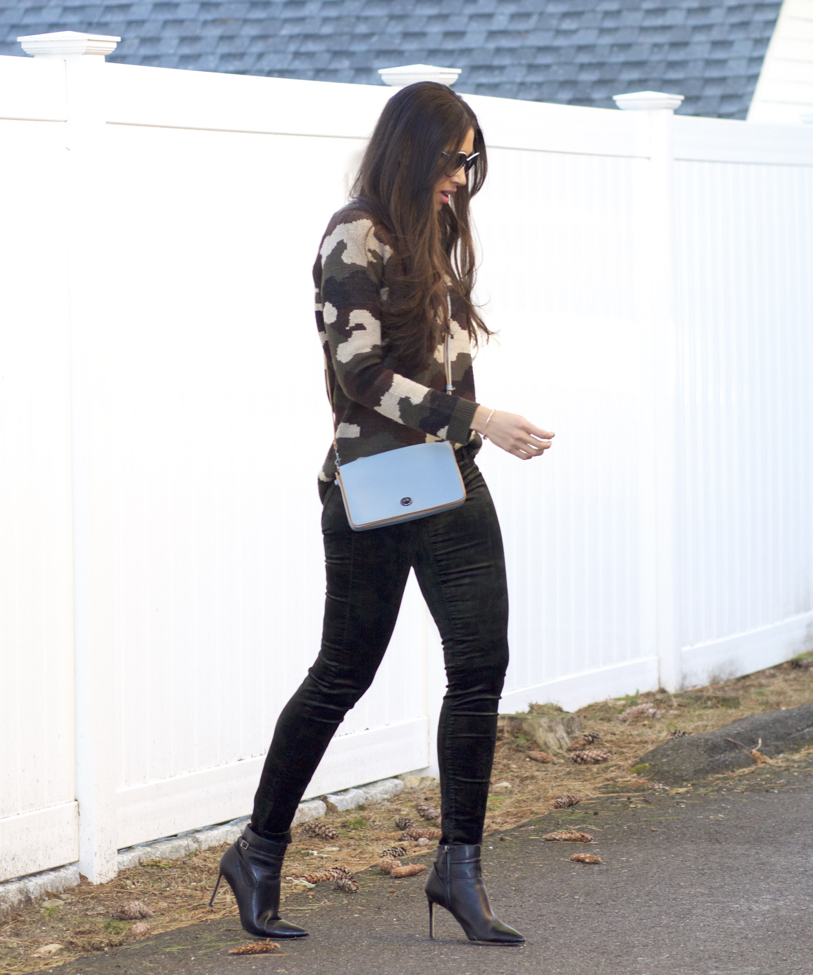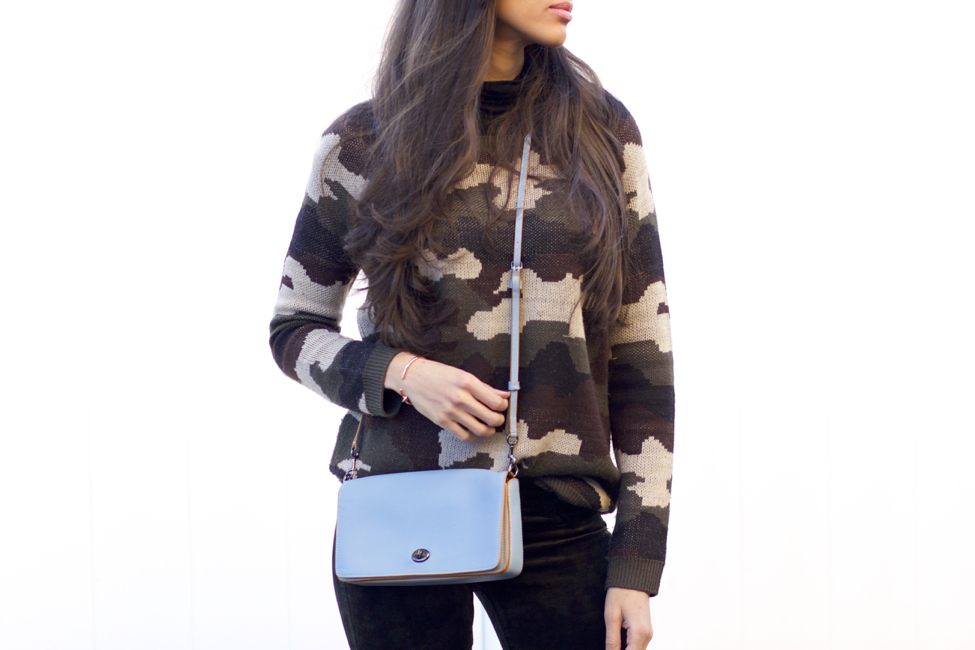 SWEATER: Similar | VELVET JEANS: Similar | SUNGLASSES: Similar | BAG: Similar | BOOTS: Similar
---
---
Happy Wednesday my beautiful friends!
Have you noticed camo print making a comeback these past couple of seasons? It's always been a favorite of mine, though it does depend on the piece and the colors of the camo; I'm quite picky when it comes to this print. When it ticks all the right boxes, it can be such a great print to bring out come fall and winter and it can pair well with neutrals, of course, as well as other (interesting) colors, such as baby or powder blue.
When I put this outfit together and was heading out the door, the idea of adding this baby blue crossbody came to me. I thought it was a bit unexpected, but it worked so well with the deep forest green shade of the velvet jeans and the colors in the camo printed sweater. I nearly always wear these two toned Ferragamo sunglasses with them for obvious reasons, the blue shades match perfectly and when worn together, they create a nice cohesive flow.
When wearing camo pieces, it can be easy to look borderline I'm about to go hunting, see you in a few hours. That's not the look we want to achieve, so I'd suggest opting for pieces that aren't too oversized. So, when it's in a sweater, try a sweater that's loose, but not overly baggy, like the one I'm wearing. You can pair it with with other fitted pieces, like plain denim jeans, velvet jeans as I've done, leather jeans, skirt or even a pair of leather shorts. When opting for camo jeans, I'd suggest you consider the same concept when it comes to selecting your tops. If you wish to wear a sweater, I think an oversized sweater can look cute, if it's one that's chic in style and doesn't have too much going on.
What are your thoughts on camo, do you love it or loathe it?
Thanks for stopping by, my gorgeous friends, and I hope you have a great day!
*Linking up with Amy of Straight A Style & Kelly of Rosy Outlook for today's post. Stop by their blogs and feel free to join!*
XO,