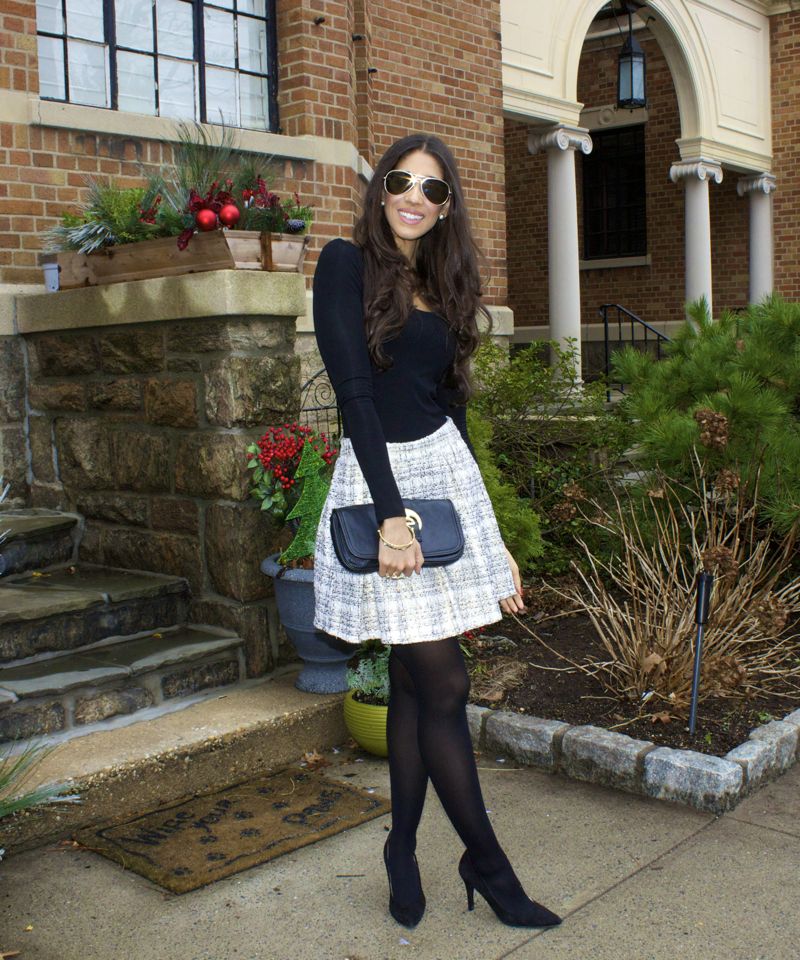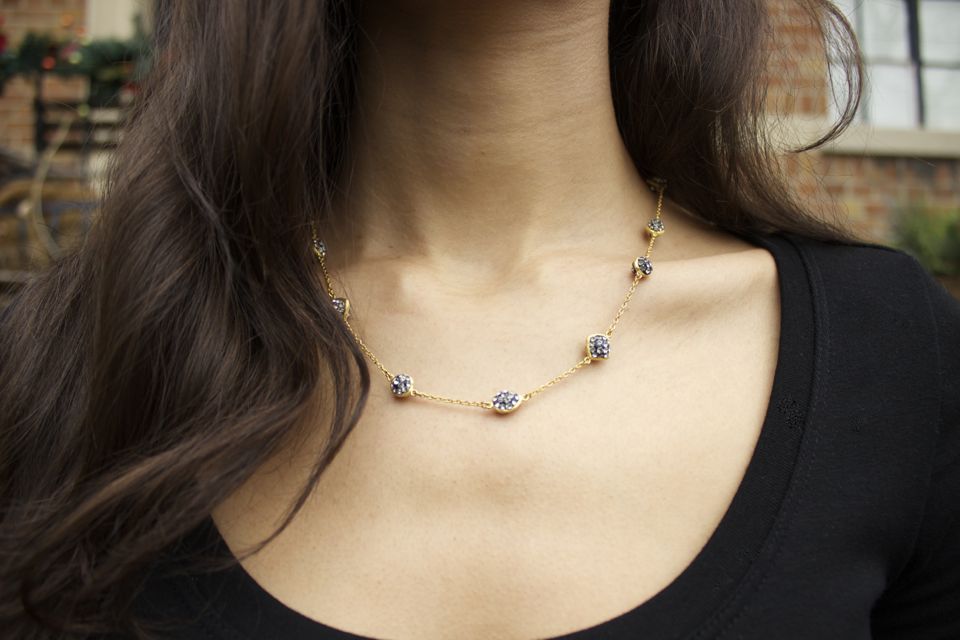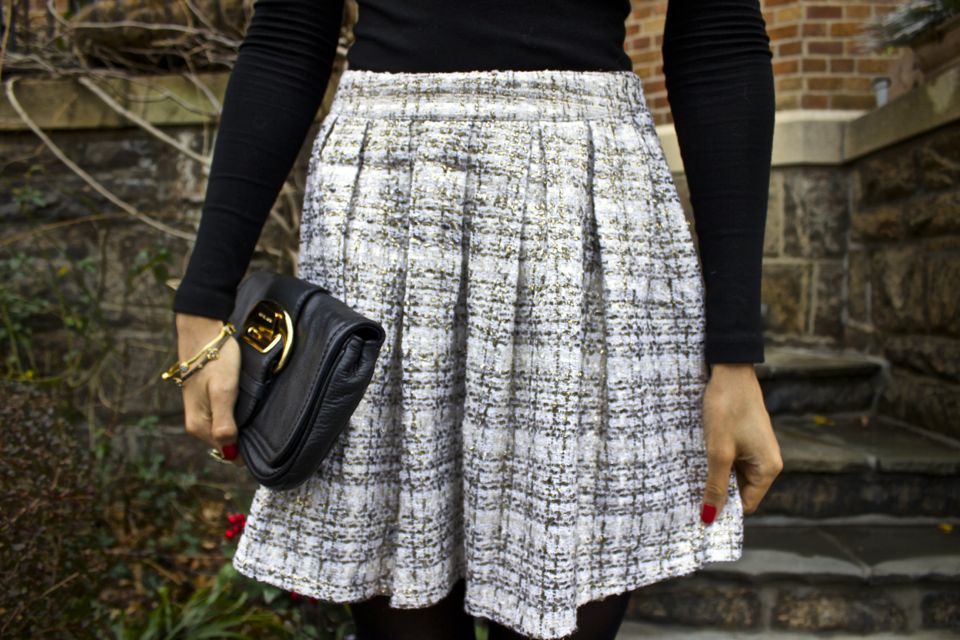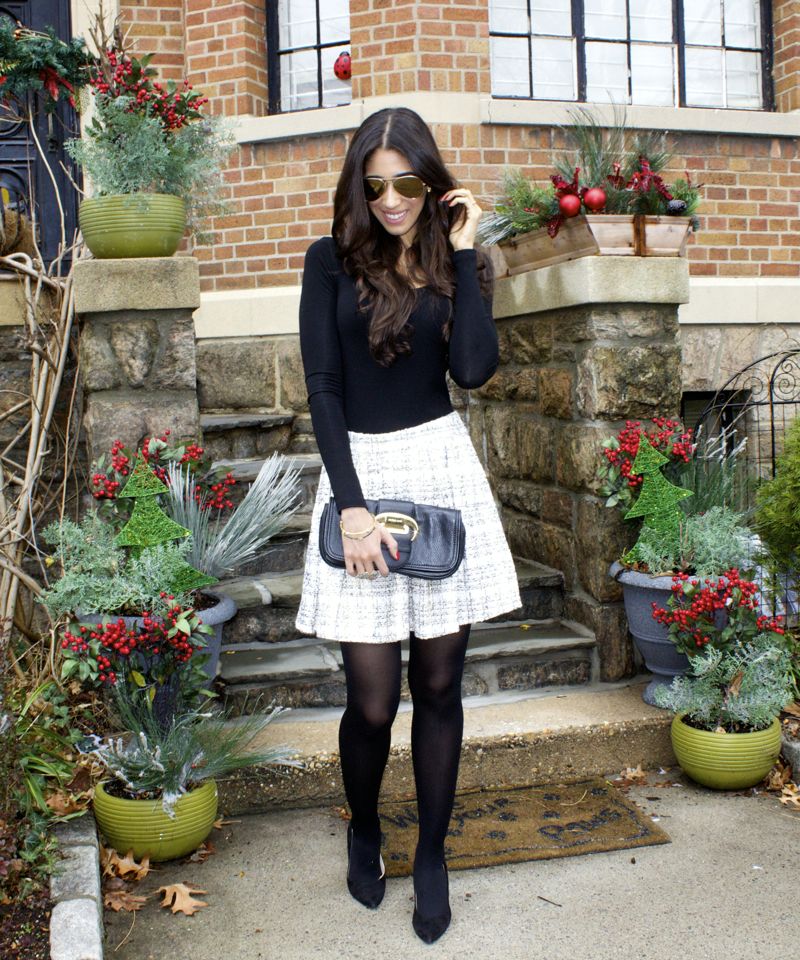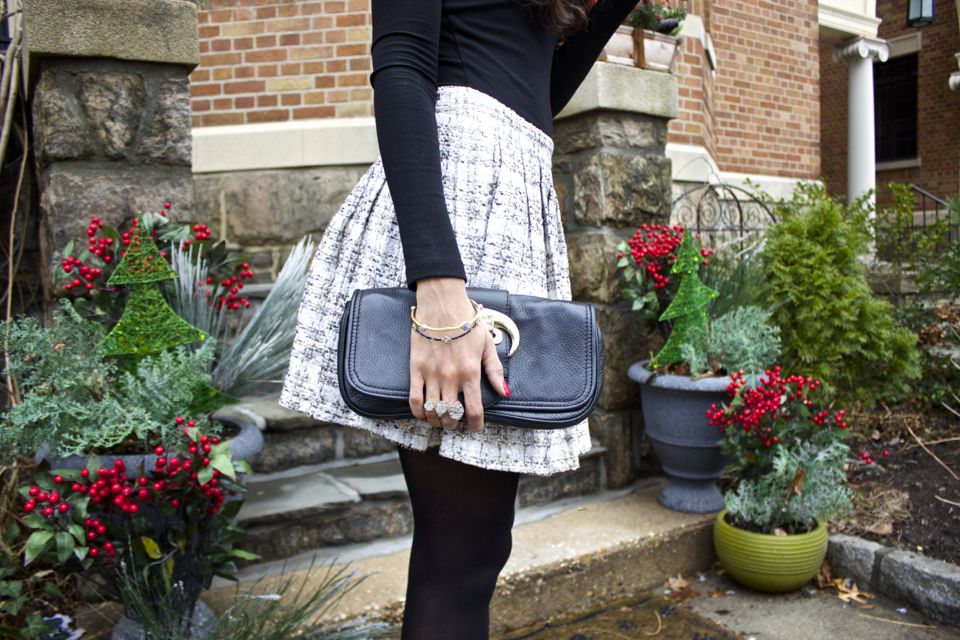 GET THE LOOK!
Shirt: Cynthia Rowley from Marshalls (similar style ON SALE HERE!) // Necklace: c/o Athra Luxe (HERE use coupon code CONTOUR for 10% off your entire order- offer ends 01/01/16!) // Skirt: From Marshalls (similar style ON SALE HERE, plus save an additional 15% off with code NEWYEAR!) // Tights: similar style HERE) // Heels: Nine West (HERE) // Clutch: Michael Kors (similar style HERE) // Drusy Ring: c/o Kendra Scott (HERE) // Bracelets: c/o Athra Luxe & Joey. J. Jewelry HERE & HERE save 10% off on both or entire purchase with coupon code CONTOUR - offer ends 01/01/16!)

Happy Monday, my beautiful friends!
I hope you all had a wonderful Christmas spent with your loved ones! I enjoyed every minute of the holiday, just living in the moment and cherishing the time I got to spend with my little family :) Can you believe that this week we'll be ringing in the NEW year?! It's crazy, oh my goodness...I just can't deal! Do you have any fun plans? I'm most likely going to stay home and watch the ball drop from my couch this year. I have a little story about an attempt to actually watch the ball drop in person one year. My husband, then boyfriend, and I once tried to go to Times Square to watch the ball drop and it was a complete fail. First off, I was a senior in high school and I felt it was a good idea....bad idea! My dad called me on our way there and asked where I was and I just casually told him I was going to see the ball drop. After that, I blocked out because I had a ear full and was in a bit of trouble after that, haha! We all have that one (or more) story that we did something dumb and got grounded for it, well, that was definitely one of them, haha! It was certainly a crazy idea because there was so many people; 100x more than a typical day in Times Square; people were wearing adult diapers so that they wouldn't miss their spot (yup, it's that crazy) and people come from all over the world to see that big ol' disco ball in person. Since we weren't able to maneuver our way in the crowd, we watched the ball drop from a hole in the wall Mexican restaurant, haha! On the bright side, the food was real good and everyone in the city was in a good mood, shouting "Happy New Year" to nearly everyone they saw.
Anyway, enough of my foolish teen antics! If you'll be in a fancy setting, one of my suggestions would be a black and gold combination. The two offer such a luxe and sophisticated feeling, yet festive this time of year, especially when wearing pieces and/or jewelry that have a little shimmer! I love this skirt, which I found at Marshalls a couple of years ago. If you have a store near you, I highly suggest you pop in because I see these kind of skirts on rotation every holiday season, regardless of what town or city I'm in. They're usually in their "Cube" section. If not, there is a similar version that I'm loving here. I also think an all black outfit, specifically one with a little black dress, would also be a great option and you can easily enhance the look with some glitzy jewelry or even a brooch!
I hope you found this post helpful in coming up with your NYE outfit. I'll be sharing two more looks this week, to give you some more ideas to work with :) I hope you have an amazing day and thanks so much for stopping by, my beautiful friends!
Xo,