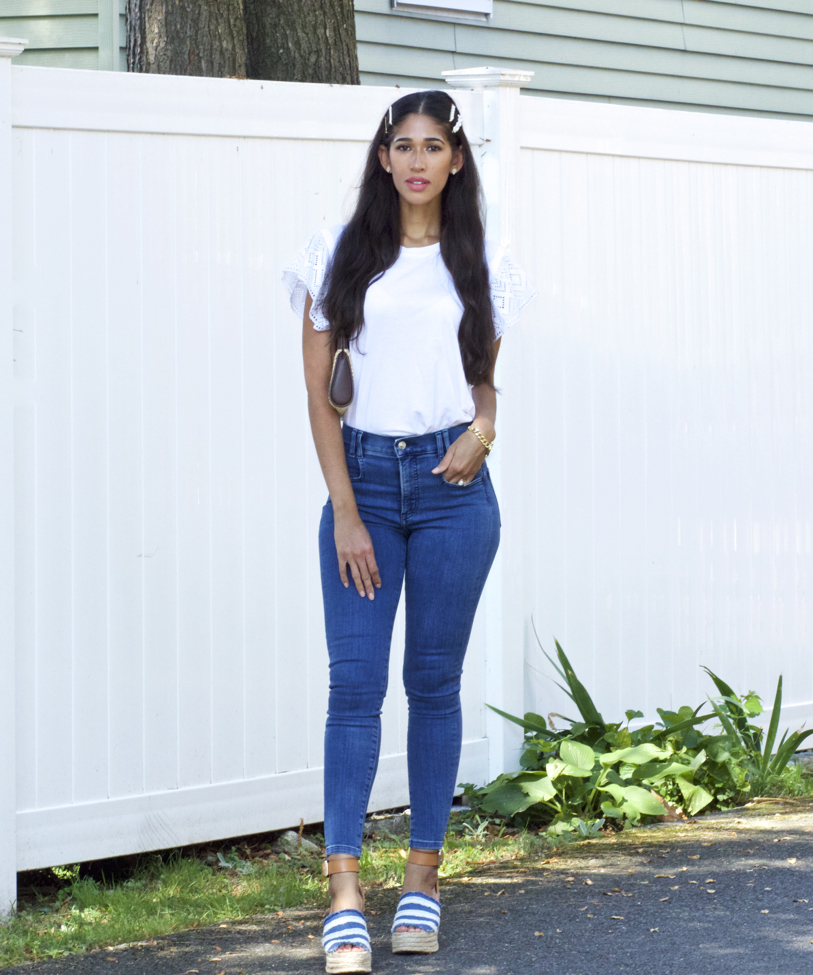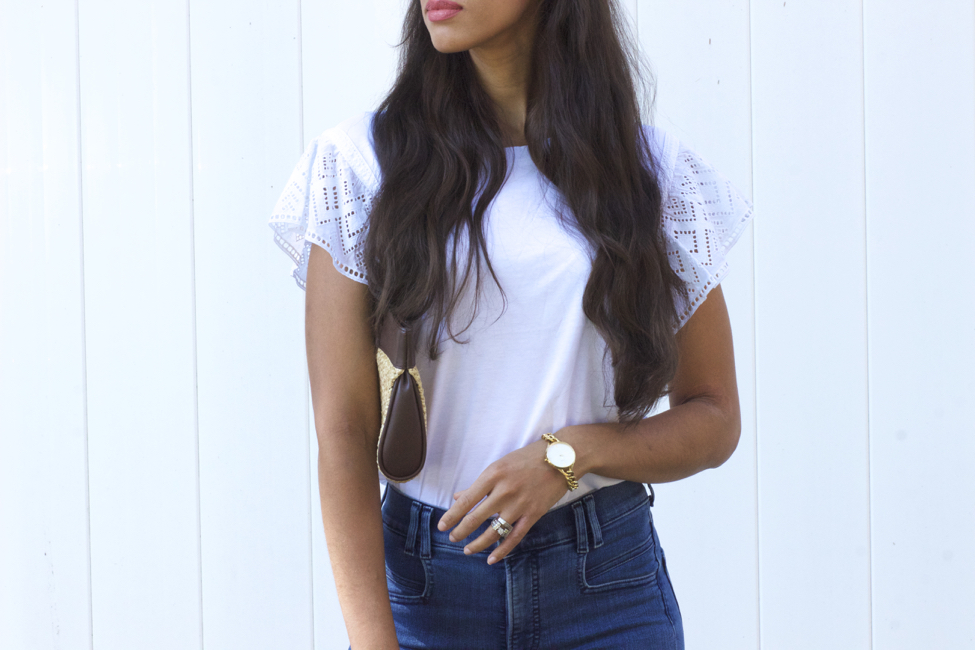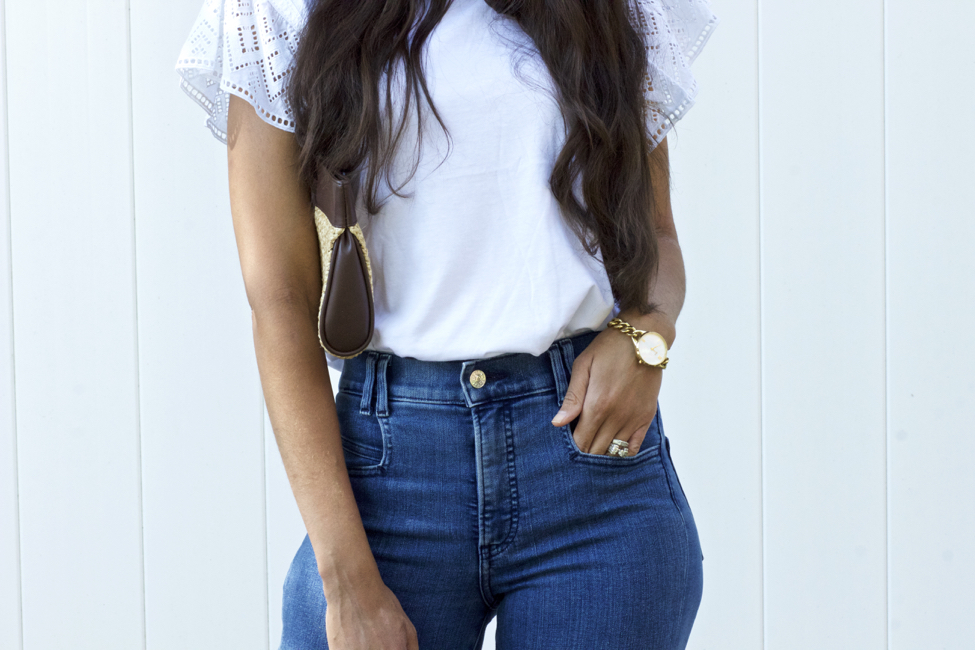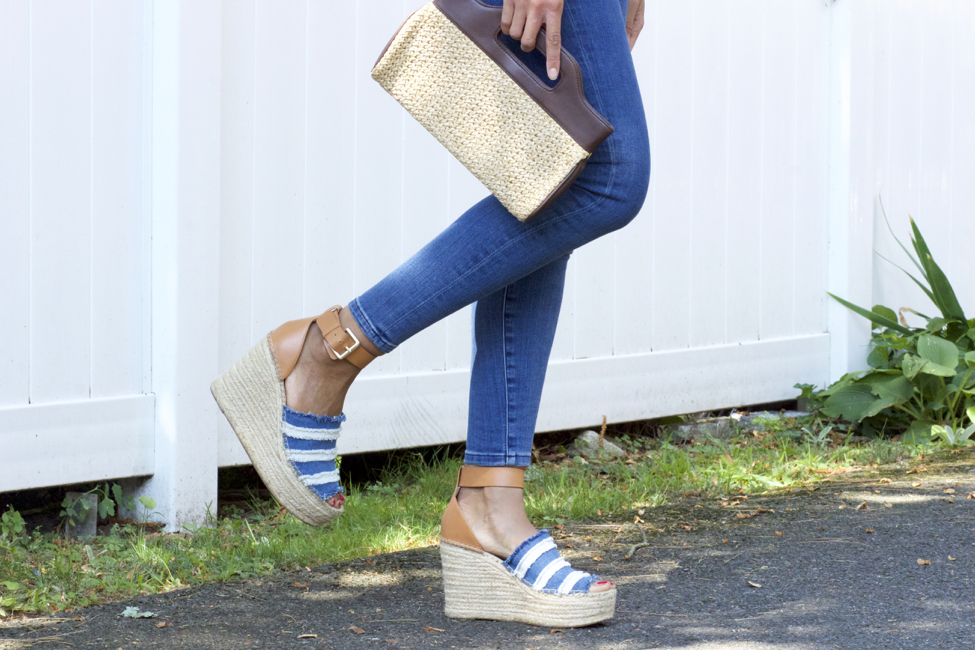 TOP | JEANS | CLUTCH: Similar | SHOES: Similar | HAIR CLIPS
---

---
Happy Monday friends!
Even though fall is right around the corner, we're still in the midst of summer and so, I'm trying to get the most out of my summer wardrobe by mixing and remixing different pieces in my closet. Regardles if I'm a personal style blogger, I do re-wear many of the outfits I share here and those that haven't made it to the blog yet. However, I often tweak those outfits to make them look and feel new and different and there's a couple of details and specific pieces I've been reaching for to help do just that. One of which is hair accessories. They really can do so much for an outfit. When taking the girls to the park when I'm the most casual, I'll often add a hair clip or two to add a little something extra and polish things up a bit. I love pearl clips because they're versatile, elegant and add nice texture. Another way I'll dress up a casual outfit is by opting for (espadrille) wedge sandals. I love a good wedge shoe because you get that added height without having to sacrifice comfort. I love this denim pair I've had for a couple of years now because they can add both texture and contrast to many outfits. Plus, wedge sandals (especially espadrille styles) never go out of style; they're what I'd consider a classic summer shoe.
SHOP WEDGE SANDALS
---

---
So, if you're looking for ways to polish up your t-shirt and jeans, hair accessories and wedges are the way to go! In fact, this would be a perfect outfit formula for your next BBQ or upcoming Labor Day festivities. I do have a specific outfit idea I'll be sharing for Labor Day weekend on Friday. Can you believe we're nearing the end of summer already? How has the weather been where you live? We've been having cool mornings and then it warms all the way up around noon. We are definitely making that slow transition here in Connecticut!
Thanks for stopping by, my friends! I look forward to seeing you all in tomorrow's blog post!