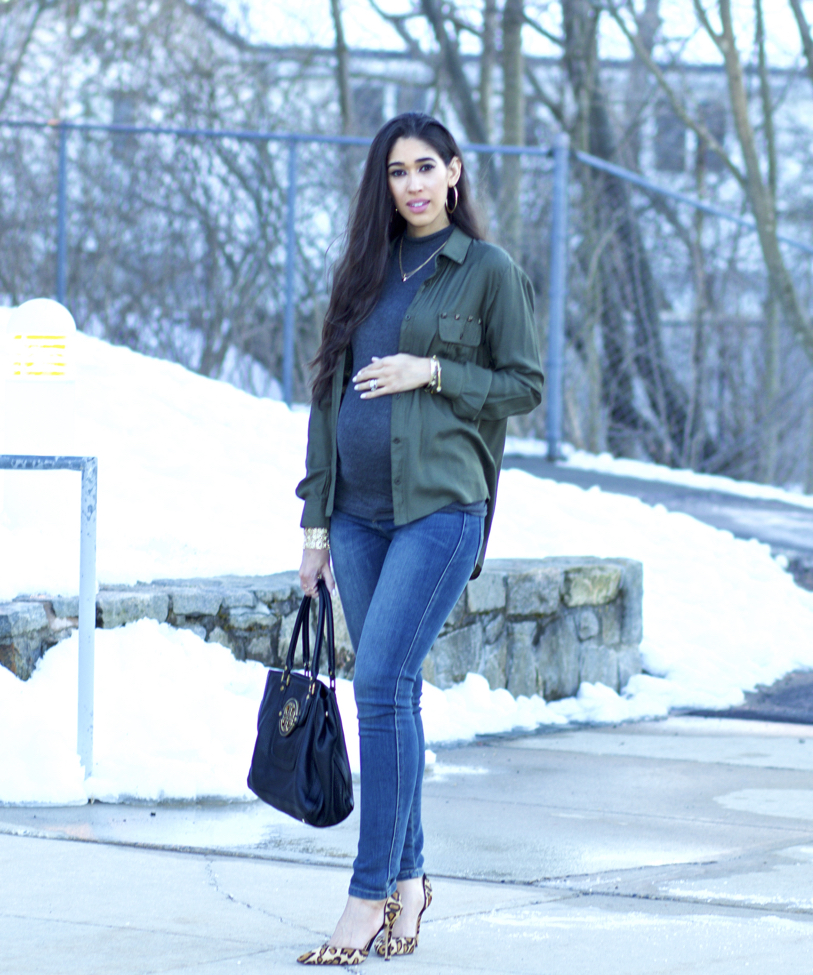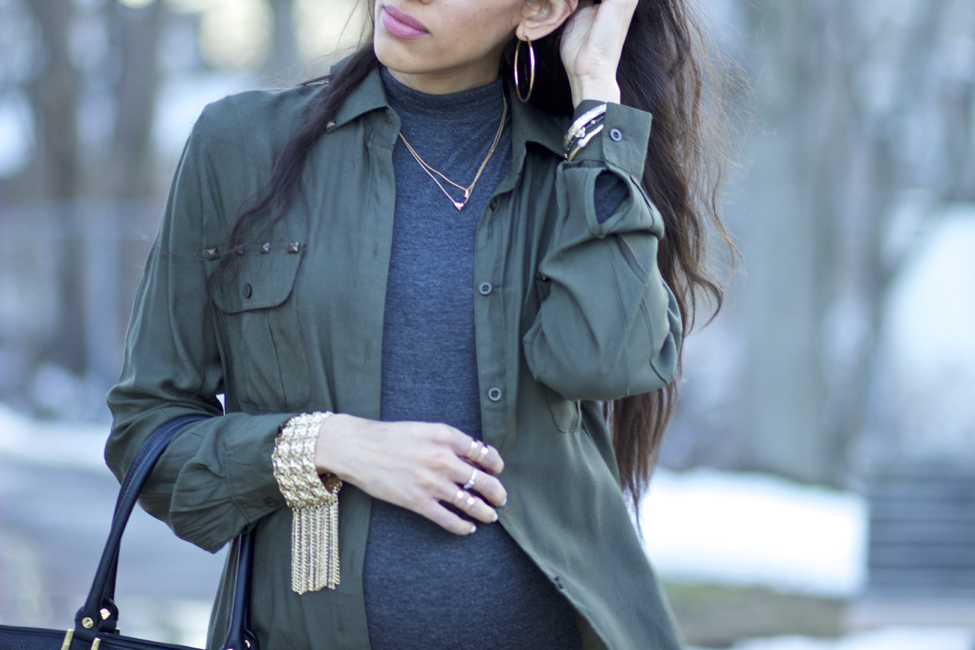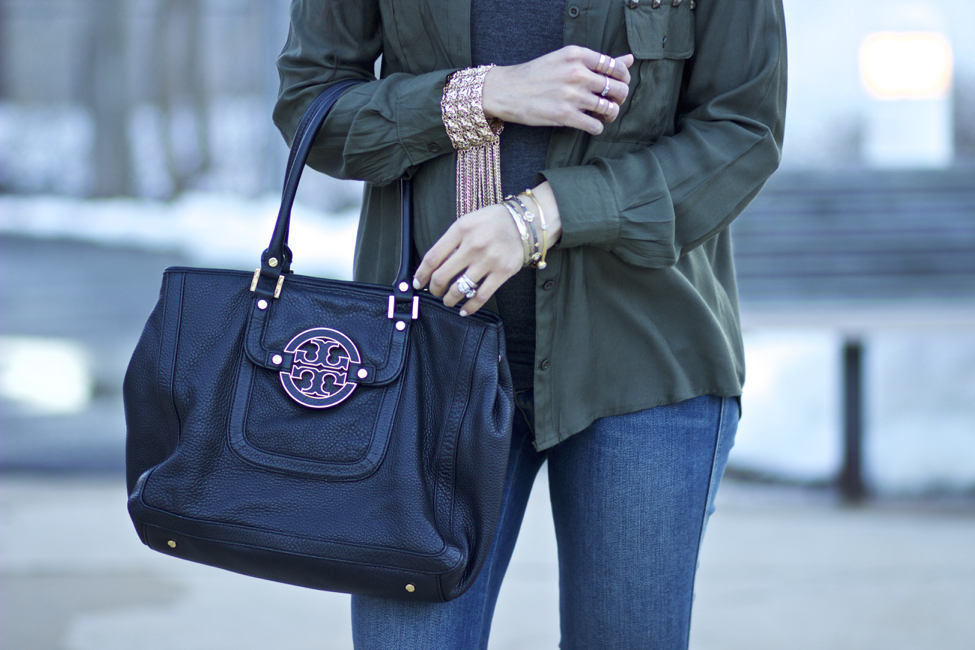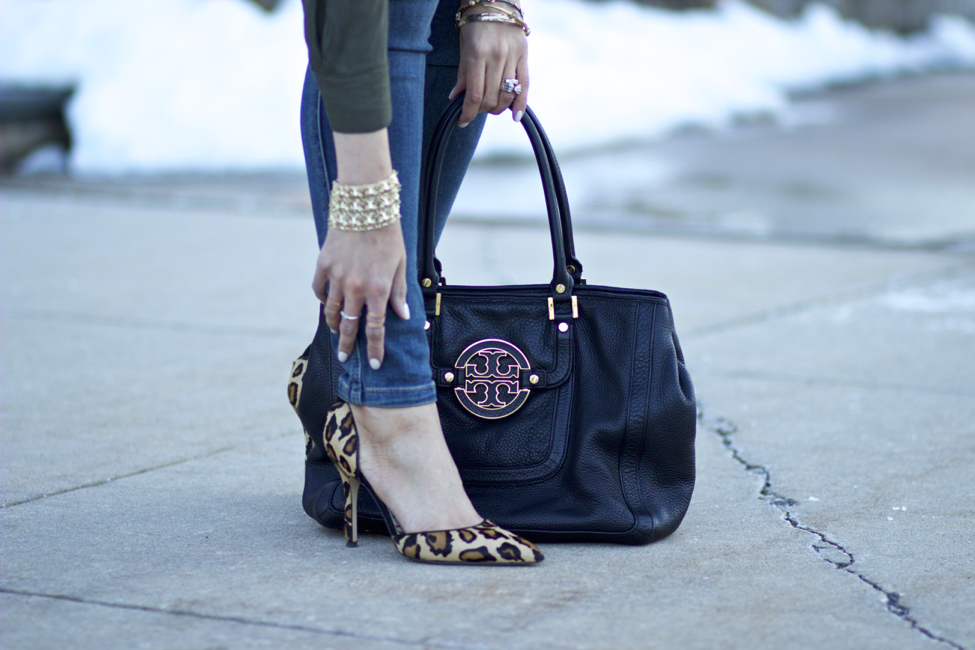 Shirt: Similar | Turtleneck: Similar | Jeans | Monogram Necklace: Similar | Heart necklace c/o | Cuff Rings c/o | Fringe Bracelet: Similar | Shoes: Sam Edelman (similar) | Bag: Tory Burch (similar)
Happy Wednesday my gorgeous friends!
I hope you're all having a great week so far!
This time of year is when I often love to play around with earthy tones and printed neutrals the most because I feel they fit the transitional season best. Such colors include olive greens, lighter shades of brown, grey in all shades, and of course my favorite all year round printed neutral, leopard print. If there ever was a shoe I wore nearly all the time these babies are it! Whenever you want to add a little sass to your outfit, they're the perfect option and they pair well with everything!
Olive green is one of those tricky colors to work with a times and I know they can pose a threat to some blondes, depending on the shade because it can make the locks appear a little brassy, a concern I've heard from my dirty blonde beauties. I don't believe that you have to rule it out entirely if this applies to you though! I think if you wear a shirt opened like I'm doing here paired with a white top, it can help to offset that effect. I'd suggest you avoid wearing it with grey, however, because it can further enhance the effect if you're roots are dark and your hair is more of a golden blonde.
When it comes to jewelry, I prefer wearing gold with olive because the warm tones blend and compliment each other perfectly, silver can often clash, unless paired with gold or brassy pieces. So, if you don't like wearing gold or it doesn't compliment your skin tone, perhaps you can keep your jewelry at a minimum when wearing the shade for a more cohesive and flattering look. You see, you can wear the shade and here you thought you couldn't ;)
Do YOU like wearing earthy colors come spring? What shade is your favorite accent color? Thanks so much for stopping by and I hope your day is as wonderful as YOU!
XO,