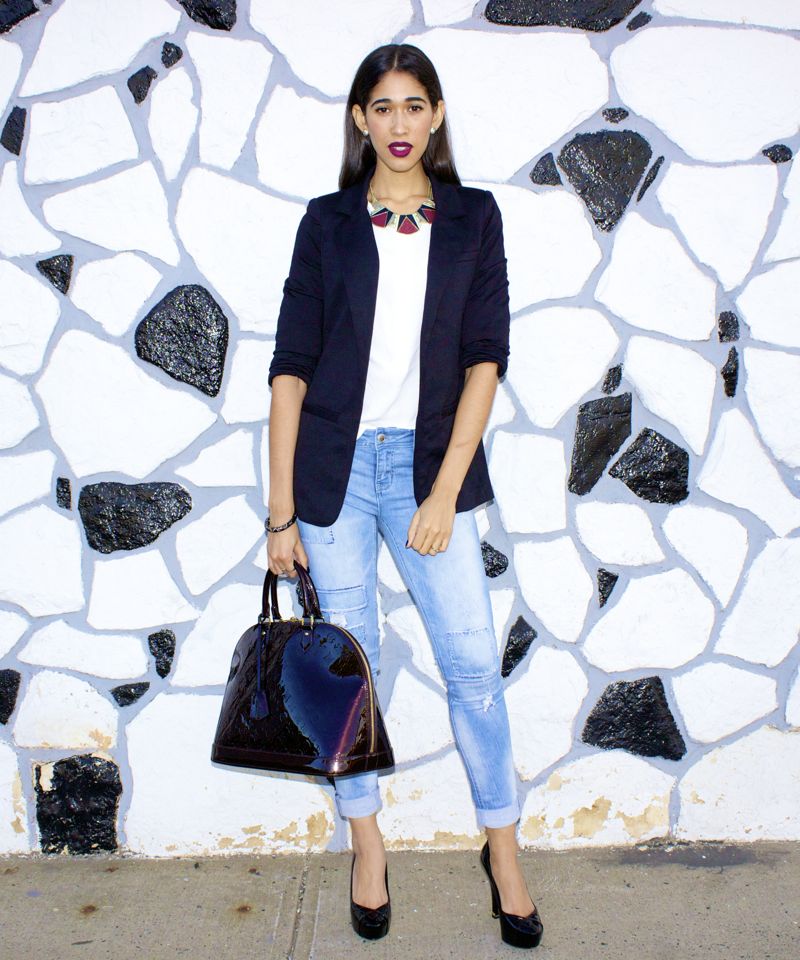 GET THE LOOK
Blazer: c/o LuLu*s (similar style on sale here) // Blouse: From Marshalls (similar style on sale here) // Necklace: Express (similar style here) // Jeans: c/o Almost Famous (very similar pair here) // Purse: Louis Vuitton (similar style here) // Shoes: Louis Vuitton (very similar style here) // Earrings: c/o Athra Luxe (here use code CONTOUR for 10% off any item until January 1, 2016)

Happy Hump Day, beautiful friends!
I hope your week has been a great one so far! A very popular color come fall is bordeaux or burgundy, but bordeaux sounds more fancy, so we'll stick with that one, hehe. It's a color I love wearing on my lips (Milani's Sangria is my go-to for the past 2 years). I often like to wear other pieces in my outfit that have the same color to add a bit of a cohesive flow. In today's look, I did so in adding a necklace, purse and shoes. I think bordeaux is a great color to wear with lighter denim washes come fall. You've heard me mention many times in videos and other blog posts how I feel light washes exude more of a spring/summer vibe, but that doesn't mean we have to say good-bye to those favorite, perfect fitting, light wash jeans of ours come fall! When wearing lighter rinses in the fall, I feel the best way to make the overall pairing feel more seasonal is to add dark, richer colors, such as bordeaux; they help to darken the tone of the look and turn the volume up on the fall vibe ;)
I hope you have an amazing day, beauties, and thanks so much for stopping by!
Xo,