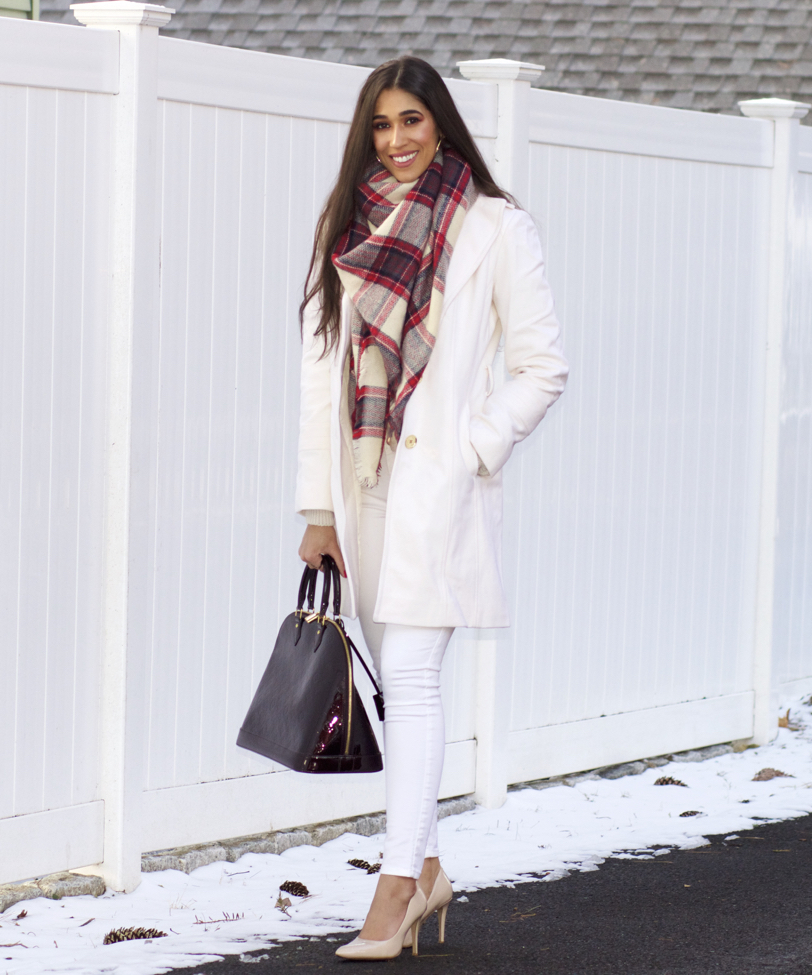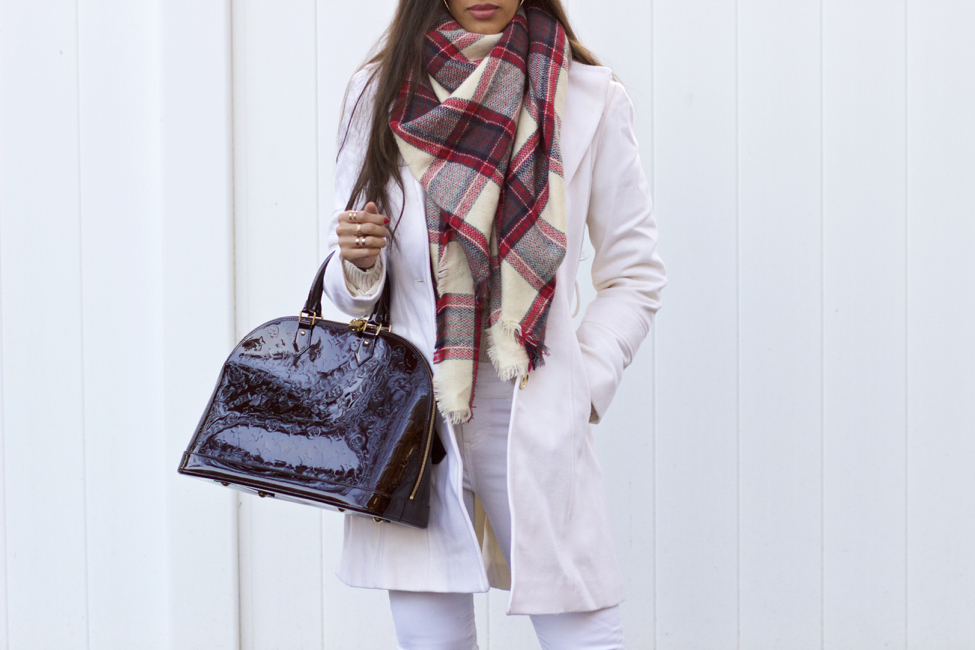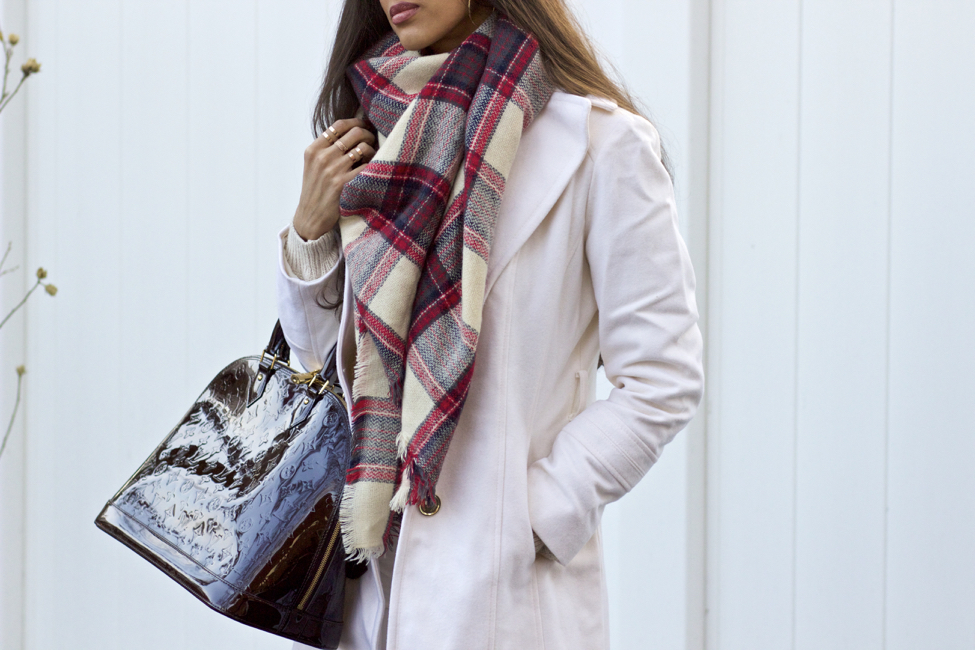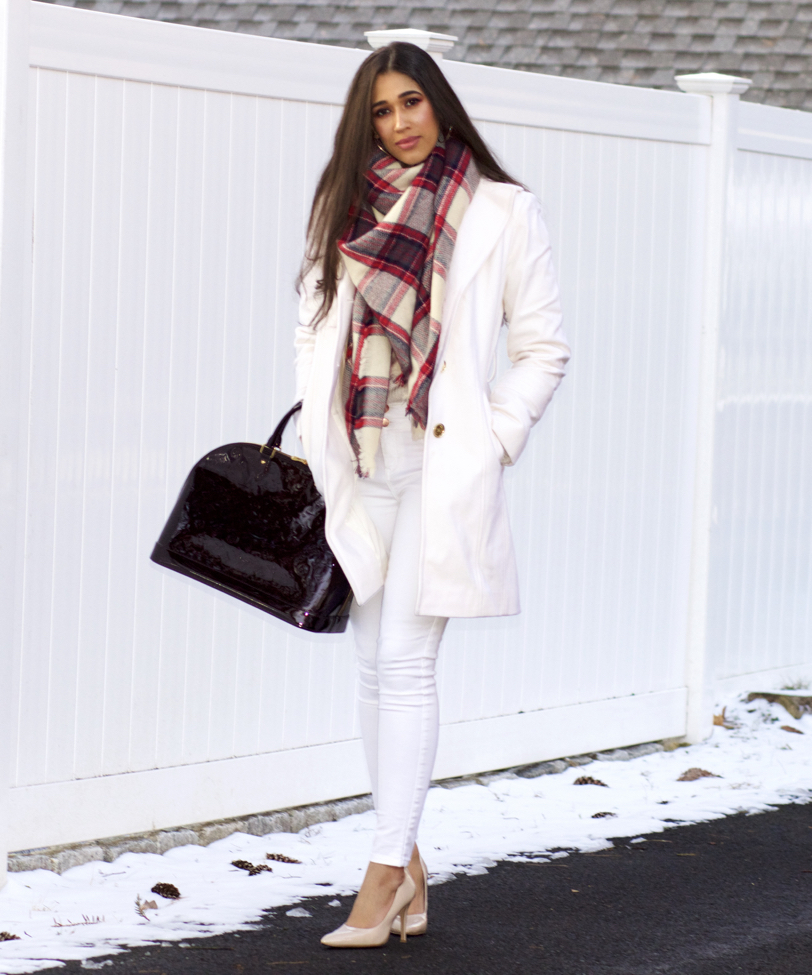 Coat | Sweater: Similar | Pants: Similar | Scarf: Similar | Shoes: Similar | Bag: Get it preowned here
---

---
Happy Friday my gorgeous friends!
I hope you all had a great week and are ready to enjoy the long holiday weekend! I don't remember the last time Christmas fell on a Monday, giving us a 3 day weekend, so I'm pretty excited! Today's outfit is one that I hope inspires you, particularly if you want to get a bit dressed up for the holiday and add some slight festive touches. I totally get that going all out with red or green may not be everyone's cup of tea, but that doesn't necessarily mean the desire to be festive isn't there. The easiest way I feel to add a nice festive touch is with your accessories. I opted for a check blanket scarf that has some red in it, but you can also go for a red beanie or pair of shoes. If you're not feeling those ideas, you can always go for a red lip, which has a festive vibe this time of year.
As you can see, I went pretty much for a monochrome look, sticking with creams and whites, which I absolutely love this time of year. It has such a sophisticated and chic effect, if you ask me, and looks amazing on everyone, regardless of skin tone or color. Cream or beige just pops so beautifully against the skin, even more so when in a chunky knit. Plus, when combined with whites and other like hues, it makes one appear taller and leaner and who doesn't crave that effect during the holidays when nearly all of us are over indulging a bit?
Speaking of visually slimming the body, half tucking an oversized knit is a great way to camouflage a food baby. Another style hack, if you're feeling a bit self-conscious about your mid section or you tend to get a bit bloated after eating (over eating, haha), avoid bold fitted sweaters, tops or dresses for the occasion and add the pops of color with your accessories, as mentioned.
Thanks so much for stopping by, my dear friends, and I wish you all a very Merry Christmas to you and your families!
XO,