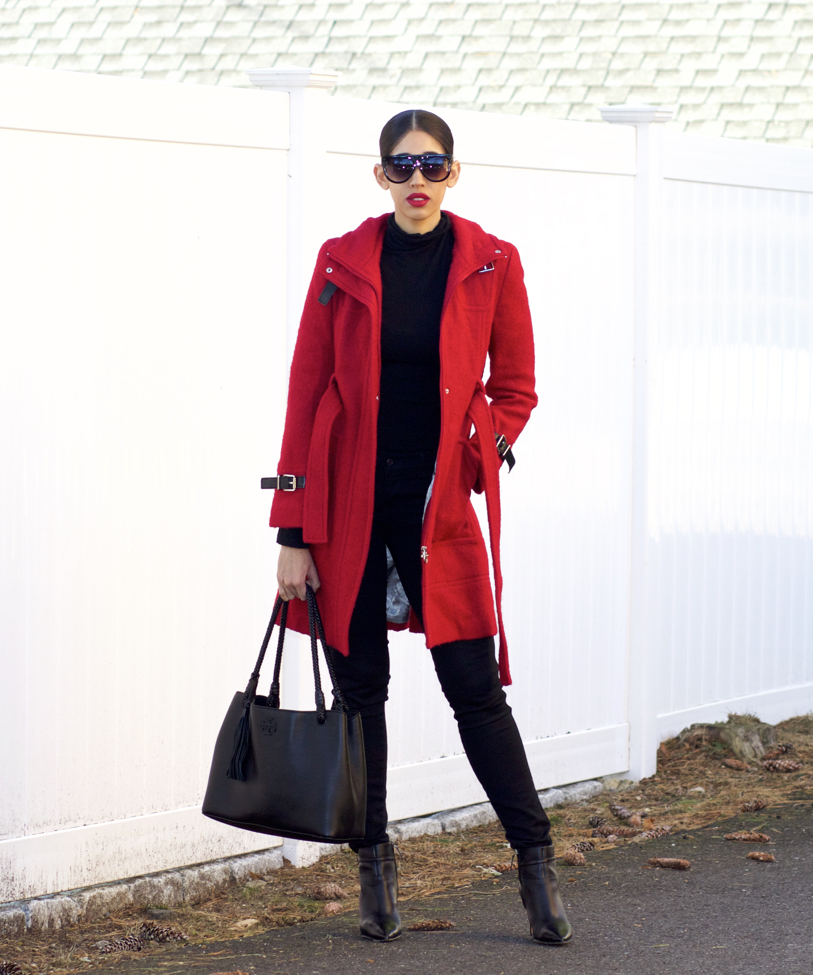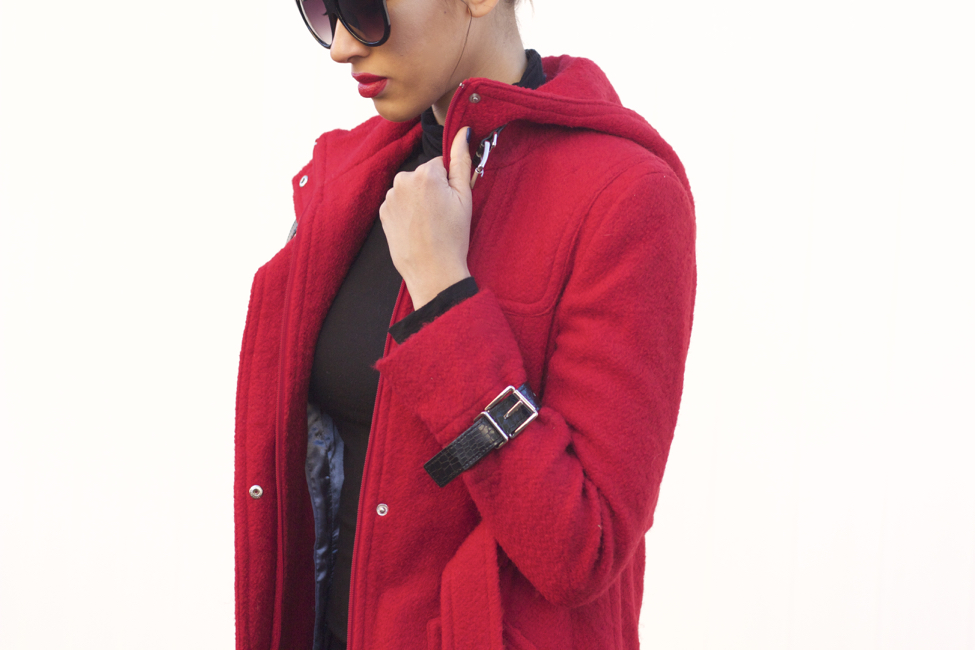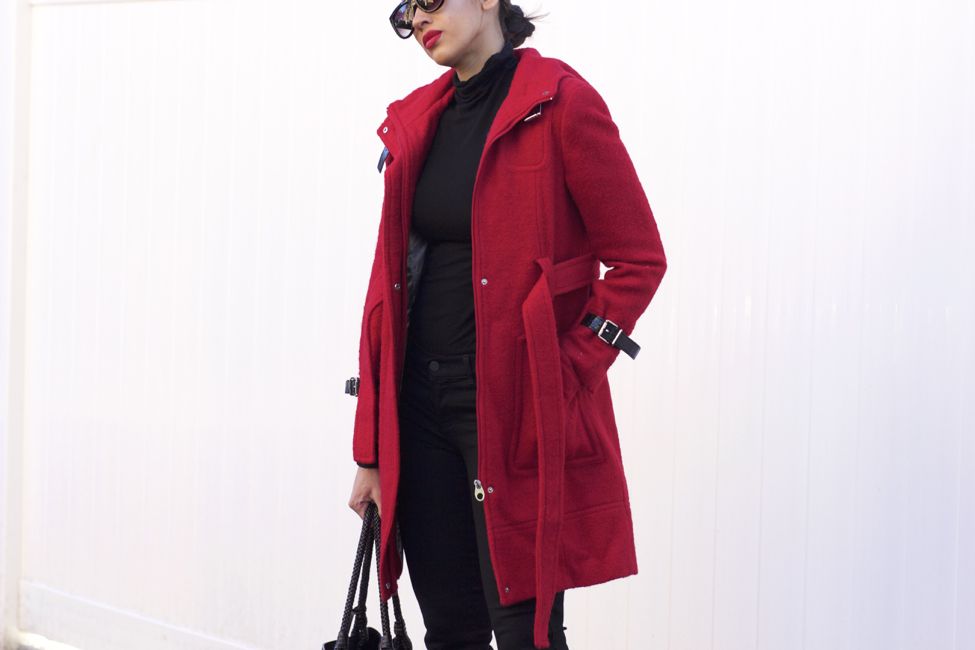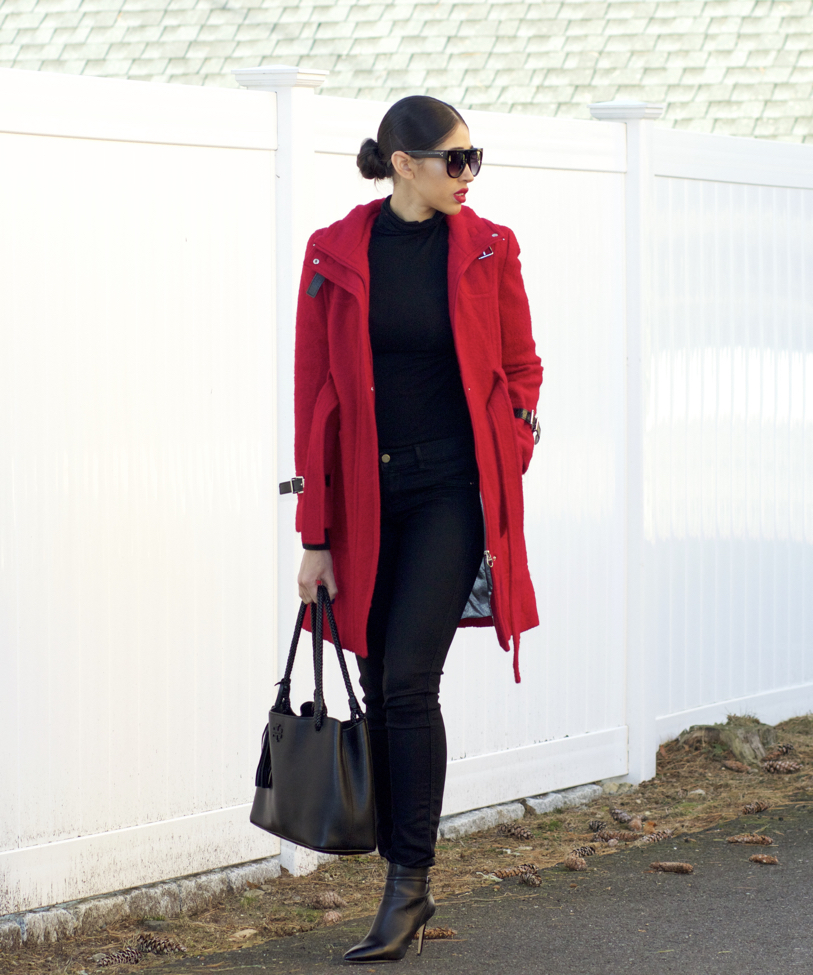 COAT: Similar | TOP | JEANS: Similar | SUNGLASSES | BOOTS: Similar | BAG: Similar | LIPSTICK
---
---
Happy Monday my beautiful friends!
I hope you all had a great weekend! Last week was a bit quite here on the blog because the week started off as a whirlwind, which resulted in me not having much time to interact in the comment's and setup a post for Friday, but I'm here today and I'm glad to be back with a post that pops a punch with my favorite color of the moment, red. I mean, who isn't loving red these days? It's such a classic way to do a pop of color and though it can be quite bold, it's nearly always classy and sophisticated, especially when done with black!
I love an all black outfit with some sort of pop of red thrown into the mix. Be it a red lip, coat, or pair of boots, I'm all for it. In fact, I've been contemplating about adding a pair of pointy toe red boots to my shoe collection. I have a pair of red open toe booties, but let's face it, they're not the most practical during the winter months. I'm not willing to get frost bite for the sake of a cute outfit. My love for fashion doesn't go that deep, lol!
Anyway, an all black outfit is one that's classic and looks good on everyone, regardless of body shape, size, or skin color. There are a number of ways you can style a black monochrome outfit to prevent things from appearing boring. I personally chose to omit the use of texture or a belt because I wanted to create the illusion of a long lean and clean look, but mixing textures is such a great way to add interest and of course comfort during the winter months. I did do some layering; I'm wearing a black tank underneath the turtleneck for some added warmth.
I also think this is a great look to go for if you want to continue wearing that festive red coat you wore all December long. We don't have to put away the red coats and accessories just because the holidays are over. You can still wear red all winter long by wearing it with neutrals. Think of your red pieces as a red lip. Do you only sport a red lip in December? I'm pretty sure the answer is no, so why limit your red accessories to just one month?
Have you embraced the red color trend that's been going strong since fall? If so, what's your favorite way to wear it?
Thanks so much for stopping by, my gorgeous friends, and I hope you have the most amazing start to your week!
XO,