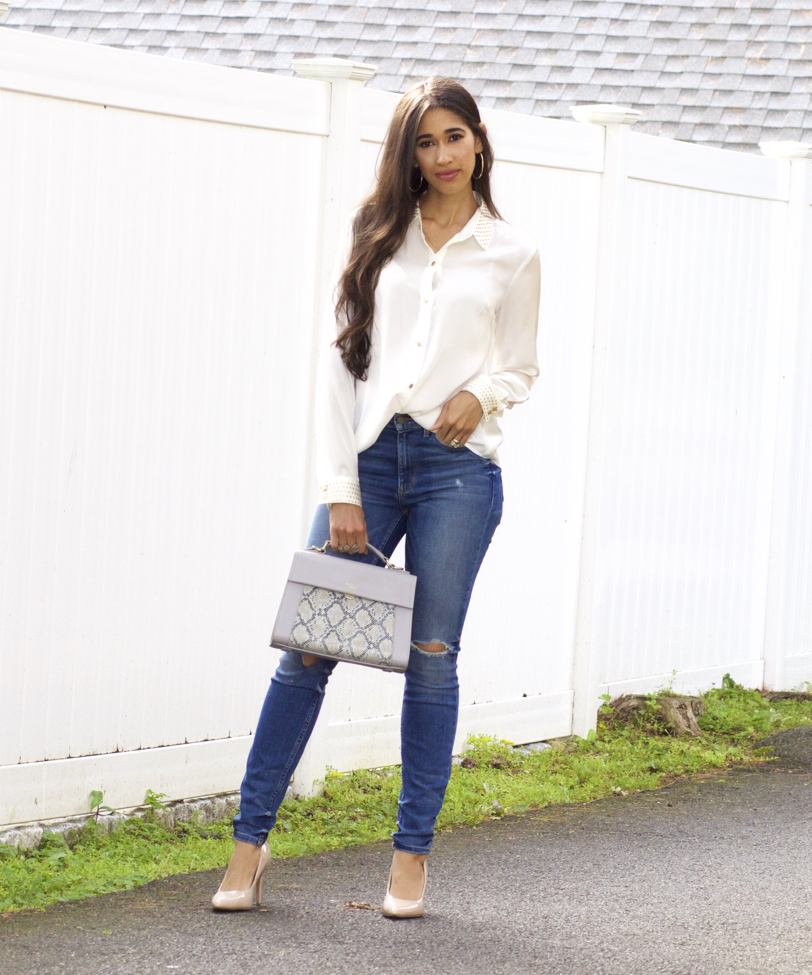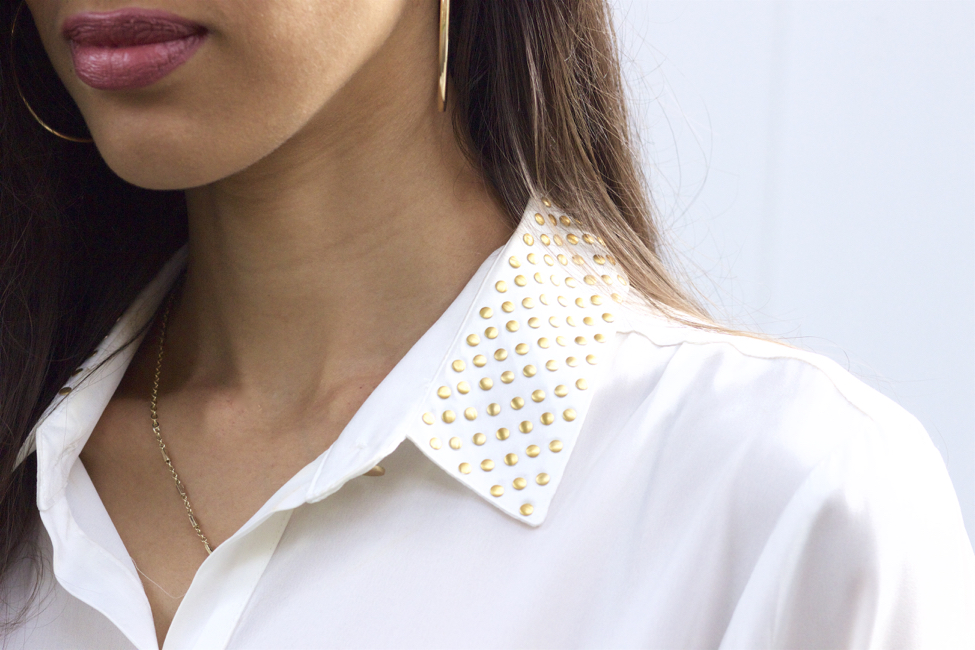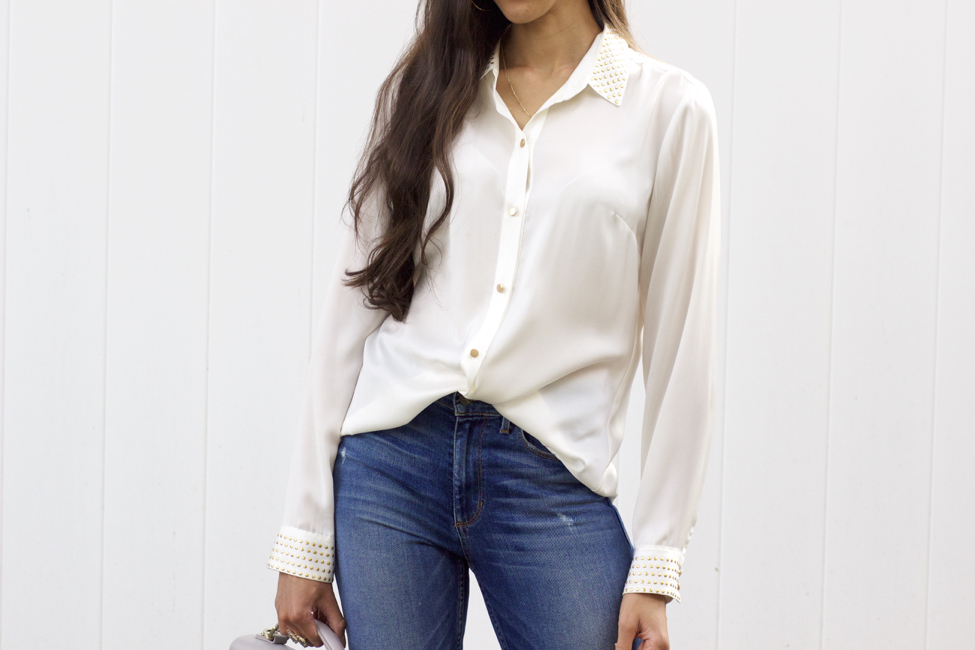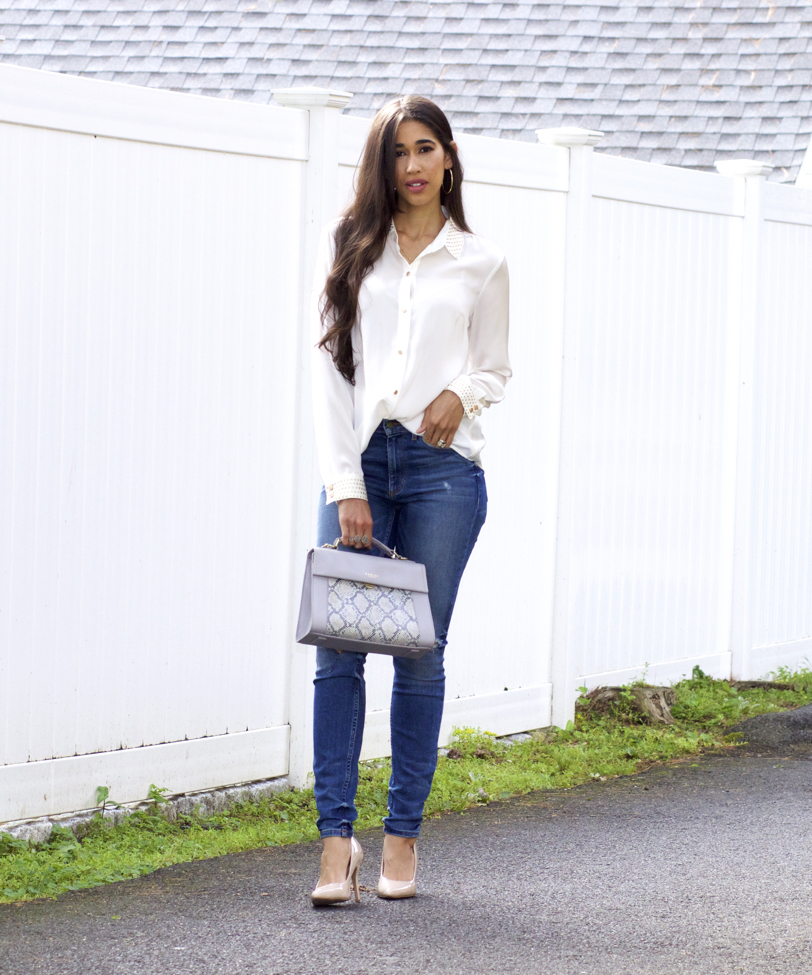 Shirt: Similar | Jeans: Similar | Earrings: Similar | Bag: Similar | Shoes: Similar
---

---
Happy Monday my beautiful friends!
On Friday, we talked about how lace is a great fabric for summer nights especially. If you missed that post, you can give it a read here!
Today, we'll be discussing yet another fabric that's ideal for the warmer months, particularly when going the more dressy route for either work or to dress up a denim look and that's satin.
It's a fabric that's been trending for quite a while, mainly since the 90s comeback began, as well as the pajama trend. Many luxe pajamas are done in this fabric pointing to the reason as to why it's great for the summer, it's cool and comfortable. The soft texture brushes the skin in a way that's comfortable, not to mention it looks luxe. I also love the fluid effect it has when worn in a loose, flowy fit, like the shirt I'm wearing.
I know what some of you may be thinking..it shows those embarrassing sweat marks! True, but the way to avoid that from happening is to go for a looser fit. By doing so, it won't be as tight around the shoulder and upper arm area, which will prevent those stains from showing through.
Another option would be to wear it in the form of a cami (top or dress) paired with a linen or cotton blazer to maintain that cool comfort, but have that extra coverage and protection from the sweat.
I love the way the material looks paired with denim. The contrast is a nice mix of feminine with a slight edge, making it perfect for a dressed down day at work or when you want to just dress up those distressed jeans of yours. Though I favor it with denim, it looks great with nearly any other fabric, so try mixing and matching with what you already have in your wardrobe to see what's most practical and exudes your particular style most.
Since I went for a bit of a casual look, I wanted to add in something extra to amp up the outfit more, so I added in a snakeskin printed satchel. As much as I love this print, for whatever reason, I don't have much of it in my wardrobe. I think I'm a bit more picky about how it's done than I am with leopard.
What are your thoughts on snakeskin, do you love or loathe?
How was your weekend, did you do anything exciting? I've been talking Aviah to different activity classes to help strengthen her cognitive development and milestones. It's been so much fun meeting other parents and watching her interact with other babies and explore. I think it's great to switch up the environment every so often to allow them to build self-confidence. Plus, I've been reading the benefits of doing classes like these are so good. So I'd suggest you give them a try, if you have them around where you live.
Thanks so much for stopping by and I look forward to seeing you in tomorrow's post. Yes, tomorrow! It seems as though I may be able to get back into my Mon-Fri schedule around here, let's see!