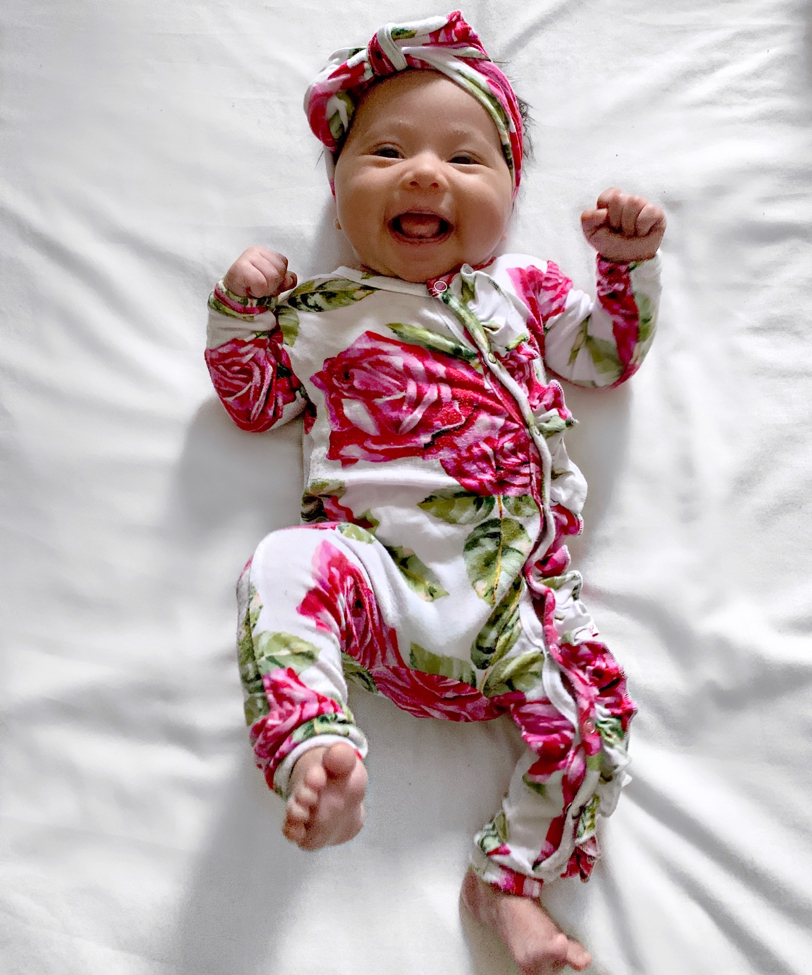 Ariah's Onesie
Hello, hello!
Ah, it feels so good to be back and introducing you all to our newest addition, Ariah Lael (pronounced Ah-Rye-Ah La-El)! She made her grand entrance on June 25 at 9:20pm. Exactly a week early from her due date, which was coincidentally Aviah's birthday. She weighed in at 7oz and 20.5in long, the exact reverse of Aviah who was 7.5oz and 20in long and was born at 9:05pm. These girls like partying at night already it seems, lol!
As many of you know, my second pregnancy was, of course, different than my first, yet similar in some ways. It was different in that I didn't have the luxury of napping when I felt tired, which was all the time. If you're expecting your first, take the time to rest as much as you can because it may very well be the last time you're able to do so! Thankfully, fatigue was my only symptom with both pregnancies, but since it was the only, it was pretty intense. This time around I was even more tired, since I was chasing and entertaining a toddler all day, every day.
When I found out I was pregnant, it was complete surprise to us. I distinctively remember that weekend. I made broccoli soup one Thursday night and began to feel a little nauseous after eating. It wasn't a red flag because I have a slight intolerance to broccoli and get a little bloated, but I eat it anyway because of the benefits and Aviah loves broccoli and she eats what we eat. I ate leftovers the following day (Friday) and felt really, really, really sick. So much so that I made Eddie come home early from work to tend to Aviah because I just couldn't do it. Out of the fourteen years we've been together, I've never had a reason to have him leave work early. He called out that Saturday as well and I remember standing in our hallway closet mirror looking at my stomach, which looked different than my typical bloat. I asked Eddie, "do you think I'm pregnant?" He reluctantly said, "no". I think he had secretly been hoping we were, haha.
That Sunday, I was talking with my teenage step-daughter about how I'd been feeling and she bluntly said, "you're pregnant." Lol. So I finally took a test and sure enough it said pregnant. I took another...same. Took another, same...lol! I called the doctor's office and they wanted to see me right away, since I was still nursing and that can make your uterus contract, so they wanted to know how far along I was. I was 6 weeks when we saw her and heard her strong heartbeat for the first time. They put me on immediate pelvic rest because I had also been spotting, which I thought was my period coming back, since I had never gotten it, since becoming pregnant with Aviah (I was still nursing and some women don't get it back until after they stop). The bleeding eventually went away, but at one of my ultrasounds, they saw that my placenta was a little low and put me on pelvic rest yet again to allow it to move up more, which thankfully it did. But, it was really hard tending to a 1yr old all day on pelvic rest. I wasn't allowed to sit her on my lap or go to the park and do all the fun things we had been doing and I wasn't allowed to carry her for long periods of time. This is also why I wasn't blogging much. The pelvic rest combined with the fatigue and tending to Aviah was all too much for me to juggle.
Fast forward to 36 weeks and I had high blood pressure all the way until the birth. It got so high as 170/110. Yes, THAT high. Which is borderline stroke. At this point, I was going to the doctor at least 4 times a week and sent to the hospital because of my numbers after every visit for stress tests. Each visit, Ariah's heartbeat was perfectly fine and I wasn't experiencing any real contractions; I was the one they were concerned about. Yet, when I'd get to the hospital, my numbers were perfect. The same thing happened when I was pregnant with Aviah, but not as frequently and my pressure wasn't nearly as high.
When I was 38 weeks (about to turn 39 weeks the next day) the doctor who delivered Aviah wanted to induce me because she thought it was too much stress for me to keep going in and out of the hospital, but I wanted an entirely natural labor and delivery this time around. With Aviah I had Pitocin and the epidural. I didn't want either this time around. So, when she told me that, I panicked a bit. I went home and we ordered Mexican. The restaurant we ordered from gave a side of their homemade hot sauce, which they warned was incredibly spicy. Well, I heard that spicy foods can naturally induce you, so I poured the whole thing all over my tacos, lol (I'm not suggesting you do this).
Well, the next day, which was a Monday and the day I turned 39 weeks, I began to feel contractions at 4am. I have to mention that my cervix was completely closed the day before at the hospital and they wanted me to come back the following Friday to be induced. I slept in the living room, since the curve of the couch helped with comfort during the contraction. I slept on and off and was able to get through the day as usual. Around noon the contractions became more consistent and around 4pm they were about 5min apart like clockwork and intense. I called Eddie and told him we're having the baby tonight, I knew it.He rushed home and got Aviah going with her nighttime routine and told his sister who was going to watch her to start to head over. As he was getting Aviah ready for bed, I was on the living room floor YouTubing how to breathe during labor, lol. I never took a lamaze class and even though I gave birth before, I didn't have access to the epidural and didn't want it to help with the pain. I watched this video and breathed exactly as she instructed the entire time.
As soon as we got to the hospital, they wheeled me in and I was already 7cm dilated! With Aviah, I was driving them nuts telling them I was in labor when I was 1cm for nearly a week. I was in the middle of the transition stage, which if you're familiar, is the shortest yet most intense part of labor. Some women begin to vomit or get delusional. I was in intense pain, but kept focusing on my breathing. I began to question if I should get the epidural because the pain was almost unbearable. The doctor said I was doing so good that it would only delay things. She broke my water then she and the four nurses that were in the room were about to walk out as she said, "relax and let me know when you feel you need to push." As soon as she walked out, I SCREAMED, "I need to push" and all hands were on deck, literally. In just three pushes she was out. I was in the room for a total of 30 min. I was discharged two day later.
So, there you have it, Mexican hot sauce put me in labor, lol. That said, I do believe this old wives tale is true and therefore don't suggest you eat incredibly spicy foods before 38-39 weeks, which should be mentioned and approved by your doctor or midwife.
Life has been incredibly hectic, overwhelming and beautiful all at the same time. It's no easy task tending to two babies. Even though Aviah is two, she's still a baby in my eyes and still needs much of my attention and of course Ariah requires it even more. I get little to no sleep and each day is completely different. Just when I feel like I have somewhat of a routine going, things change and I'm back at square one, but I love the fact that I have two beautiful girls that bless my life incredibly. I have no intentions of saying goodbye to blogging and will be slowly getting back into the swing of things starting this week and thank you in advance for your understanding and patience. I've missed you all incredibly much and it feels so good to be sharing all of my life changes with all of you.
Thanks so much for stopping by, reading and commenting. I look forward to talking with you in Wednesday's post. Have a wonderful week ahead!