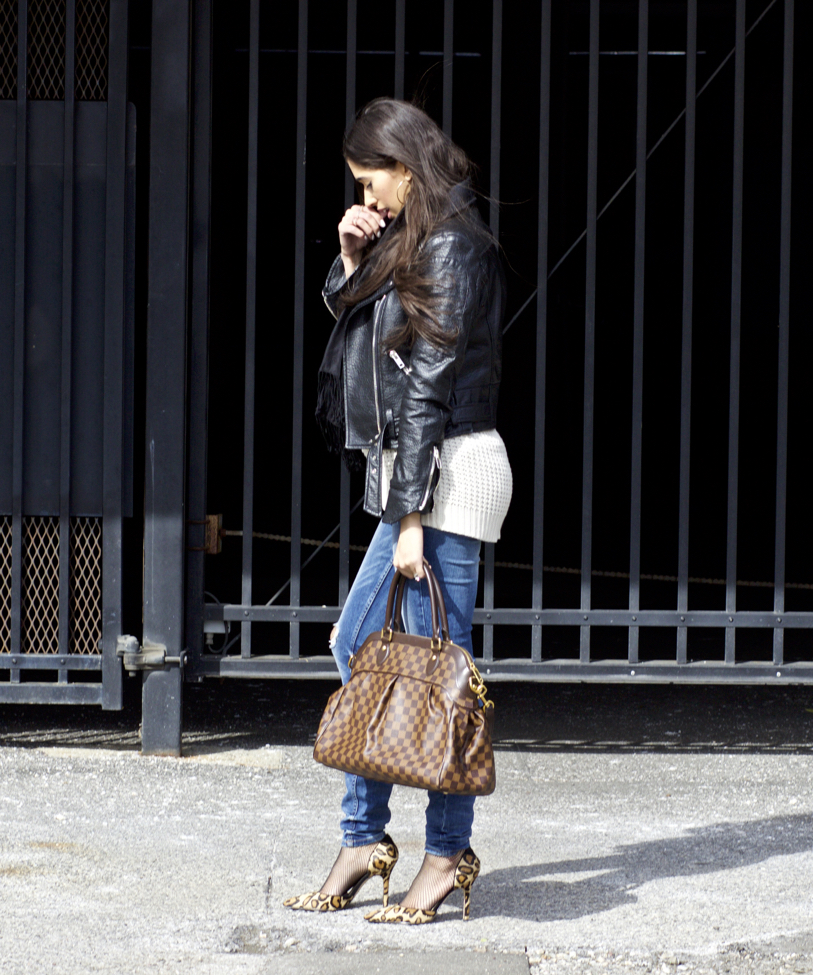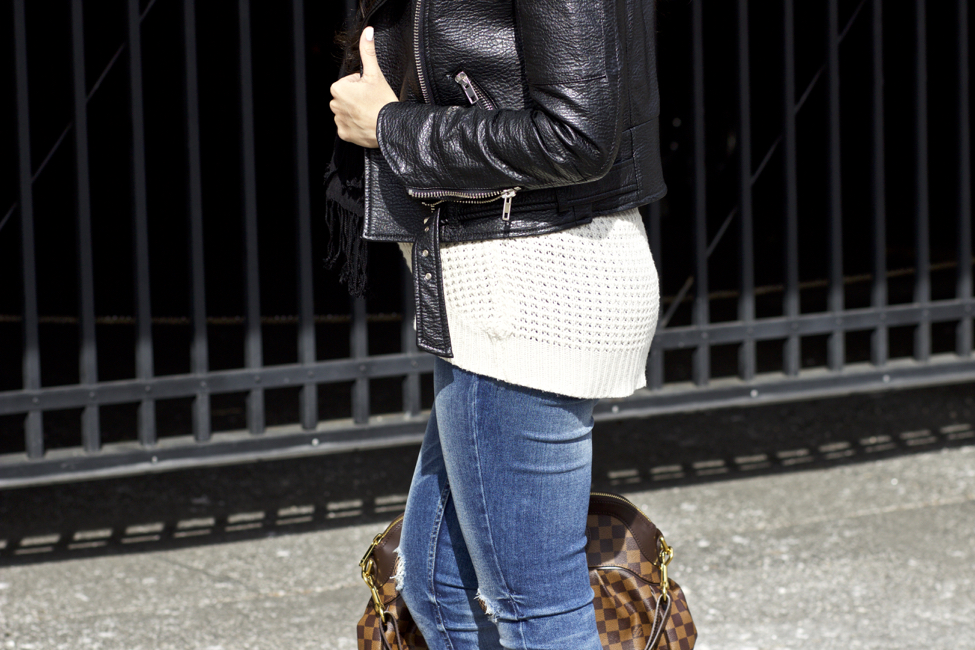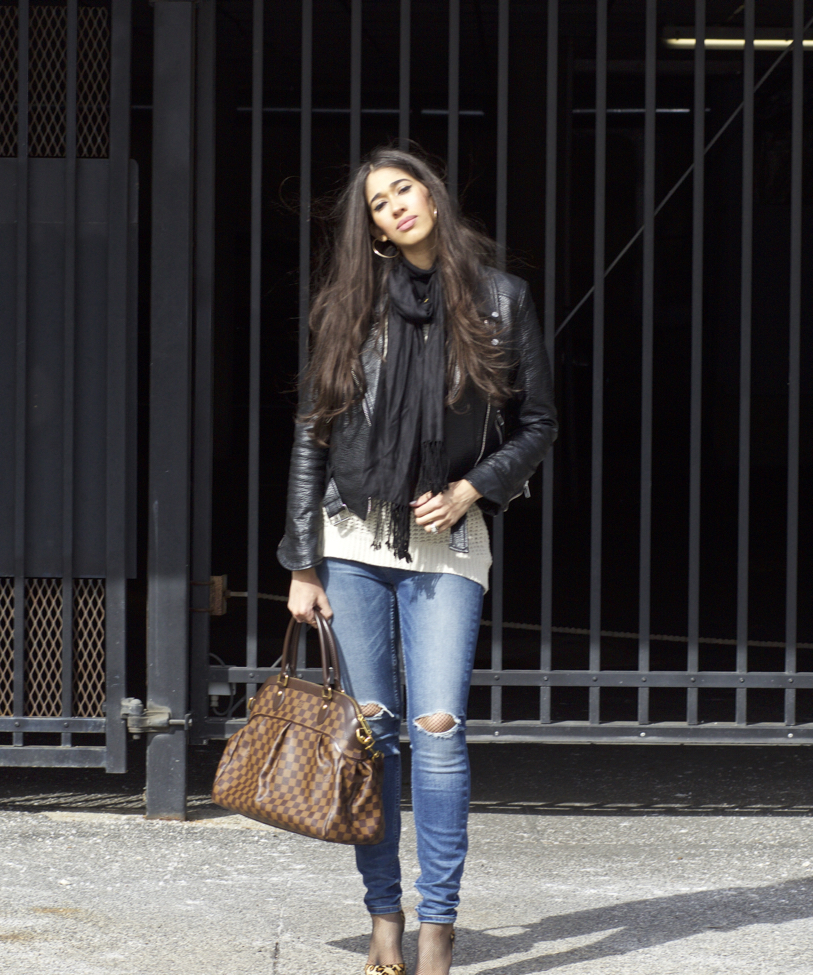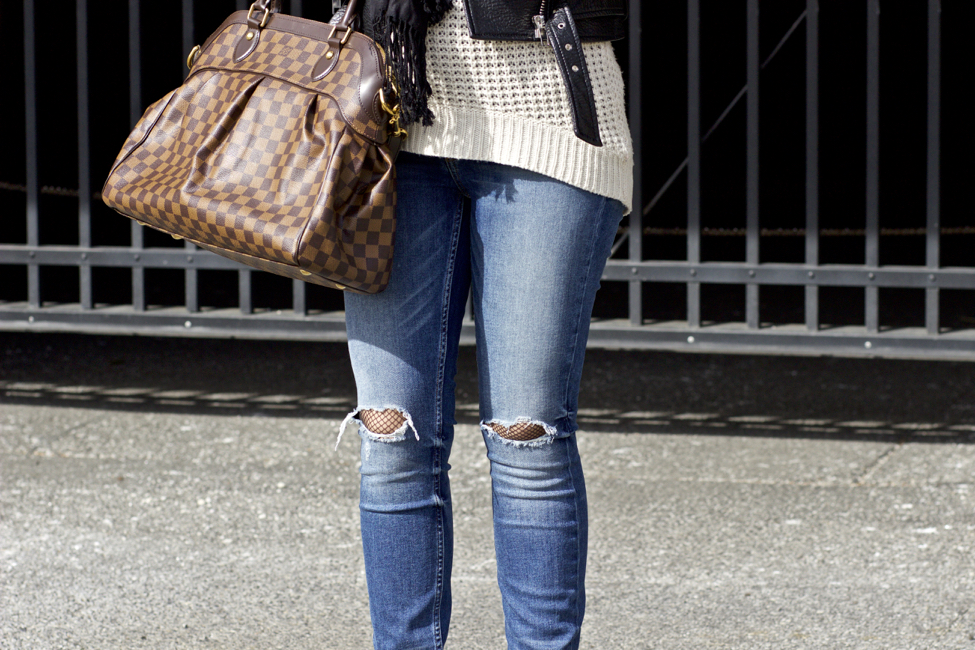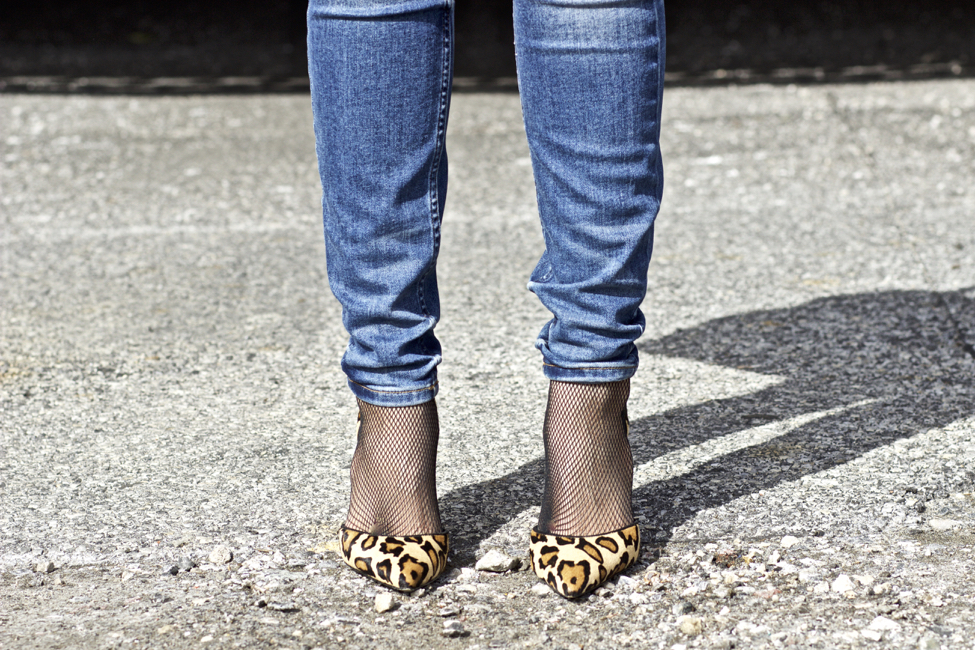 Jacket: ABS by Allen Schwartz (similar) | Sweater: RD Style (similar) | Jeans: Guess (similar) | Tights | Shoes: Sam Edelman (similar) | Bag: Louis Vuitton
Happy Monday my gorgeous friends!
I hope you all had a great weekend and are off to a wonderful start to your Monday so far!
So you know how I purchased the belly bands to wear in the meantime until I find the right pair(s) of maternity jeans (i.e. affordable, cute, and actually fit comfortably everywhere!)?! Well, I've been wearing them a lot since I've first purchased them last week and I figured I'd try wearing them with these distressed jeans, which I love so much because ya know, I want to feel cute and trendy rocking fishnets and ripped jeans, haha; I don't want to feel left out, since I'm really loving the trend!
No bueno!
These particular jeans are high waisted and I figured that since I'd obviously leave them unbuttoned with the belly band covering them, it'd be cool and comfy. Wrong! Never again. I'll just have to face the fact that I need to fold them away for now :( They still fit everywhere but the stomach part just felt a bit uncomfy even when completely open and no harmful pressure was being placed on my bump.
Though I've been wearing the belly bands and have been loving the fact that they've allowed me to wear much of my non-maternity jeans, I guess it's because my belly is growing, but sometimes it just feels weird. Are you one of these people that don't like the way a turtleneck or choker feels around your neck, like it's choking you, but it really isn't!? Weird analogy, but that's kind of how it feels like at times. It doesn't hurt or put pressure on my stomach at all, it just sometimes feels weird. Like I said, it may be that my bump is growing (I'm now 24 weeks) and I'm still not quite used to anything being on and around it, if that makes sense. I don't know, I guess it's just a matter of getting used to because sometimes it bothers me and other times it doesn't lol.
Anyway, I decided to pair a high low jumper with the jeans because it's one of my favorites in my collection. Plus, I love the way the cream and black look paired together. If you've ever wanted to emphasize your hip area, high low jumpers are great for creating that effect. If that's not something you'd like to emphasize, however, then I'd suggest either avoiding them or adding other pieces to your outfit to help balance out those visual effects, like a scarf and jacket to maintain proportions. They're also great options if you like to wear leggings and have your booty covered ;)
Thanks so much for stopping by, my dear friends, and I hope you have the most amazing week ahead!
XO,