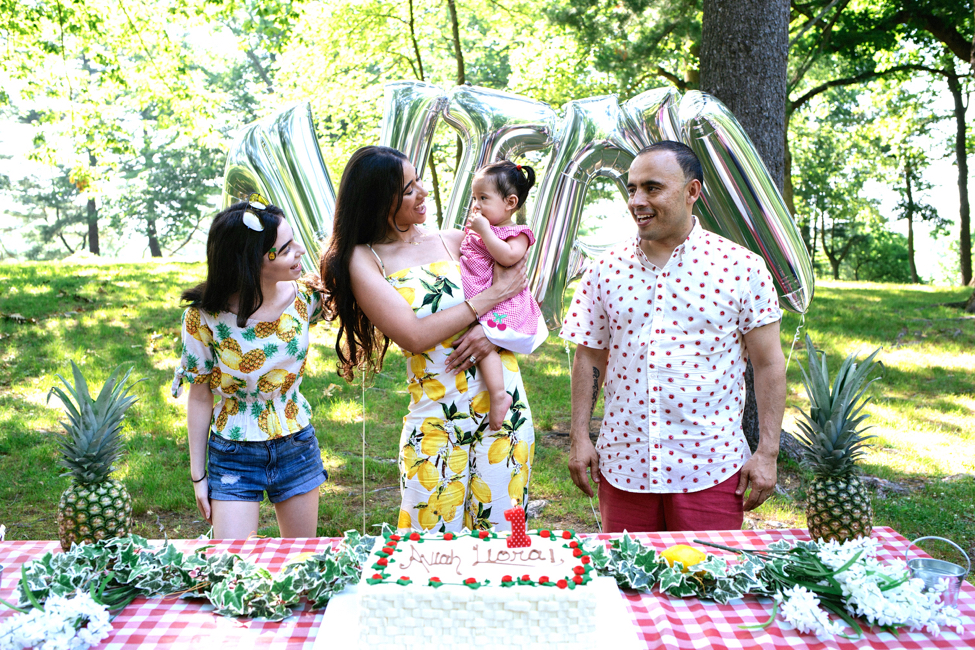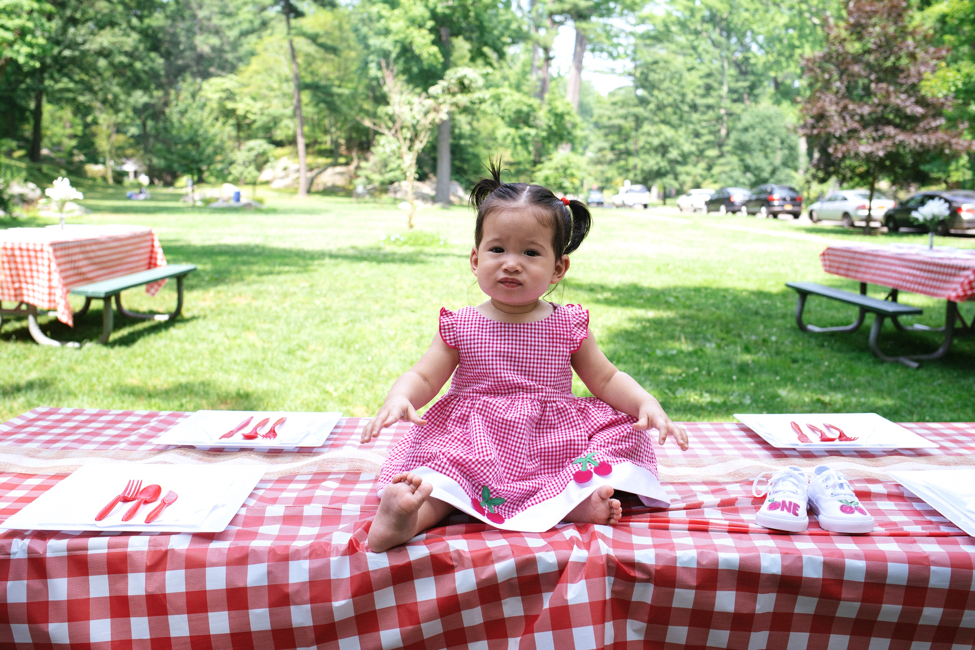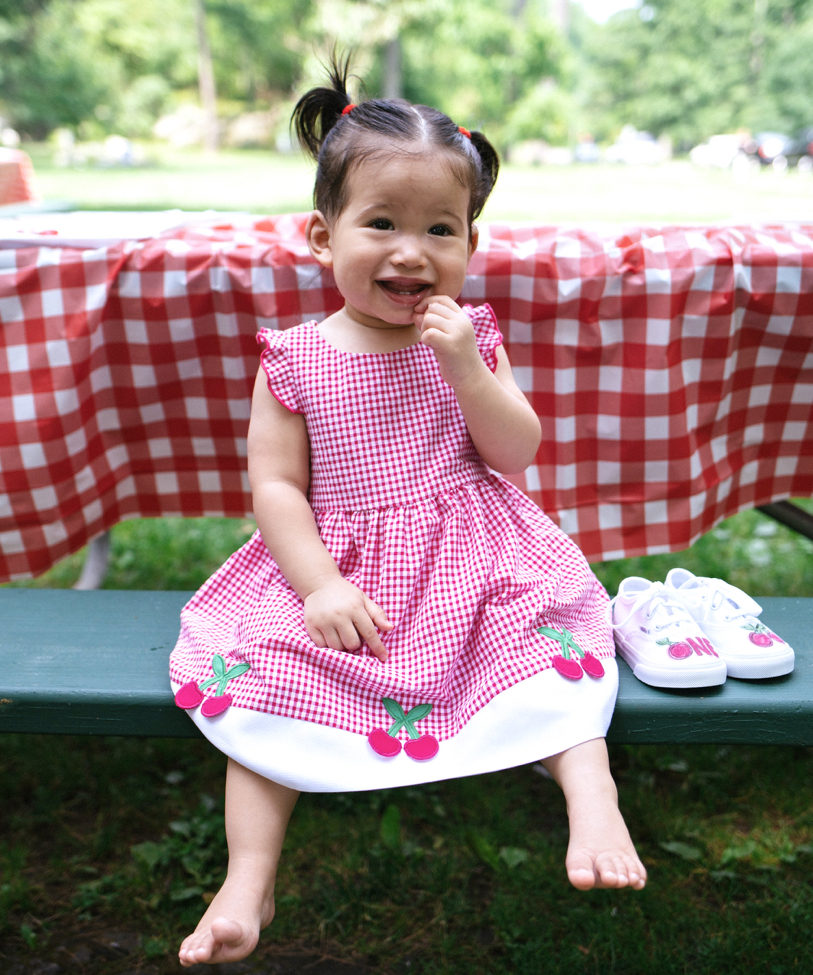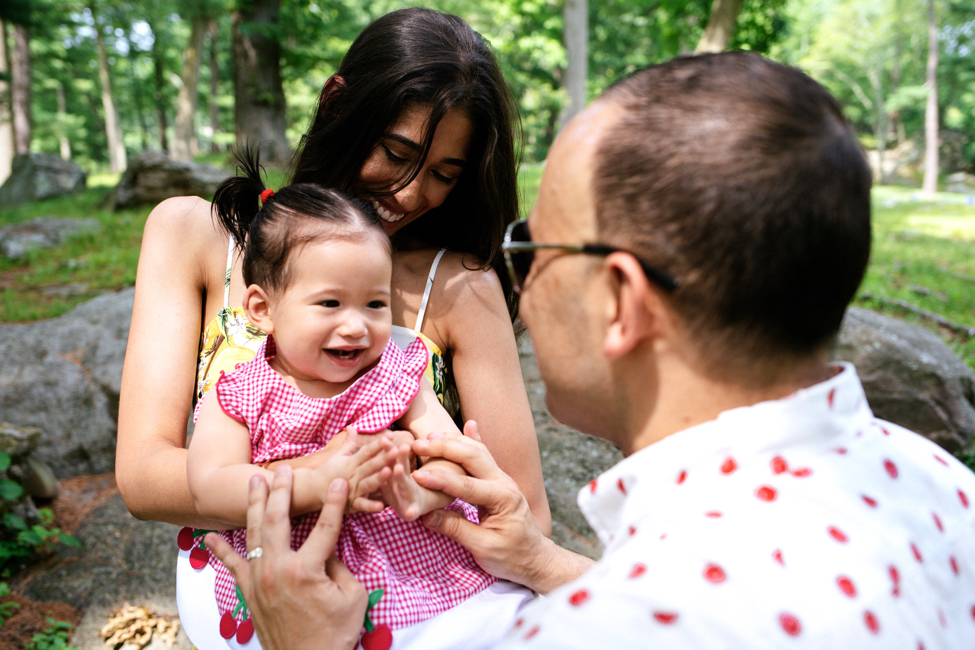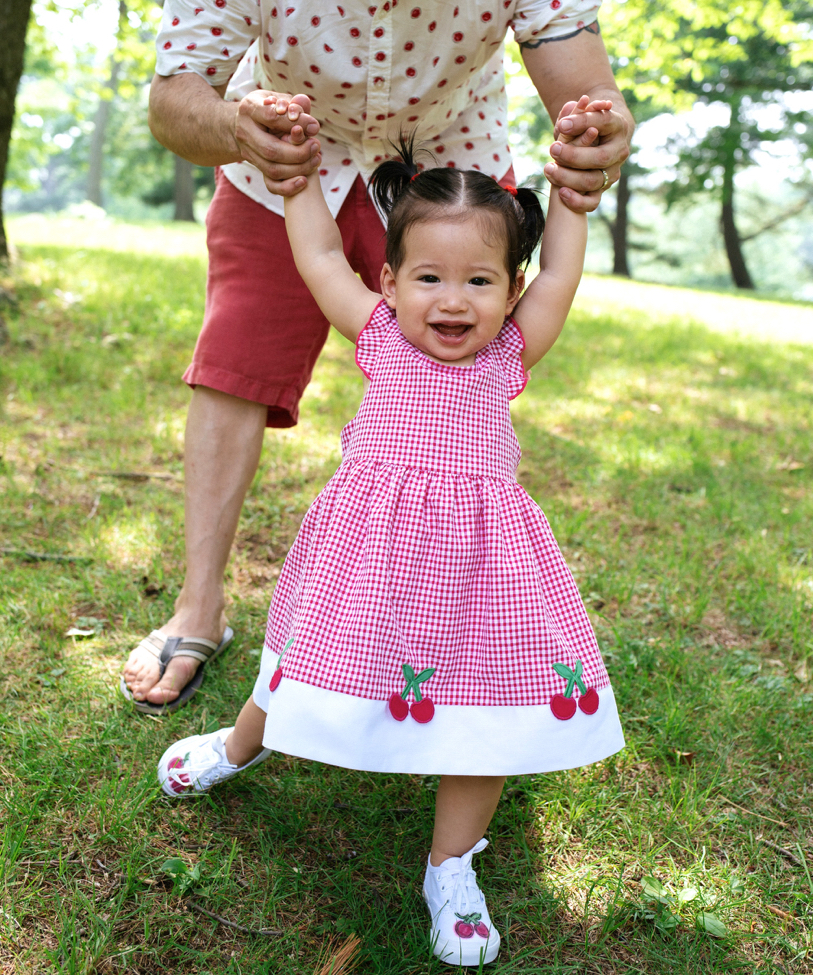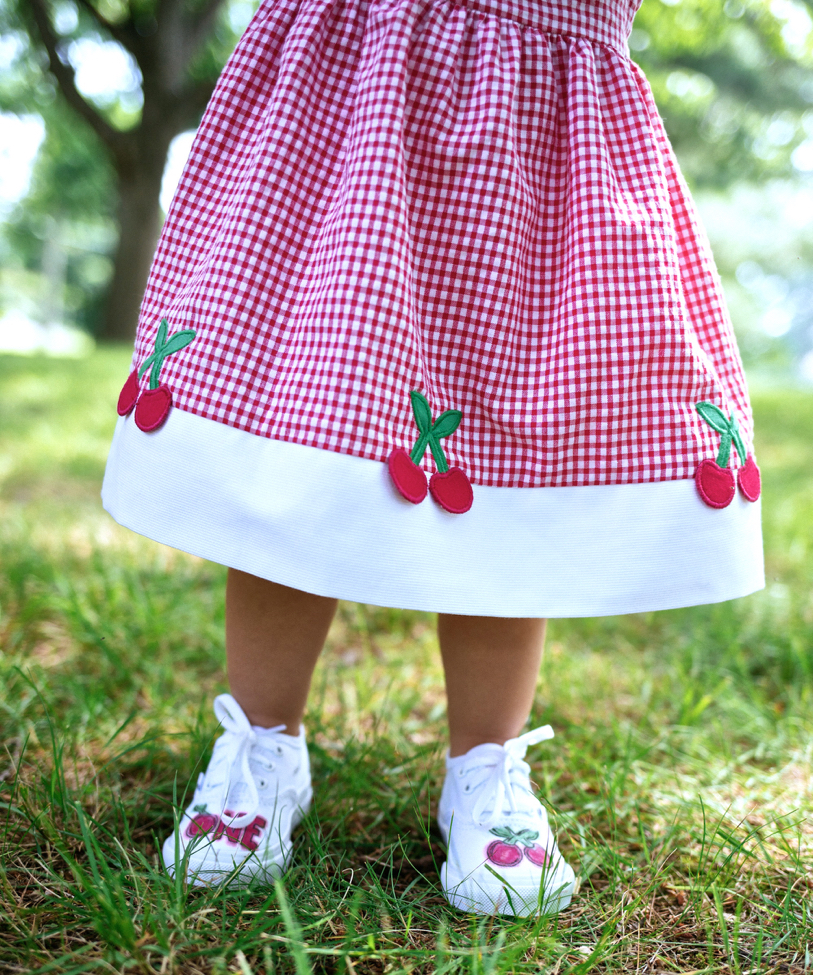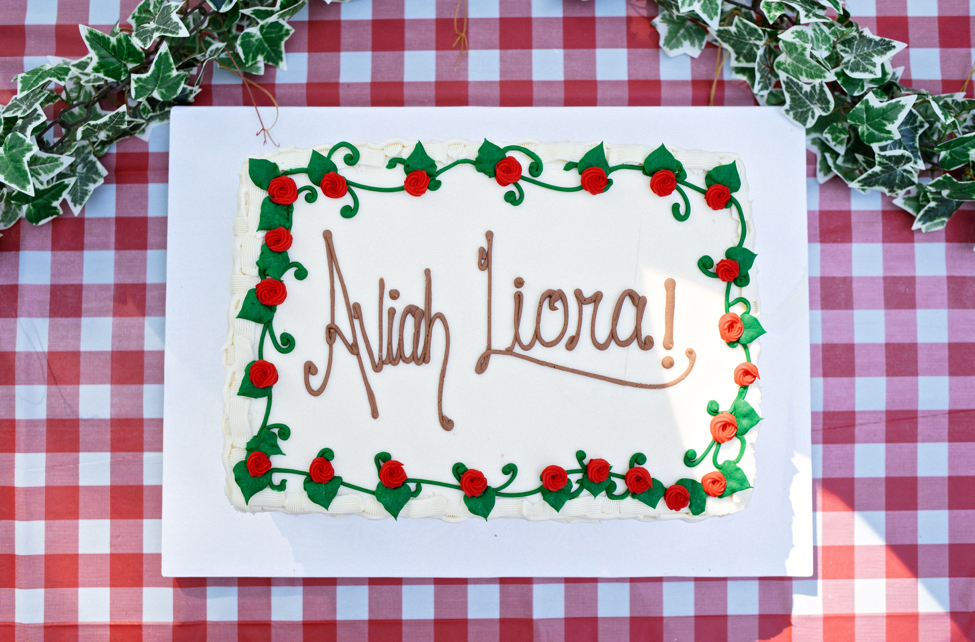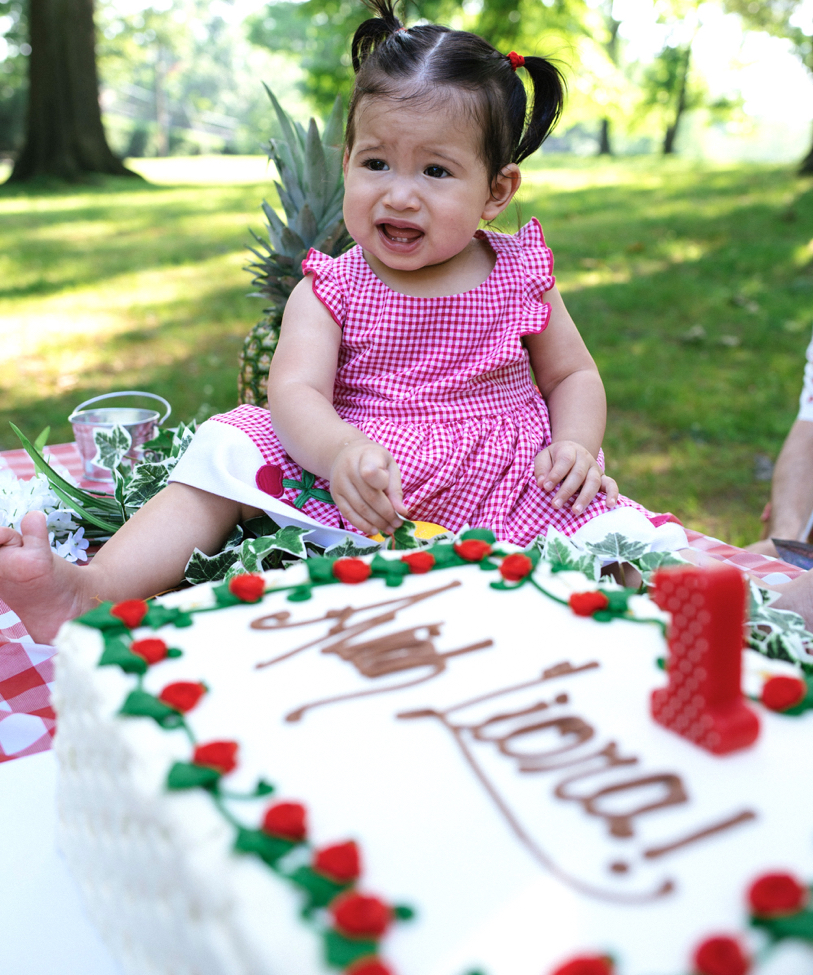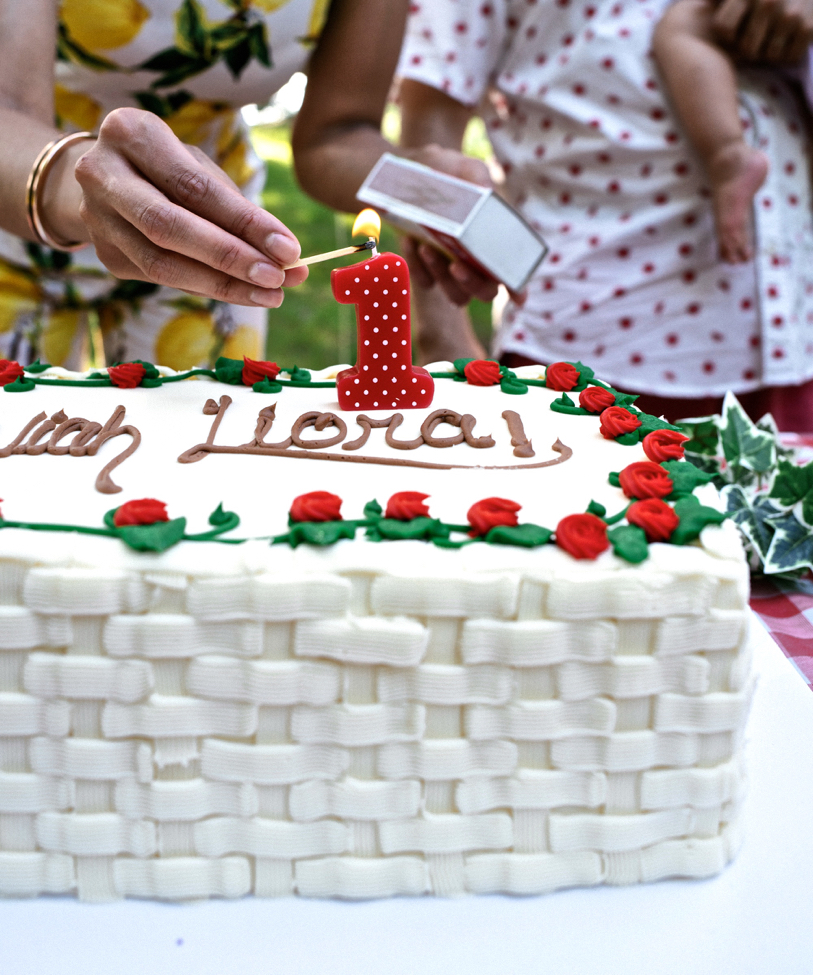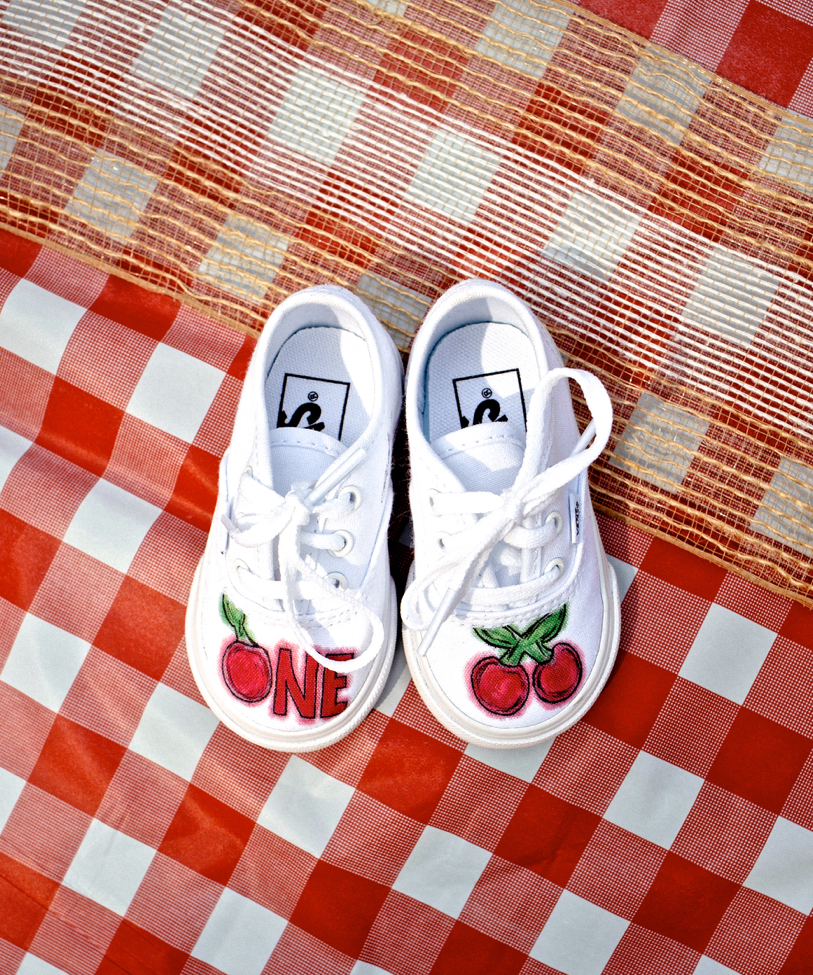 Aviah's Dress: Similar | Aviah's Shoes: Qustom Quinns
My Jumpsuit: Similar
Eddie's Watermelon top | Eddie's Shorts: Similar
---

---
Happy Friday my sweet friends!
I took much of the week off from the blog, since Aviah's official first birthday was on Monday and the 4th of July was on Wednesday. So today, I want to recap, as promised, how her party went Sunday!
First off, I'll explain what inspired the theme for the party, which was a vineyard/picnic theme and that was this adorable Florence Eiseman dress! I had randomly stumbled upon it while browsing a local boutique and knew I had to buy it. It just felt like a summertime special occasion dress and what day would be more special than her very first birthday?! Since it has a novelty cherry design, I wanted to have the rest of us (Eddie, Destiny my step-daughter, and myself) wear fruit patterns, too. I thought it would look great in photos and make it easier to pick us out in the crowd (haha, get it...pick?! I know, I'm corny :)
I had purchased the dress when she was around 6mths and up until a couple of months ago, I was searching high and low for a pair of cherry printed shoes to match, but there were very limited options and the ones I did come across, I didn't like or the colors wouldn't work well with those in dress. It then dawned on me that it would be even more special to go Qustom...Qustom Quinns custom!
If that name rings a bell, that's because it's the online shop and blog name for blogger babe and friend, Quinn Marciano. Let me just say, I've always known her to be incredibly talented, but she's incredibly talented!!! She was just as excited as I was about designing the shoes for Aviah and all she needed was a photo of the dress and my input on what I wanted and she took it from there and nailed it! She got the colors down to the t, matching perfectly to the dress. People at the party were even commenting on how exact the colors were.
She actually recorded a video of her designing them, which you can watch on her YouTube channel here.
As for the cake, it's from the same bakery my gender reveal cake was from, Magnolia Bakery in NYC. I'm quite picky when it comes to frosting, but I can eat theres everyday (I may or may not have done that on both occasions). They also did an amazing job bringing my vision to life, tying in perfectly with the picnic theme.
We also kept the theme going with her party bags, which we unfortunately forgot to photograph. Long story behind that, but the were these super cute cherry takeout bags. We stuffed them with candy and adorable fruit charmed bracelets from Etsy; I highly recommend her shop. She was such a pleasure to work with and answered all my questions and concerns promptly.
I just want to say this, Aviah has truly blessed our lives and have transformed it entirely for the better. I feel each day brings a more enriched experience. Being a mom isn't easy by all means, but you learn SO MUCH about yourself, as it really brings to life both your strengths and things you need to really improve on. You learn more about life and most importantly love. As cliché as it may sound, never have I ever thought I could love this much. I'm so blessed and grateful to be Aviah's mommy and to get to share tidbits of my journey with you.
Thank you for allowing me to share such a special day with you and I hope you have the best weekend ahead, my friends!